On Tuesday, Kim Kardashian and her sister Khloé Kardashian documented a family trip to Disneyland on their Instagram stories.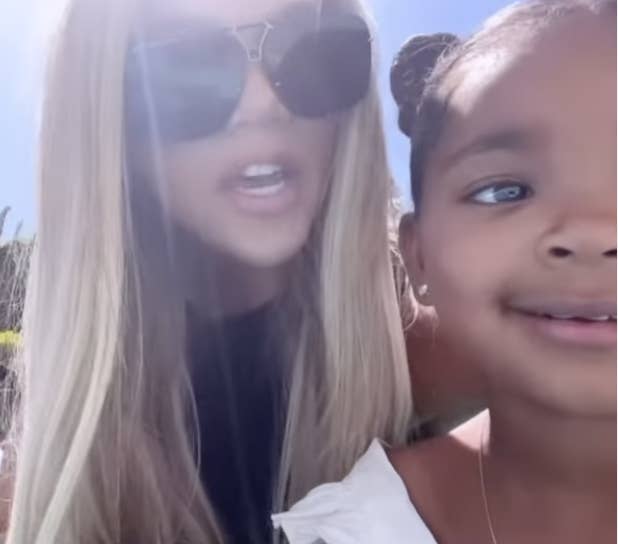 The outing was to celebrate Khloé's daughter True's fourth birthday, with Kim's youngest daughter Chicago, and their brother Rob Kardashian's daughter, Dream, among the family kids who joined the party.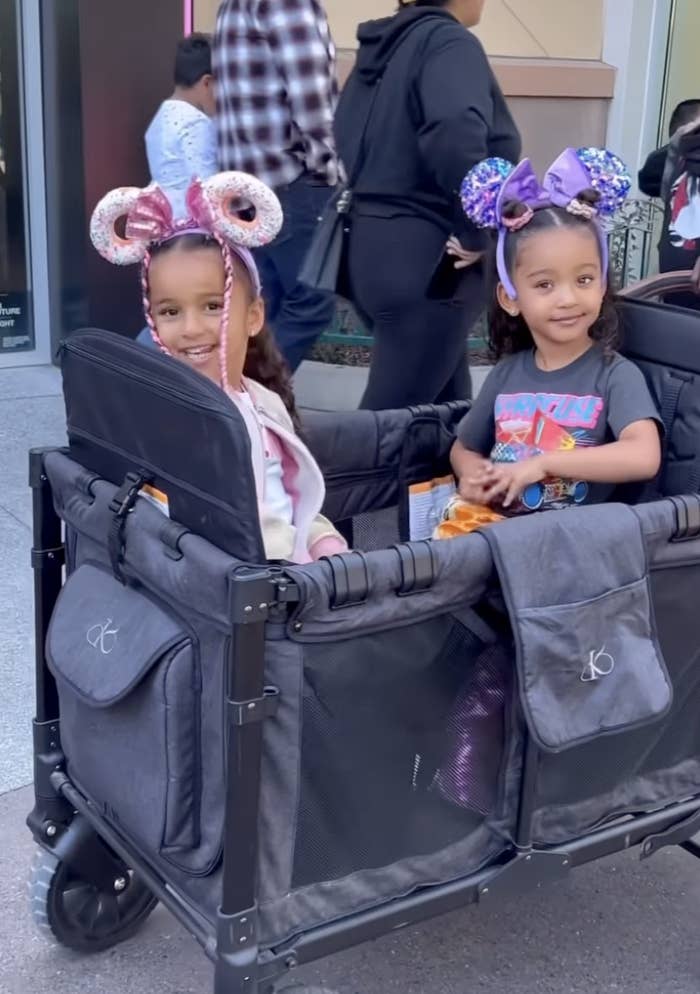 The two sisters gleefully filmed themselves and each other for their social media pages and appeared to be having a whale of a time.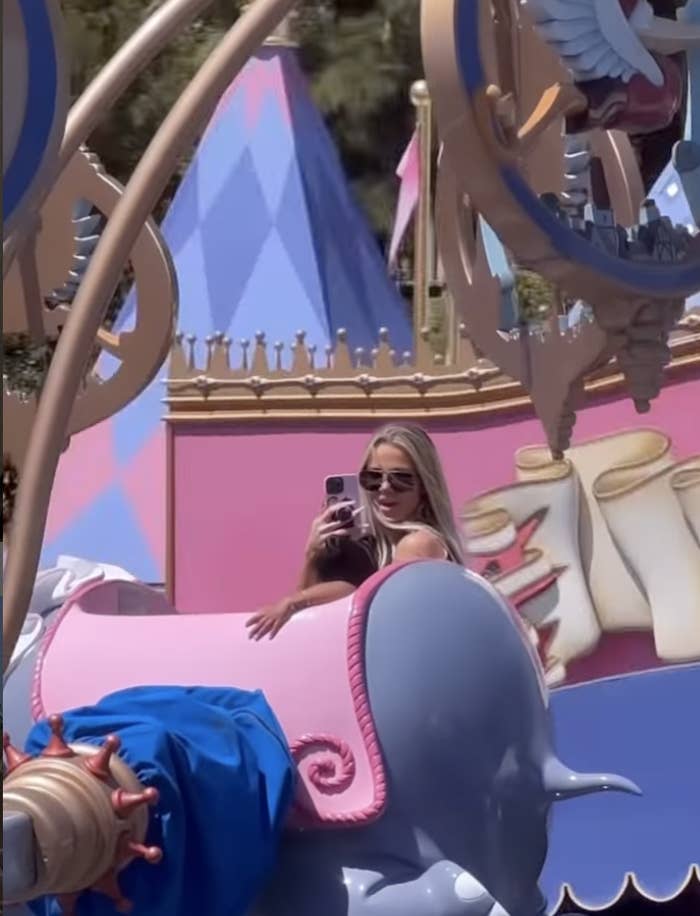 In one video, Kim told Chicago and Dream to say "hi" as they rode on Dumbo the Flying Elephant, and she and Khloé also filmed each other on the spinning teacups and the It's a Small World ride.
While photos and videos posted to Instagram paint an image of a picture-perfect day out, other guests at the Disney park in California have offered a very different perspective on the outing.
In fact, new mom Rachael Kevin uploaded a video to TikTok that revealed the Kardashians had not only skipped the queue, but they'd also made other guests wait so that they could have the ride to themselves.
Rachael and her partner were in line for the Mad Tea Party ride when she watched the celebs receive special treatment. So she filmed the entire thing.
In the video, the majority of the teacups on the ride are empty, with just Kim, Khloé, and their entourage allowed on.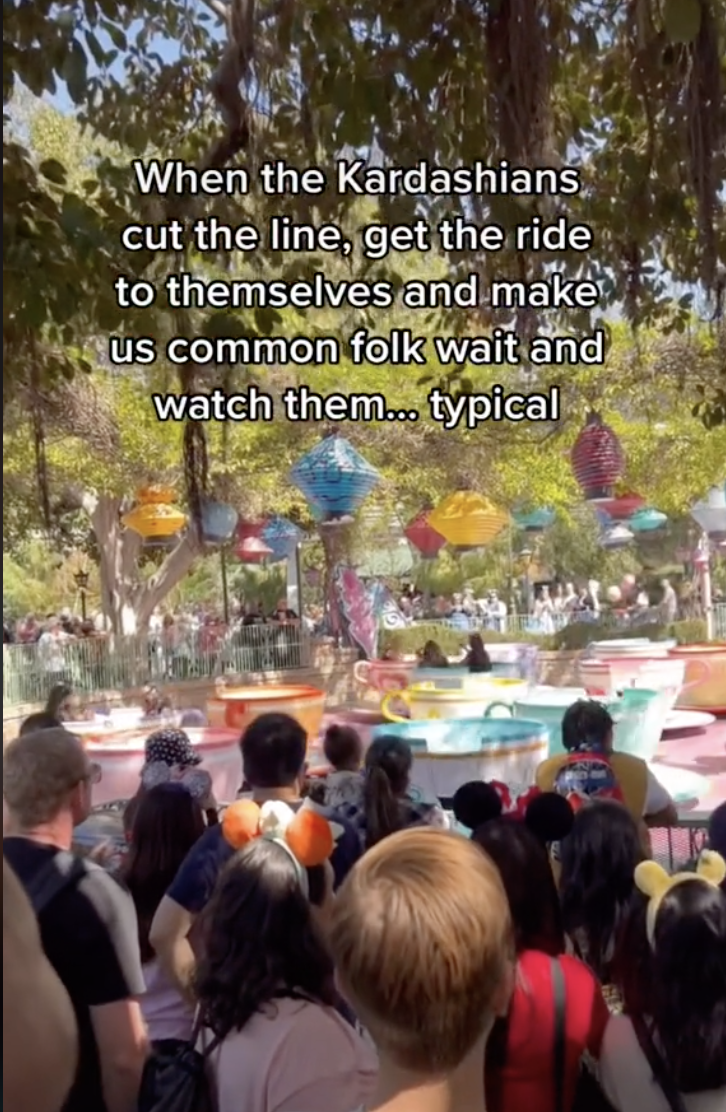 The queue of patrons waiting are watching patiently as the stars enjoy the ride, which Rachael said they appeared to be on "forever."
Making the whole situation even more awkward, no one in the party appeared to be particularly enjoying the ride — and True could actually be seen facing outside of the teacup to look at the crowd instead.
Rachael wrote: "When the Kardashians cut the line, get the ride to themselves, and make us common folk wait and watch them… typical."
As she filmed, a woman can be heard saying, "That is ridiculous," in an apparent reference to the Kardashians.
"It seemed like forever," Rachael added. "We finally got on 30 minutes later."
While it is not unusual for VIP guests at Disney to jump the queue, many people in the TikTok video's comments felt that the ride running near-empty while so many others waited was unnecessary.
Some pointed out that when Cardi B recently visited the park, other guests could be seen riding alongside her despite her celebrity status.
One person wrote: "Cardi was on the ride with everyone, just had her security ride alone. This is weird idk how they're not a part of cancel culture."
Another agreed: "Why can't they do what Cardi did? She had security ride so everyone else could too." While someone else asked: "Don't they feel awkward with people just waiting while they spin in lil tea cups lol 😂😂."

"Wow, that's not cool. Talk about privileges. 🙄," another viewer commented. And one more pointed out the lack of enthusiasm from the Kardashians as they wrote: "None of them seem to be enjoying the ride 😭."

And looking back at Kim and Khloé's Instagram posts, no other guests can be seen in those videos either — perhaps suggesting that they rode every attraction on their own.
Believe it or not, this is actually the second thing from this week's Disney trip that has caused a reaction online, with Khloé slipping up on Tuesday when she accidentally confirmed a viral conspiracy theory about Kim photoshopping True into Disney photos from December.
In case you missed it, the sisters sparked serious confusion when Kim shared some bizarre-looking photos of Chicago and True apparently at Disneyland.
Internet sleuths quickly speculated that True wasn't really in the images and had been poorly edited to look as though she was. As the theory grew, it was all-but-confirmed that Kim had photoshopped True's face over Kylie Jenner's daughter Stormi's body.
Despite the overwhelming evidence, none of the KarJenners responded to the fan theory and a reason was never given for the bizarre editing decision.
The story had died down in recent months, but was revived after Khloé said that this week's birthday visit was True's first ever trip to Disneyland.
Needless to say, the comment raised eyebrows, and it wasn't long before Khloé was confronted over True's apparent trip with Chicago back in December.
The star ended up responding to a fan who tweeted that "the people have questions," and she candidly admitted that she had "fucked this one up," confirming once and for all that the pictures had been edited.
"Welllppp I fucked this one up," she tweeted, before turning the spotlight onto her family's new Hulu show, The Kardashians, which premiered this week.
Khloé did not divulge any further information, nor give a reason as to why Stormi was photoshopped out of the pictures and replaced with her cousin, True.
One thing's for sure, it's never a quiet day with the Kardashians.