Kim Kardashian's oldest child, 9-year-old North West, is perhaps the most prominent of the 12 KarJenner children.
Kim shares North with her ex-husband Kanye West, and the two stars are also mom and dad to 6-year-old Saint, 4-year-old Chicago, and 3-year-old Psalm.
Despite her being so young, Kimye have arguably carved North her very own personal brand over the years, with fashion tycoon Anna Wintour playing a role in naming her, and the likes of Beyoncé and Jay-Z among the stars to visit when she was first born.
North had her first Vogue photo shoot when she was just 9 months old and made her solo debut on the cover of Vogue Kids back in April 2015 — just two months shy of her second birthday.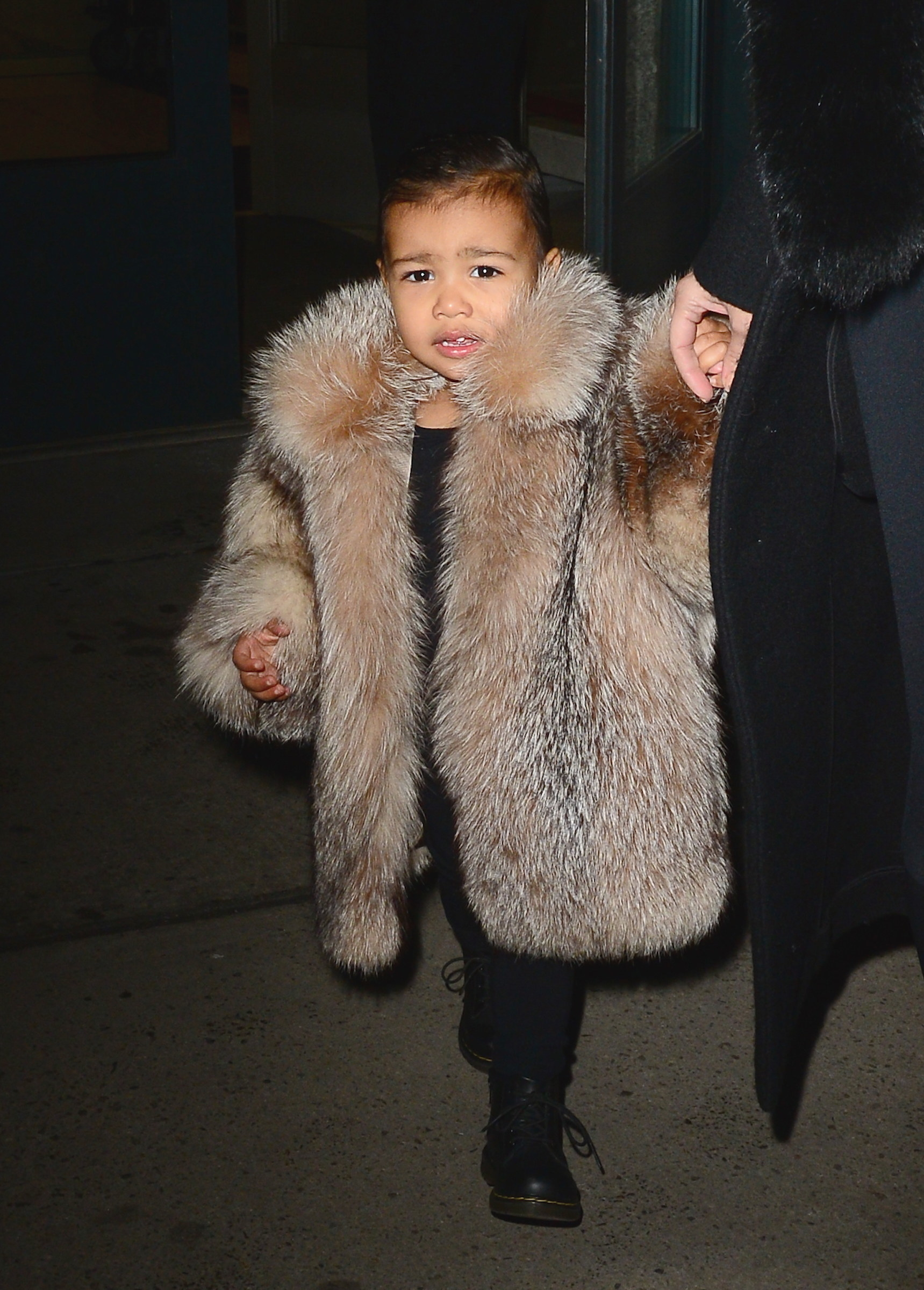 And as she has gotten older, North has commanded attention by performing at her dad's Yeezy fashion shows and regularly appearing alongside her famous family in her mom's E! reality series, Keeping Up With the Kardashians.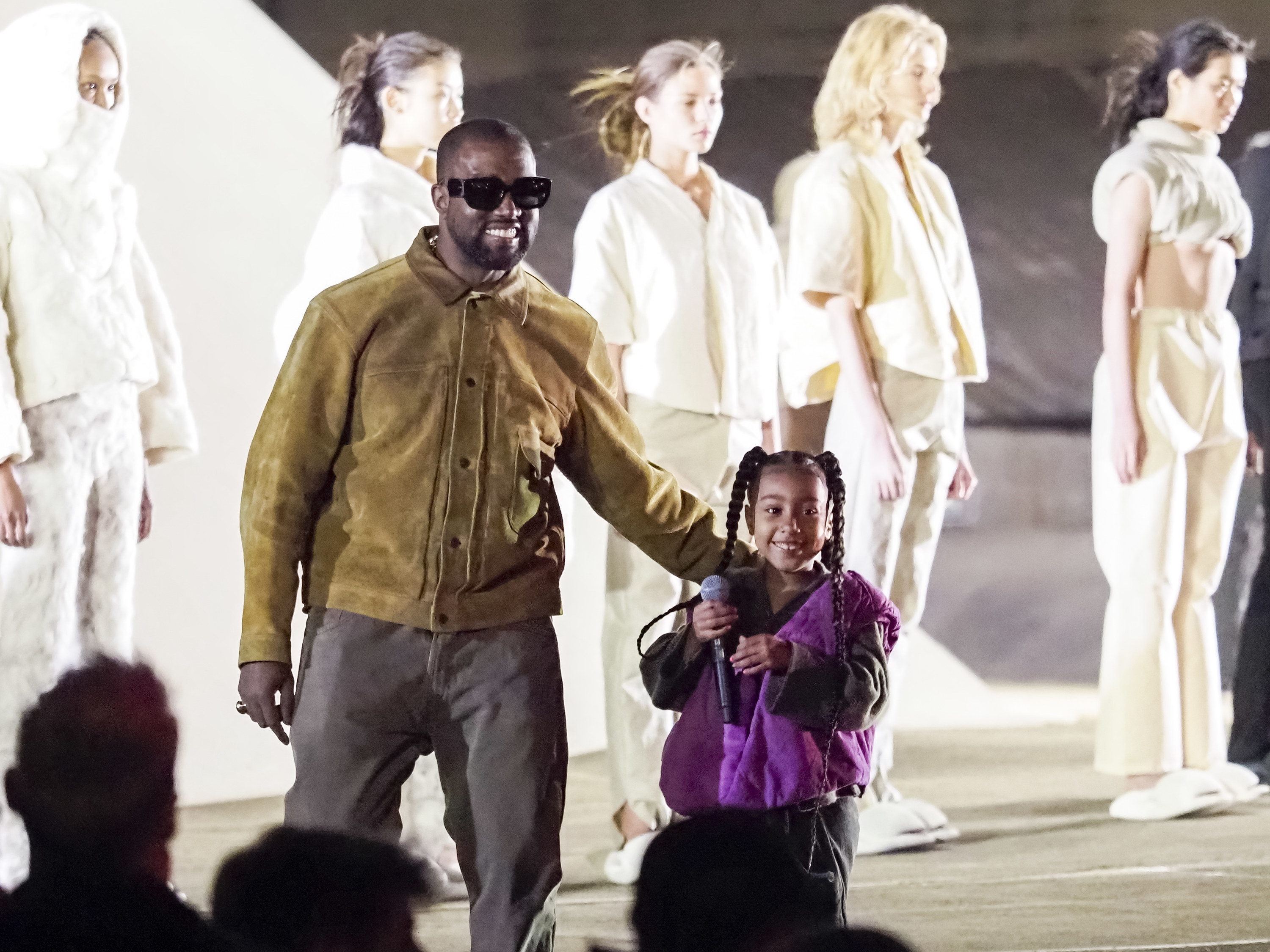 She has also taken the world of social media by storm, creating a stir last December when she burst into Kim's bedroom during a TikTok livestream that Kim had not given her permission to do.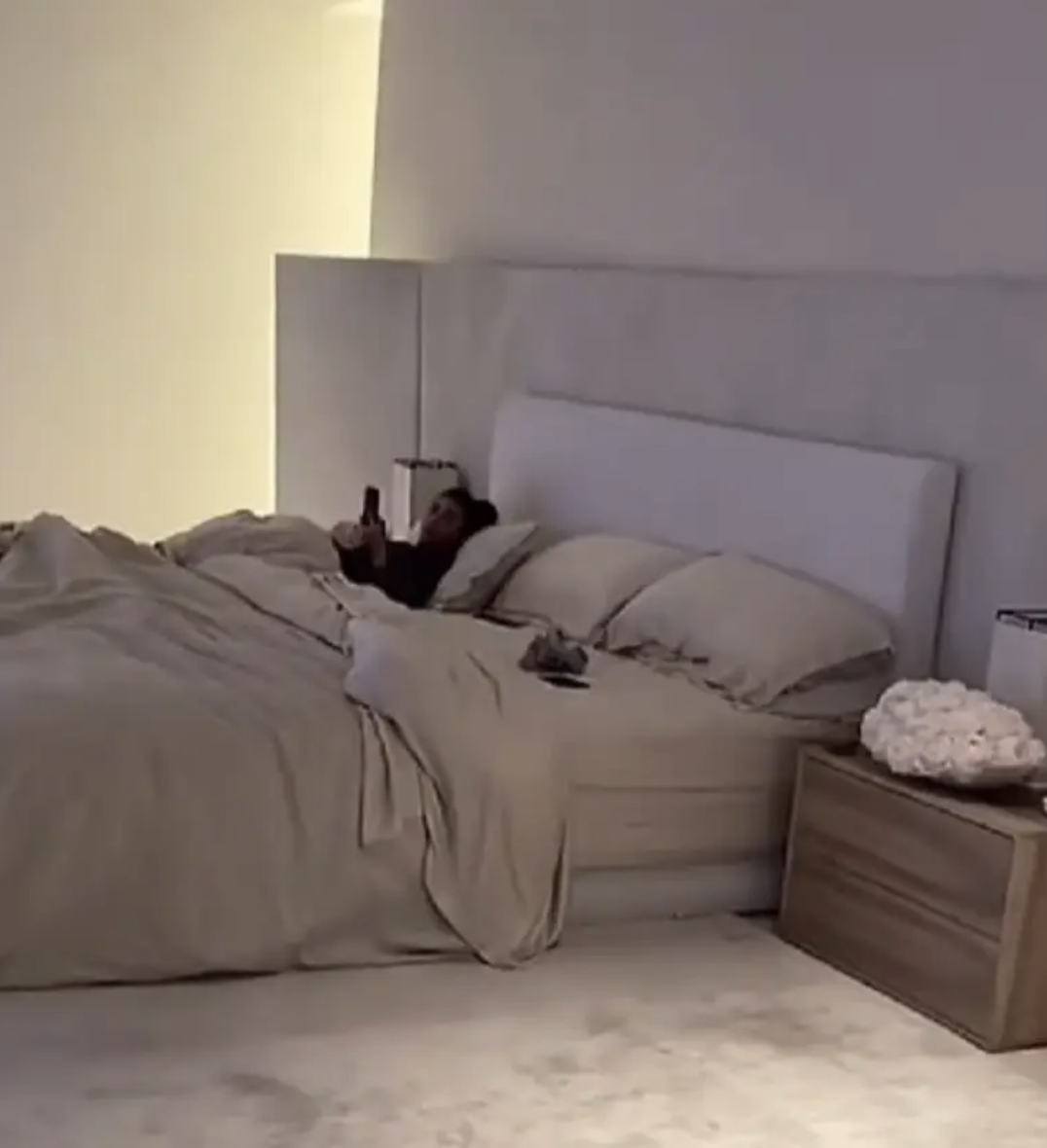 Kim later joked that her daughter is the only person to truly "intimidate" her, which plays into fans' preconceived idea of the youngster's persona.
But at the end of the day, North is actually just a 9 year old child, and in April 2020 Kim offered a rare candid insight into their relationship as she tried to film a makeup tutorial during the COVID-19 lockdown.
In the video, Kim admits that she is hiding in a place that she thought that her kids wouldn't find her so that she could get some peace — but North had managed to track her down.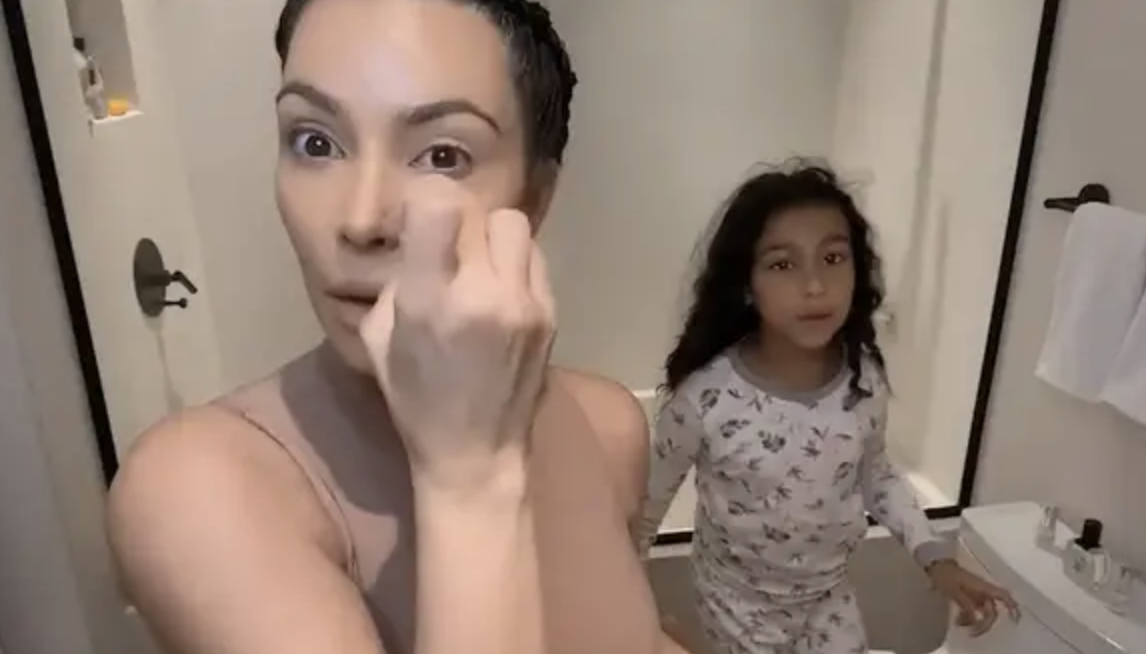 Speaking to the camera, Kim says: "I'm hiding in the guest room, you guys. I'm hiding in the guest room because my kids will not leave me alone."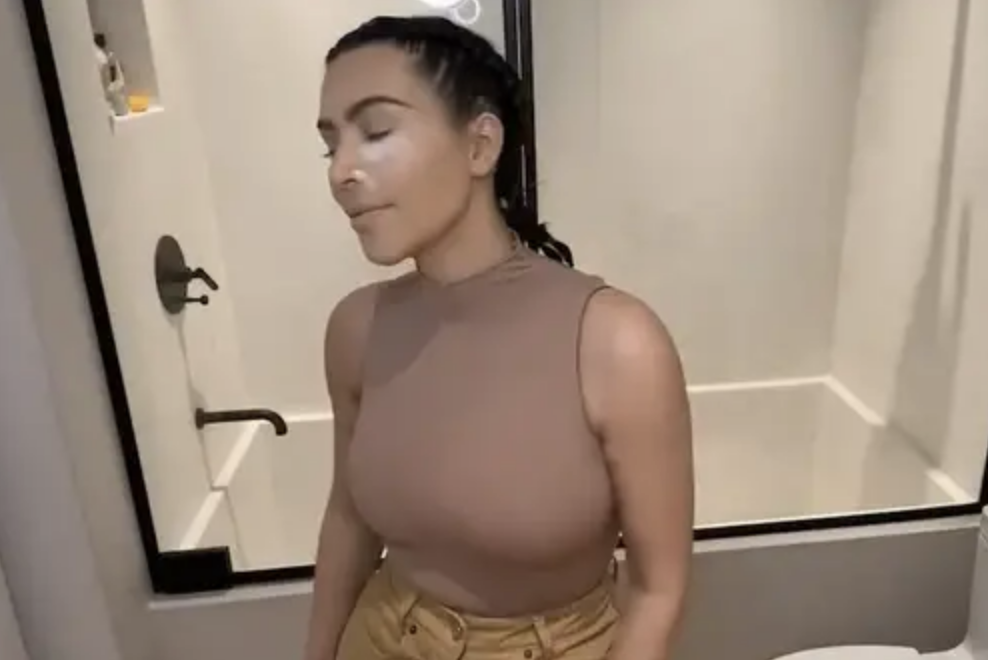 Having overheard the remark, North then replies off-camera: "Hey, that's mean."
Unable to hide her exasperation, Kim asks: "North, can I please just do my little tutorial? It's all I want to do, just one little fun thing for myself," before sighing loudly to herself.
It didn't take long for the moment to go viral, and many other parents were quick to share their joy at seeing billionaire Kim face the same battles that they were experiencing during the lockdown.
The moment appeared to strike a chord with Kim's fans because of how authentic it was, and on Thursday they were treated to a similarly organic moment between the star and her daughter.
Kim's new family reality show, The Kardashians, premiered earlier this year, and its second season kicked off last month.
Despite making the occasional cameo onscreen, none of Kim or her sisters' children have featured heavily in the show so far, but this week's post-credits scene had a surprise appearance from North.
In the outtake, Kim can be seen trying to film a confessional for the show, only for North to gatecrash the set and burst into giggles.
"Get out of here!" Kim says in the short clip, before playfully squeezing North's cheeks and repeating: "Gotta get out of here, girl."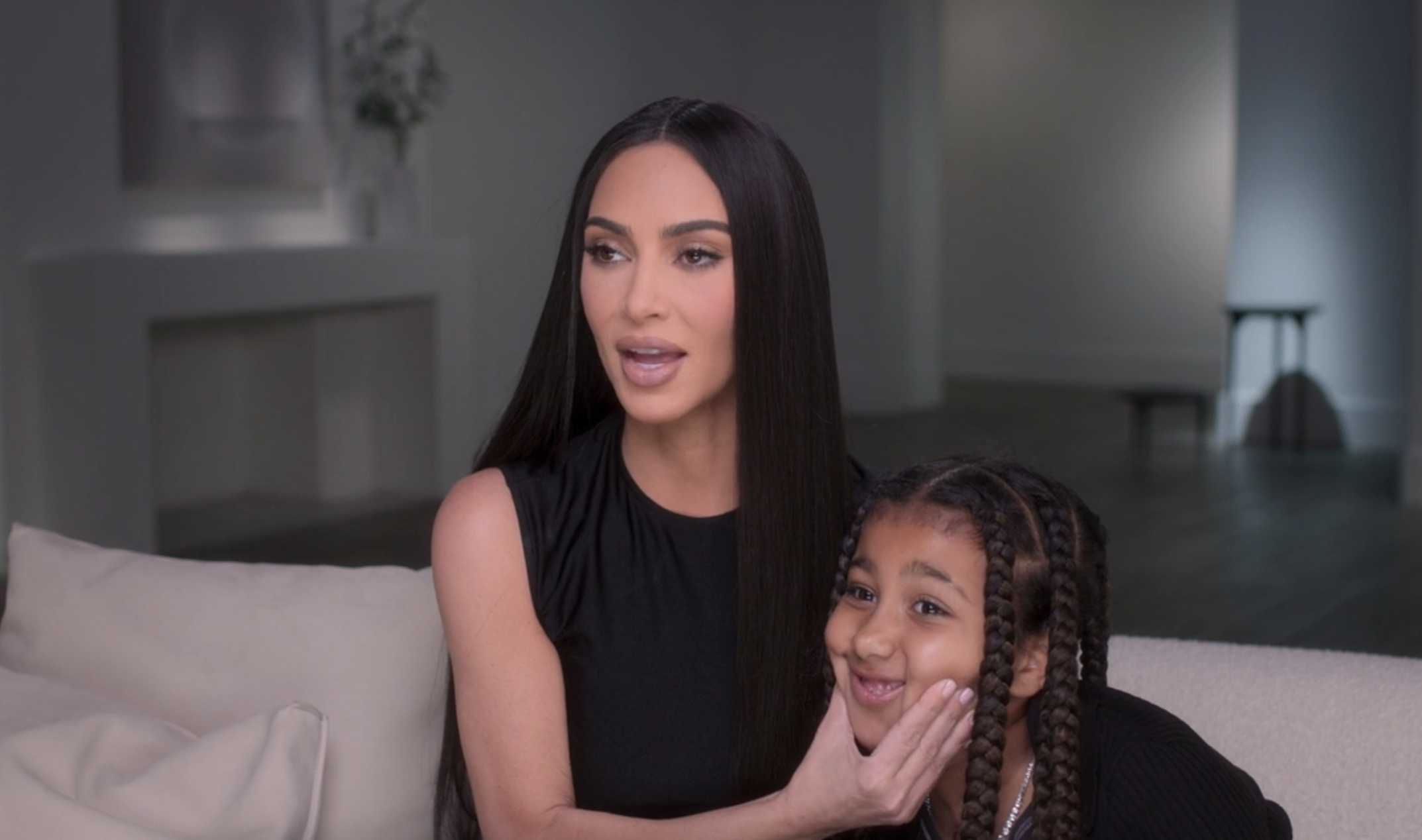 But North just carries on laughing and refuses to move. When her mom says, "Honey, you've got to move over, I've got to do my interview," North simply moves closer to her.
At this point, Kim can't hide her smile, and says: "No, not closer, that way — all the way out of the camera."
She tries to continue speaking to the camera, but North is still playing around, and while her face is no longer onscreen, she lifts her arm into the shot and waves her hand around.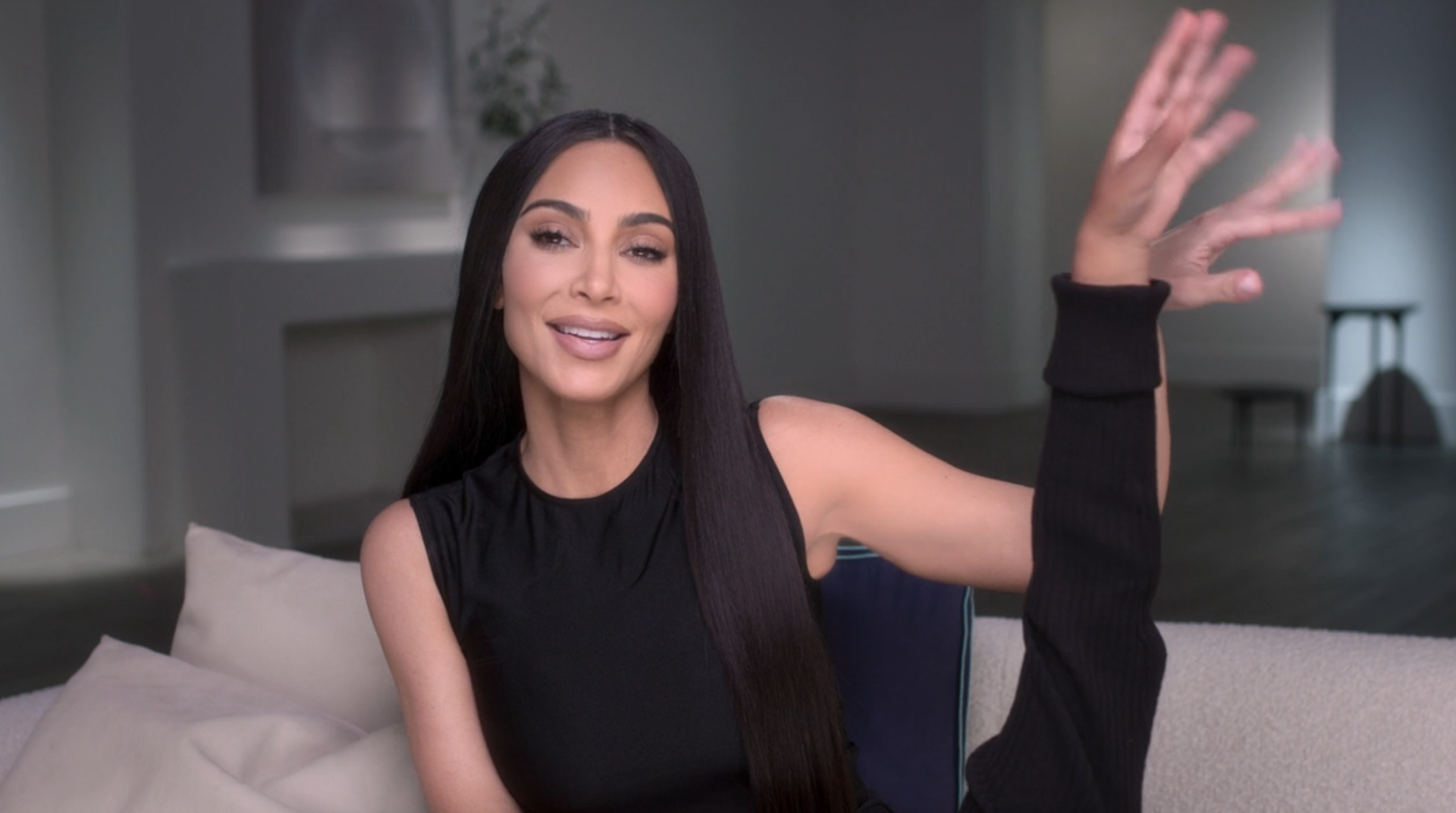 A producer then tries to reason with her, saying between laughter: "No, no, no — we're so close, North!"
Kim appears to be uncharacteristically flustered as she tries to regain control of the situation, and when North says, "Mama, I want to be with you," Kim replies: "I know, but we can't do a joint interview."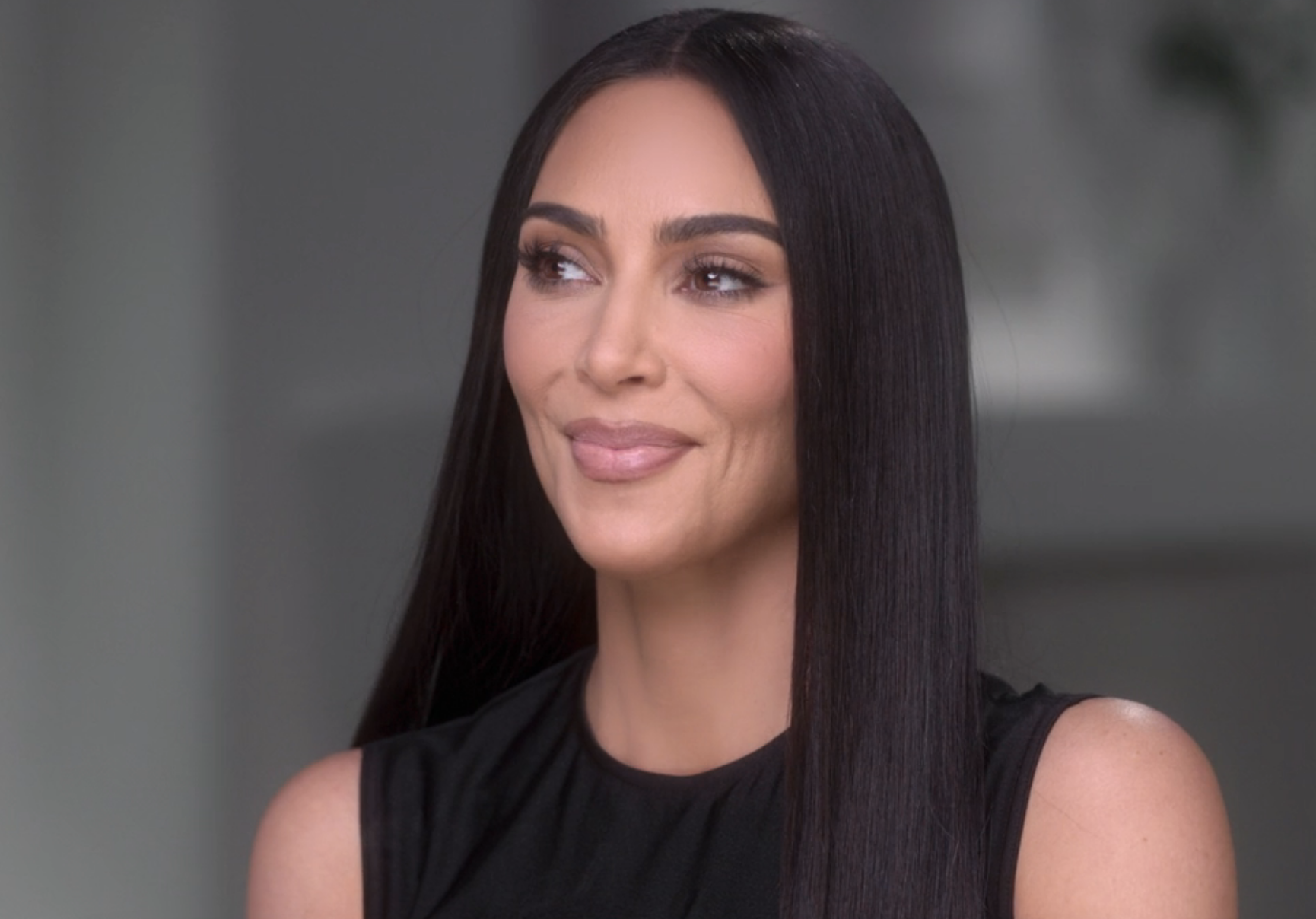 But she then has a change of heart, wrapping her arms around her daughter and pulling her in for a cuddle, saying to the camera: "All right guys, hi, it's me and North and she's here to tell you how much she loves me."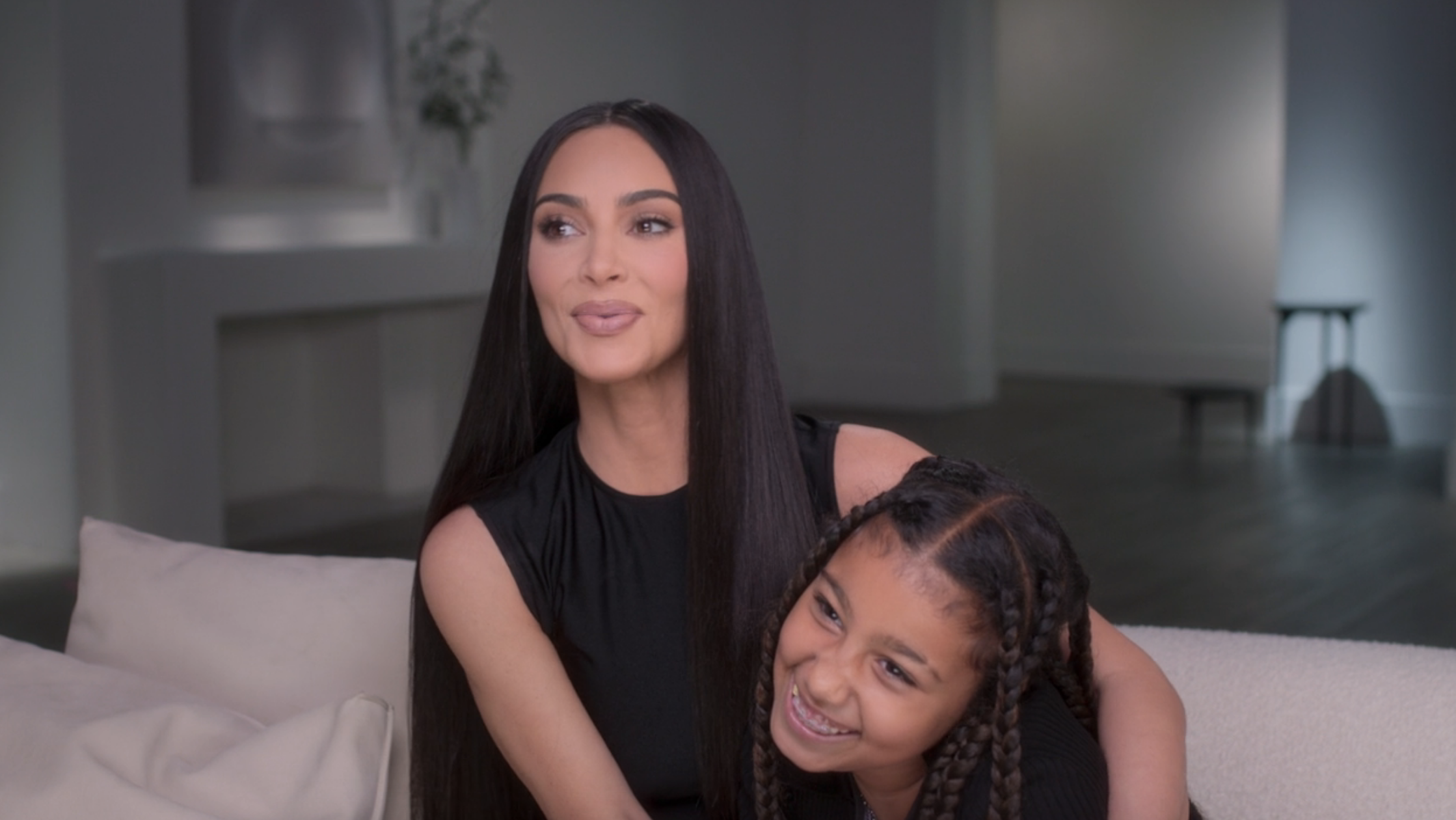 Kim laughs as North flops down into her lap, and the two share a sweet embrace as the scene ends.
The bonus clip appears to have gone unnoticed by many viewers, but those who did watch it found it absolutely adorable. Replying to a tweet of the moment on social media, one person wrote: "I love this video, North is so beautiful."
Despite North's willingness to be on camera this week, she has repeatedly expressed her discomfort at being famous in recent months.
In July, North and Kim were sitting front row at Paris Fashion Week, and after seemingly getting fed up with photographers taking pictures of her, she held up a handwritten sign that read: "Stop."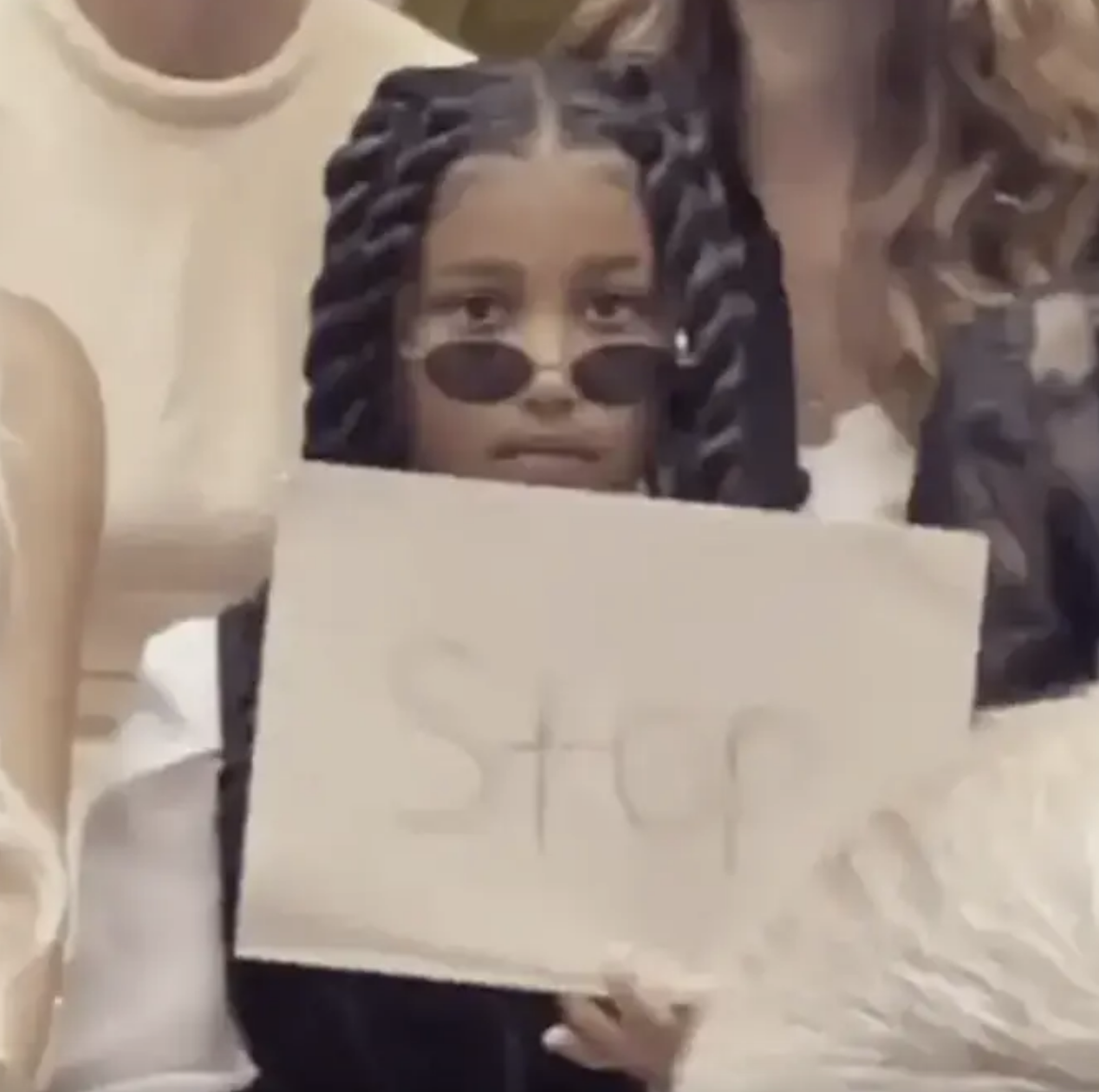 It came just days after she'd confronted the paparazzi directly while walking through Paris, asking: "Why do you have to wait for us all the time?" as the photographers continued to take pictures and one shouted back: "Because you're so famous. We love you, North!"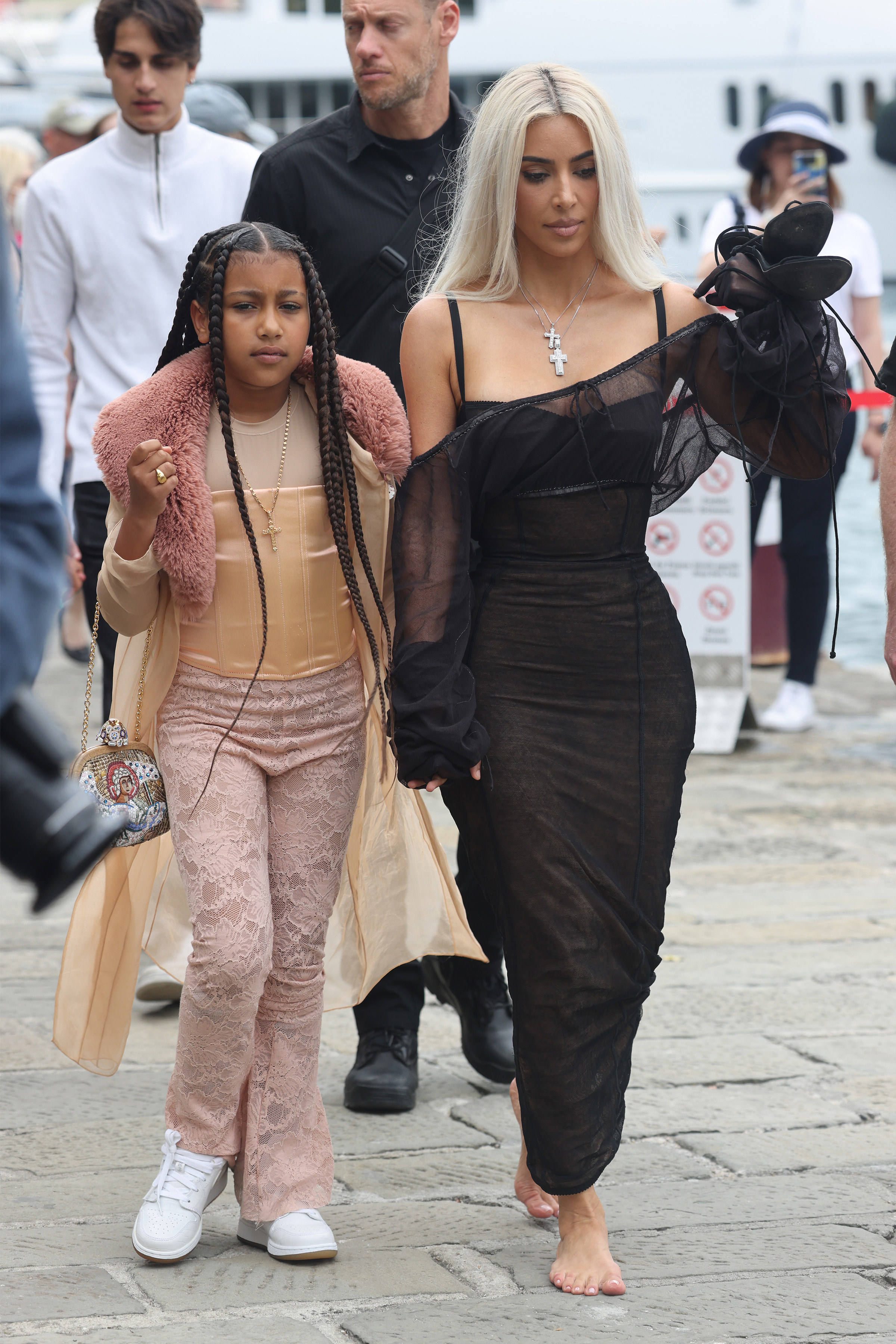 And the following month, people expressed their concern after a video resurfaced online that showed North telling a crowd of screaming Kardashian fans to shush while her younger sister, Chicago, looked terrified.
Kim received backlash for both of these incidents, with some accusing her of not taking her daughter's discomfort seriously enough.
The star previously revealed that she and her sister Kourtney Kardashian regularly talk to their children about their fame in a bid to explain the commotion everywhere that they go.
Speaking on Jimmy Kimmel Live in 2019, Kim said: "Kourtney and I have sat our kids down and had little conversations with them, and as they get older we'll continue to have that conversation and just explain it to them."
Meanwhile, North isn't the only one of Kim's kids to have caused a scene at her place of work, with the entrepreneur forced to pause an interview with Jimmy Fallon back in June so that she could scold her sons.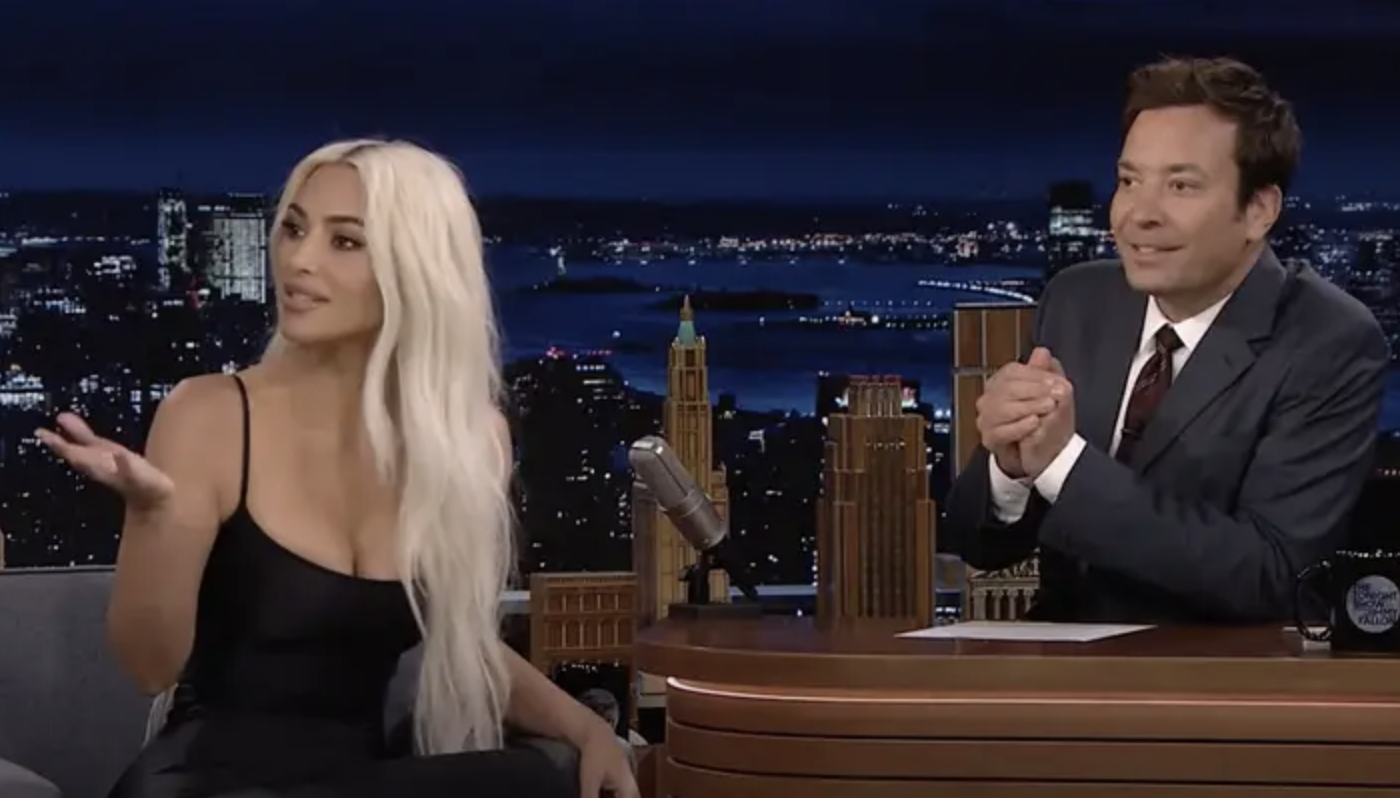 The two boys were sitting in the live studio audience to watch their mom's interview, but it appeared to all be too much for them and Kim had to repeatedly ask them to stop making noise before a nanny eventually took Psalm backstage.