Every so often, the Kardashians' millions of Instagram followers catch themselves doing a double take when they see one of the famous sisters posing with a pile of designer swag while promoting a giveaway.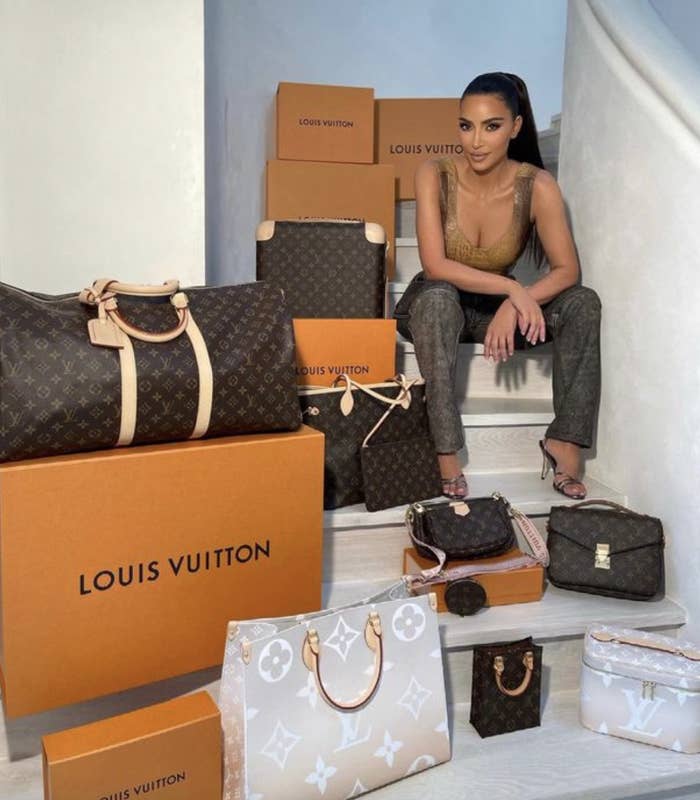 The competitions are glaringly uncharacteristic of the stars' otherwise perfectly curated feeds, with some people even wondering if the sisters' accounts had been hacked when they see the posts.
A similarity that all of these posts share is that the competition is affiliated with a company called Curated Businesses, and usually Scott Disick too. The KarJenner sister involved will also typically archive their post or change its caption as soon as the sweepstake's deadline has been reached.
Kim Kardashian is the most recent member of the family to team up with Scott to promo the competition, sharing a photo of herself posing in front of her car and alongside a variety of boxes and bags from Prada, Louis Vuitton, and other expensive designers earlier this week.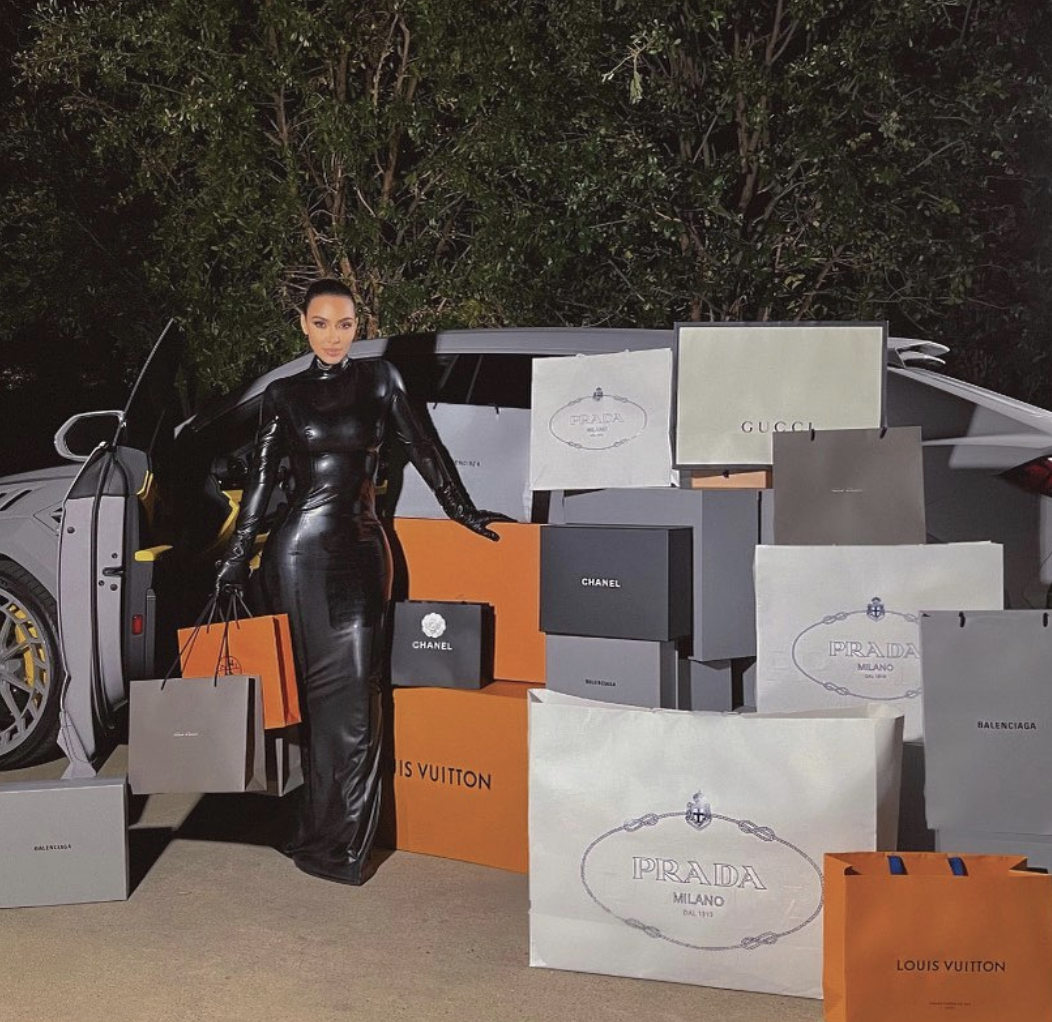 "Who wants to win a $100,000 USD pre loaded credit card + 2 first class flights & 5 night luxury hotel stay in a destination of your choice!" The post's caption read.

"Imagine shopping in Paris? LA? London? Tokyo? Dubai? NYC?… YOU choose where you want to fly this time #Ad," it continued to her 289 million followers.
Details on how to enter were then listed, with hopefuls having to go to Scott's profile to follow everybody that he is following, before returning to Kim's post to comment. At the time of the competition, Scott was following 75 accounts.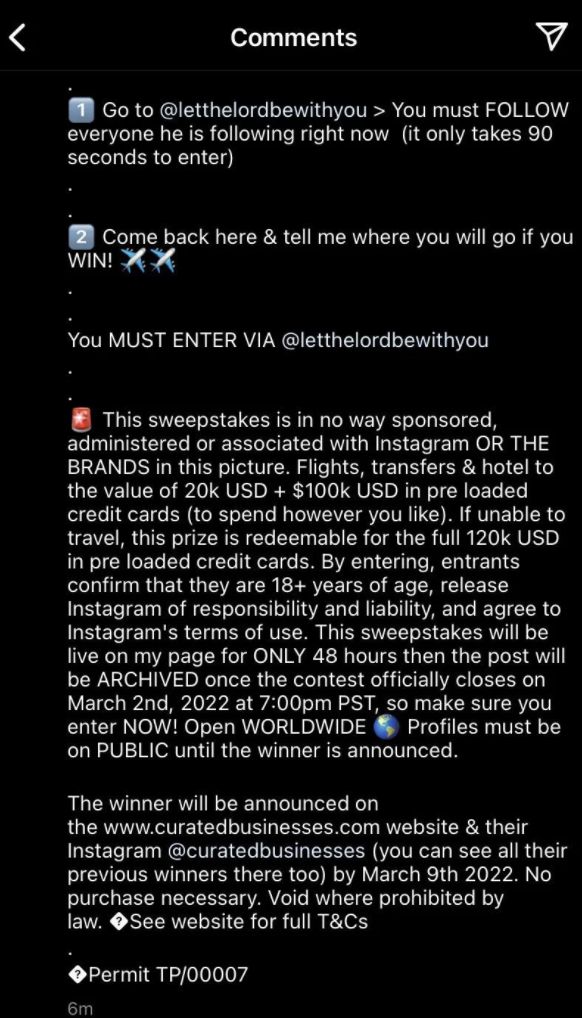 Terms and conditions are also listed on Kim's post, including that the sweepstake is "in no way sponsored, administered or associated with Instagram or the brands" in her photo.
Entrants must be 18, can be based anywhere in the world, and the competition was only live for 48 hours before Kim archived it on Wednesday.
"The winner will be announced on the www.curatedbusinesses.com website and their Instagram" by Mar. 9, the post concludes.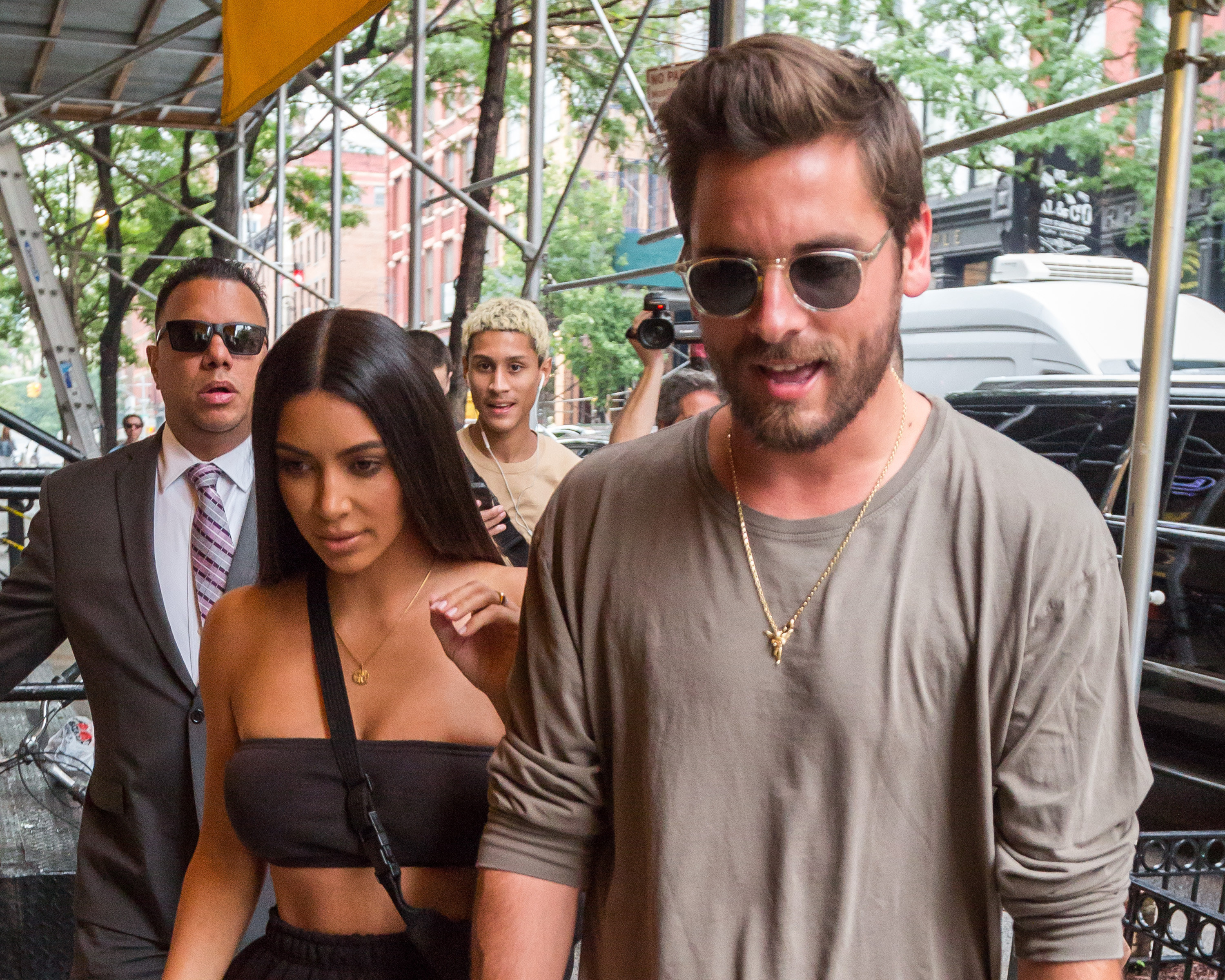 The competition has been discussed at length on a Reddit forum, with Kim's decision to get involved in spite of her huge wealth and celebrity status raising eyebrows.
"It might not be a scam but it is tacky. This is 2009 Kim behavior," one user wrote. Another agreed: "Why do this? So damaging to the brand - surely they have enough money."


One more commented: "I'm getting second hand embarrassment." And a fourth observed: "This don't seem like the types of things billionaires would do."


However, somebody who owns a company that was apparently invited to participate in one of these giveaways has now exposed the truth behind them in a viral TikTok, and it has seemingly revealed exactly why Kim would involve herself with the promotion despite it being so at odds with her personal brand.
Sarah Moret, who is the founder and CEO of body-care company Curie, claimed that she was contacted to take part in a giveaway that Scott and Khloé Kardashian had teamed up for.
Sharing a screenshot of Kim's recent post, Sarah asked her followers: "Have you ever wondered why Kim Kardashian, who has like a zillion followers and is super famous, does these dumbass giveaways?"
"My brand, Curie, has been asked to be part of these before so I know exactly how they work," she added.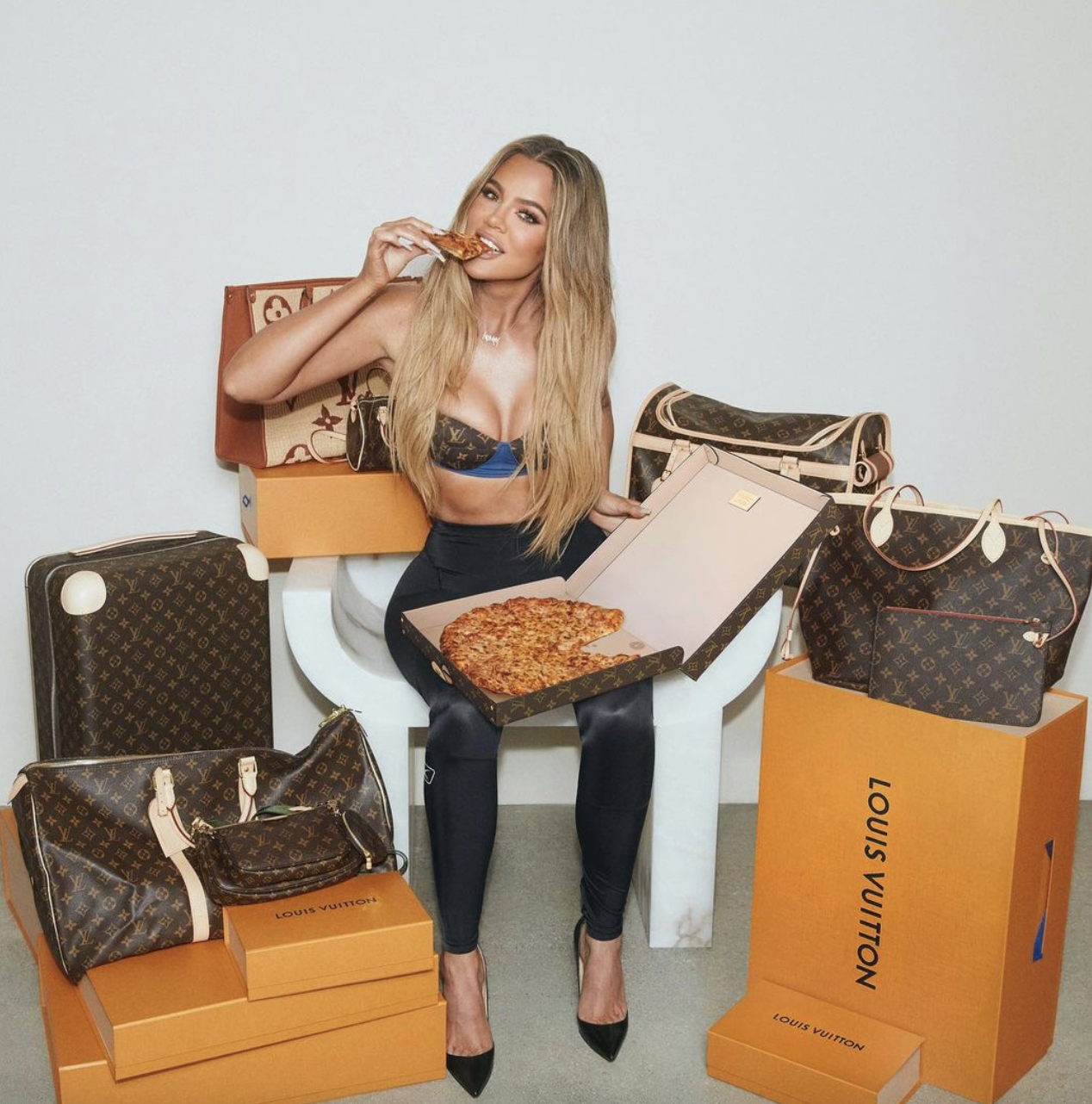 Sarah then shared a screenshot of an email that she received "a couple of years ago" with the subject line: "Khloé Kardashian x Scott Disick Marketing Campaign."
The email reads: "Hello! I'm enquiring regarding an opportunity to collaborate with Khloé Kardashian & Scott Disick on an upcoming marketing campaign."
"The campaign is set to take place tentatively on July 20th, 2020. Could you please direct me to the correct email address to discuss the details?" it goes on.
Sarah has obscured the email address and signature details of the sender, and told followers: "Scott Disick is always involved, so I think he's one of the ringleaders here."
She then explained that for the most recent giveaway with Kim, Scott was following 75 brands that all entrants had to follow in order to be eligible for the prize.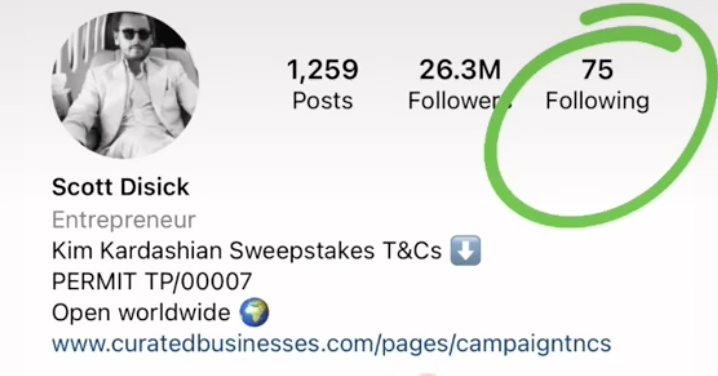 Sarah revealed that all of those brands would have paid to be part of the competition. She claimed: "Because we've been invited to do these before, I know that all 75 of these brands are paying $25,000 each to be part of this giveaway."
Doing the math of $25,000 multiplied by 75, which comes to $1,875,000, Sarah concluded: "That means that the Kardashians and Scott are making $1.8 million in the giveaway that's live right now."
The prize is worth $120,000, which means that even if Kim and Scott paid for that out of their own pocket, they would still bank more than $1.7 million from the competition, based on the figures supplied by Sarah.
However, Sarah pointed out in the comments that the prize could well be provided for them, telling a follower: "They don't even pay for the prize I bet! Guarantee it's gifted."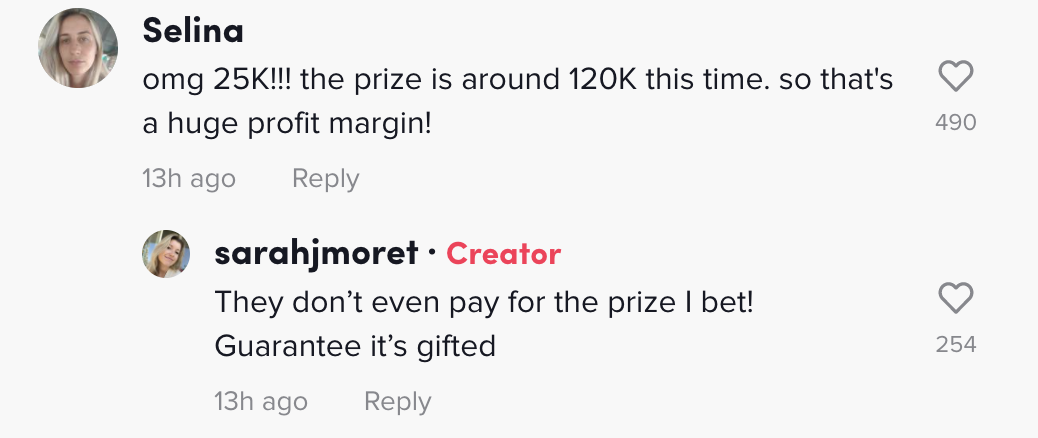 Regardless of whether that is true, if Sarah's assessment is correct, then it means that Kim has secured a stake in over a million dollars simply by sharing an Instagram post to her profile for 48 hours.
And so, while her involvement in the competitions may receive backlash for being off-brand and "tacky," she clearly believes that the financial benefits far outweigh the negative comments.
As for who wins the competitions, Sarah pointed out that while the giveaway appears to be legitimate, your odds of winning are incredibly low.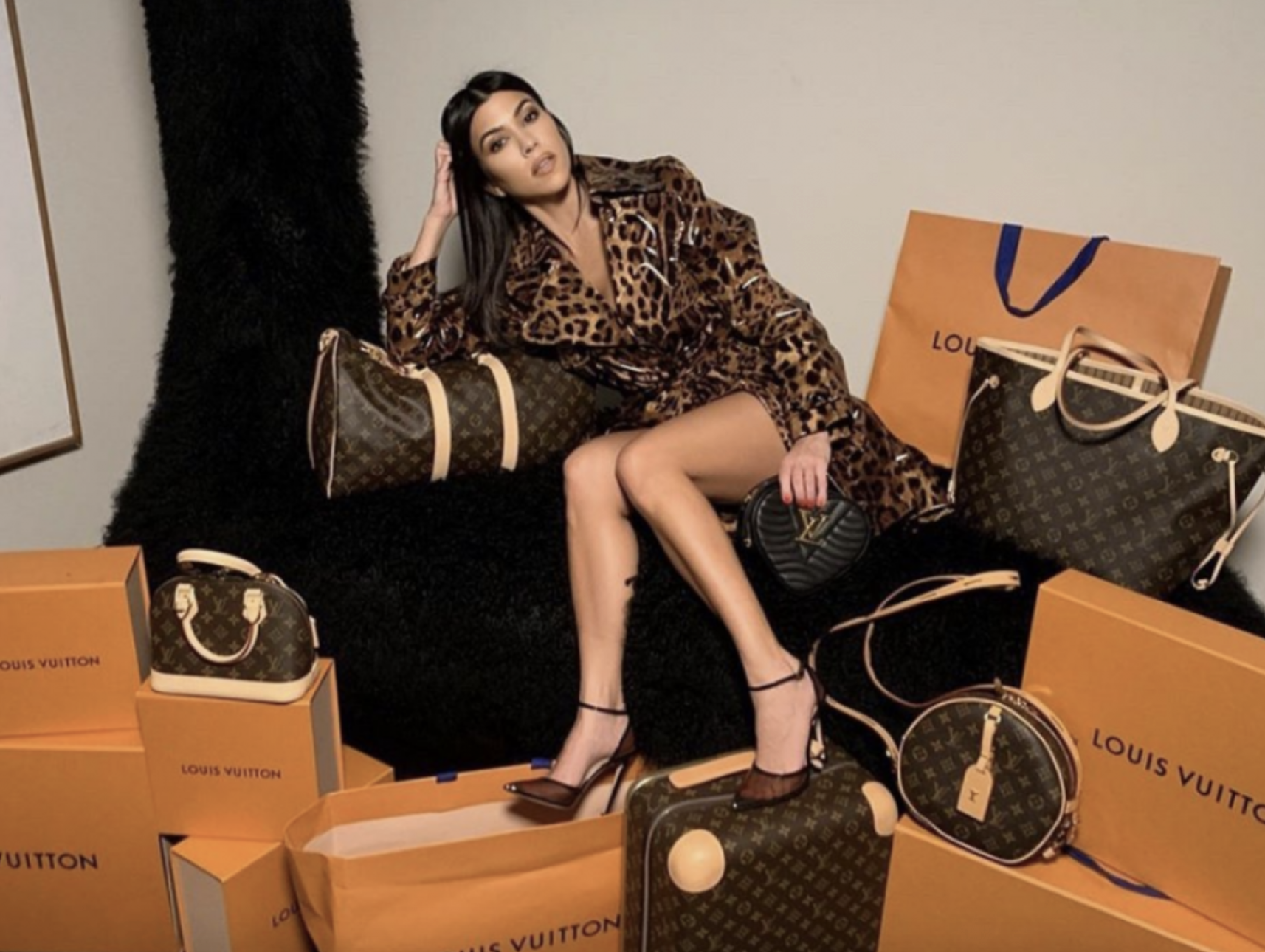 Referencing Kim's post from this week again, she explained: "Right now there's 125,000 comments on this giveaway, which means that you have a better chance of being struck by lightning in your lifetime than winning Kim Kardashian's giveaway."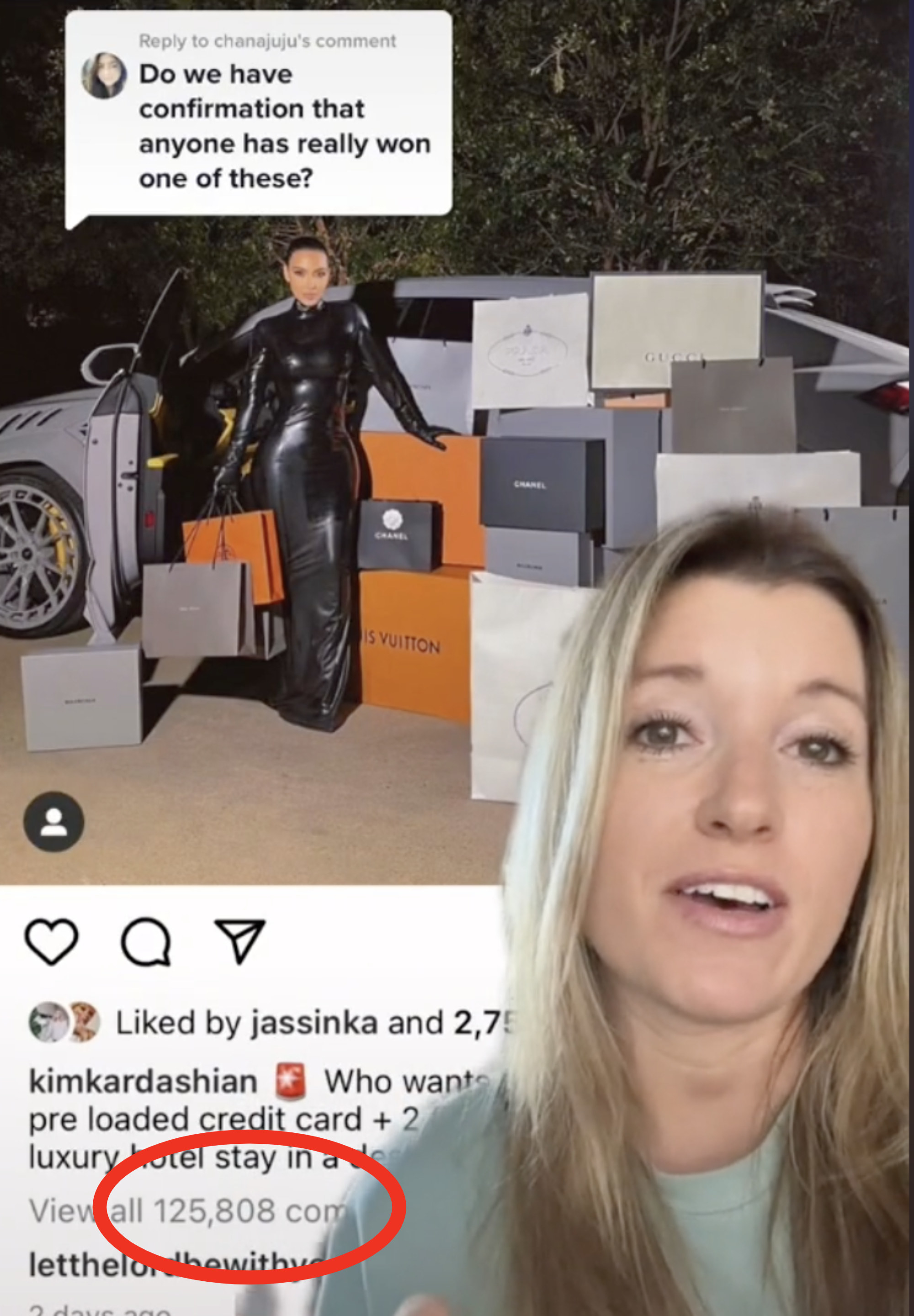 All past winners can be found on the Curated Businesses website with links to their personal Instagram accounts. In August 2021, Instagram user @jacquis9 won a Kylie Jenner designer handbag sweepstake and posted about it on her profile.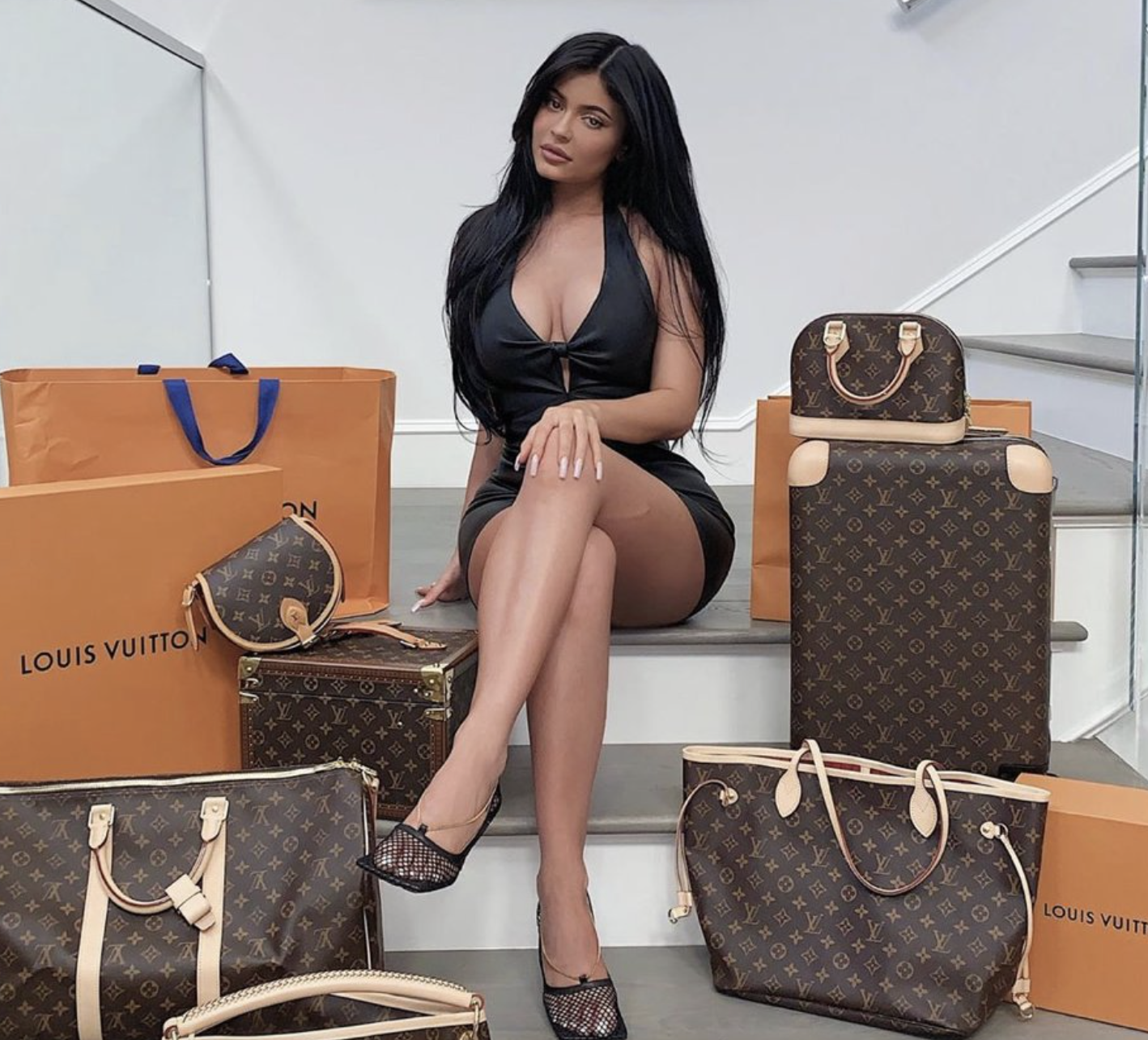 Announcing her win, she wrote: "I cannot believe I won all these amazing items!! This is such a dream come true!! 🙏🏼🙏🏼🙏🏼♥️♥️♥️♥️♥️ Thank you so much @curatedbusinesses !! It's life changing!!"
Six days later, @jacquis9 posed with her prize, writing: "@curatedbusinesses thank you so much for these awesome goodies with winning the Kylie Jenner Giveaway Campaign!!! This has been one of the most epic experiences ever! I can't believe I won! Thank you, thank you!! These bags are so beautiful!! 🧳 👜 🛍 🙏🏼❤️"
In October 2021, @elizabeth_volotko was crowned the winner of an Instagram competition to win Louis Vuitton handbags that Khloé was involved in. As with the previous winner, she posted about her win before receiving the prize, writing: "Well.. I don't know how to explain that.. But I WON on this giveaway!!!"
Eight days later, she posed with the designer bags and wrote: "Guess what happened 😱 All of the bags is here 😍 Thank you @curatedbusinesses once again for this honest and cool giveaway!!! I want to repeat one more time that is was an amazing experience in my life and the such a great blessing 🙏"
Buzzfeed News has reached out to the competition winners for further comment on their experience.
With Scott and his chosen KarJenner sister raking in the cash, and a legitimate winner seemingly receiving the advertised prize, it looks as though these competitions are as valid as any other.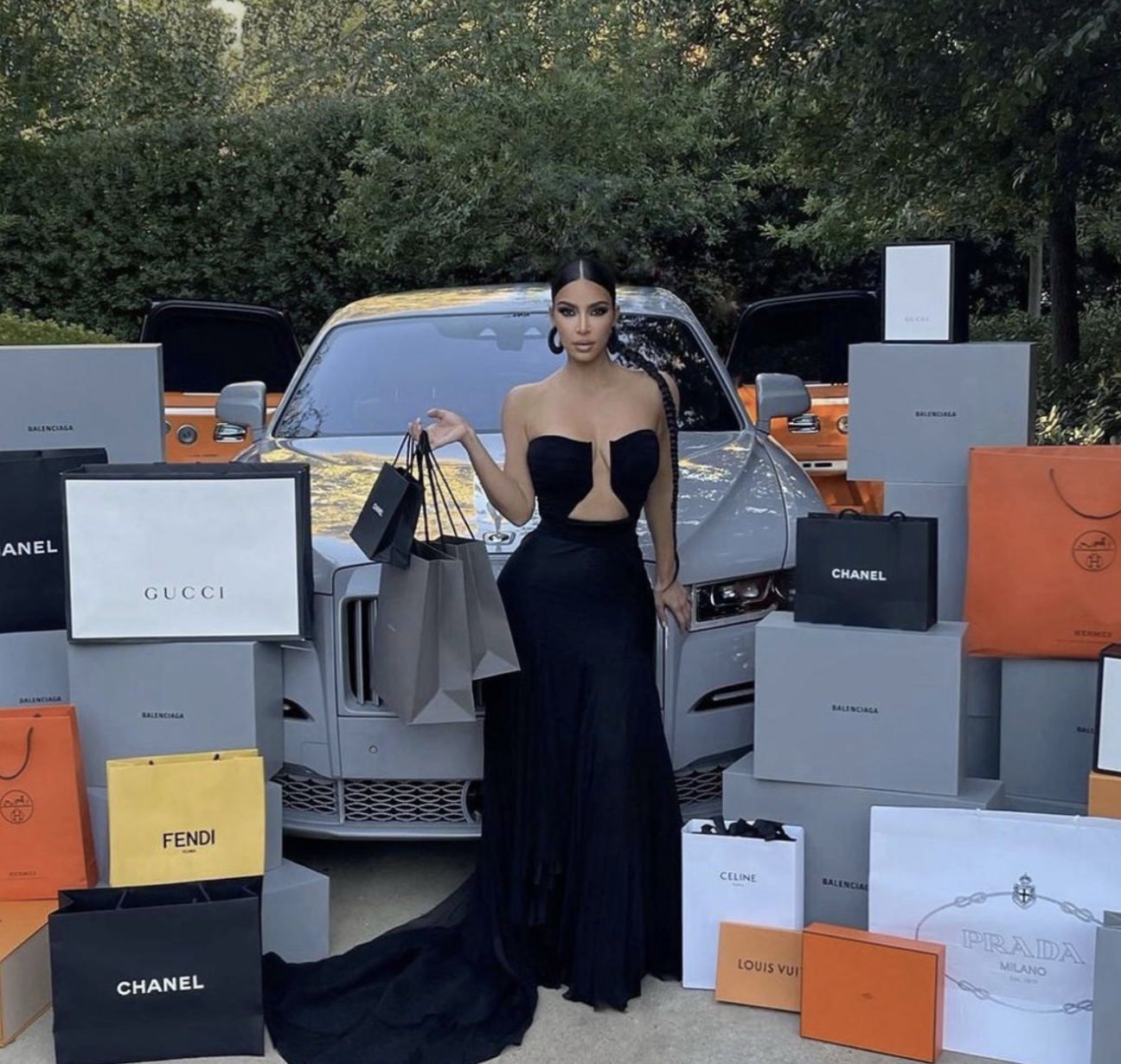 But is the hefty fee worth it for the companies that pay to have their brand included in Scott's follower list in a bid to boost their social media presence?
If 125,000 accounts took part in Kim's recent competition, then each of the 75 profiles that Scott was following would have seen a boost of the same amount.
But the likelihood is that once the winner has been announced, the majority of their new followers will unfollow — and even if they don't, a high follower count does not equate to high engagement.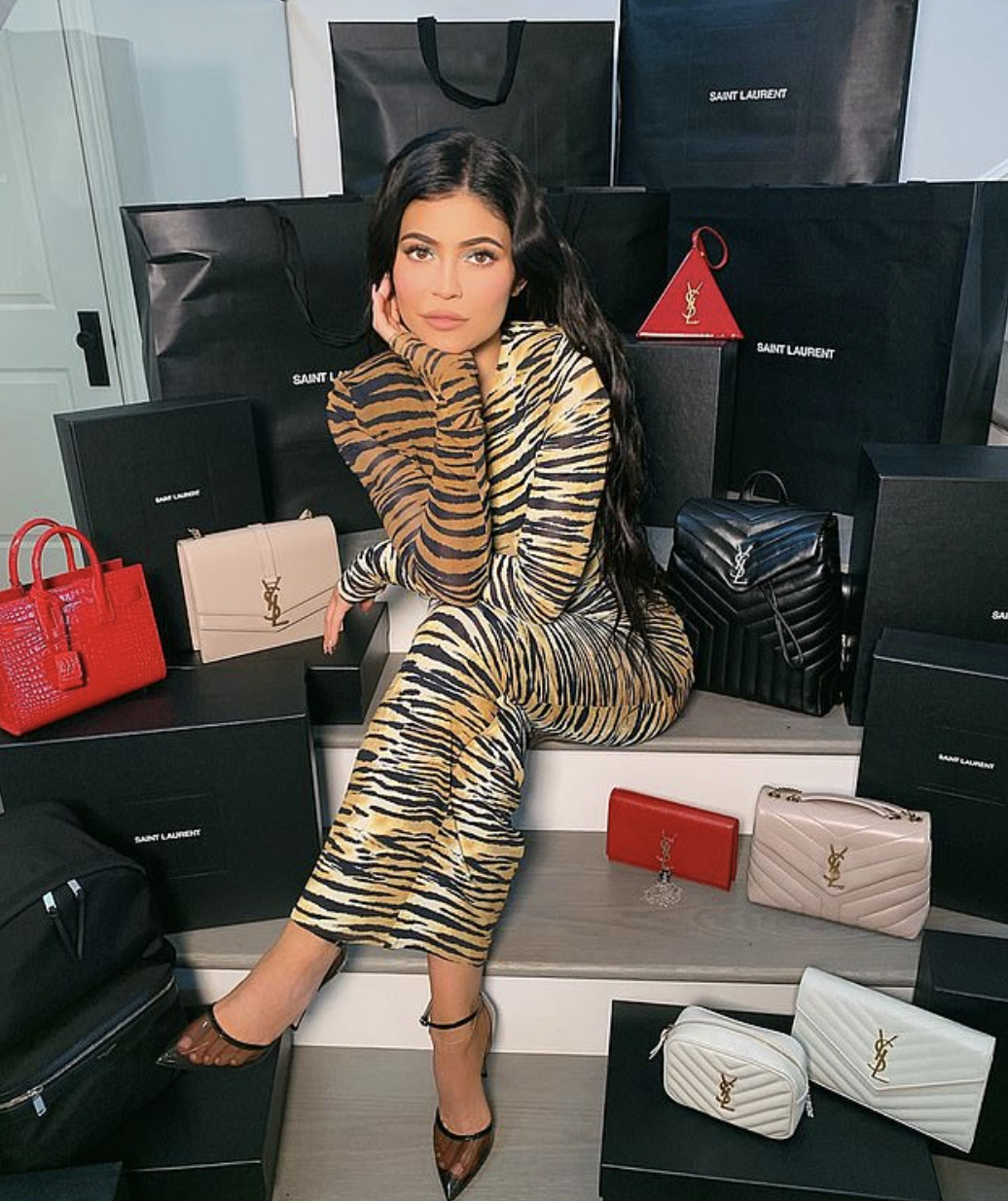 In fact, YouTuber D'Angelo Wallace did a deep dive into the concept of these "follower loops" back in April 2020.
In his video, D'Angelo tracked some of the companies that had been involved in the Kardashians' past Instagram competitions after the giveaway had ended.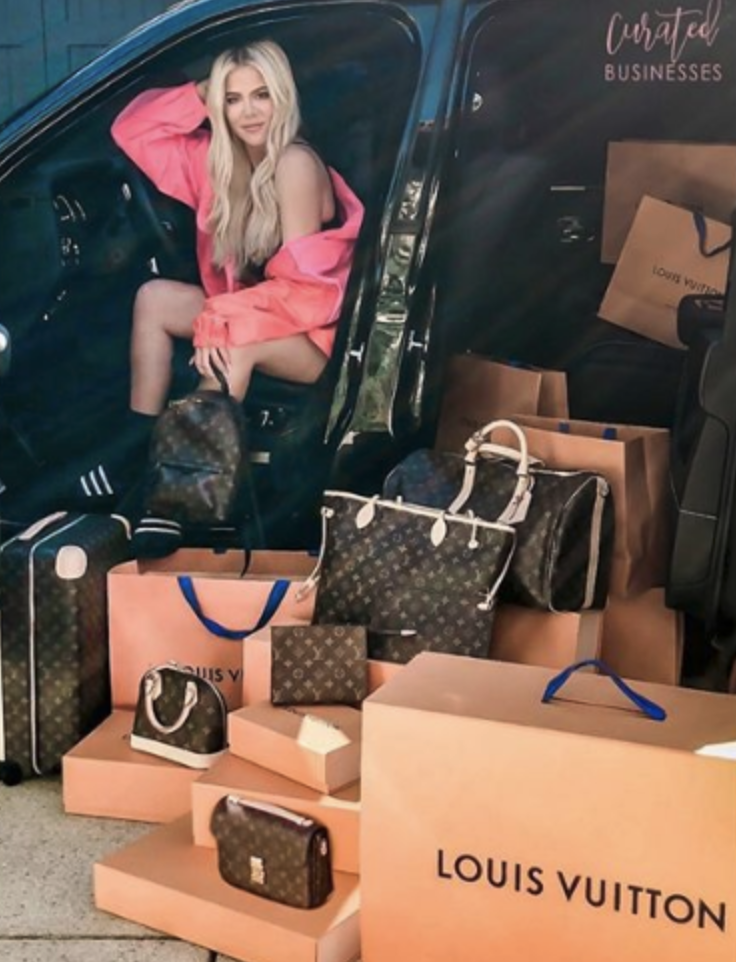 He found that the companies were losing followers every single day, and even if their follower count remained high, this was not reflected in their posts.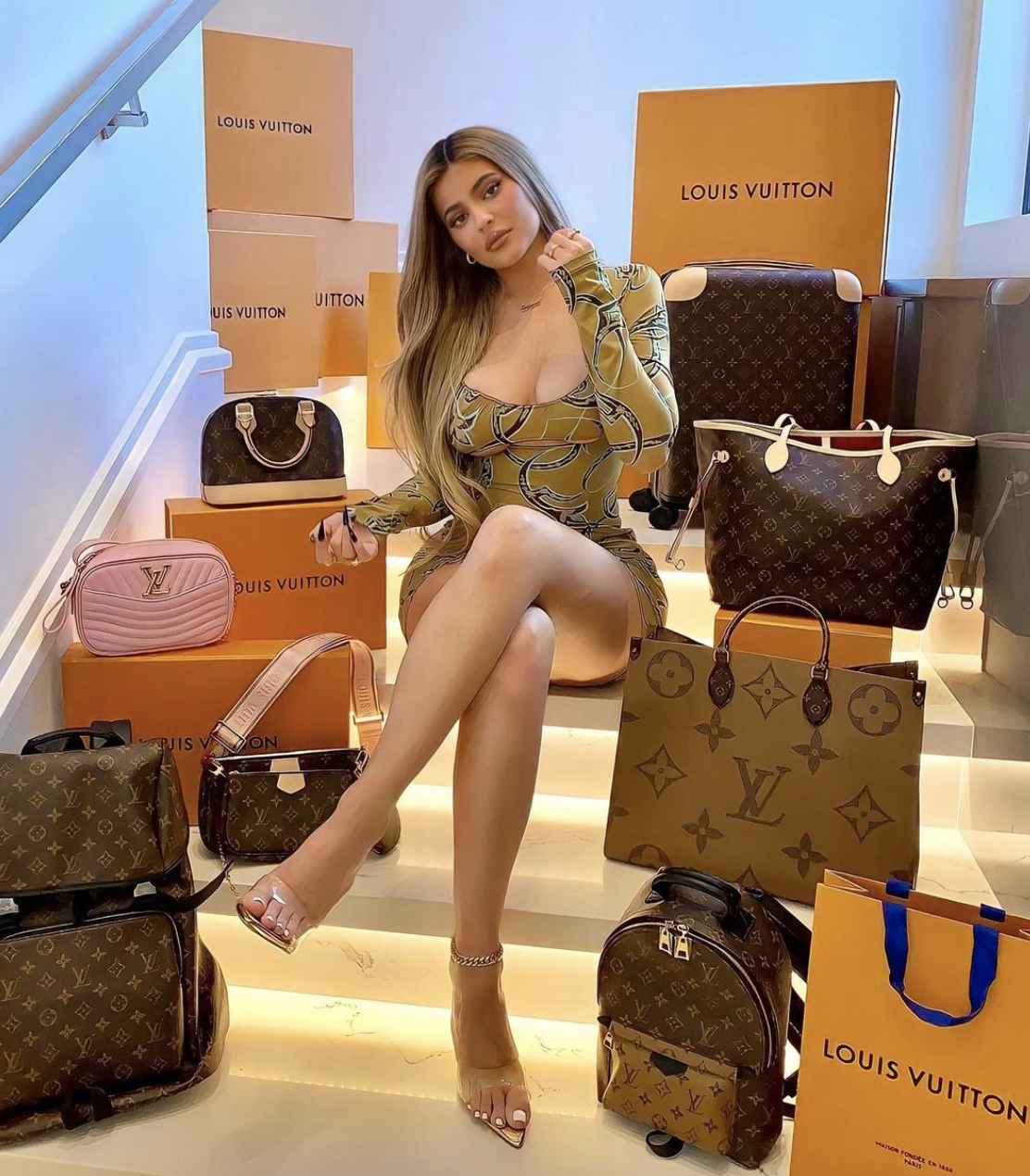 D'Angelo drew attention to a baby brand with the username @Mushie_Co that had 667k followers at the time. He pointed out that their posts were only getting 4,000 likes, which means that just 0.5% of the company's followers were engaging with their content.

An account called @GiGICBikinis suffered a similar fate, with some of their posts getting just over 200 likes despite their 156k following.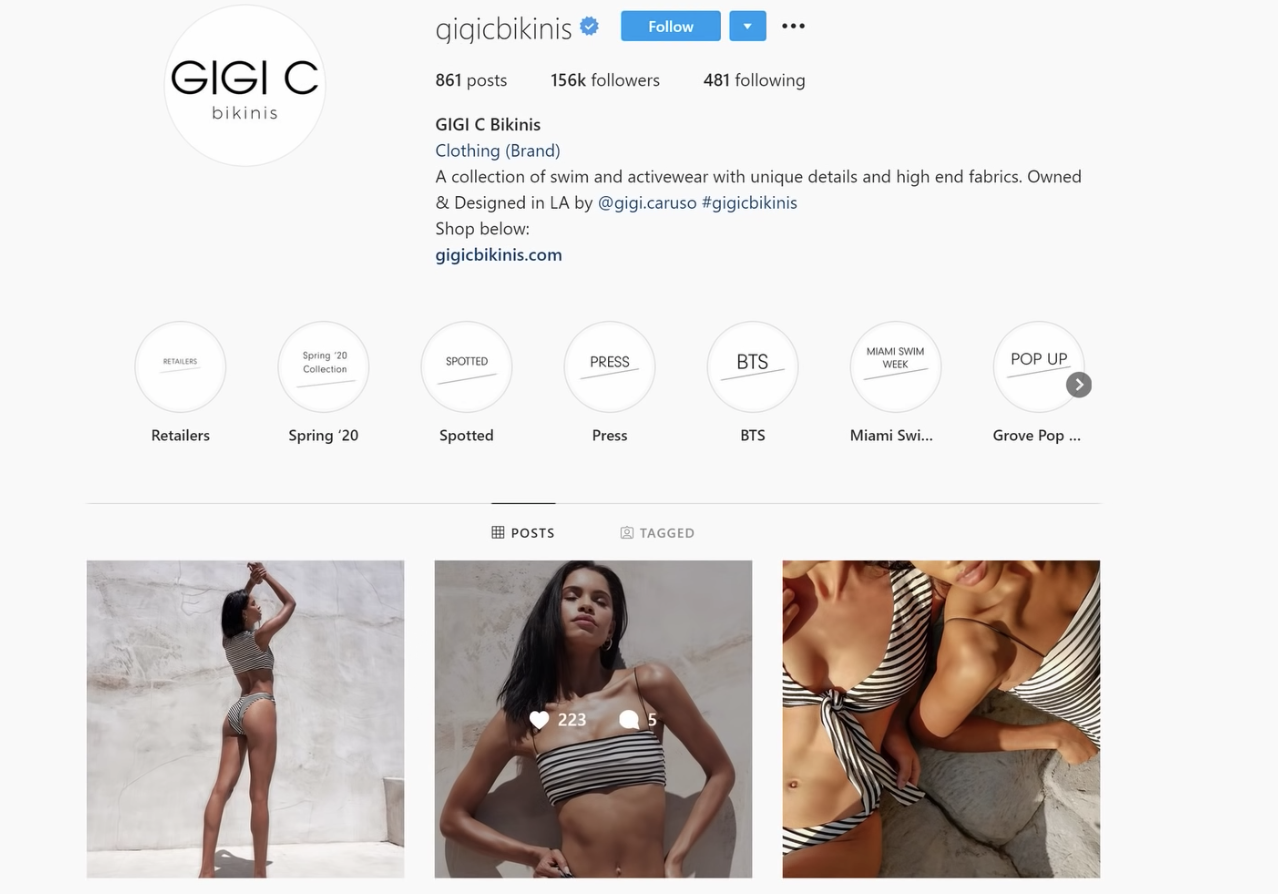 Sharing his confusion over why these companies would therefore pay for a temporary follower boost, D'Angelo pointed out: "You don't get brand deals because of how many subscribers you have, you get them based on your views and likes."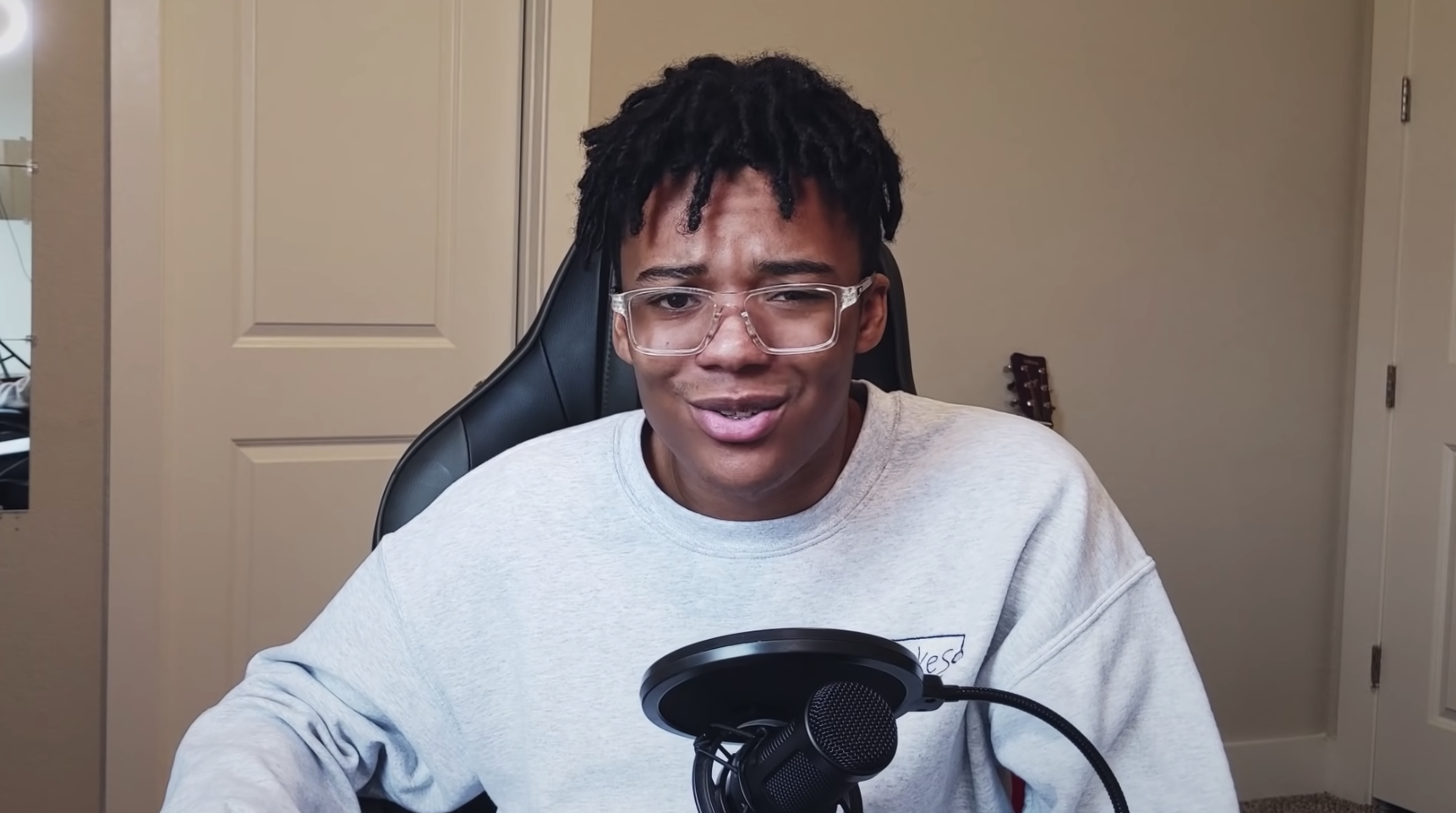 He added that it is therefore meaningless to pay for more followers because it doesn't increase engagement. He concluded: "The whole thing is pure vanity."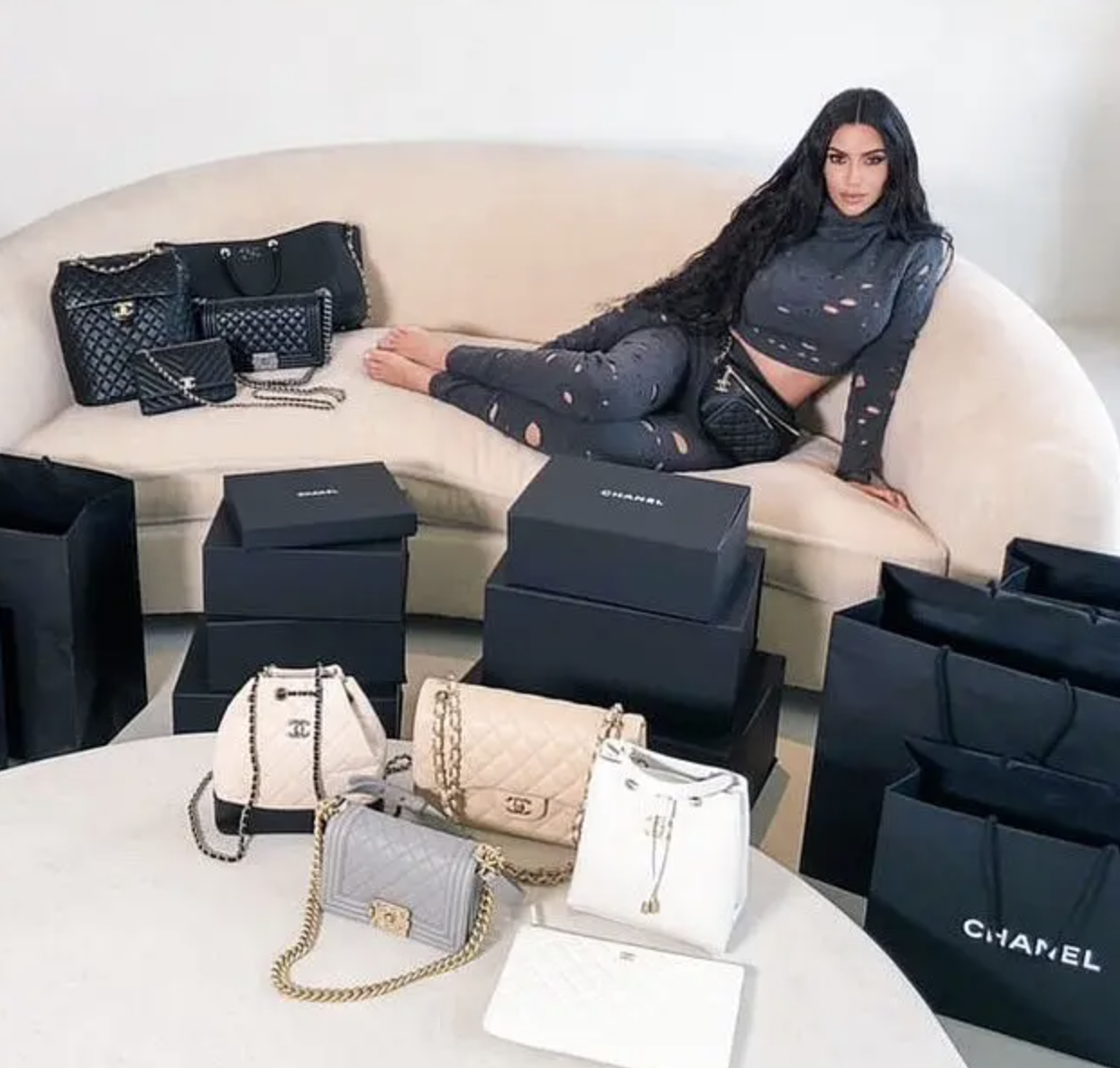 But the same can't be said for the KarJenner who takes part in the competition, as they actually see a huge boost in their Instagram engagement that they can then leverage to get more money from brand deals.
While Kim's recent giveaway post got over 125,000 comments from followers trying their luck, most of her other Instagram posts average less than 10,000 comments. This shows an increase of 1150%.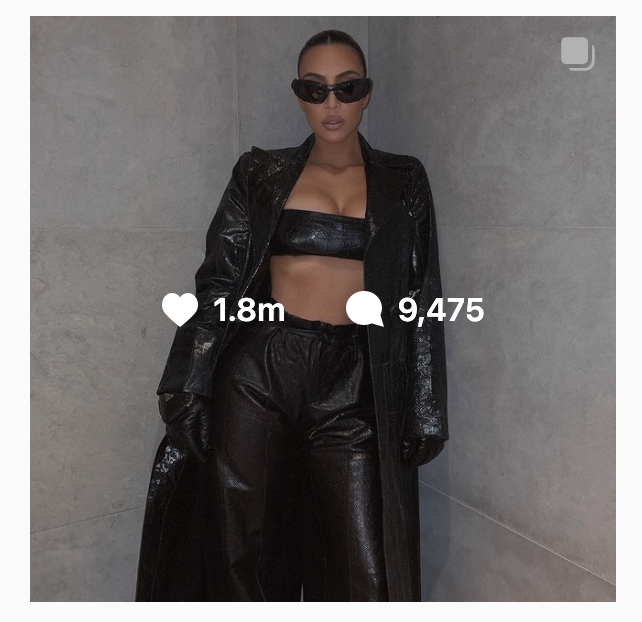 The boost means that in addition to the initial financial benefit of teaming up with these 75 brands, Kim and co. can also reap the long-term benefits that come from such high social media engagement when it comes to negotiating deals.
In short, while the mysterious Instagram competitions definitely go against Kim's personal brand as a billionaire celebrity, they certainly align with her business mogul persona.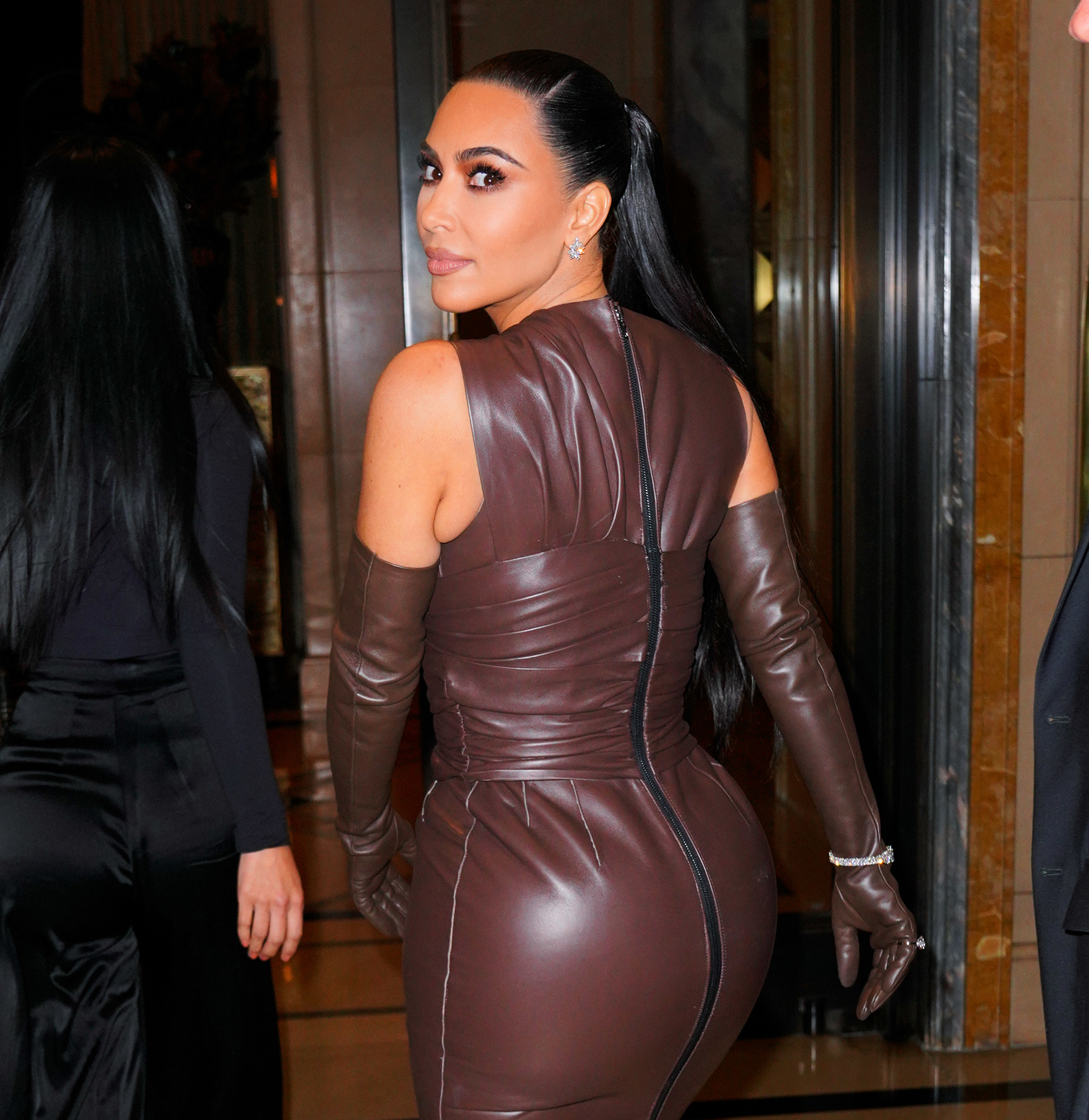 And when you consider the money to be made from a simple Instagram post, you can certainly see why the sisters are so willing to get involved.