Over the years, the KarJenners have certainly not been strangers to the occasional photoshop or filter fail in their social media posts.
Every member of the family has fallen victim at one point or another, with Khloé Kardashian even issuing a statement when an unedited bikini photo went viral online.
The unauthorized photo was accidentally shared by an assistant in April 2021, and Khloé threatened legal action in her bid to scrub the image from the internet.
Sources said that Khloé was "embarrassed" and "freaked out" by the leak at the time, and she later admitted that she loves "a good filter, good lighting and an edit here and there" as she addressed the photo on Instagram.
In fact, the star confessed to digitally amending her photos in "the same way I throw on some make-up, get my nails done, or wear a pair of heels to present myself to the world the way I want to be seen and it's exactly what I will continue to do unapologetically," and her famous sisters are known to do the same.
Kylie Jenner previously deleted a photo of herself posing in a bikini after fans noted the distorted edge of the swimming pool that suggested photoshop, and Kendall Jenner was accused of editing the photos that she shared from her Skims shoot last year.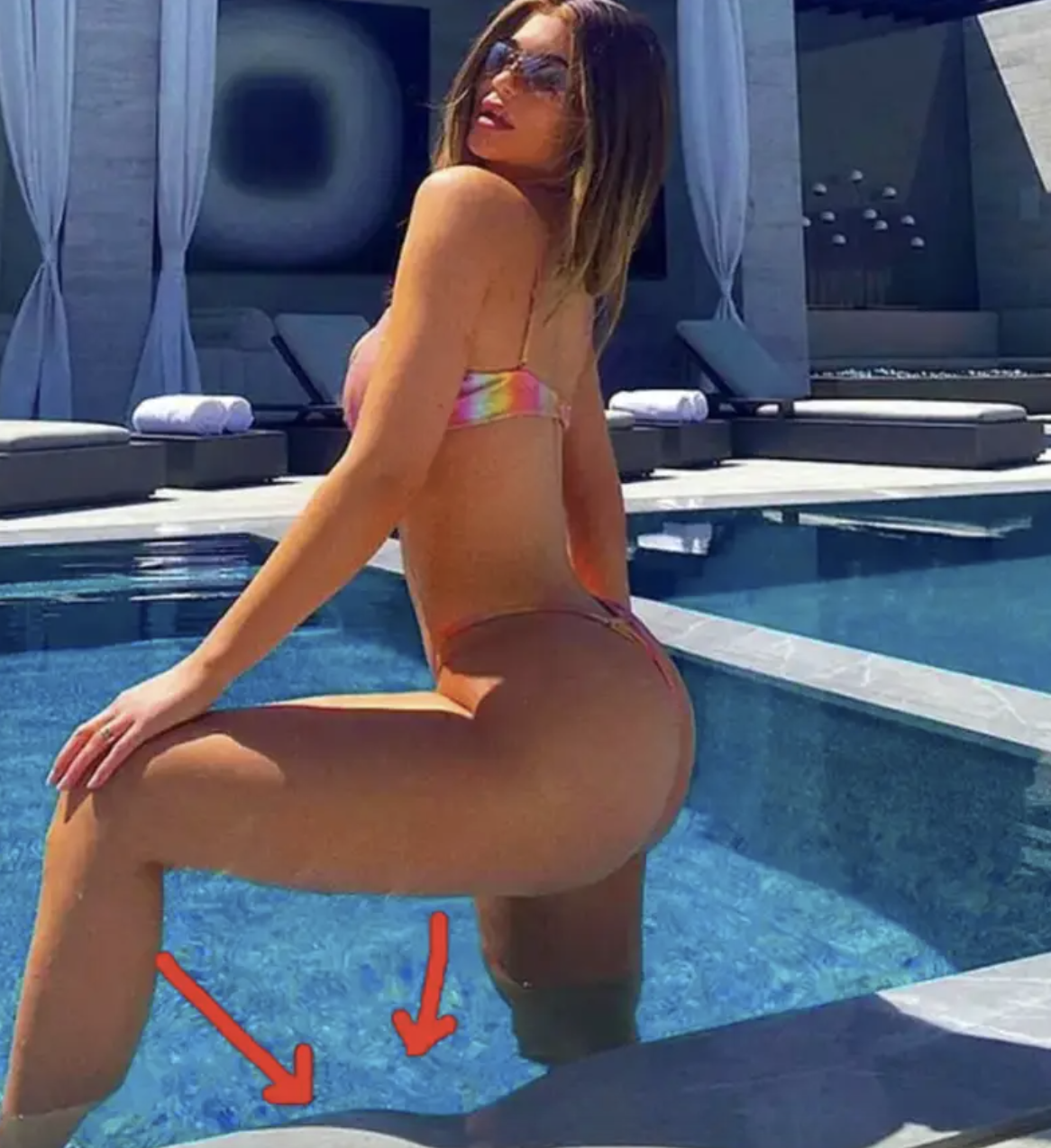 Earlier this year, fans noticed that Kim's cellphone was warped in a mirror selfie that she shared, which is a telltale sign that an image has been manipulated.
And her edits don't appear to be limited to photos, with the star also found guilty of using a filter that makes "her face thinner" in an Instagram video last year.
The post was to promote her makeup range, and followers were quick to notice that the walls behind her were concave and that the door had changed shape due to the digital editing.
Still, people didn't really expect the sisters' use of filters to extend past their own social media pages or family reality show, The Kardashians, so they were a little surprised after NBC seemingly manipulated Kim's face during her recent appearance on The Tonight Show.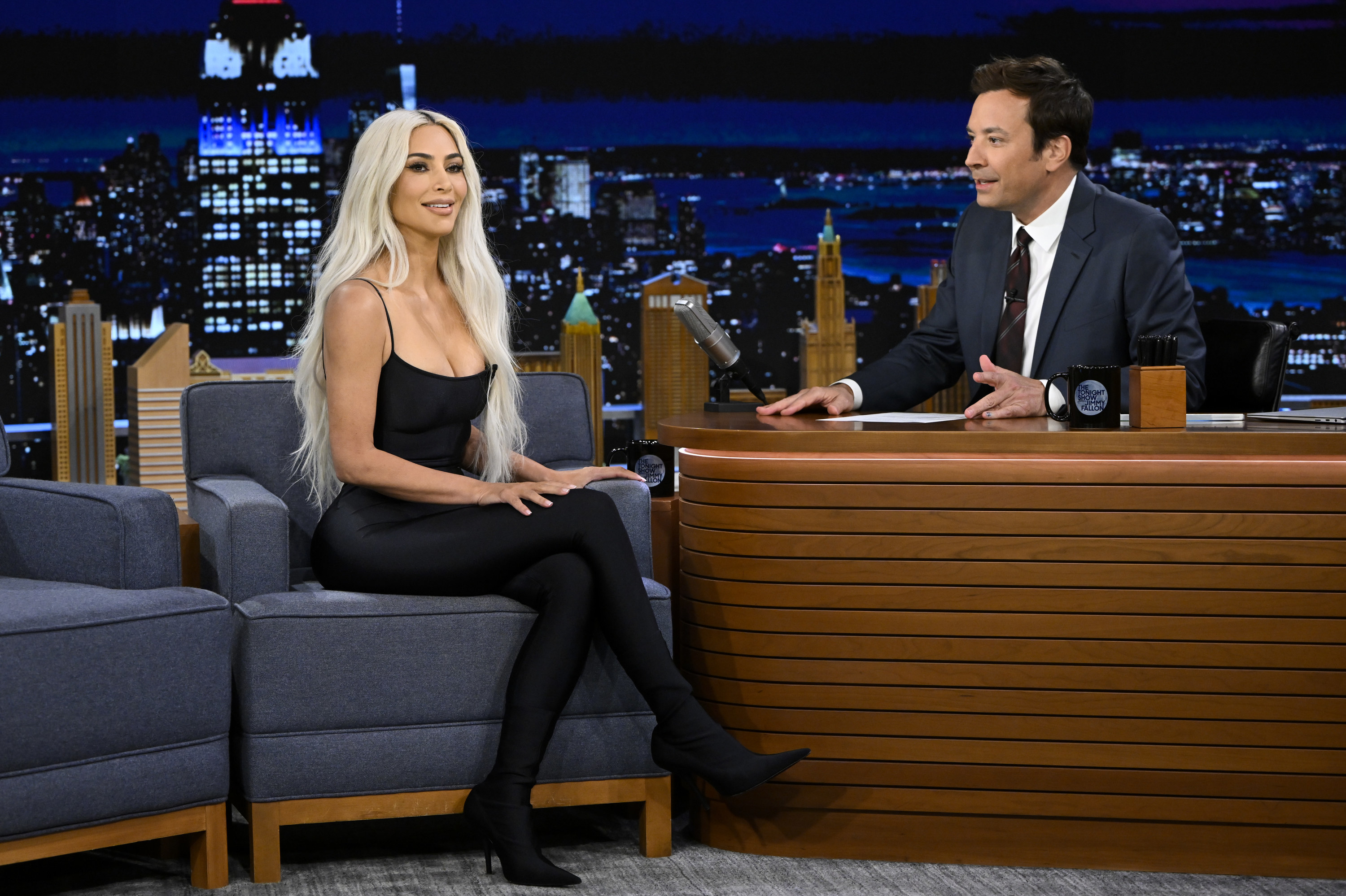 Instagram account @problematicfame was formed to spread "awareness on how Instagram can impact beauty standards," and is renowned for highlighting celebrity photoshop and editing fails to their 239,000 followers.

On Wednesday, they drew attention to an alleged "glitch" in a video that was shared by The Tonight Show, asking their followers: "Did anyone catch the filter glitch here?"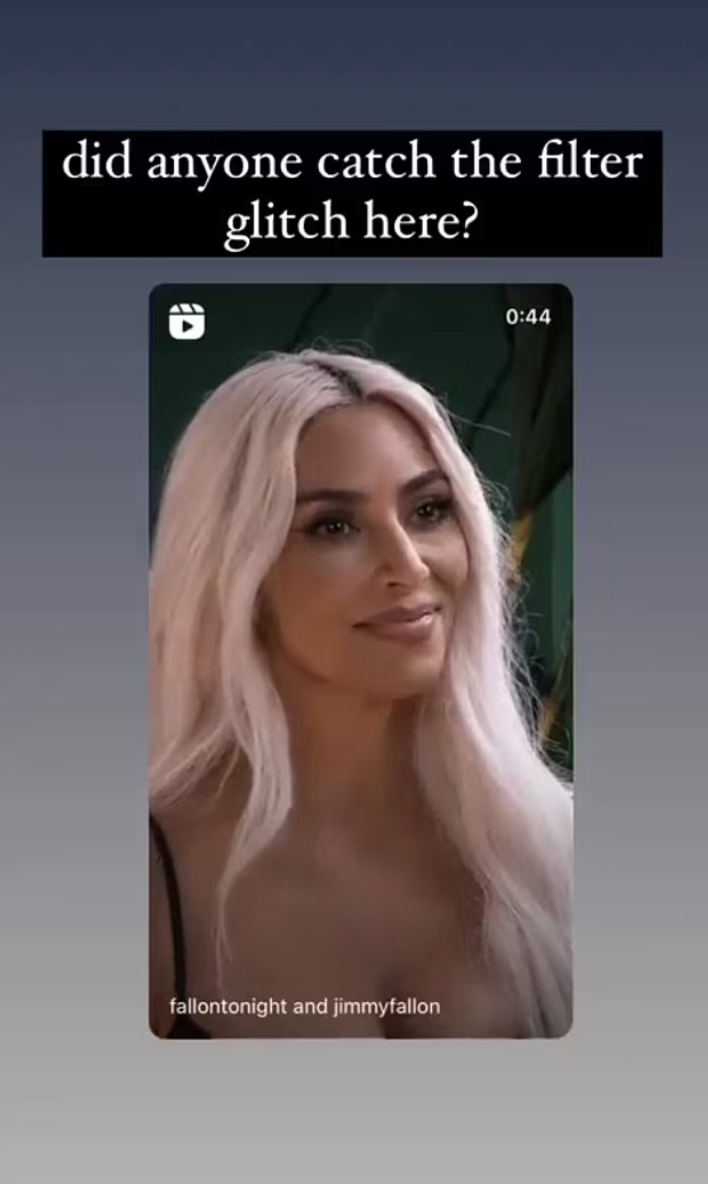 In a follow-up post, they added: "So, in my opinion, the clips of Kim are all blurred to some extent BUT the first clip is a lot less filtered than the rest."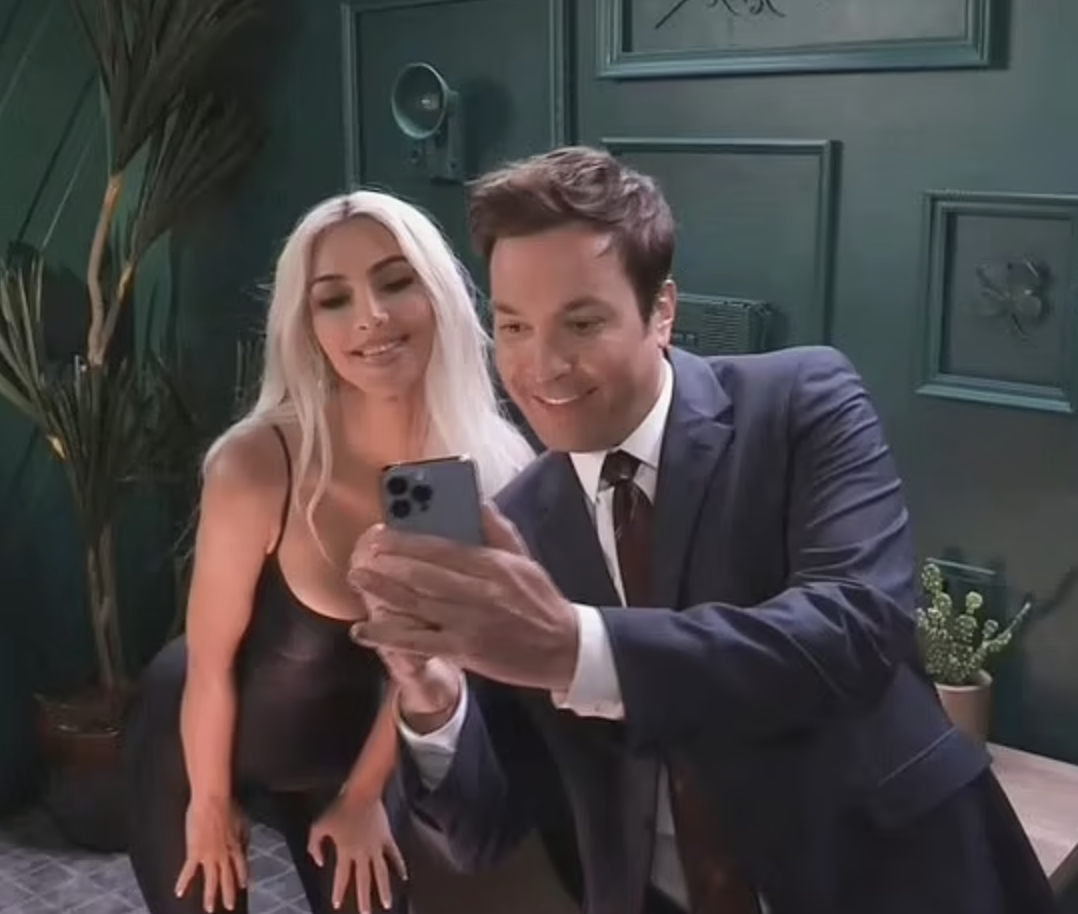 In addition to Tuesday's interview, Kim filmed another introductory video with Jimmy Fallon called "Kim and Jim Check In Before the Show Begins," which saw Kim and the host communicate entirely in rhymes ahead of the show.
@problematicfame shared a selection of comparison screengrabs that they'd taken of Kim throughout the episode, which draws attention to aesthetic inconsistencies in her face.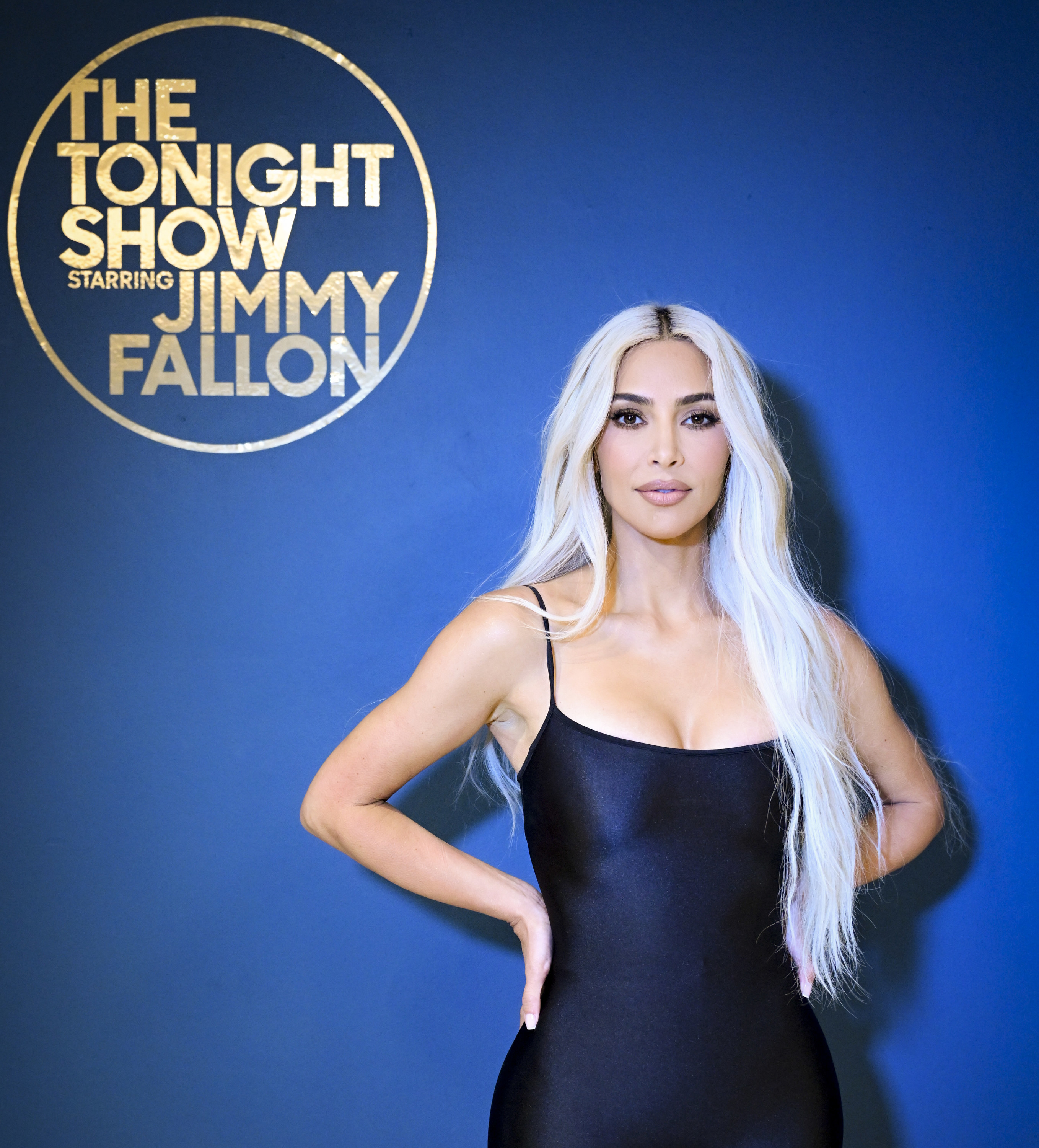 In the first grab there is natural creasing around Kim's eyes and blemishes on her skin, but in the second her skin looks completely flawless and incredibly smooth.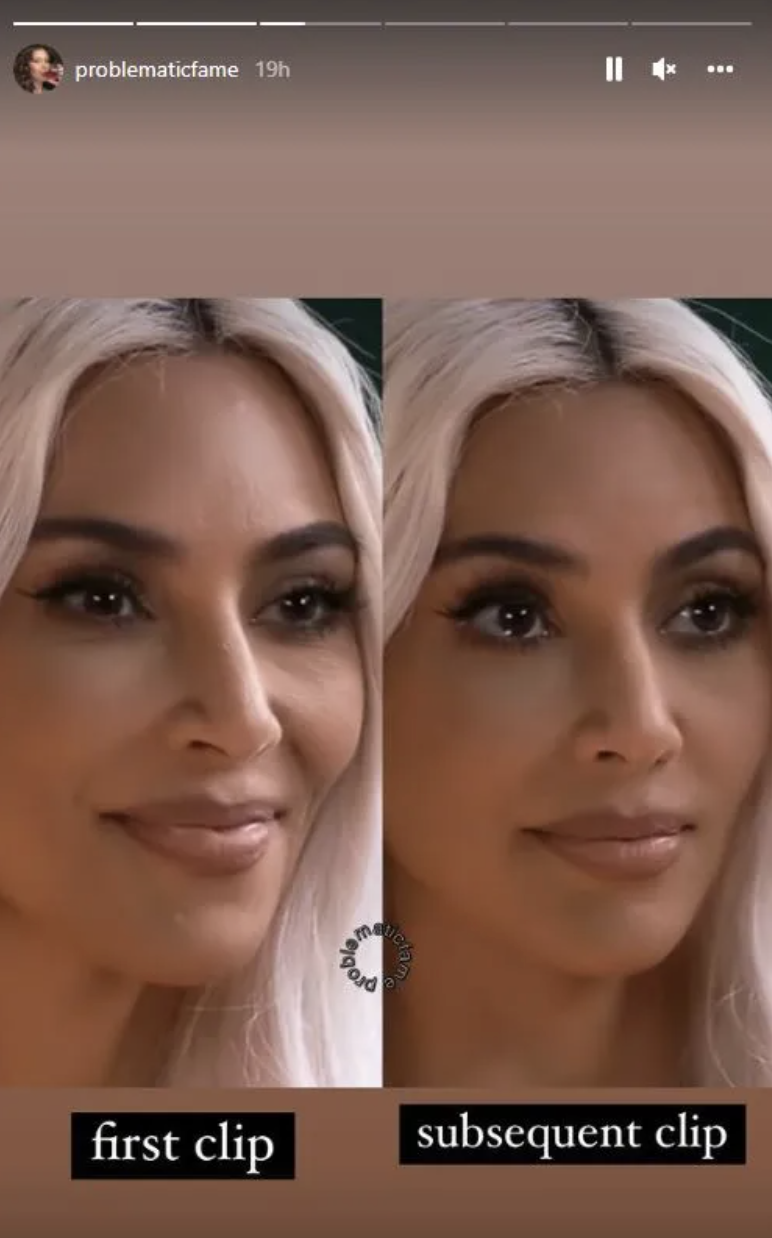 The blurring filter is even more noticeable in the user's second post, with Kim's face softened and slightly out of focus.
The photos were discussed on a Reddit forum, where users shared their disappointment that Kim's true appearance is being hidden from fans — especially as she already looked sensational in the more natural grabs.
"I don't get it bc she looks so pretty even when you can see her zit. I would never edit if I had that face," one person wrote. Another added: "Her body dysmorphia is insane. Sis, stop with the filters and plastic surgery and go to therapy."

A third person asked: "Do you think we, as media consumers, ever see her 'real' face or is it always filtered in one way or another?"

And one more pointed out that Kim was promoting her new skincare line on the show, which may have been why she wanted her skin to look perfect. "She probably wanted people to believe she has literally flawless skin since she is promoting her skincare line," they wrote.

Another person said of the accusations: "They shouldn't be allowed to edit all their images and videos and TV appearances! Their brand is their looks and it's a complete lie!"

This is the second time that Kim has been called out for promoting unrealistic beauty standards this week, with the star also criticized for "boasting" about losing an extreme amount of weight in a short period of time.
People said that she was a "horrible role model" and pushing a "dangerous" message to young girls after she revealed that she'd lost even more weight since her controversial Met Gala crash diet, which sparked backlash last month.
"This family needs to stop," one person commented on Wednesday. "They're setting a skinny standard that a lot of people cannot live up too; yes they may work out but they also have a boatload of money to help them lose weight. Personal trainers, healthy, chef cooked meals, and more gym equipment than gyms, and lipo doctors."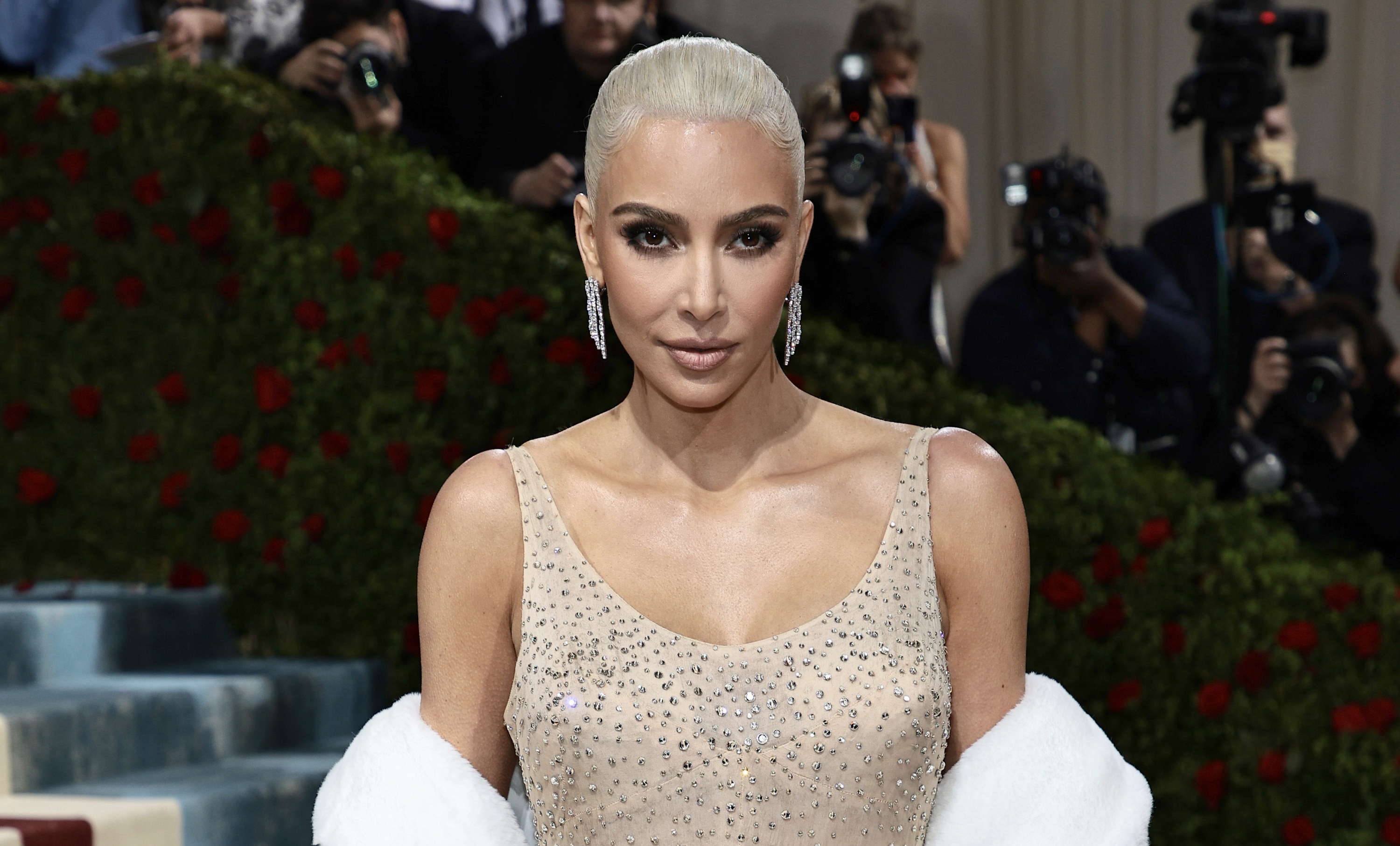 Neither Kim or The Tonight Show have addressed the latest claims, and BuzzFeed News has contacted NBC for comment. Meanwhile, Kim's interview caused a stir online after she paused the live show to scold her two children who were sitting in the audience.
Kim explained to Jimmy that it was her first time taking her sons, 6-year-old Saint and 3-year-old Psalm, with her to work and shared her embarrassment at them playing up.
She kept her cool as she told the children: "Guys, this is your first time at work with me. Don't mess this up. Come on."
Shortly afterward, Kim was distracted by them again and Psalm was taken backstage.
In addition to the two boys, Kim shares 9-year-old North and 4-year-old Chicago with her ex-husband, Kanye West.