Khloé Kardashian never made a secret out of how much she wanted to be a mom, and her bond with her nieces and nephews before her daughter True came along was evident for all to see.
The star always embraced the concept of letting kids be kids, and in a 2017 interview with You magazine, she revealed just how much fun they have together.
"My house is the fun house for my nieces and nephews. We do arts and crafts and bake a lot. We like to play outside and in the pool, just being goofy," she said at the time. "I have water balloons and we have water fights. I'm like a big kid myself. At night when I babysit them, we have dance parties. I love to give their moms the evening off."
But Khloé faced a difficult journey when it came to having a child of her own and documented her fertility struggles on her family's reality show, Keeping Up With the Kardashians, which included her being told that her body produces low levels of progesterone, the hormone that is vital for stabilizing the uterus' inner lining.
In 2017, the star's prayers were answered as she announced that she was pregnant with her first child, writing on Instagram at the time: "I had been waiting and wondering but God had a plan all along. He knew what He was doing. I simply had to trust in Him and be patient. I still at times can't believe that our love created life!"
She gave birth to her daughter, True, in April 2018 and threw herself into motherhood despite being rocked by one of her then-partner Tristan Thompson's many cheating scandals just days before giving birth.
Through her social media posts and reality TV appearances, Khloé has left people with little doubt over how much she embraces being True's mom.
"I am totally content with True if all I ever have is True," she told SiriusXM in 2020. "She fulfills everything I've ever dreamt of and wanted, she's perfect. I know that's a lot of pressure to put on her, but to me she is. If I have another one, what a blessing, but if not, I feel fine with that."
And last month it was revealed that Khloé and Tristan had been blessed with a second child via surrogacy, with Khloé welcoming her son just eight months after learning of Tristan's most recent infidelity and subsequent paternity scandal.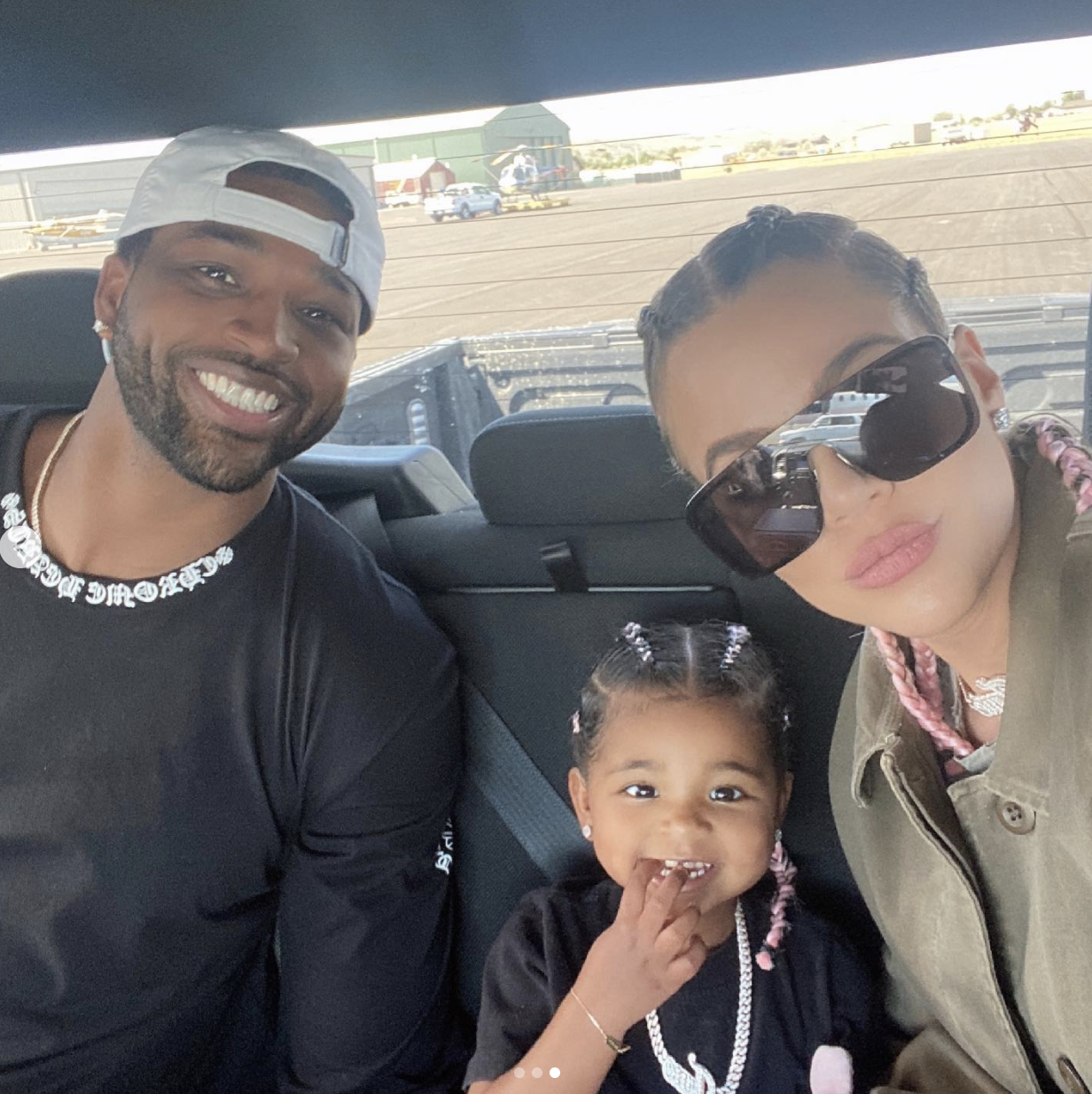 While Khloé is yet to introduce her little boy to the world or even share his name with her fans, she has been proudly showing off her daughter on her social media pages.
Shortly after True's little brother is thought to have been born, Khloé posted a sweet photo of the toddler beaming in front of a huge cat-shaped flower display.
In the photo, True is wearing pink tie-dye leggings and a floral top, and Khloé simply captioned the post: "My happy sweet girl 💕"
On Wednesday, Khloé shared some more photos of True, this time referencing the 2004 movie Mean Girls as she wrote: "On Wednesdays we wear pink 💕."
In the eight-photo carousel, True is happily posing for her mom at the bottom of a staircase. She is dressed in pink, accessorized crocs, a pink denim skirt and matching ribbed vest top, and a pair of pink heart–shaped sunglasses.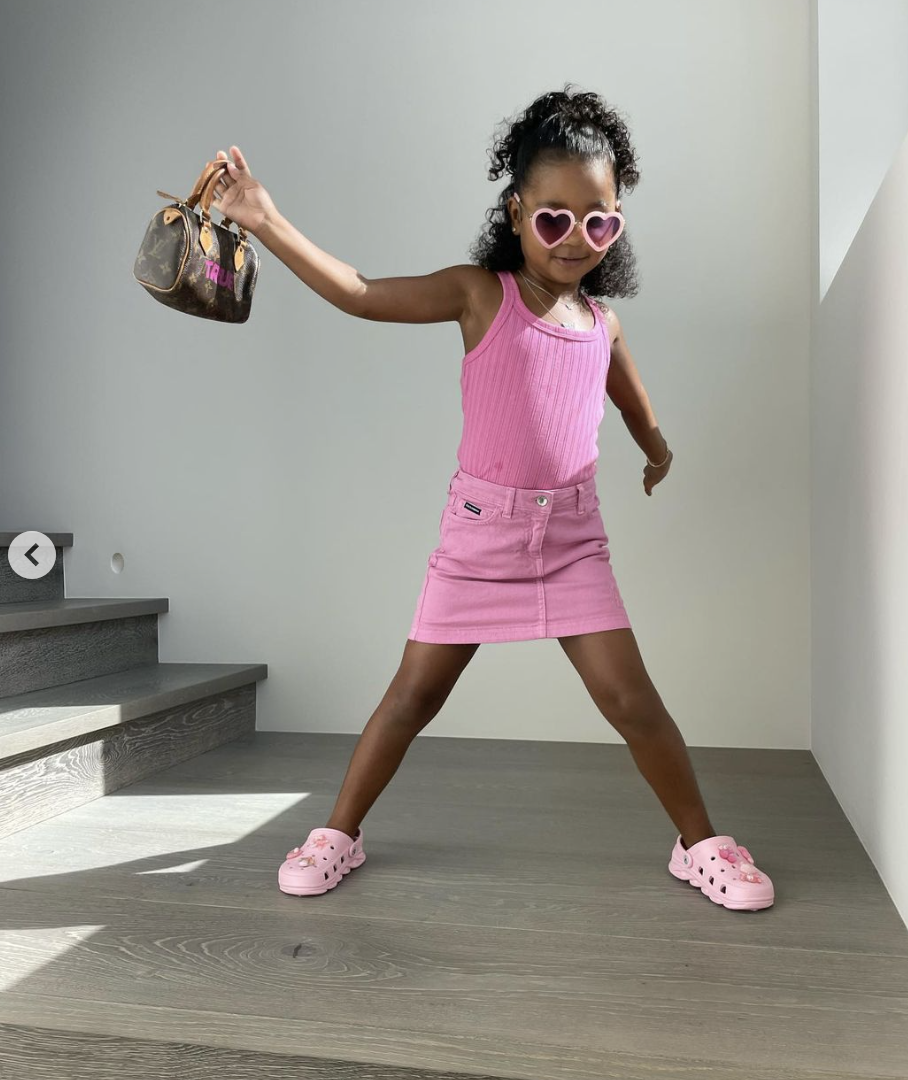 Discussing the photos on a Reddit forum, it was noted that True is one of the only members of this generation of the KarJenner family to actually dress in age-appropriate clothes as fans heaped praise on Khloé for letting her daughter embrace her childhood.
"She's got a refreshing spirit! Something that can't be described, but only seen and felt. Such a cool kid," one person wrote in response to the pictures. Another replied: "It's because True is in age appropriate clothes in age appropriate colours."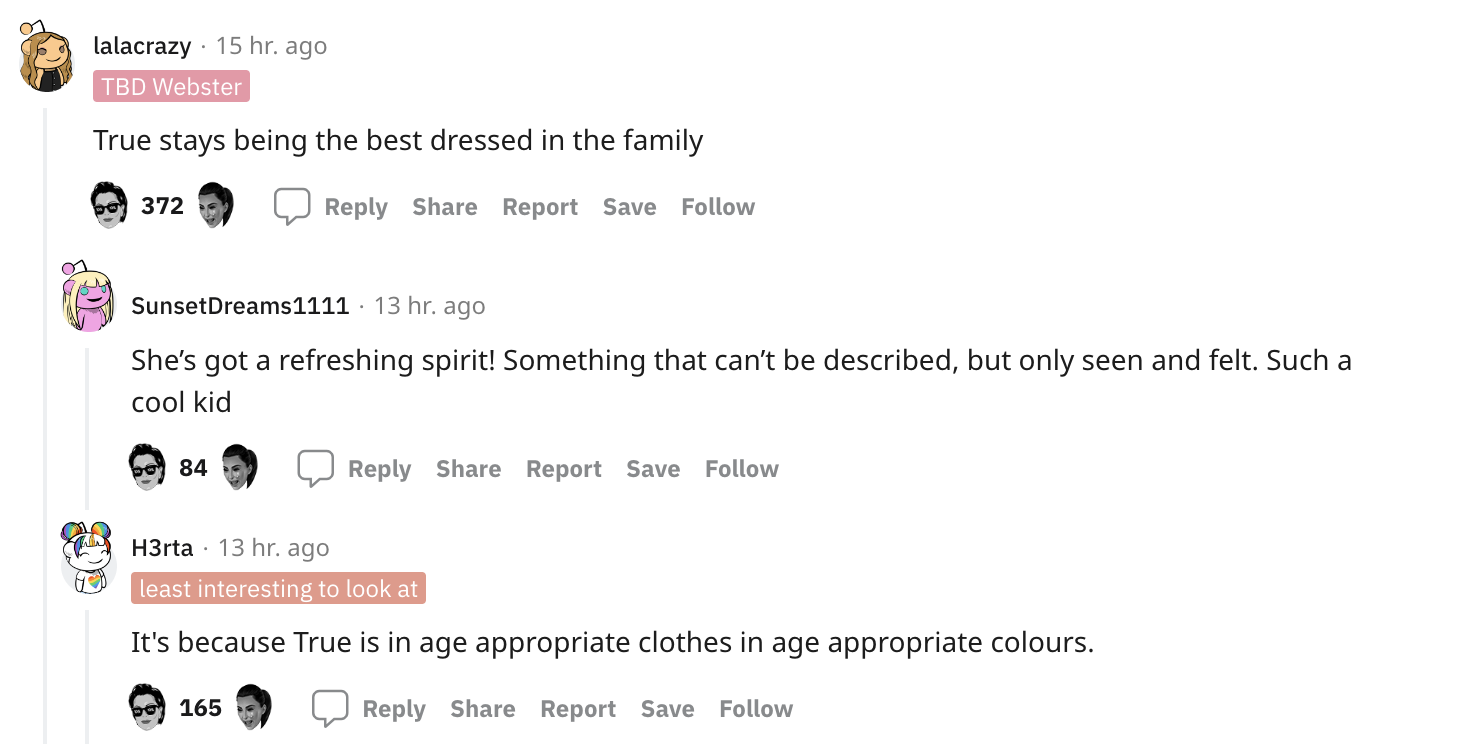 "[Khloé] doesnt follow the Kim 'aesthetic' keeping them in muted bland colors at all times," one more said, drawing attention to the way that Kim normally dresses her four children — ages 9, 6, 4, and 3 — in neutral tones.

In recent years, Kim's oldest daughter, North, has showcased a more personal style that incorporates edgy T-shirts and accessories, which one Reddit user was keen to defend.
"I love North's goth/edgy vibes she has now because she's at an age where you know she's picking those clothes out for herself," they wrote. "Some of the stuff they dressed her in as a toddler was little to [sic] edgy at times like the cheetah print slip dresses or the leather leggings, band tee's and gold chains. She looked adorable but she was also like... 2."

"Out of all the moms I like the way Khloé dresses True the most I think," someone else said. "Yes! She's usually dressed like a regular kid and always looks adorable! Her lil crocs here 🥺" a user agreed.

"Yessss she actually lets her be a kid," another person echoed. One more commented: "I like that Khloe dresses True like an actual child. Not a mini adult like Kim or whatever it is Kourtney is doing with Penelope."

Penelope is Kourtney's only daughter and is 10 years old.
Another user pointed out the visible marks on True's top, writing: "I love the random stains on the shirt. It makes me feel so much better about my own impromptu photo shoots that never turn out perfect."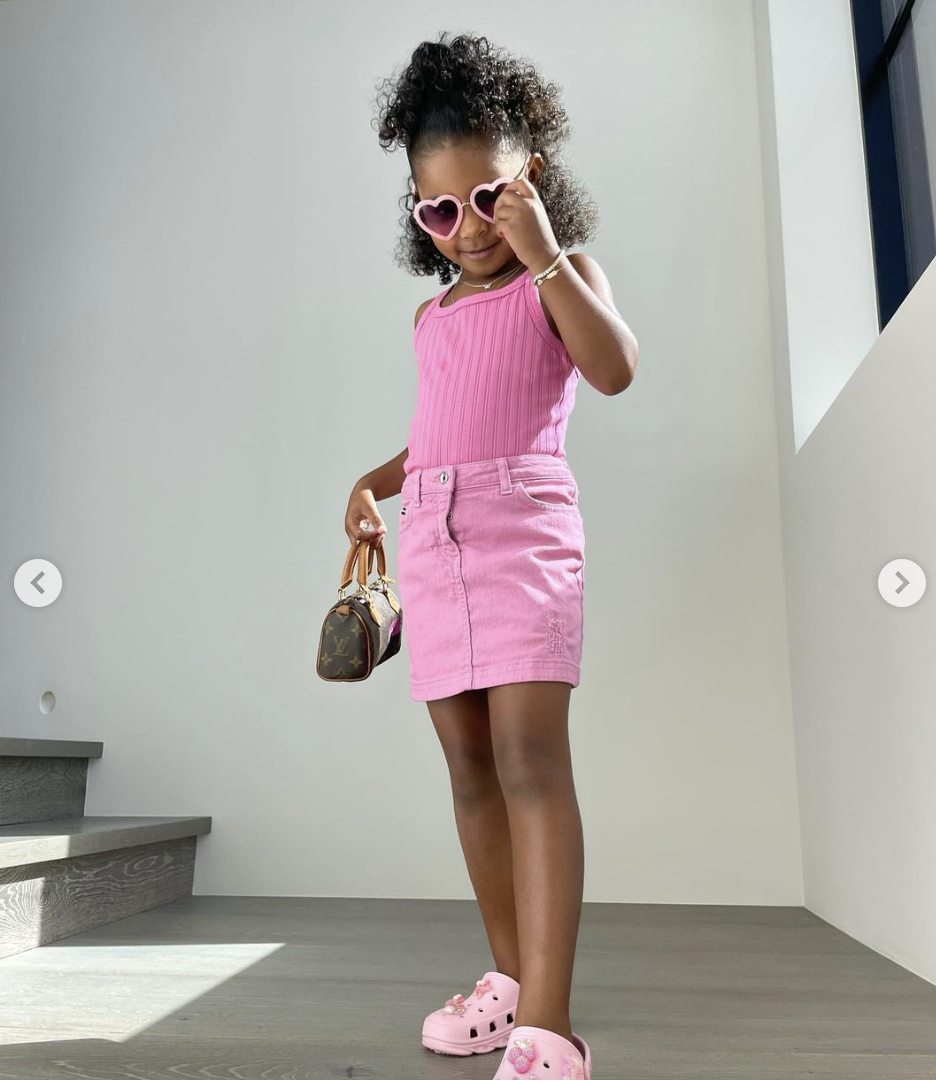 "She dresses her daughter the most appropriate. meanwhile theres Kylie dressing Stormi in outfits youd find in fashion nova," someone else said in reference to Kylie's 4-year-old daughter.

"Khloé seems like the only one who had a kid because she wanted to be a mother, not because she wanted an accessory," another user claimed. "This is so cute and something i would put my daughter in (minus the LV bag 😭)," one more wrote. "I love when people let little girls just be little girls 💕."


Others also drew attention to the personalized designer handbag that True is holding in the photos, with one person agreeing with the other comments before adding: "Don't know how appropriate a LV bag worth more than most peoples cars is for a four year old."

Khloé's sister Kim is known for her love of minimal tones, with an all-white house and a fleet of gray cars. And she has previously admitted to looking at what clothes her kids are wearing before posting photos of them to social media as she doesn't want to ruin her Instagram grid's "aesthetic."
Last year, Kim was exposed for photoshopping True over Stormi in a picture of Chicago in Disneyland, and she later admitted that she manipulated the image because Kylie wouldn't let her post the original photo — but thankfully, True perfectly matched the look that Kim was going for as she was wearing a gray sweatshirt.
"OK OK soooo you know I am all about my aesthetic! And my IG grid is pink and blue lately. Isn't it so cute and well planned out?" she said at the time. "Chi was wearing pink and it matched perfectly."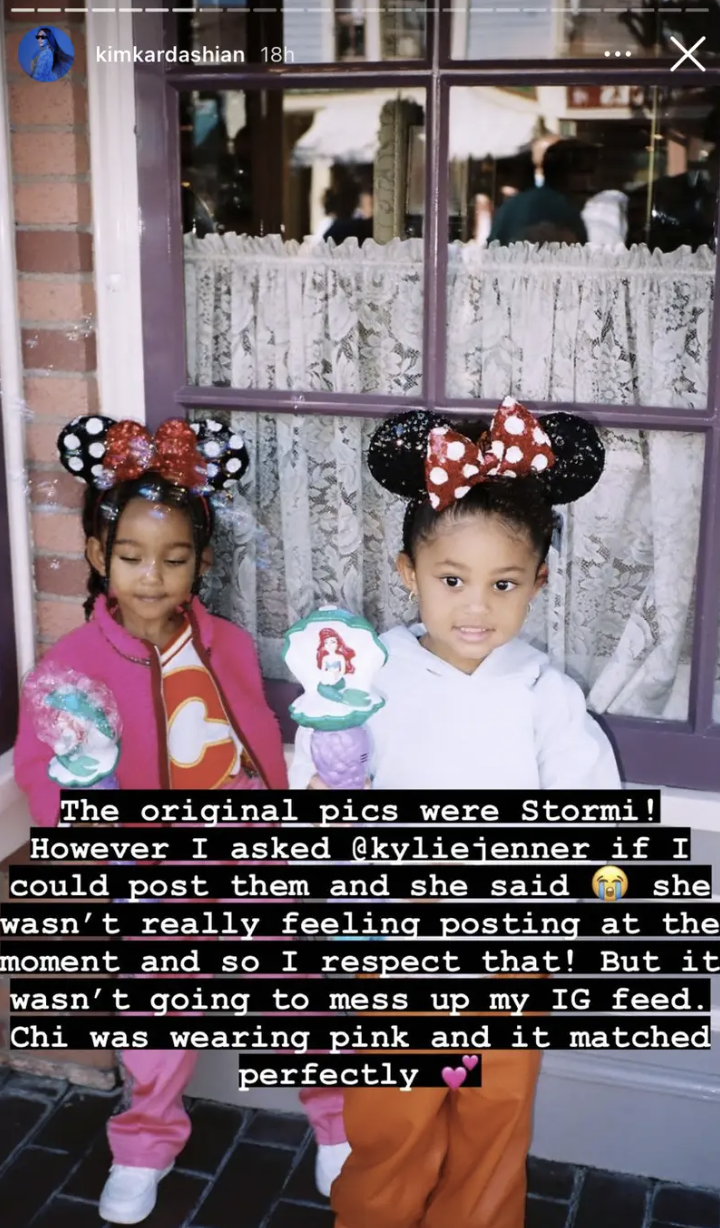 "It wasn't the aesthetic I was going for and I can own up to that!" she added. "You know how much a good aesthetic means to my soul and I will be dammed if Kylie will ruin that for me and mess up my IG grid. So thank you True for taking one for the team!"