In case you somehow managed to miss it, the KarJenners completely took over Italy this past weekend for Kourtney Kardashian and Travis Barker's third, and seemingly final, wedding.
After having been close friends for several years and dating for one year, Travis proposed to Kourtney in October 2021.
Following their engagement, the couple had a "practice" wedding in Las Vegas last month, followed by a legal ceremony last weekend with just his father and her grandmother present as witnesses.
At the time, it was said that this was to get the technicalities out of the way before their big celebration in the fishing village of Portofino, Italy, on Sunday.
And that final celebration was certainly worth the wait, with Kourtney, Travis, and their families documenting the whole weekend on their social media channels.
The group appeared to thoroughly enjoy having the opportunity to spend quality time with each other, especially as they are usually busy with their individual business ventures when at home in California.
Throughout the weekend, the sisters posted various photos and videos with each other and were evidently having a whale of a time.
But it was Kylie Jenner who appeared to be in the highest spirits of all, spending much of the trip poking fun at her big sister, Kendall Jenner, in a series of candid videos.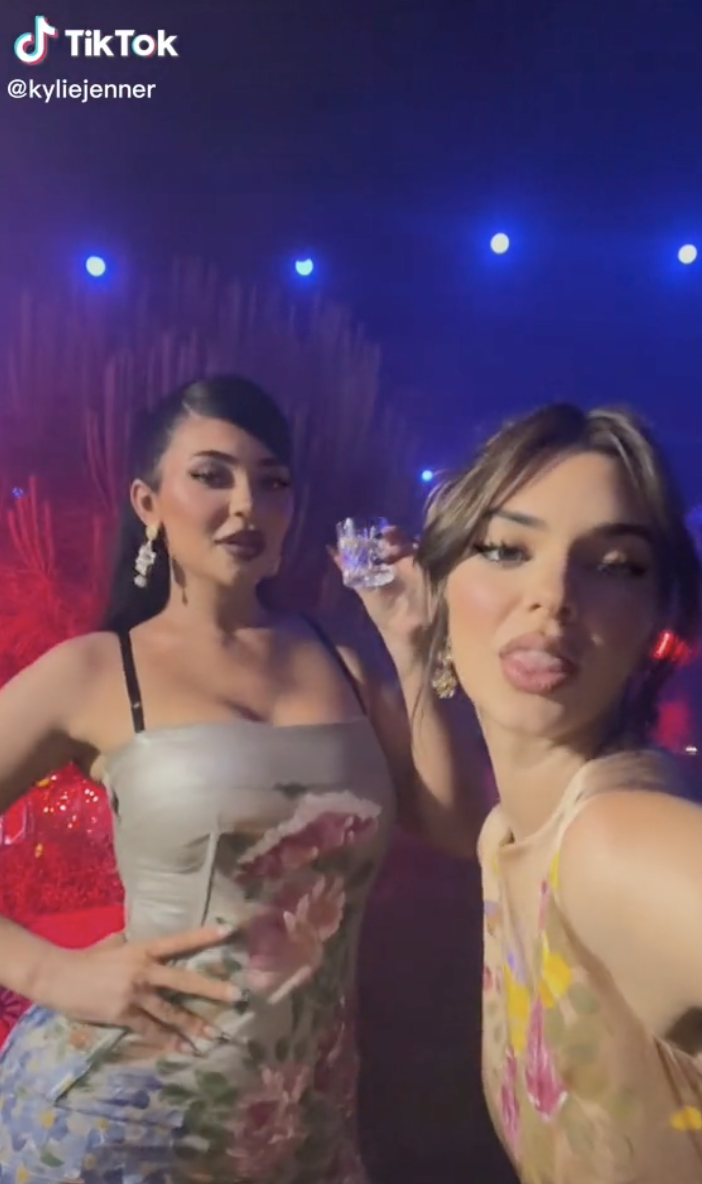 Earlier this month, Kendall found herself going viral after a clip of her struggling to slice a cucumber shocked viewers of her family's reality show The Kardashians.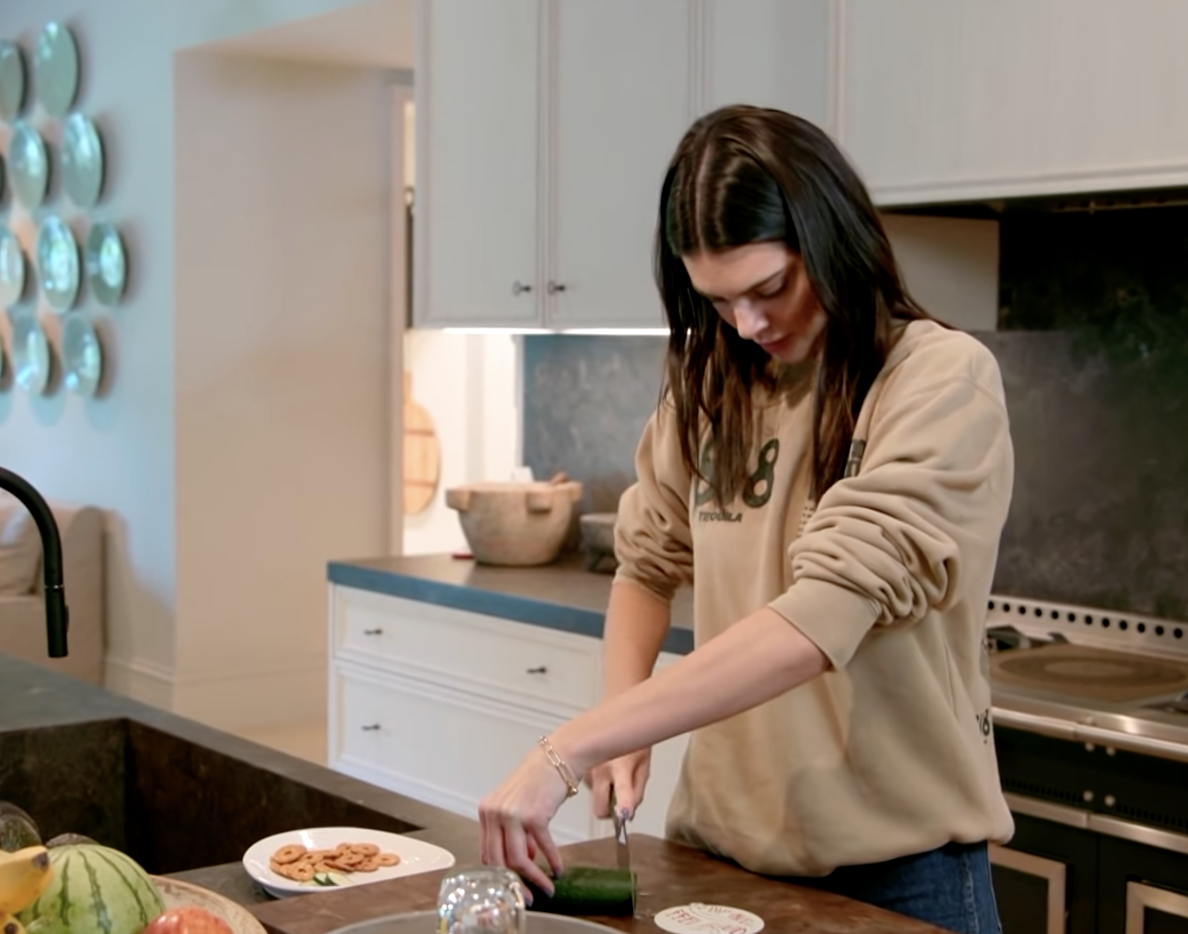 In the seriously awkward scene, her mom, Kris Jenner, repeatedly called for her chef to help as Kendall visibly questioned how she was supposed to cut the vegetable.
The moment was quickly circulated online, and it even sparked a wider conversation about the consequences of growing up with extreme wealth and privilege.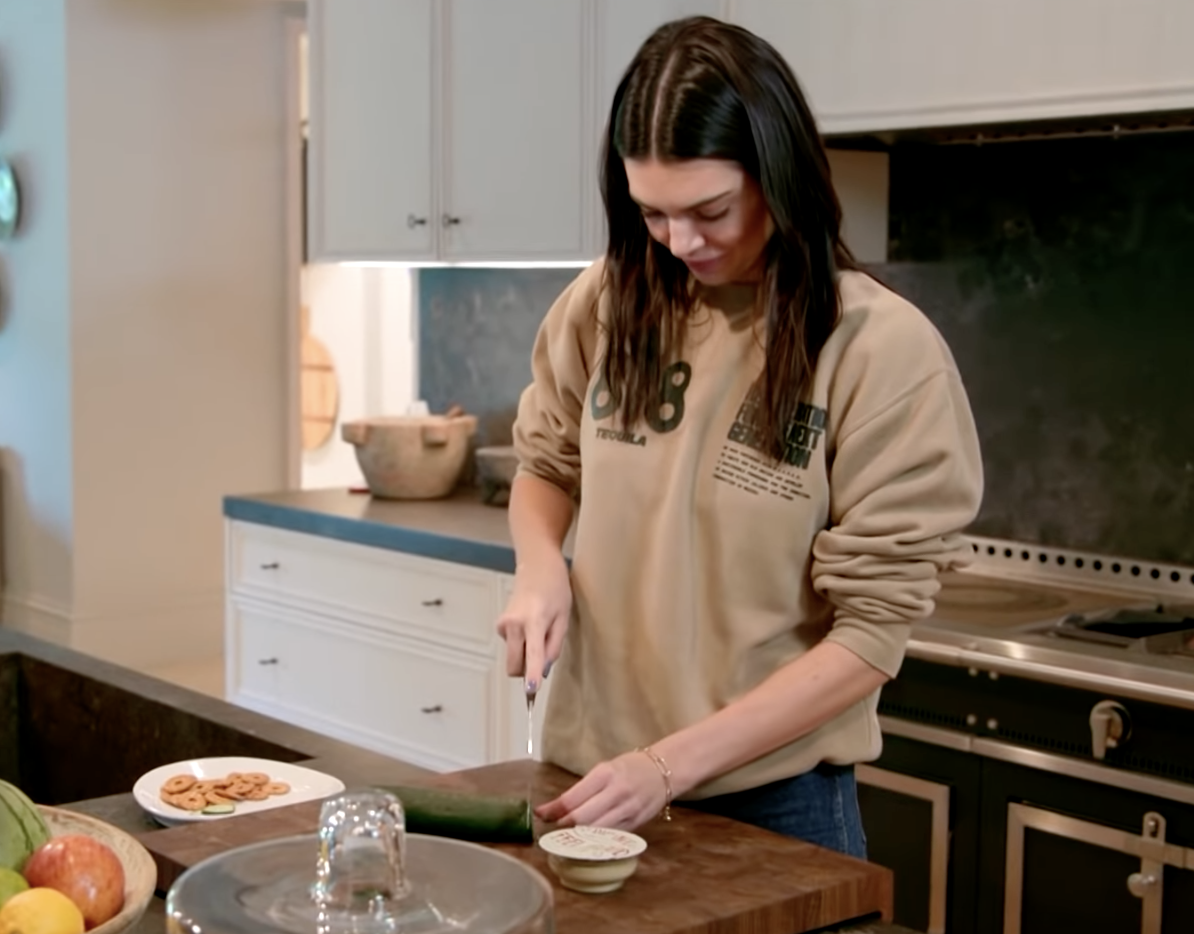 Kendall previously made light of the situation, retweeting a fan who had written, "Kendall Jenner trying to cut a fcking cucumber is the most tragic thing I've ever witnessed," and adding: "Tragic!"
But it appears that her younger sister simply won't let her live it down, with Kylie calling Kendall "cucumber girl" in a TikTok video from the wedding.
In Kylie's upload, she is sipping on a drink as Kendall dances to "Tear in My Heart" by Twenty One Pilots.
She playfully captioned the clip: "Me and cucumber girl," prompting laughter from her followers. "The caption is everything 😭💀," one person wrote, with another adding: "Not the cucumber girl PLS 😂😭😭"


And Kylie's teasing wasn't limited to TikTok, with the billionaire going on to expose Kendall's apparent inability to walk in her super-tight dress over on Instagram.
Kendall wowed in a floor-length, fitted gown with a floral pattern, but while it looked amazing, the outfit ended up being a little bit impractical for Kourtney's picturesque wedding location.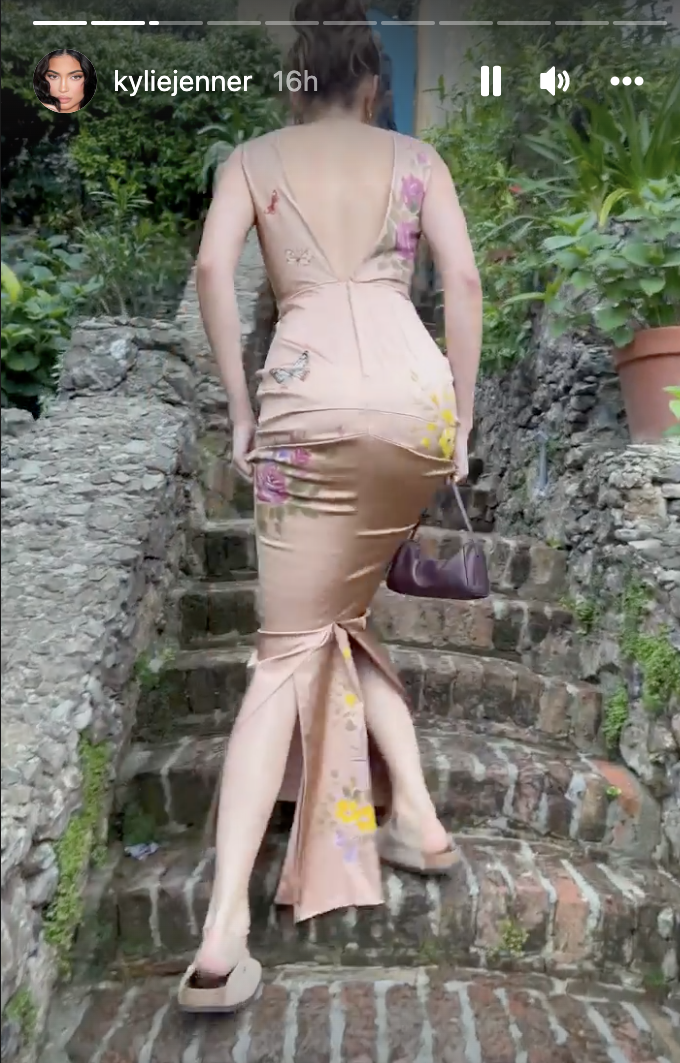 To get to the venue, guests had to take boat rides across the sea and climb narrow stone staircases.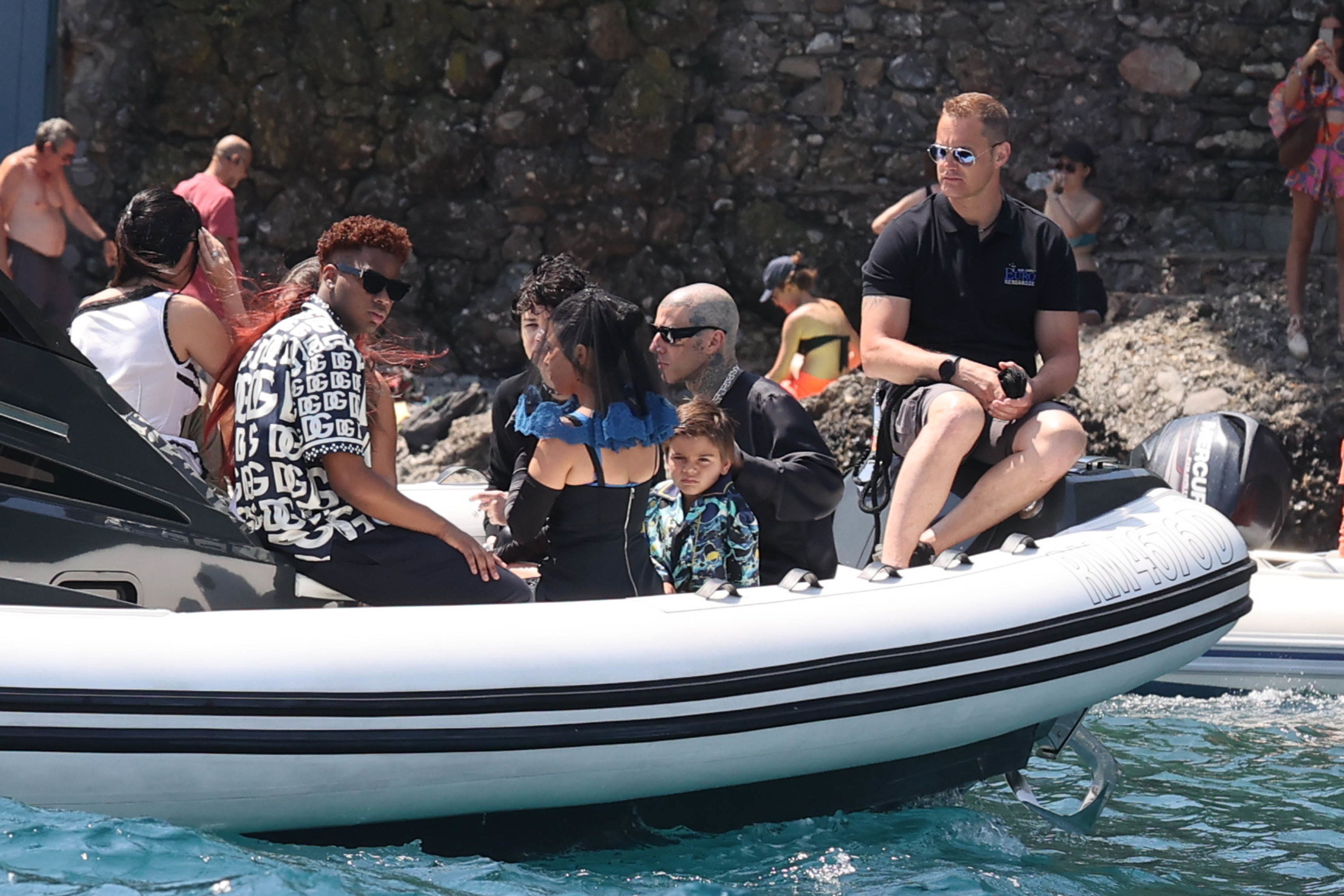 And not even supermodel Kendall was able to style out the awkward route, with Kylie filming as she walked behind her on one of the winding staircases.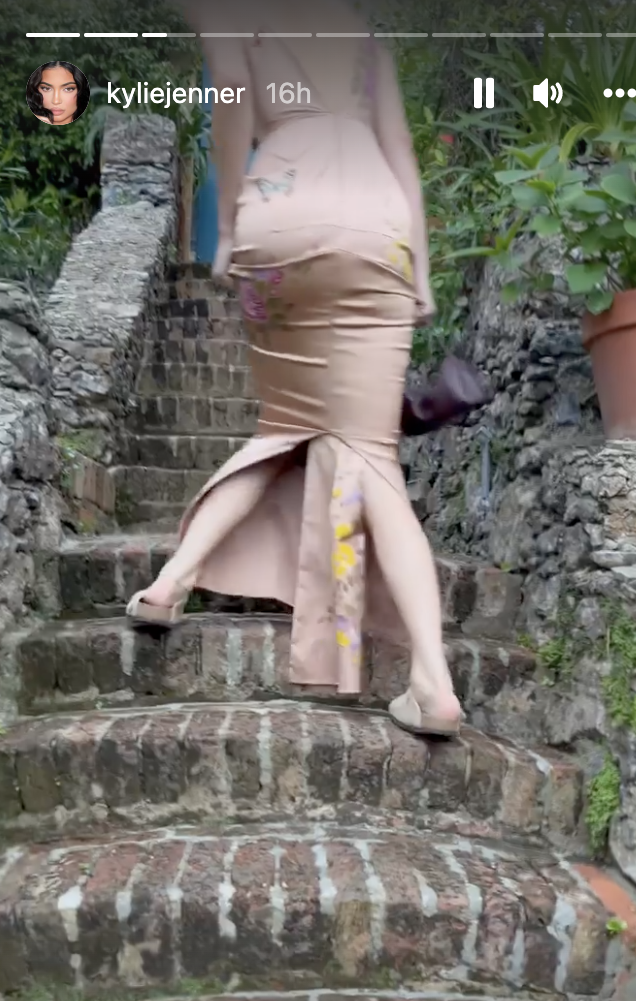 In the video, which was shared to Kylie's Instagram story, Kendall had the foresight to switch her heels for a pair of flat sandals, but was still struggling in her dress.
The tightness of her outfit meant that she didn't have much room for movement, and Kendall was forced to walk knock-kneed with her knees together as she battled the steps.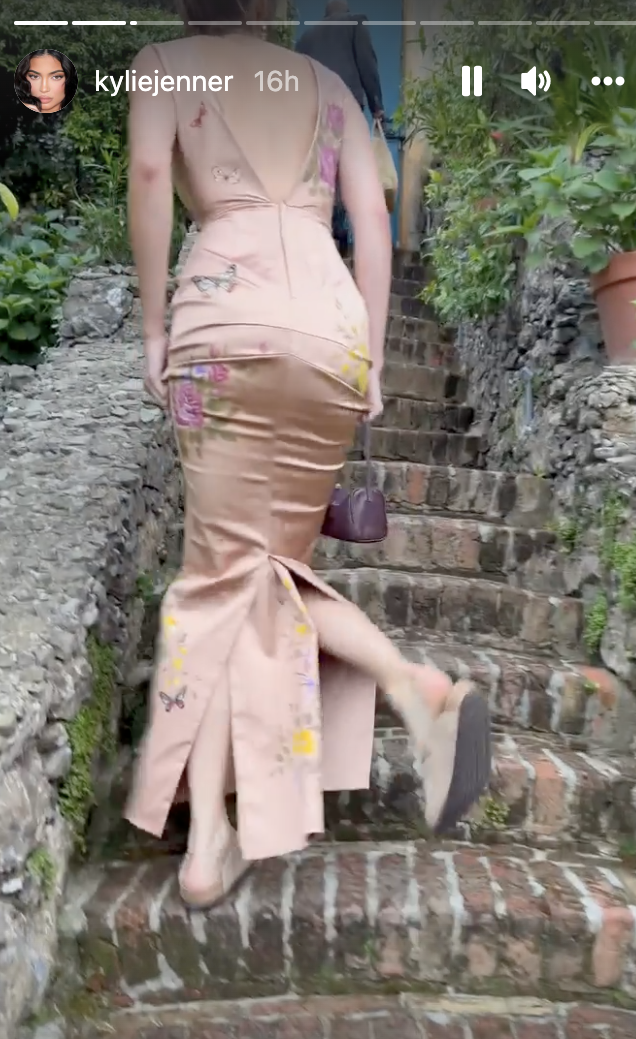 Kylie could be heard giggling off camera while she filmed, and just before the video ended, she muttered: "Oh shit, these stairs are crazy!"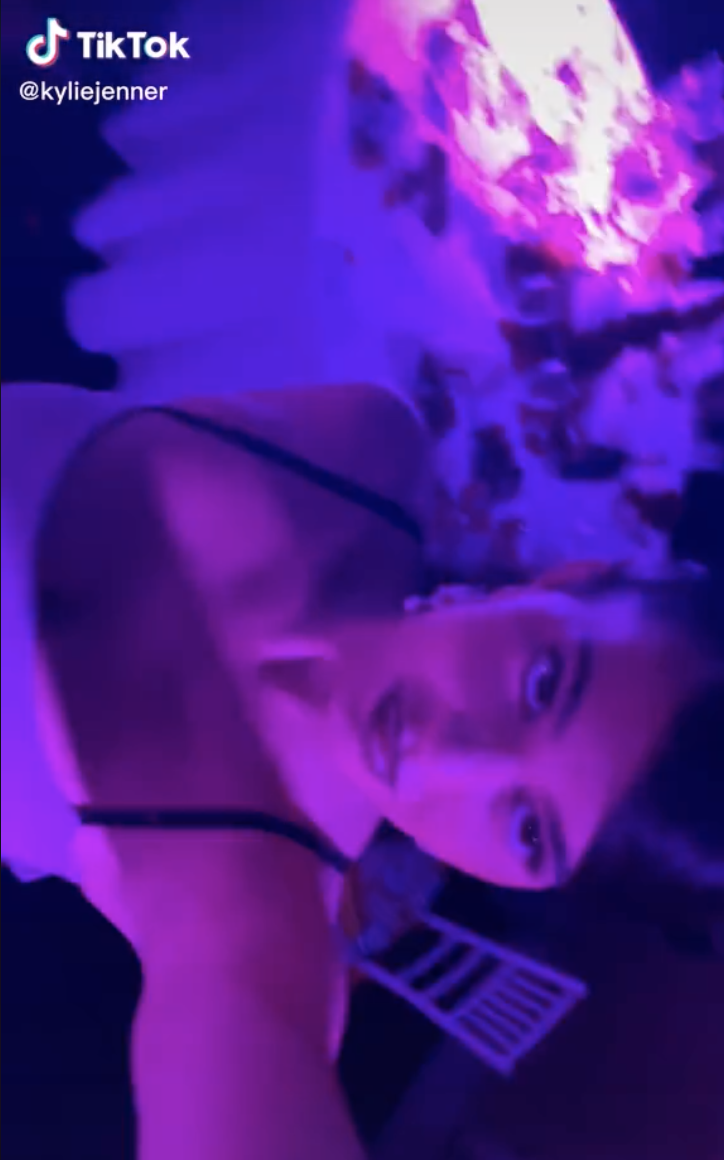 Thankfully, the sisters were able to make it to their destination without incident and looked incredible as they watched Kourtney and Travis say "I do."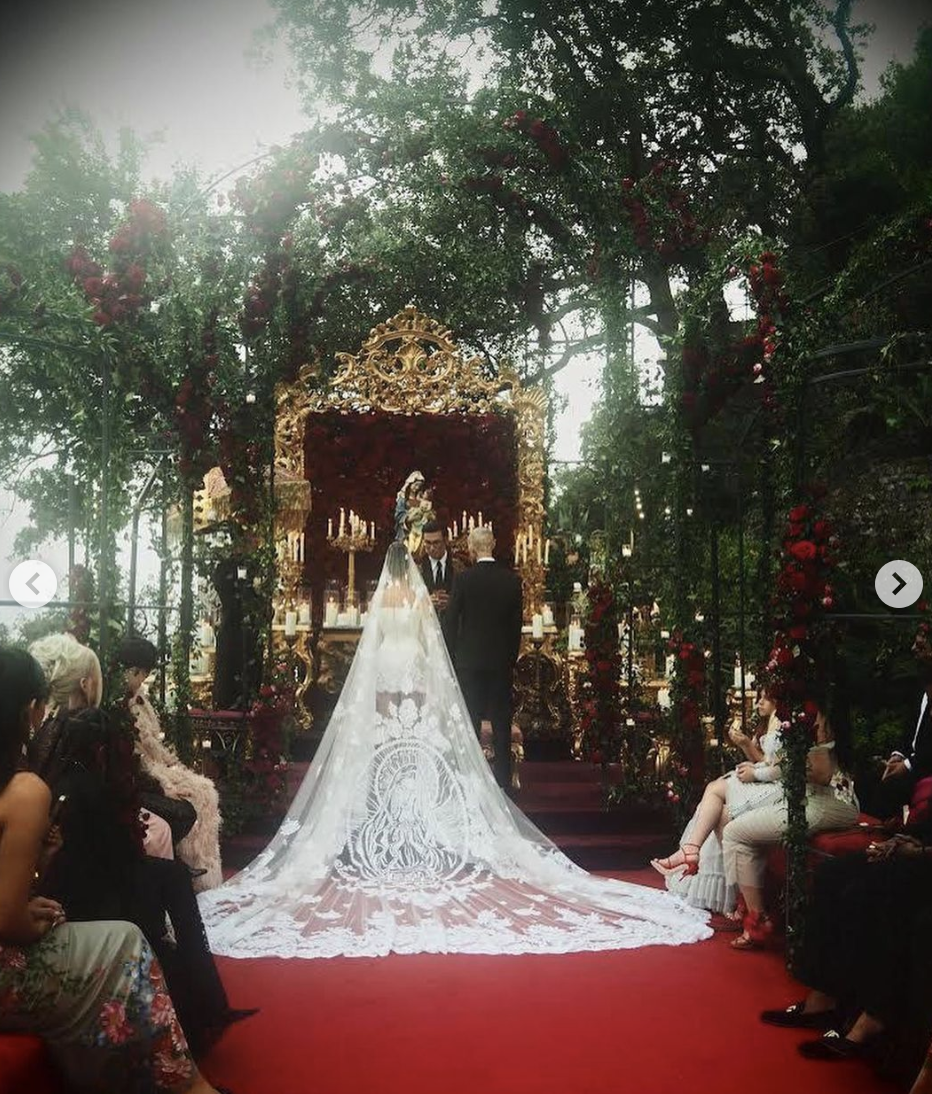 Kylie took her 4-year-old daughter Stormi with her to Italy, but there was no sign of her baby son — who was born in February — or her boyfriend, Travis Scott.
Kylie and Travis still haven't announced their newborn's name, with Kylie previously revealing that they'd called him "Wolf" before telling followers that she'd changed her mind.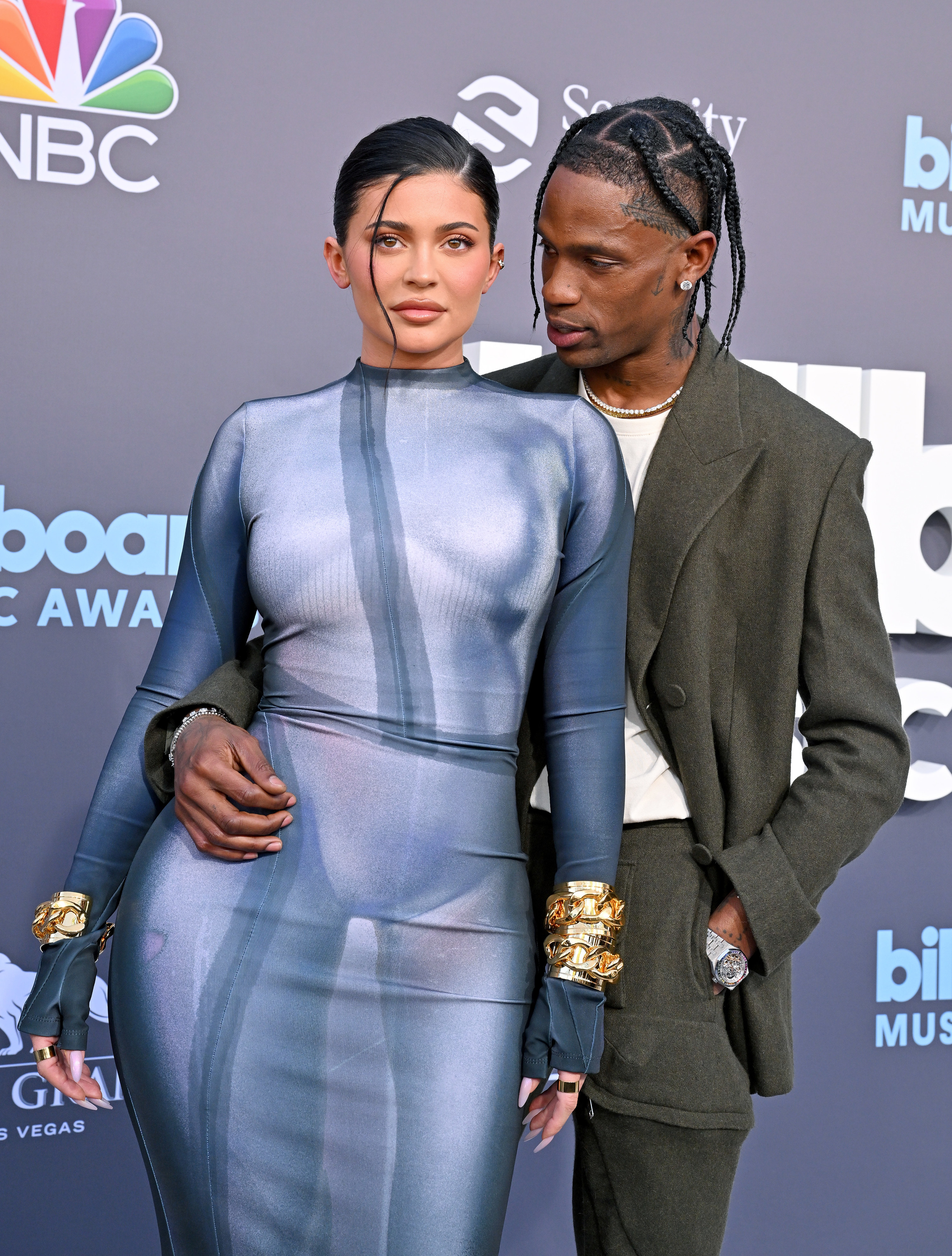 In March, she wrote on Instagram: "FYI our son's name isn't Wolf anymore. We just really didn't feel like it was him. Just wanted to share because I keep seeing Wolf everywhere."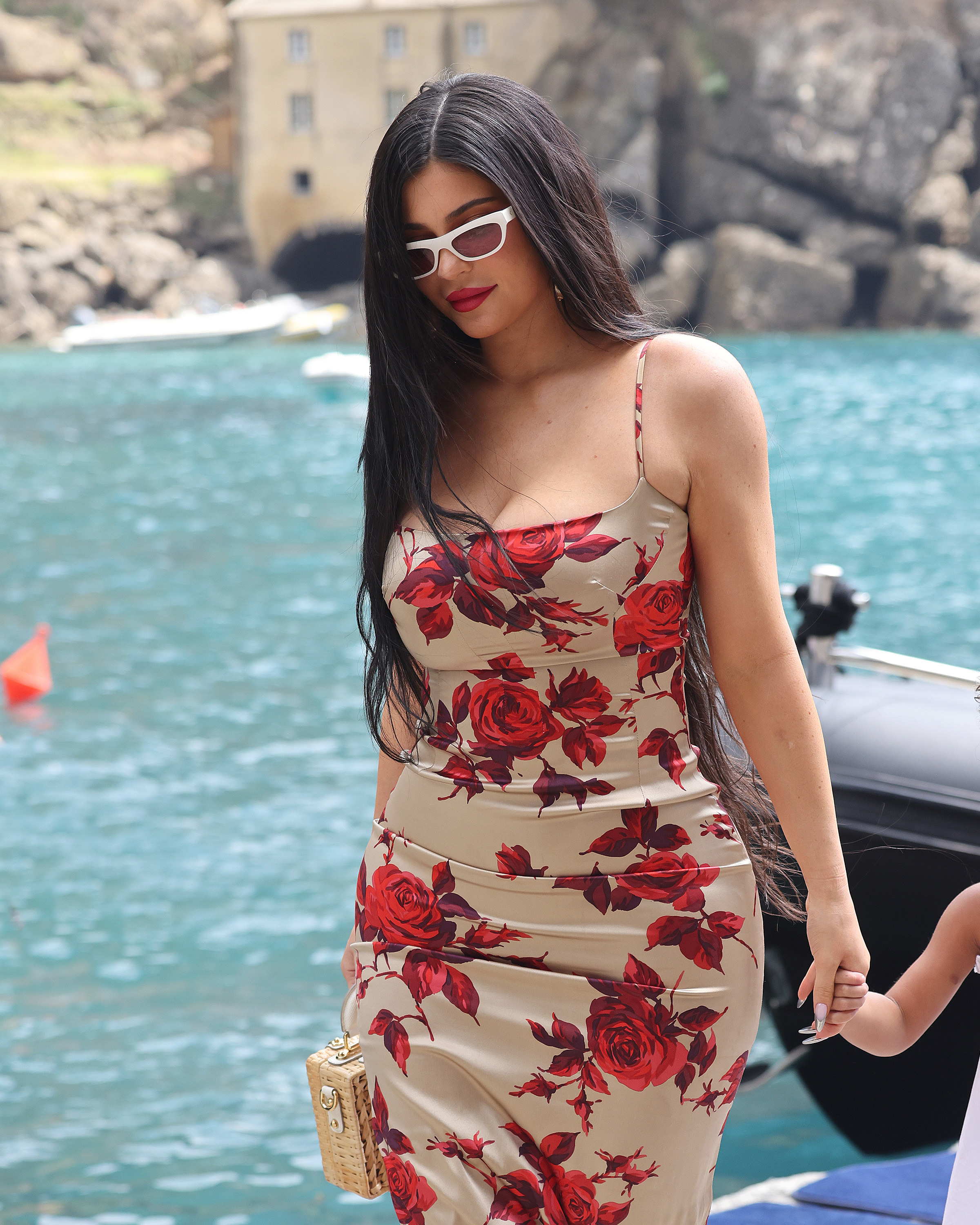 But there has been no word on what name they did decide on, nor has Kylie shared a photo of his face.
Meanwhile, Kendall was joined in Italy by her boyfriend, Devin Booker, whom she previously revealed her niece Stormi has a huge crush on.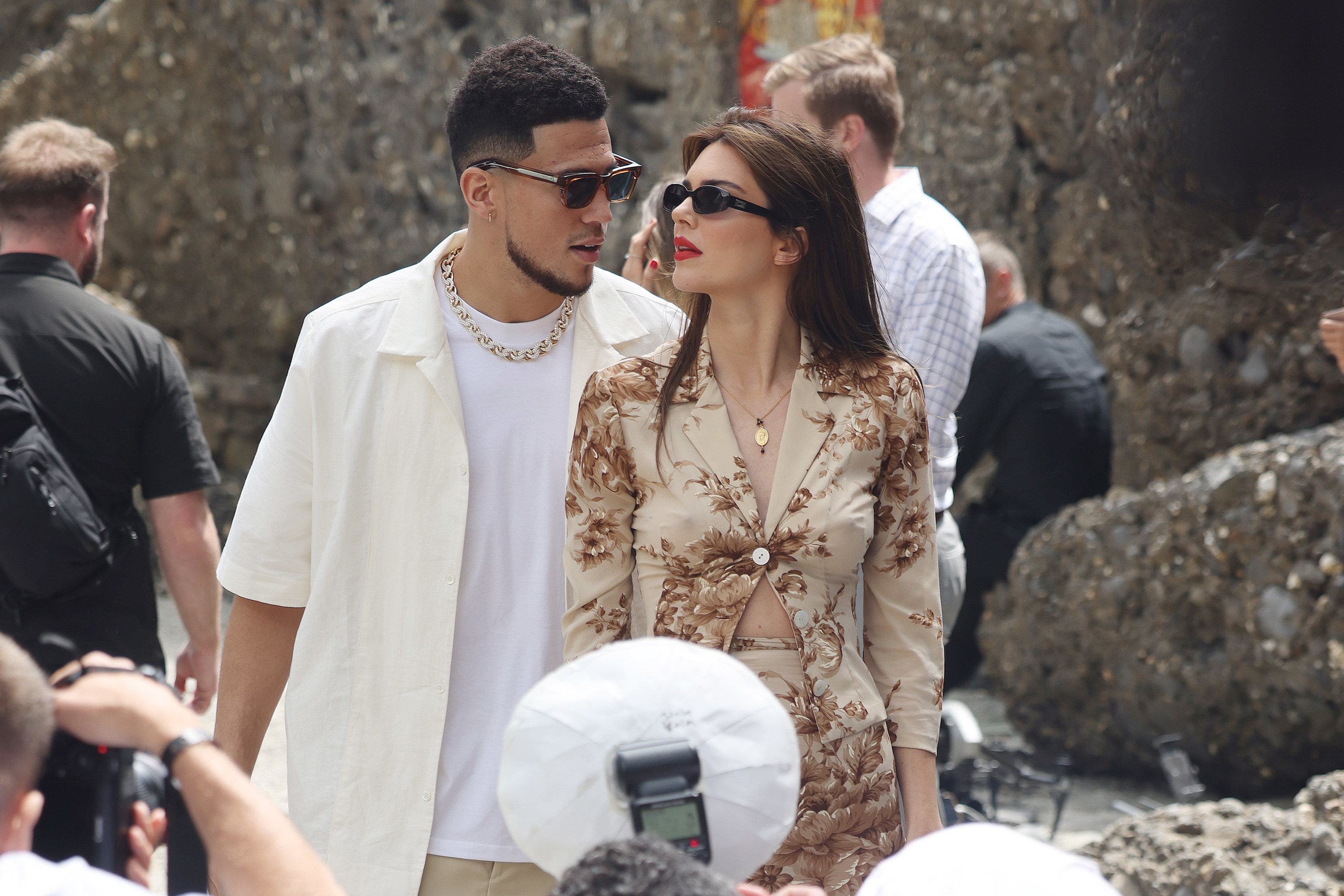 Speaking to Jimmy Fallon about Devin and her nieces and nephews in September, Kendall said: "He loves them. Him and Stormi have an amazing relationship. She has the biggest crush on him, and I'm, like, jealous sometimes. I'm like, 'Stop. Can you guys not?'"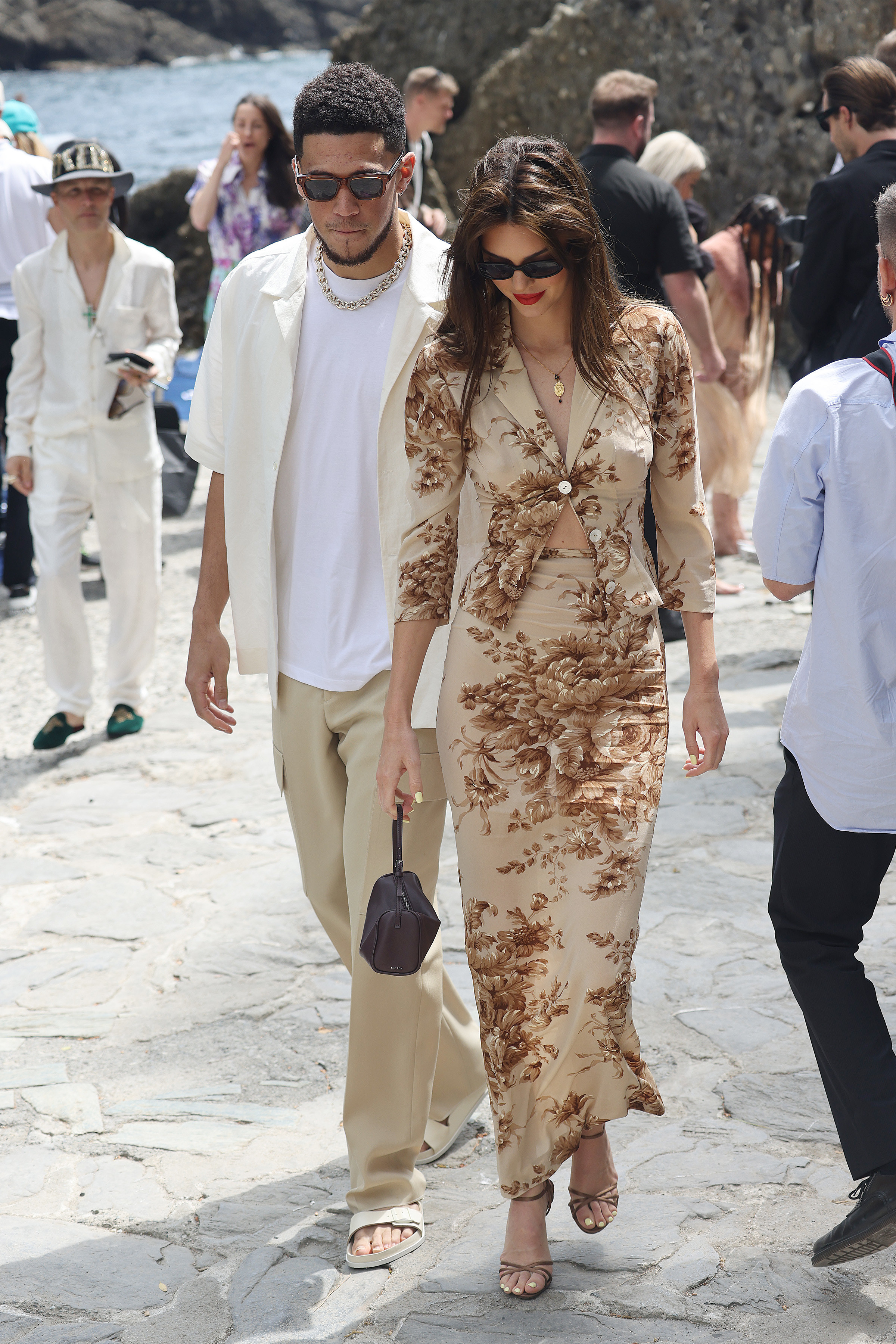 And people were quick to notice Stormi staring at Devin with a huge smile on her face in photos from the weekend.
"Stormi's crush on Devin is still going strong," one fan joked in response to the pictures. "Stormi is obsessed with Ken and Devin she literally left Kylie all alone," someone else pointed out.
Kendall is the only one of the famous siblings to not have any children of her own, and last month she called out her mom for trying to pressure her into having a baby.
Speaking to E! News, Kendall said of Kris: "She will just randomly text me and be like, 'I think it's time,' and I'm like, 'Is this not up to me?!'"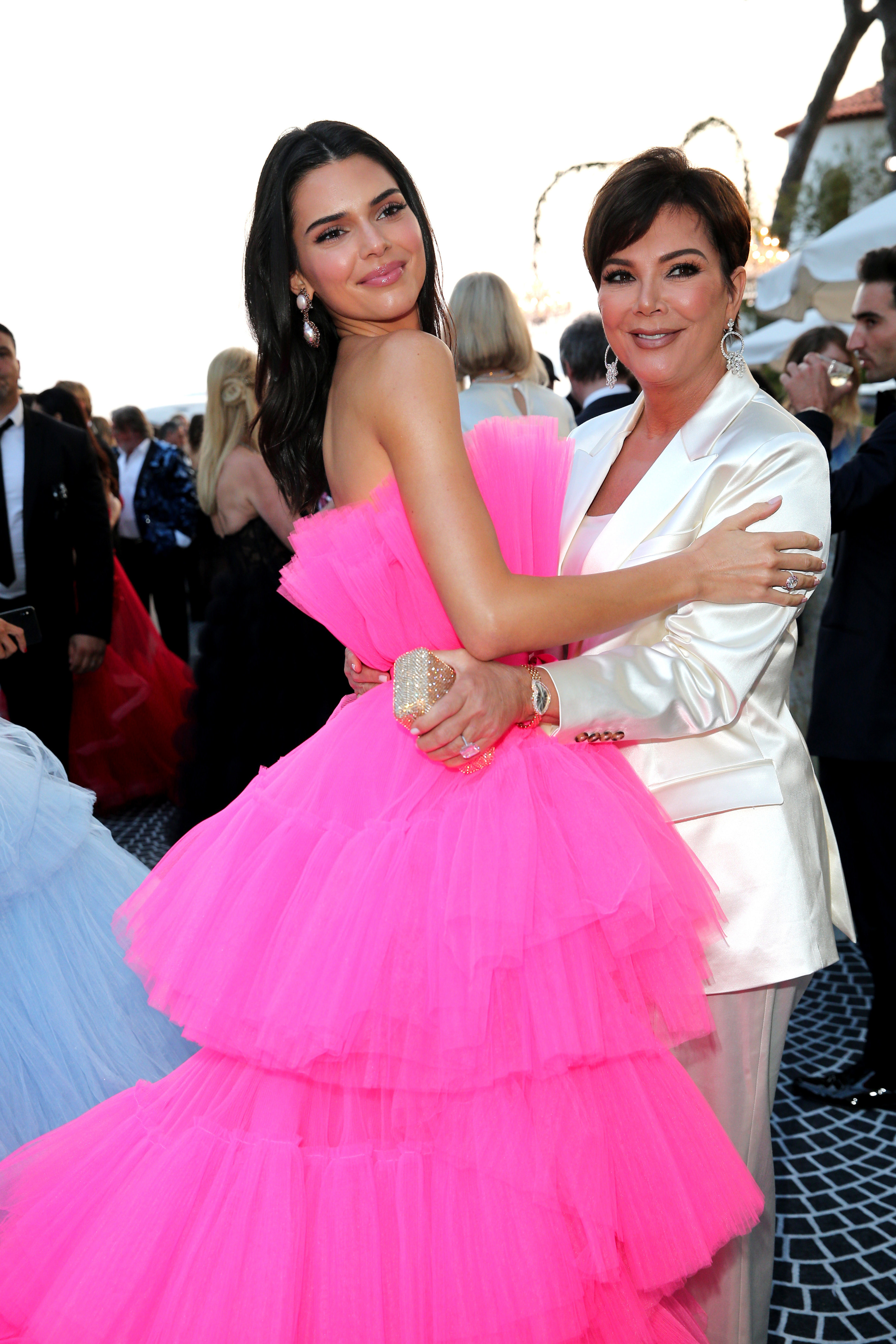 "It's not a yes — I'm indifferent. I'm just [very much] living day by day," she added. "I'm just living life right now as a free bird."
While Kylie is mom to Stormi and her son, Kim Kardashian shares North, Saint, Chicago, and Psalm with her ex-husband Kanye West. Khloé Kardashian has a daughter, True, with her ex Tristan Thompson, and Rob Kardashian has Dream with his ex Blac Chyna.
And Kourtney is mom to Mason, Penelope, and Reign with her ex Scott Disick, and is also now stepmom to Travis's kids, Landon, Alabama, and his stepdaughter Atiana, who have all been warmly welcomed into the family as well as Landon's best friend Carl.