JoJo Siwa was 9 years old when she got her first taste of fame as one of the talented dancers on the second season of Abby's Ultimate Dance Competition.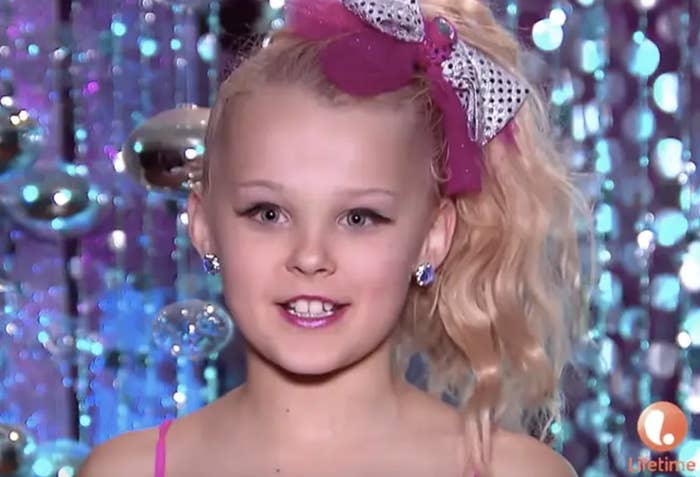 She and her mom, Jessalynn Siwa, were then snapped up for Season 5 of Dance Moms, where JoJo quickly became one of the standout stars.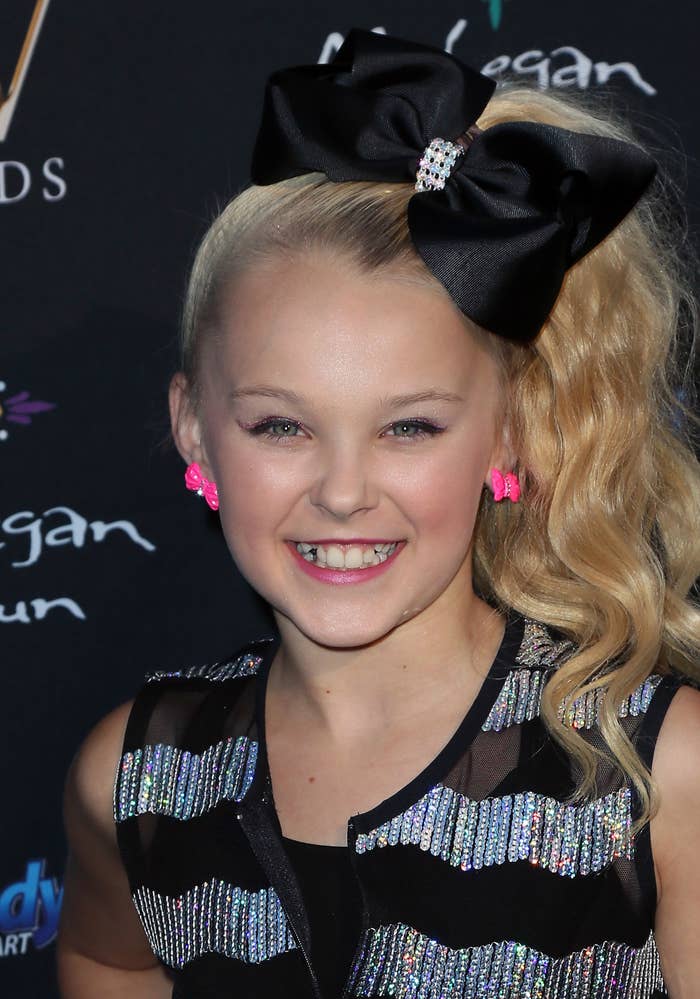 In fact, within the two seasons that she starred in the series, JoJo launched a YouTube channel that quickly gained millions of subscribers. She ultimately ended up leaving Dance Moms in 2017 — partway through Season 6 — because she'd been snapped up by Nickelodeon.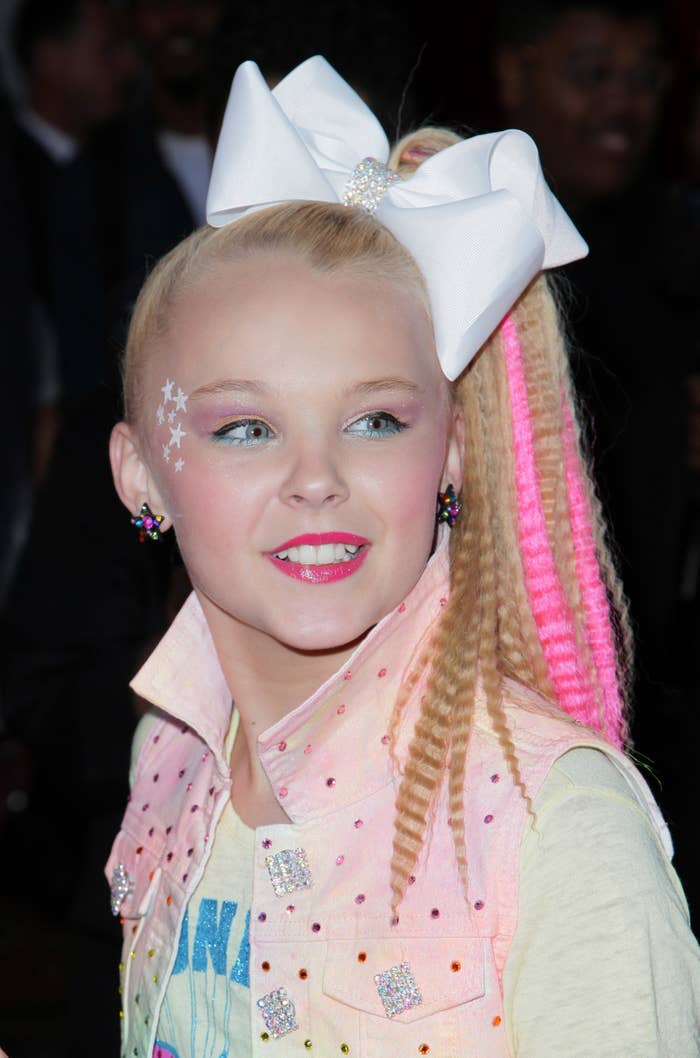 JoJo enjoyed a hugely successful run of popular TV shows on the network, and by 2020 she'd landed a spot on Time's list of the 100 most influential people in the world.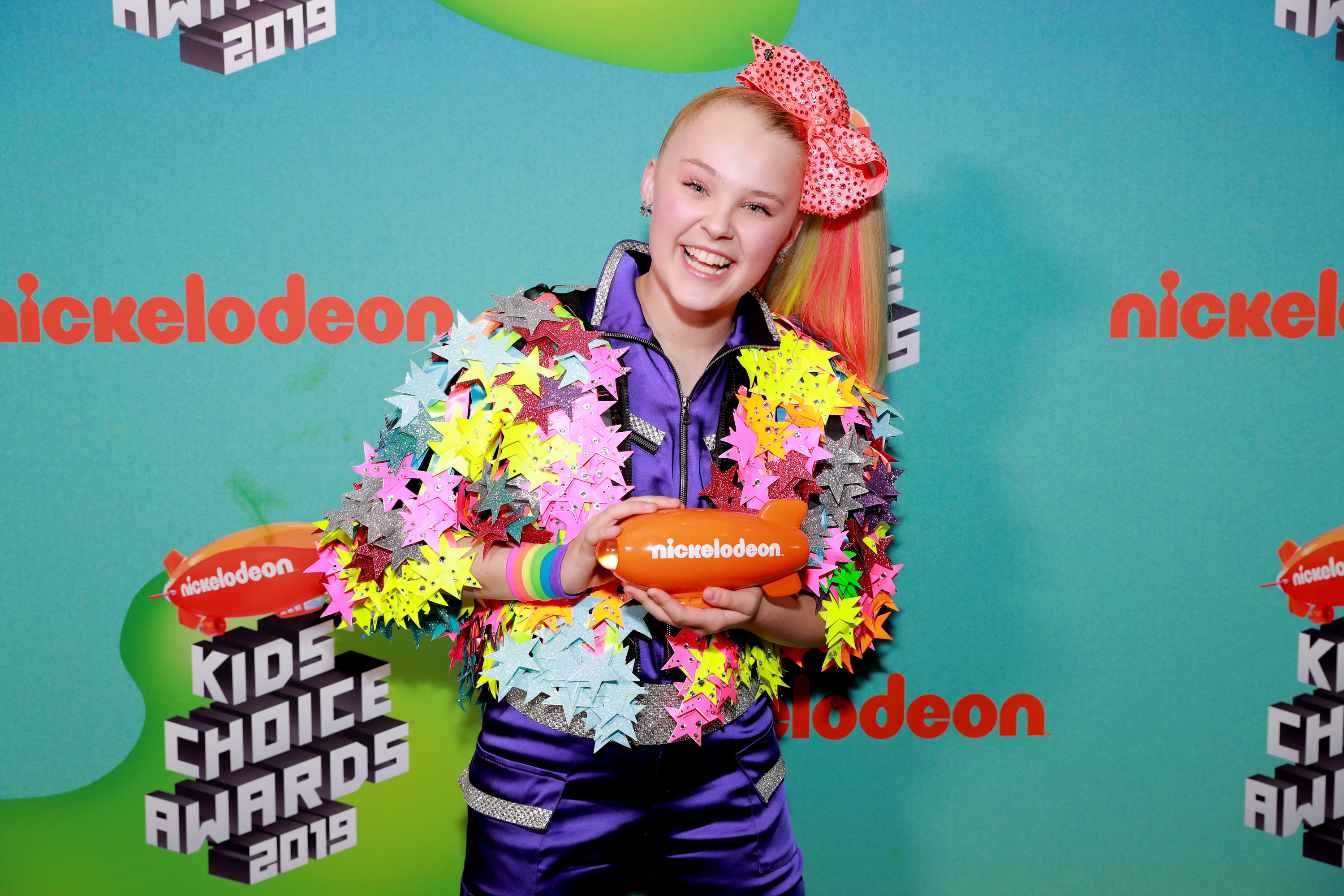 The following January, JoJo came out as LGBTQ+ in a casual social media post that saw her posing in a "Best Gay Cousin" T-shirt that she'd received from her cousin.
She later explained: "I always believed that my person was just going to be my person. And if that person happened to be a boy, great, and if that person happened to be a girl, great!"
However, JoJo was reluctant to give her sexuality an exact label at the time as she admitted that she wasn't entirely sure what that label should be.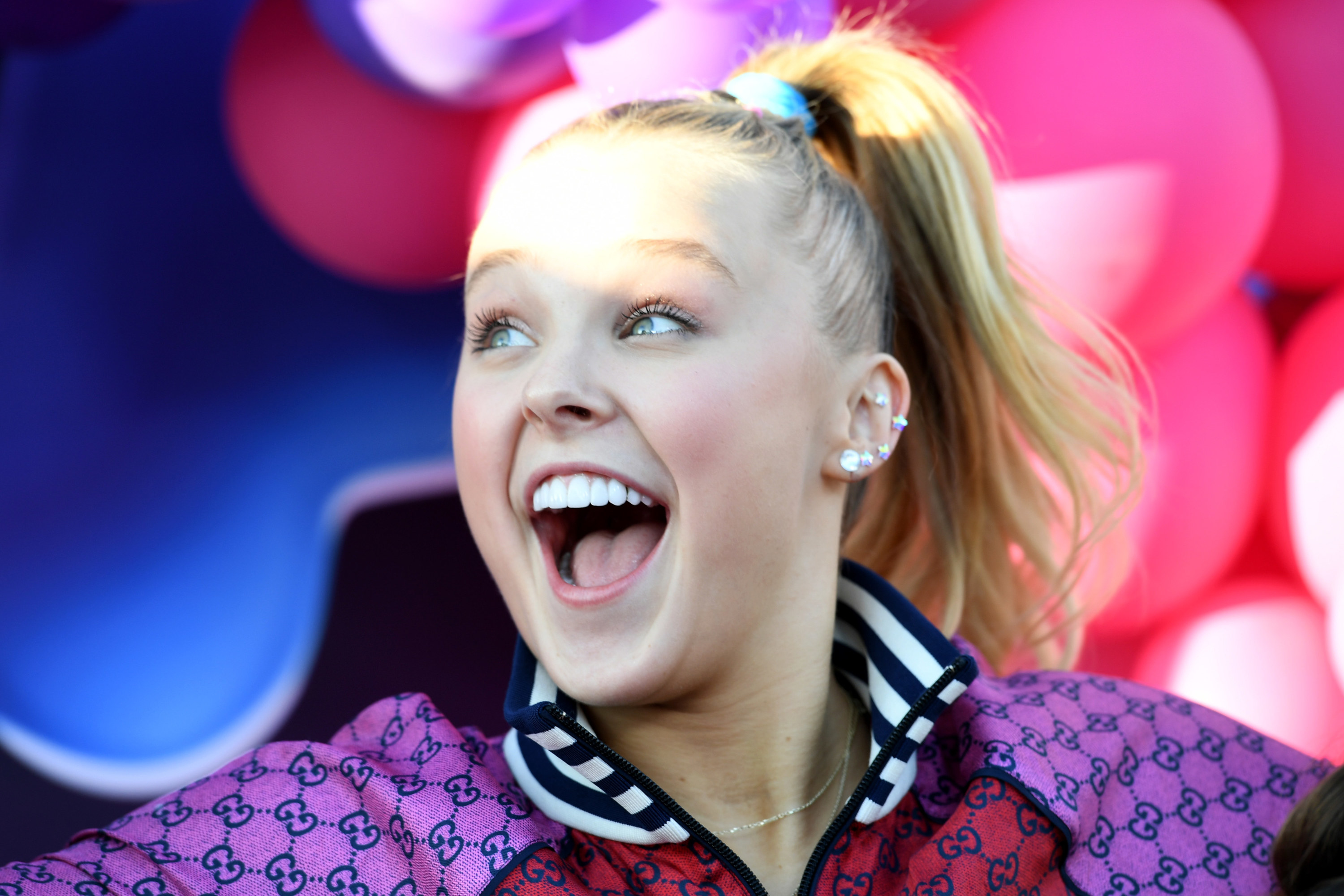 Now, more than two years later, JoJo has shared some more insight into her coming-out journey as she revealed how the company that she worked for reacted at the time.
In a new TikTok video, the star said that the response was a negative one and she was hauled into a meeting with the company's president soon after she'd made her social media posts.
At this meeting, she was quizzed on how her young fanbase would feel about her sexuality.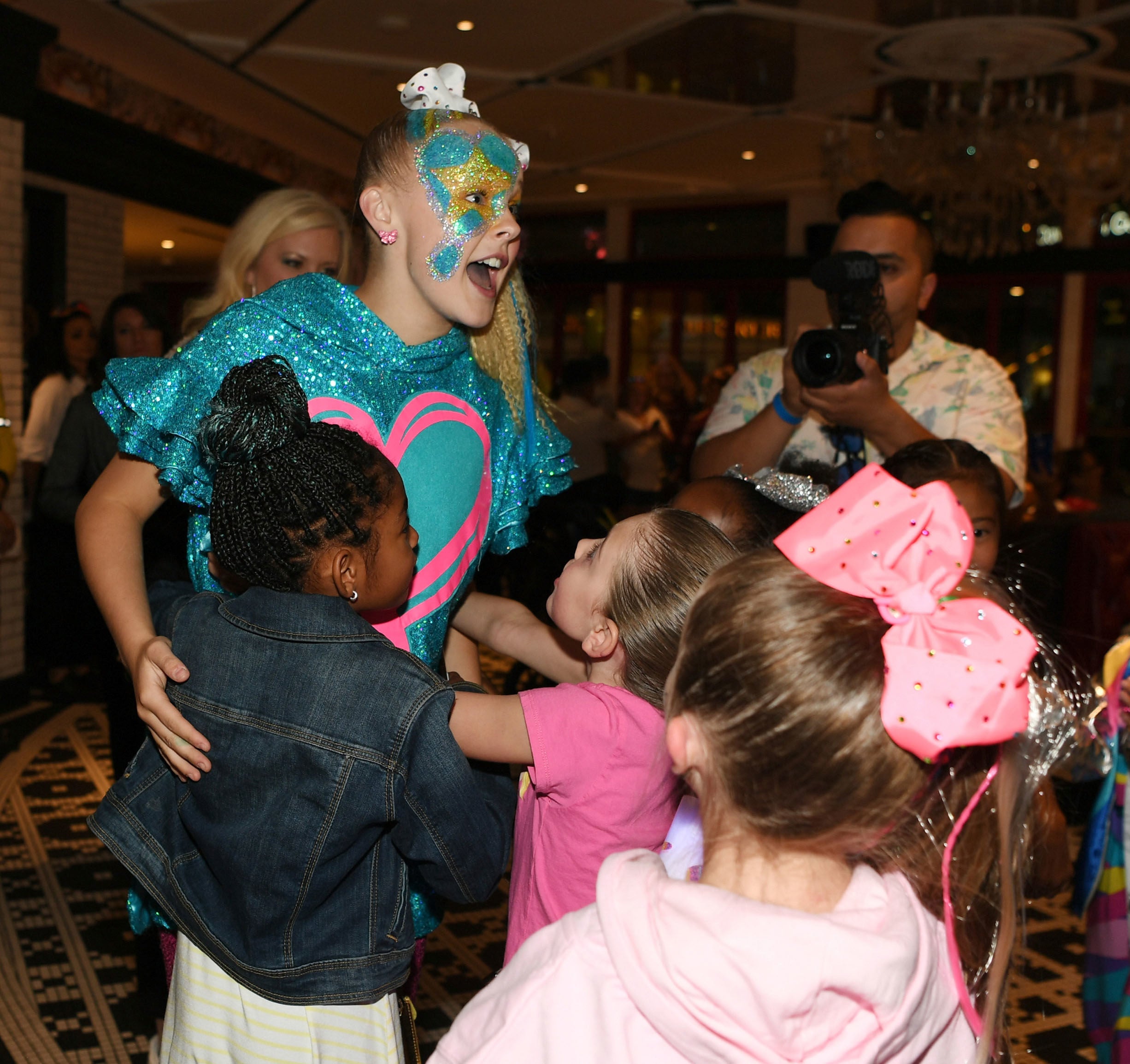 While JoJo didn't explicitly name the company, it is widely believed that she is referencing Nickelodeon.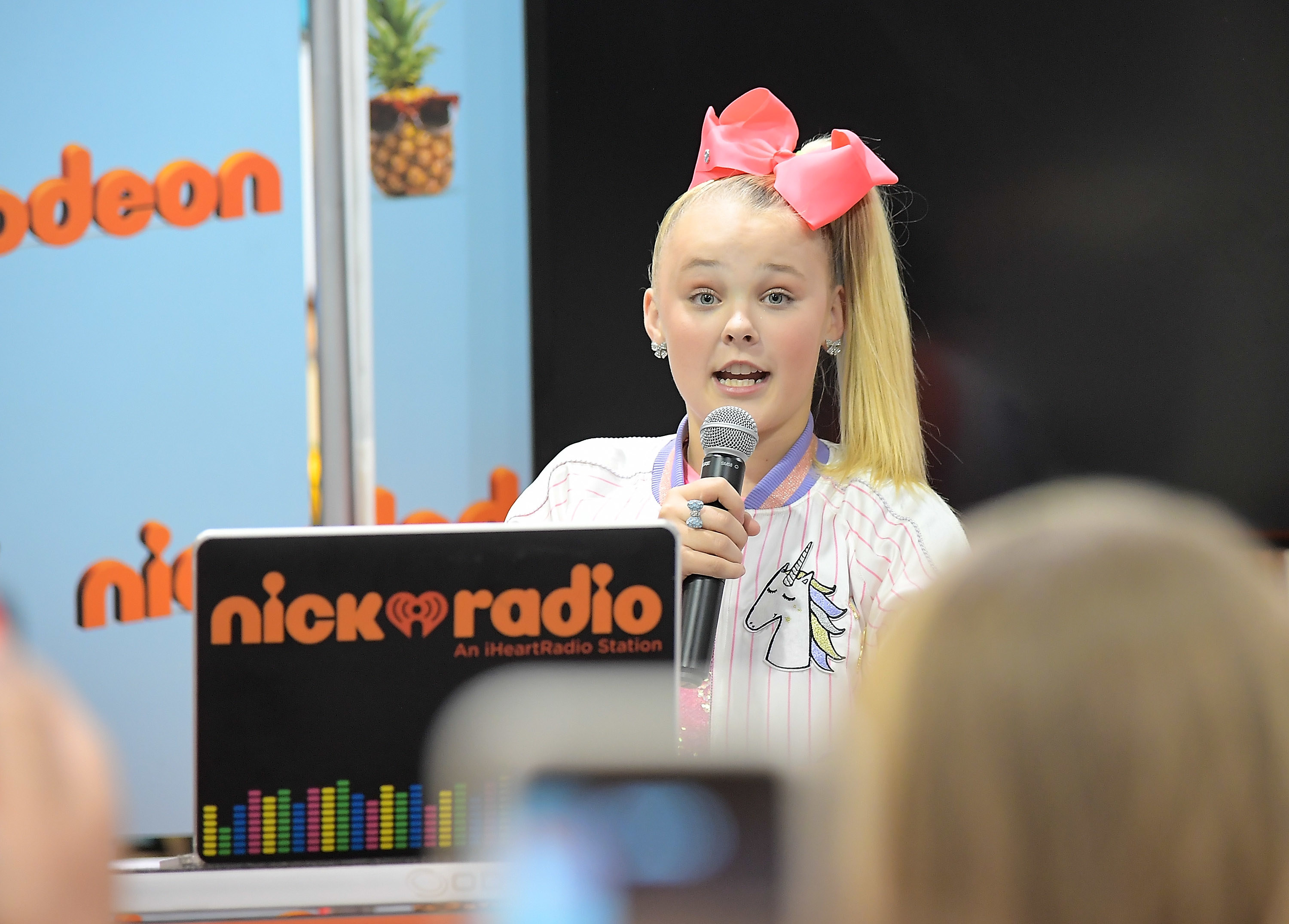 Lip-synching to Meghan Trainor's new song "Mother" in the video, JoJo wrote: "STORY TIME: January 2021 I come out to the world The company I work for told me they needed to have a meeting w/ me ASAP."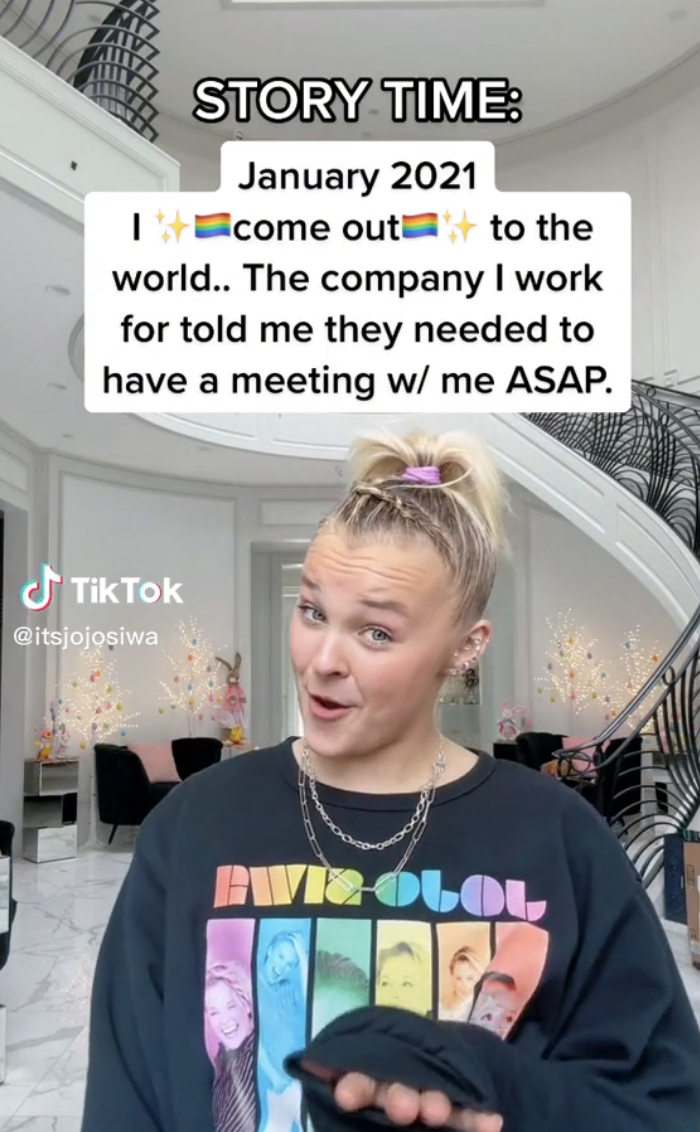 "During this meeting the PRESIDENT of the company negatively asked me 'what are you gonna tell your young demographic,'" she went on. "I took a second to process what I was just asked, and then… I replied… 'THE TRUTH.'"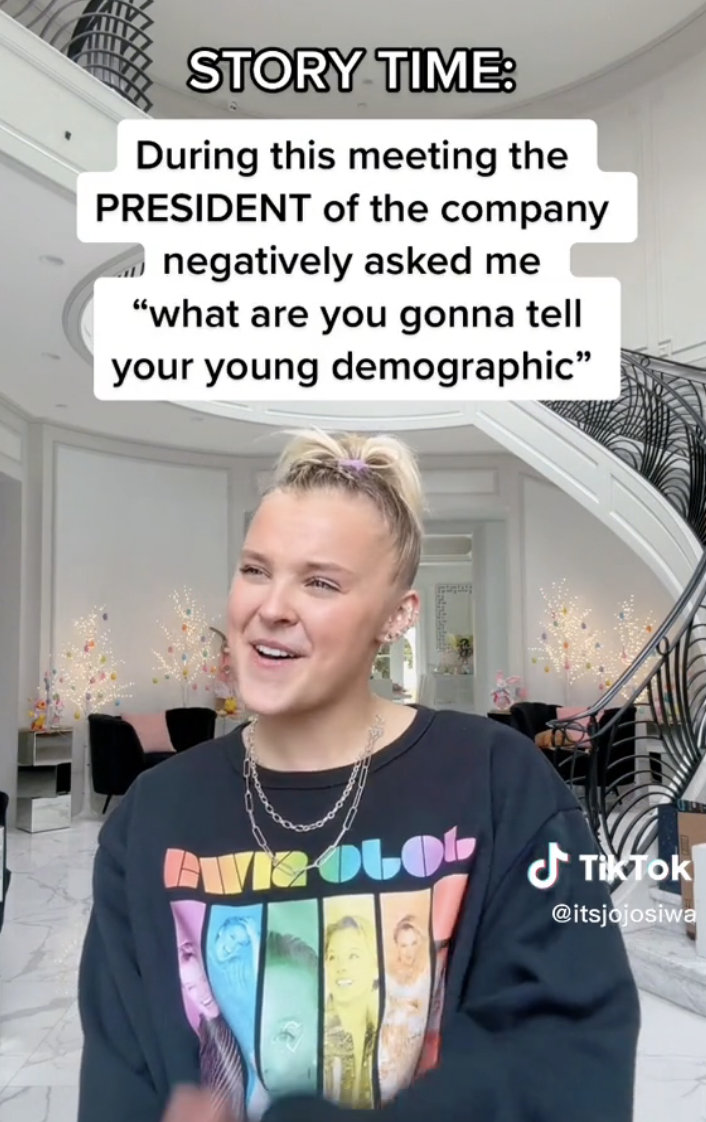 "I've never seen a man roll his eyes so far in the back of his head…." JoJo added. "It was silent so I started talking again… I said… 'I'm not gonna hide who I am and who I love to anyone, ESPECIALLY to the next generation."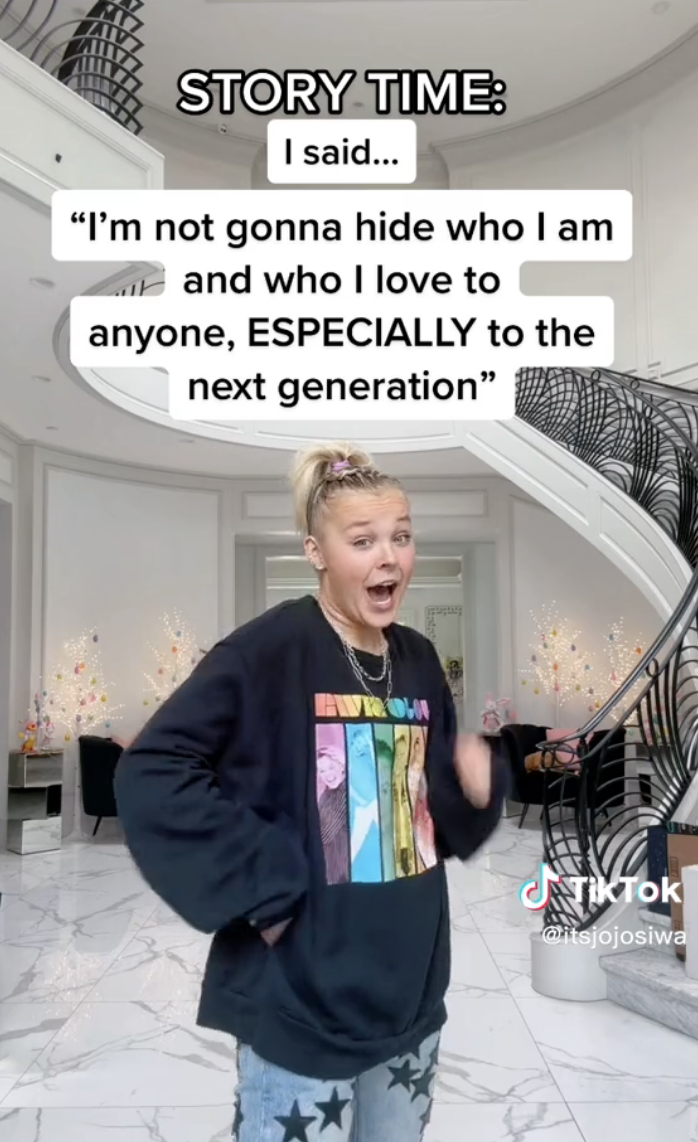 "He didn't like that very much…" she admitted. "However.. since I came out SO many adults say to me 'I wish I had someone like you when I was younger.'"
"Which reminds me everytime that I did the right thing and to never let ANYONE change who you are," she concluded.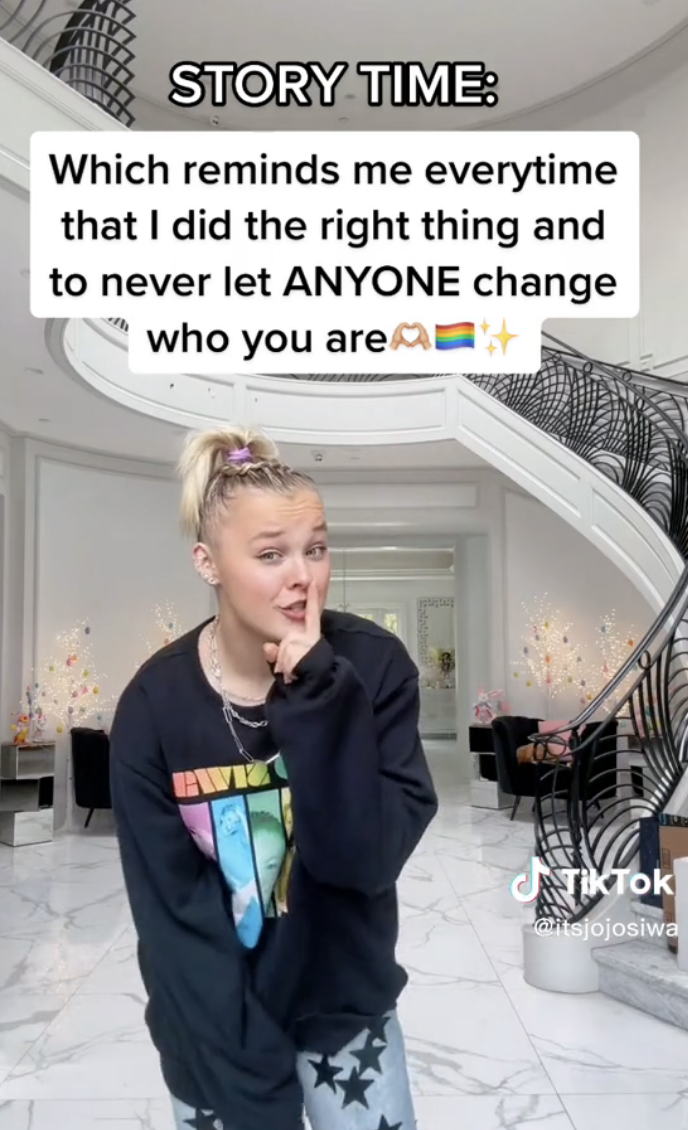 JoJo was showered with praise in the TikTok's comments, with one person writing: "proud of you for always being unapologetically who you are, no matter what 💓"
Someone else agreed: "You're a hero to young kids that needs a positive person to look up to."

While another was reminded of Nickelodeon snubbing JoJo just last year. They wrote: "and then they tried to say it was an 'oversight' when you weren't invited to the awards show 🤬 You are exactly the right role model kids need 🥰"

In case you missed it, JoJo publicly aired her grievances towards the network when she wasn't invited to its annual Kids' Choice Awards in April 2022 — despite the fact that she was nominated for Favorite Social Music Star at the event.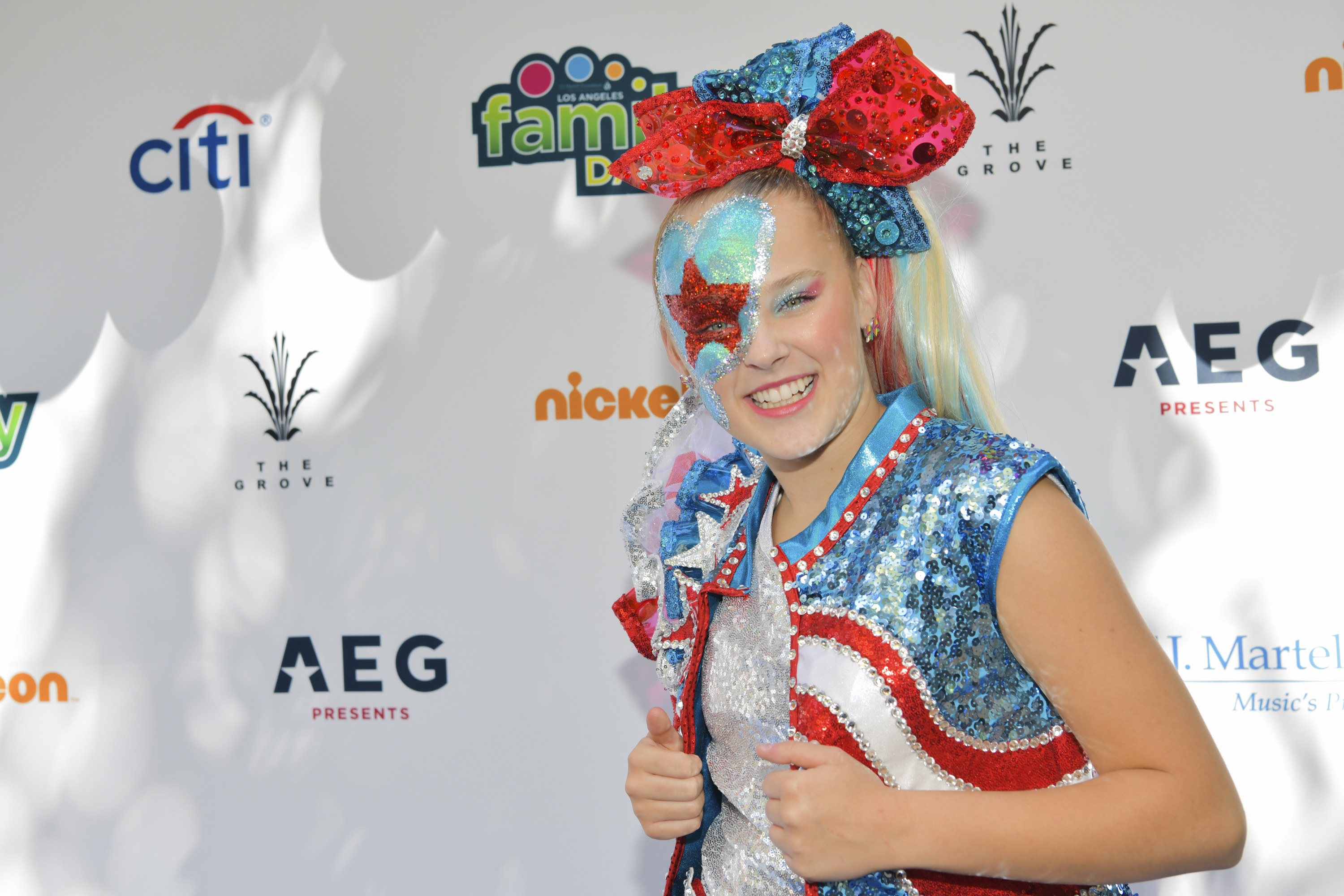 Discussing her absence from the ceremony in an Instagram video, JoJo said: "A lot of you have been asking me why I'm not at the Nickelodeon Kids' Choice Awards tonight, and the answer is very simple — I wasn't invited. I'm not sure why, but I just didn't get an invite."
At this point, JoJo was still very much considered a part of the Nickelodeon family, and the company had produced her D.R.E.A.M. tour that had only wrapped a few weeks earlier.
She'd also attended the Kids' Choice Awards several times in the past, and won heaps of accolades and nominations.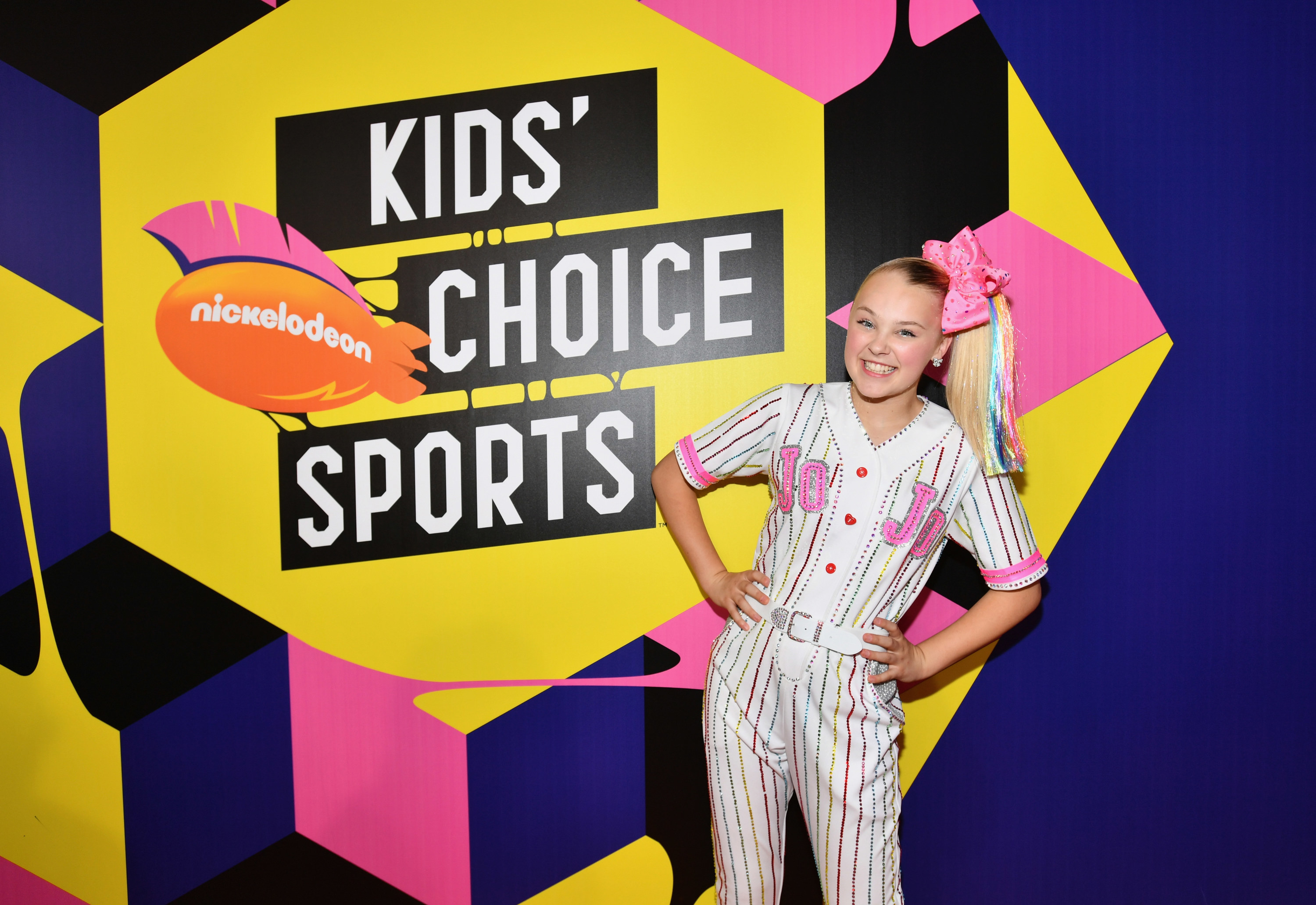 It didn't take long for JoJo's fans to speculate that the snub was related to her coming out a year earlier. Especially because after her January 2021 posts, JoJo had made her relationship with athlete Kylie Prew public, made history as part of the first same-sex pairing on Dancing With the Stars, and openly advocated for young LGBTQ+ people.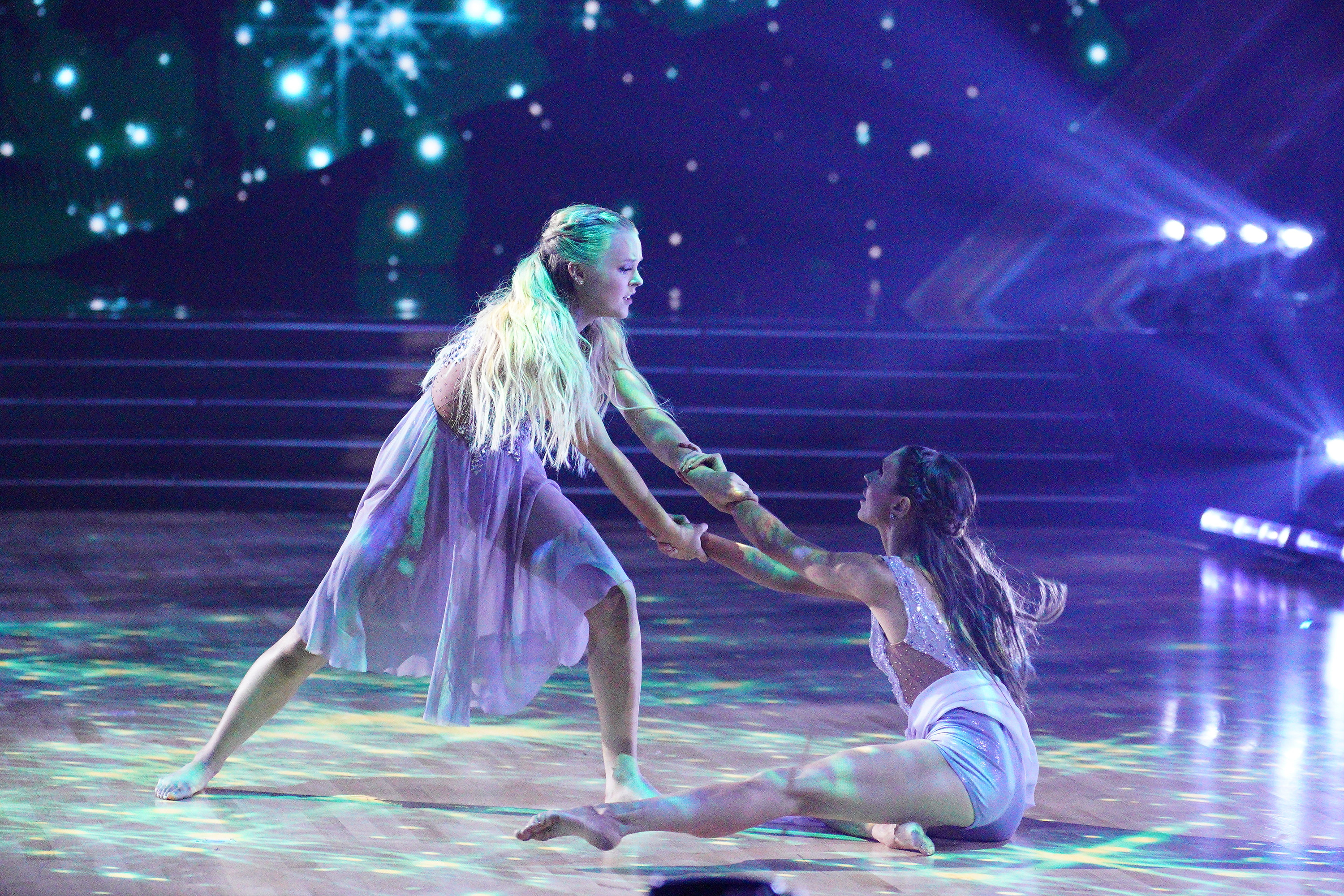 Just days before the Kids' Choice Awards, JoJo had also overhauled her image by cutting off her signature ponytail in favor of a short, choppy 'do.
"The only year that @itsjojosiwa didn't get invited to the kids choice awards is when she comes out and cuts her hair?????? Sus @Nickelodeon," one person tweeted at the time, with JoJo seemingly showing her agreement as she reposted the tweet to her own account.
JoJo also retweeted a fan's post that read: "Obsessed with the teenage girl celebrities who don't take shit from their network of employment and refuse to be anything but themselves. Being connected to a kids channel shouldn't mean you have to stop being yourself."
And another that said: "Jojo siwa not getting invited to the nickelodeon kids choice awards - after being the face of that network for years - right after coming out and cutting her hair makes my homophobia siren ring."
In the past, JoJo has alluded to her company's concern about her young demographic, writing in an Instagram post last year: "I also get asked a lot 'your demographic is so young are you worried about telling kids your gay'…."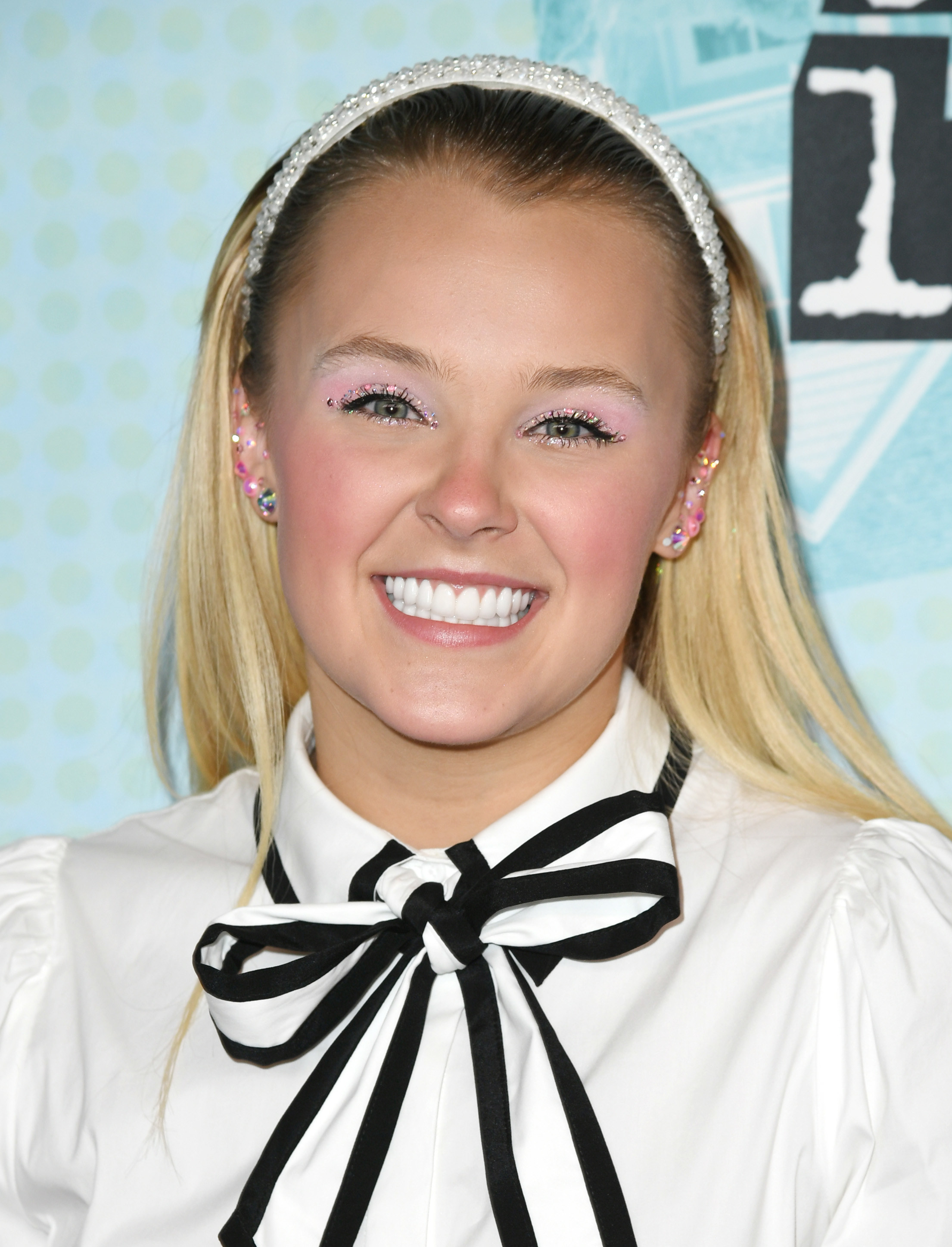 "Truthfully I feel like I was put on this earth to be a role model for kids," she went on. "And letting all the kids of the world know that loving everyone for who they are no matter what is something that I will always believe in and always share."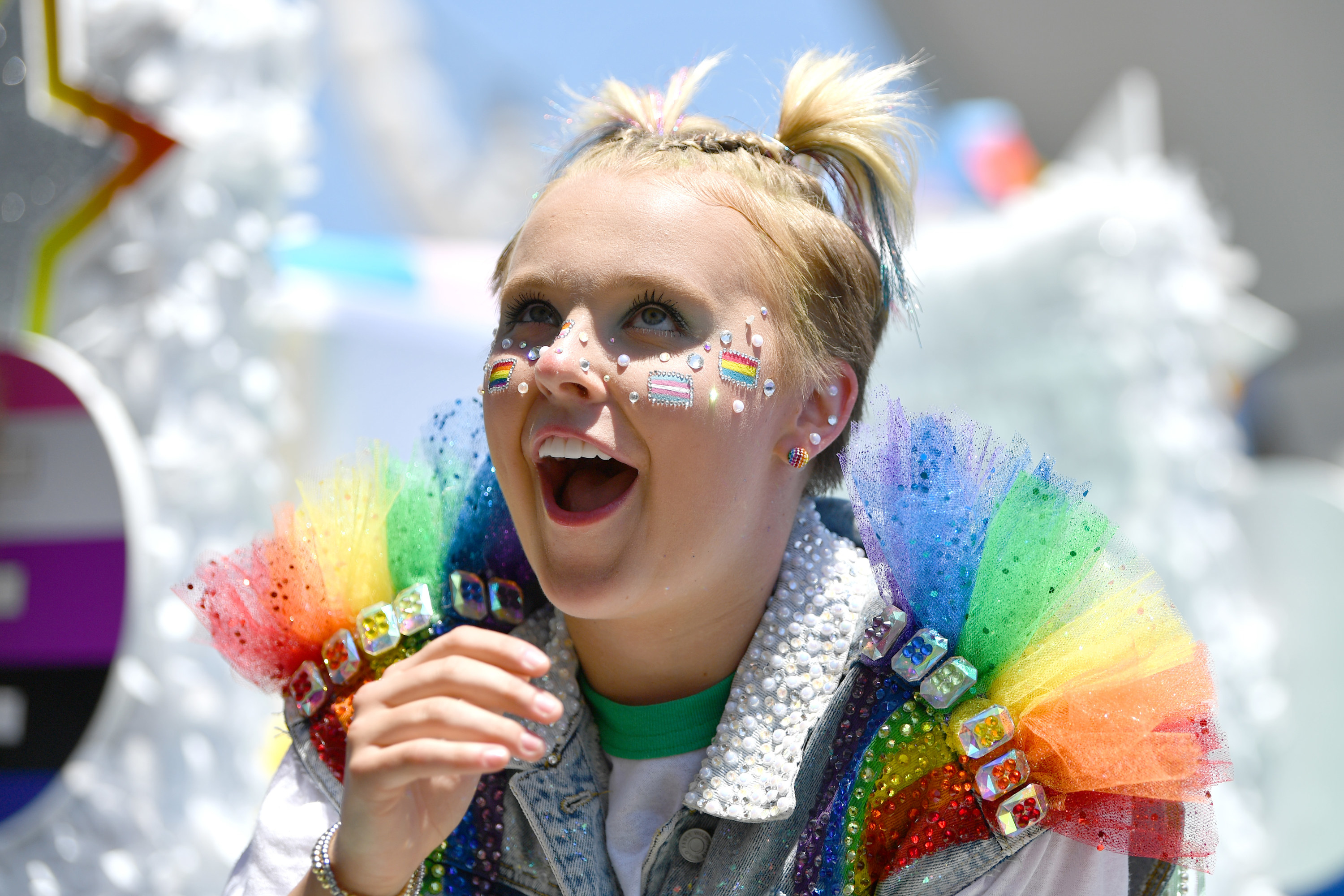 A Nickelodeon spokesperson has denied that they are the company that JoJo is referencing in her TikTok in a statement to BuzzFeed News. They said: "We are unaware of what incident or meeting JoJo is referencing, but it certainly did not happen at Nickelodeon. We have valued and supported JoJo since day one of our relationship together and we still do today."