On Wednesday, Jennifer Lopez excitedly announced the launch of her latest brand Delola, a "ready-to-enjoy" cocktail that is available in three different flavors — with three different types of alcohol.
In her fan newsletter, On The JLo, Jen said that the product was inspired by her little-known nickname "Lola," which she described to be her "more playful, carefree side."
"She is the part of me that lets loose," she added. "She doesn't come out all that often – but when she does, she goes hard... I realize that as I've gotten a little older, I'd like her to make more appearances. Life is to be enjoyed, and as much as I enjoy working hard, playing is just as important for a happy, balanced life!!!"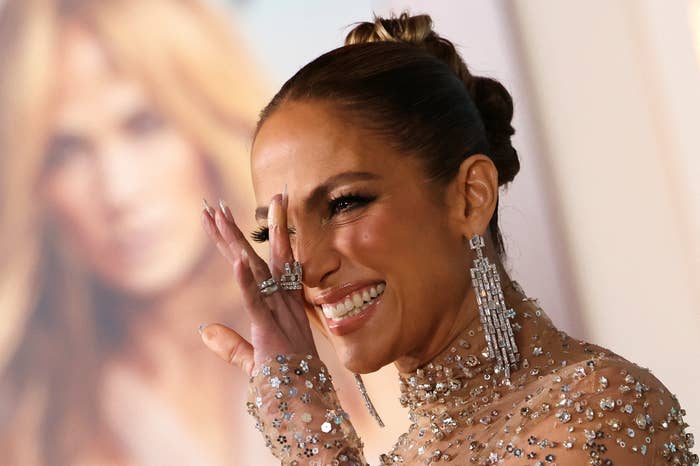 Jen then explained that she wanted an alcoholic drink that was "easy," which is why she created Delola — "something that you could just pour over ice, right out of the bottle, ready to enjoy."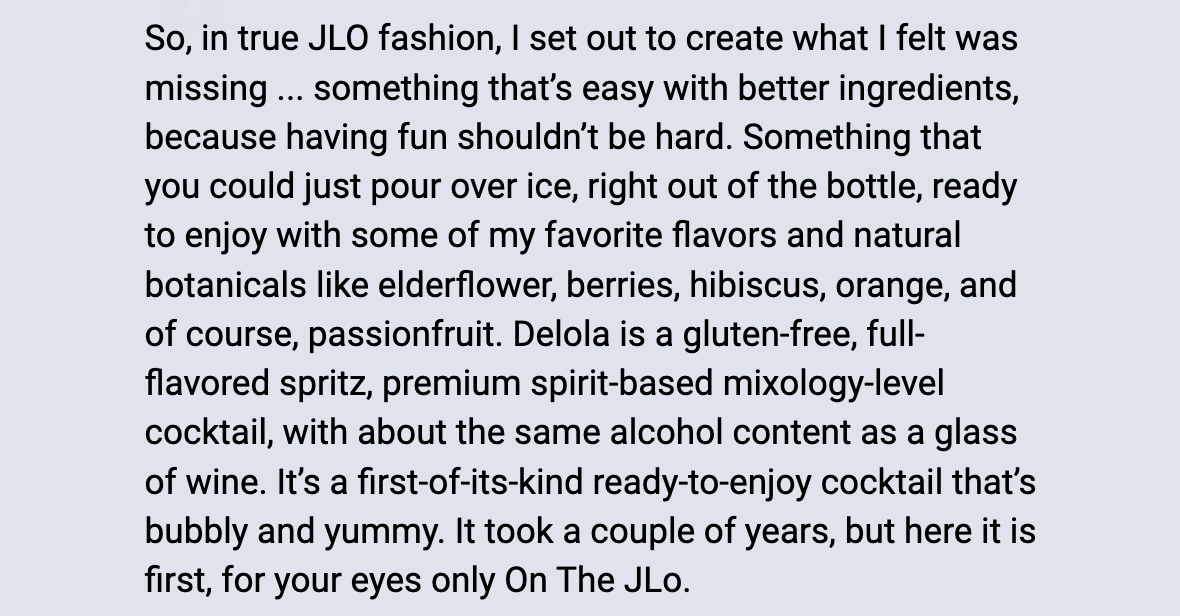 She went on to detail the three available flavors; a vodka-based berry spritz, a tequila-based grapefruit and elderflower option, and an amaro-based orange and passionfruit, all of which contain "about the same alcohol content as a glass of wine."
In addition to her newsletter, Jen promoted Delola on her social media pages. She posted a video of herself talking about the product on Instagram alongside the caption: "The secret is out!!! I'm proud to share with you @DELOLA … my new collection of unique, mixology-level ready to enjoy spritzes."
But some of her 240 million followers were left confused by the post, with it quickly being pointed out that Jen has regularly spoken out against drinking alcohol in the past.
"Makes no sense as she doesn't drink," one person commented. Someone else asked: "I thought you didn't drink???"


Many also brought up the fact that Jen's husband, Ben Affleck, is in recovery for alcohol addiction and has been to rehab for this multiple times.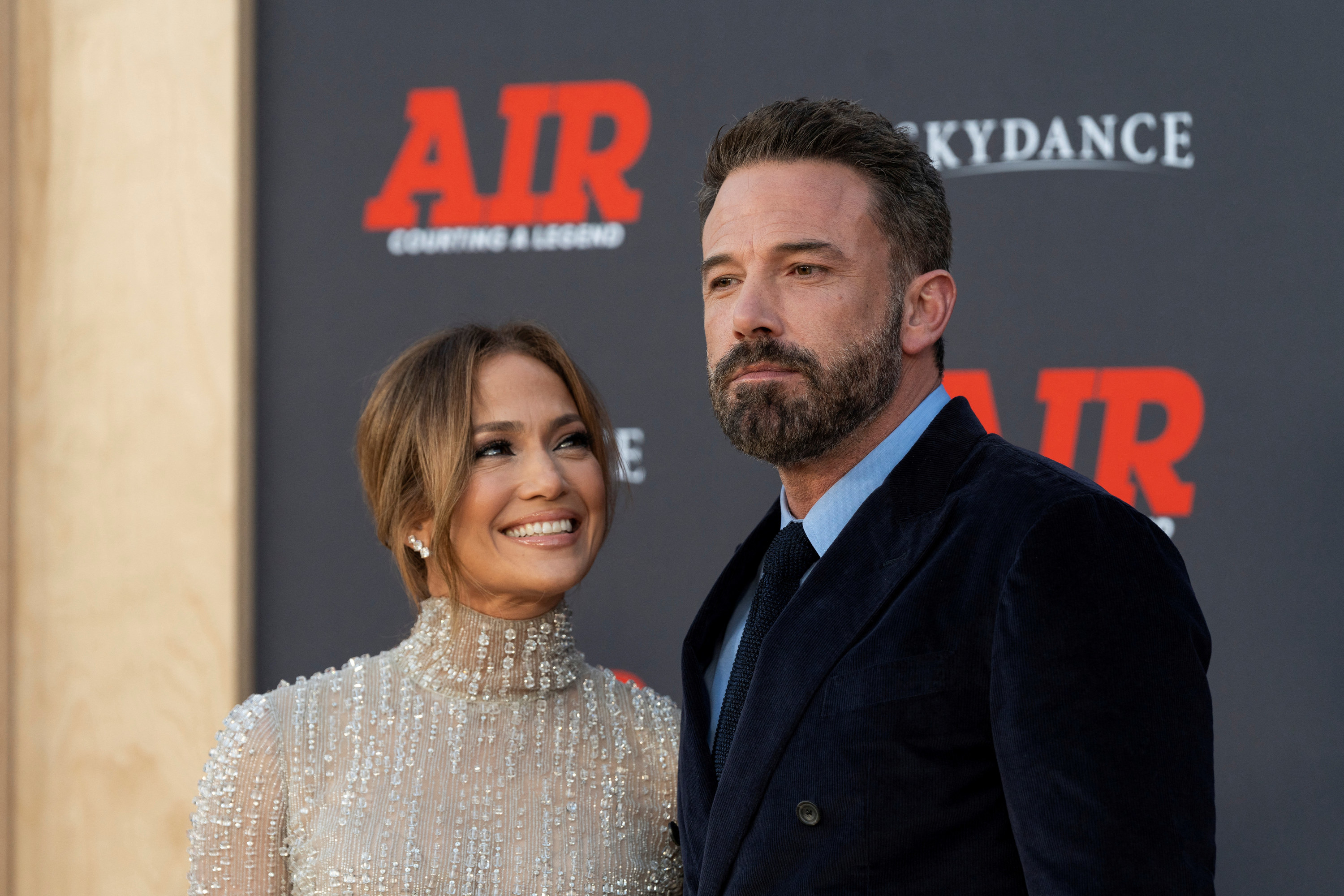 "You're married to a recovering alcoholic and you've said countless times you don't drink…but okay🙄," a comment on Jennifer's Instagram post reads.

"This is super disappointing considering she doesn't drink and is married to a recovering alcoholic," another said. "How about we support small business instead of celebrities slapping their name on whatever that want to make more money."

And it wasn't long before others echoed the accusation that Jen had only put her name behind the brand to make money.
"Jlo you don't drink. This is like something that is known and has been pointed out on numerous occasions. I mean….I get it- a coin is a coin- but mama you don't drink alcohol. 🫣" another person wrote.

"She doesn't drink alcohol so just goes to show what she will do for money," someone else claimed.

"Another celebrity glamorizing alcohol to make money. This one is even weirder, you literally don't drink and have a husband in recovery. Okaaaaay. Gross," one follower wrote.

Fans also expressed their disappointment that Jen had missed an opportunity to "pave the way" for sober people by creating an alcohol-free alternative.
"Would have been a way better opportunity to promote a non alcoholic product and pave the way and also support your husband who doesn't drink. This is such a money grab jlo," someone wrote.

"Hmmm, hard to buy into this when Jlo has been so outspoken about NOT drinking," another agreed. "A mocktail would've been more on brand and amazing for those who also choose not to drink alcohol!

"Oh wow. This is disappointing. Why not create a NA brand considering you've been outspoken about the negative affects of alcohol and that you yourself don't drink? This feels so off-brand for you, genuinely curious why you're selling alcohol," one more popular comment reads.

While Jen has never said that she is completely sober, she has always maintained that she never has more than a sip of alcohol because of the negative impact it can have on your body.
In 2016, the singer said that remaining alcohol-free was one of her secrets for looking young, telling Us Weekly: "I don't drink or smoke or have caffeine. That really wrecks your skin as you get older."
"I think it ruins your skin," she said of alcohol in a separate interview with InStyle. "Of course, during celebratory toasts, everybody's like, 'You can't toast with water!' So I'll toast with alcohol and just take a sip."
In launching Delola, Jennifer acknowledged that she doesn't drink much alcohol and insisted that this is why it was important for her to nail the flavors. She told People: "I'm not a huge alcohol whatever-alcohol drinker, so it needed to be something that was really pleasant tasting."
And in response to the backlash, a source told BuzzFeed News: "Jennifer has always been clear on her health regimen and now she has created something that fits within her lifestyle. She has created a cocktail that she would enjoy and is easy to drink."