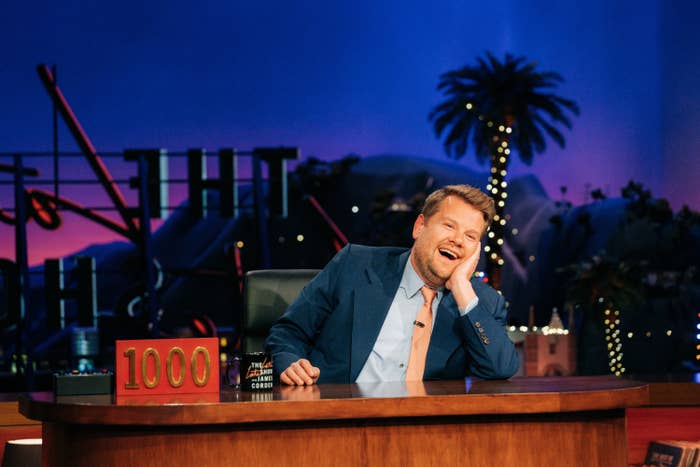 "When I started this journey, it was always going to be just that. It was going to be a journey, an adventure. I never saw it as my final destination, you know?" he told fans at the time. "And I never want this show to overstay its welcome in any way. I always want to love making it."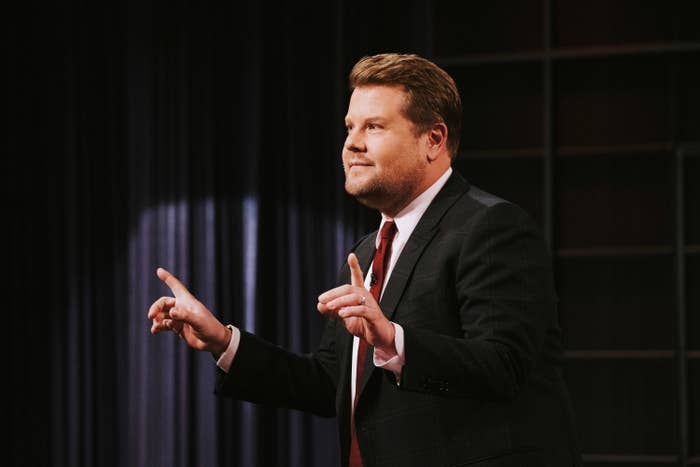 James went on to say that he would remain on the talk show for another year and promised that it will "go out with a bang."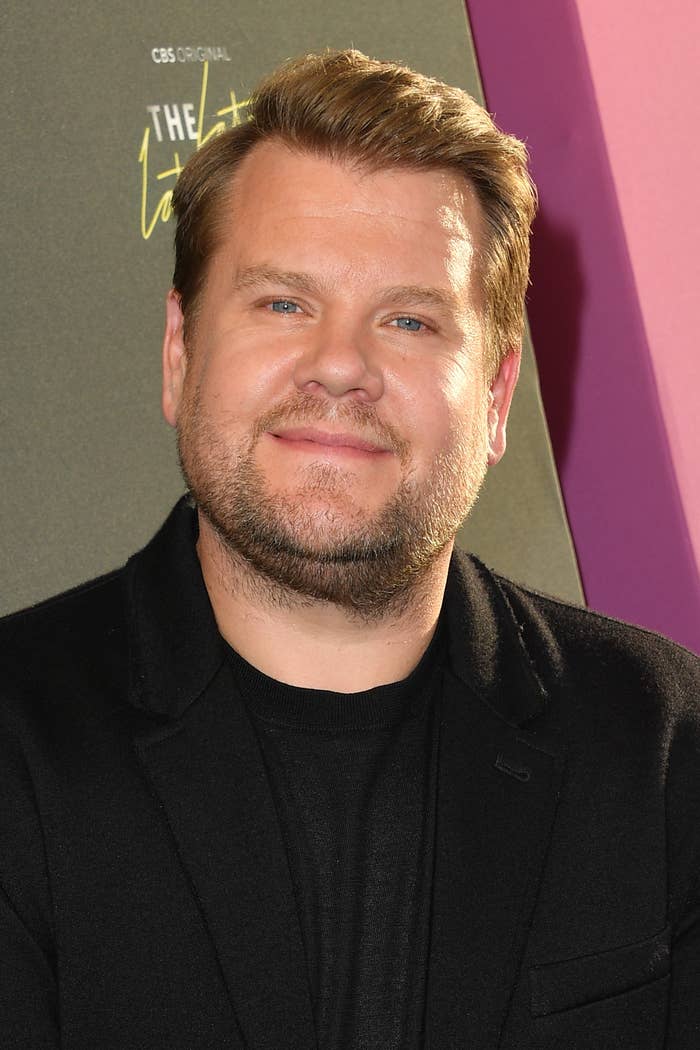 And judging by Thursday's episode, he certainly wasn't joking.
In last night's show, James was joined by Harry Styles, one of his good friends and a fellow Brit, following the recent release of the artist's third album, Harry's House.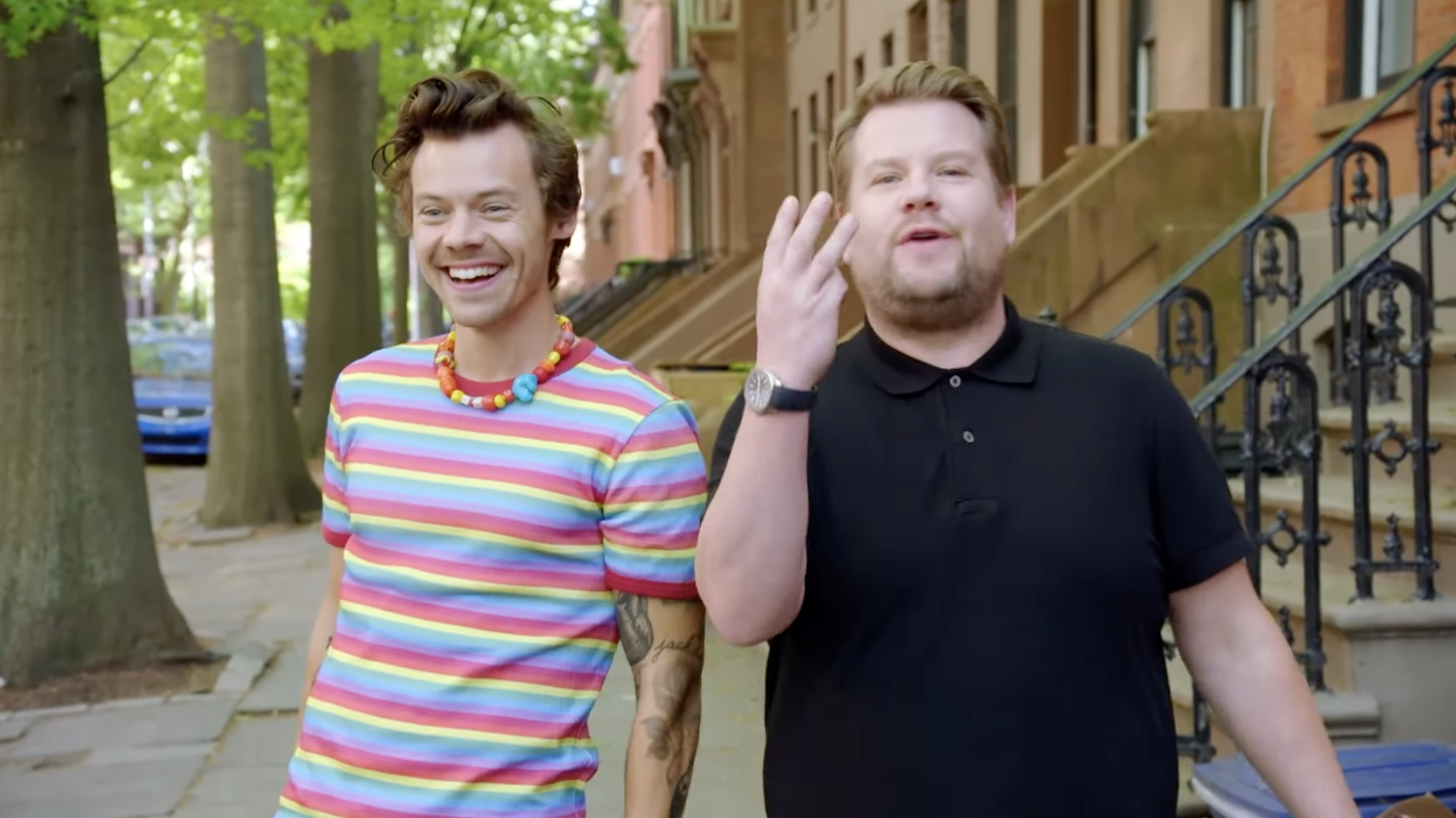 In the segment, Harry and James were tasked with filming a music video for one of Harry's new songs with just $300 and three hours to spare.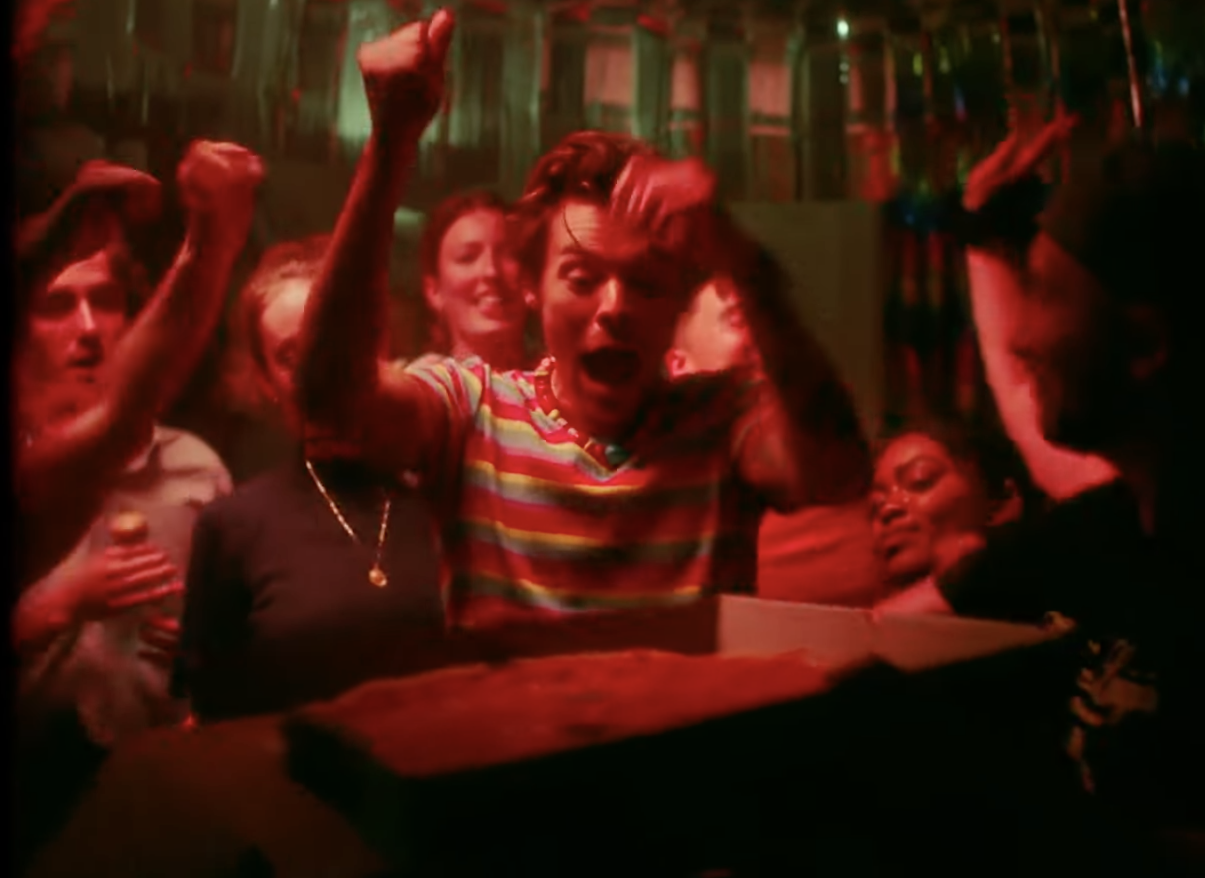 The two were on the hunt for a location as they walked down a residential street in Brooklyn, and they thought that they'd struck gold when they spotted a woman looking out of her window to see what all the cameras were for.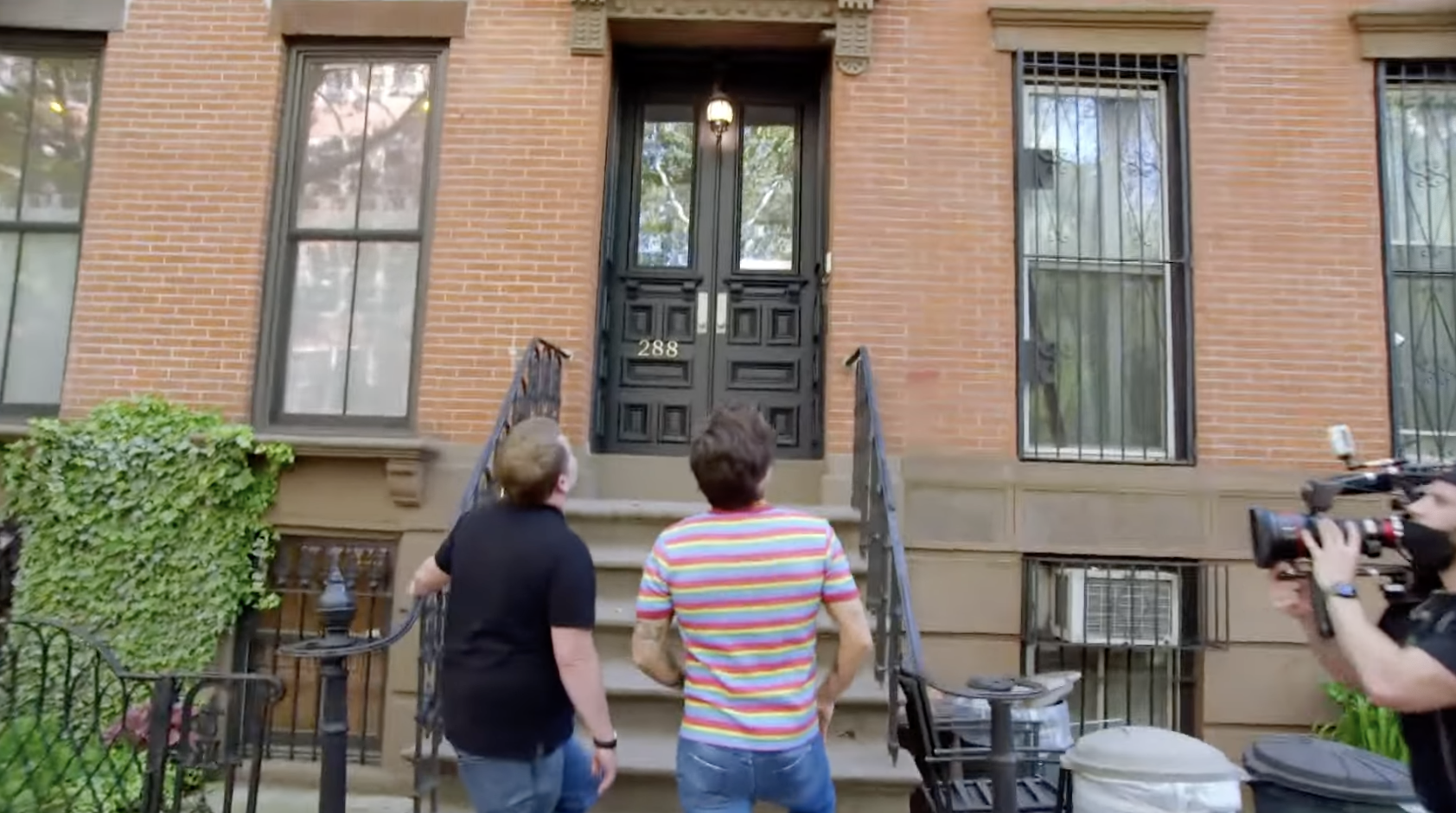 Unfortunately, she told the stars that she was about to head out for the day so they wouldn't be able to use her home.
James resorted to knocking on random doors to find somebody who was willing to lend them their house for a few hours, but a second woman also turned them down even though she wasn't going out.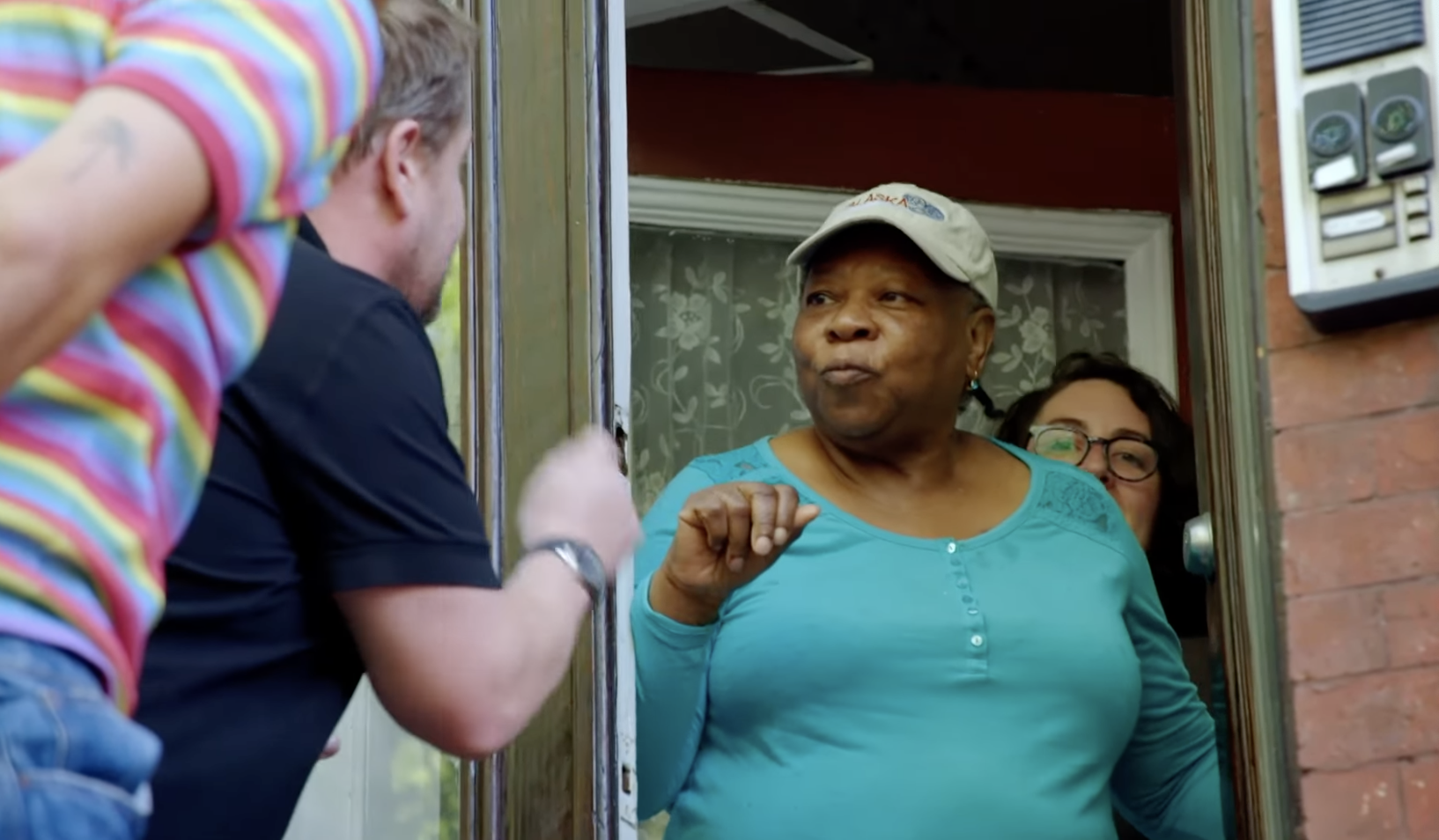 "I thought this would be easier, Harry, I've got to be honest," James joked at one point. "I thought your face would open a lot of doors."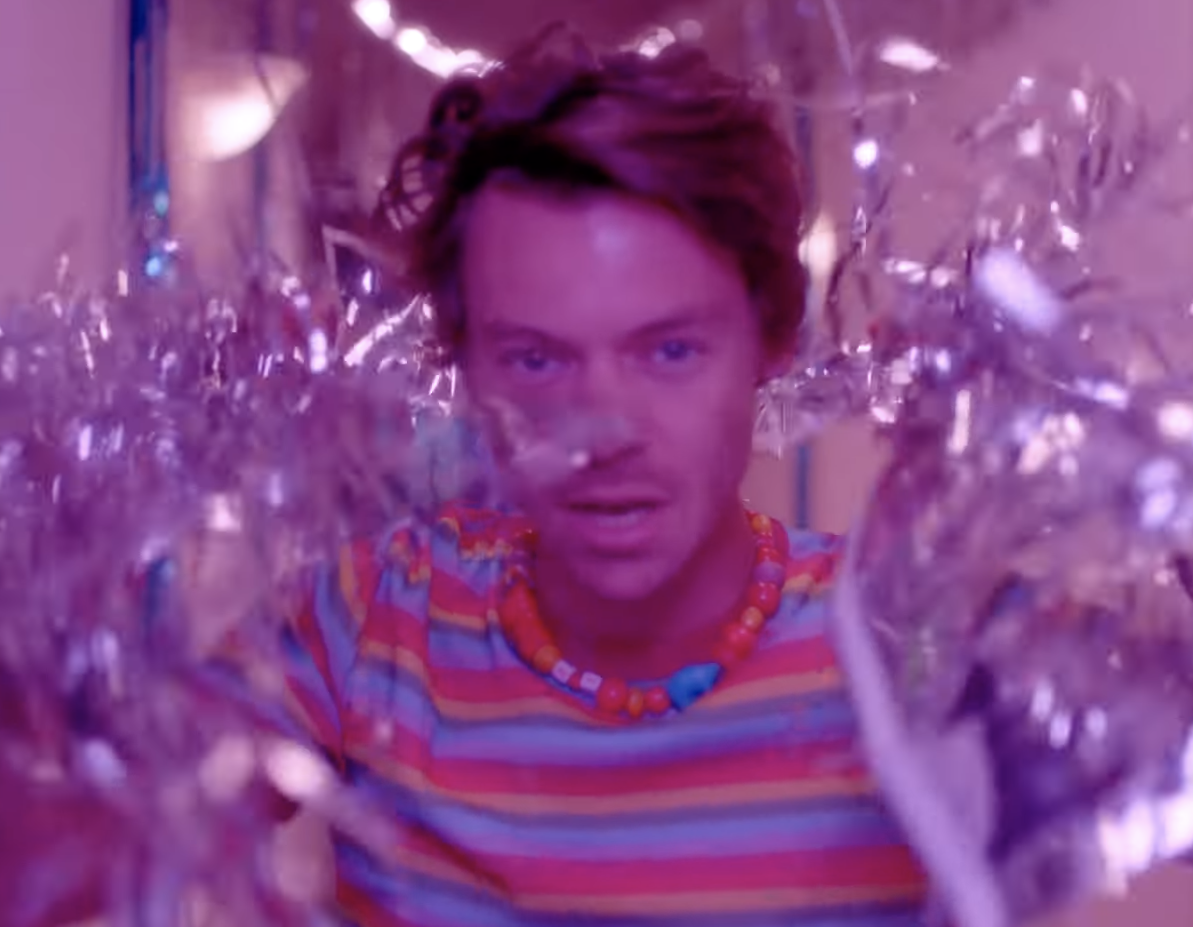 But their luck changed when Harry hid as James knocked on a door to another apartment and four young women answered.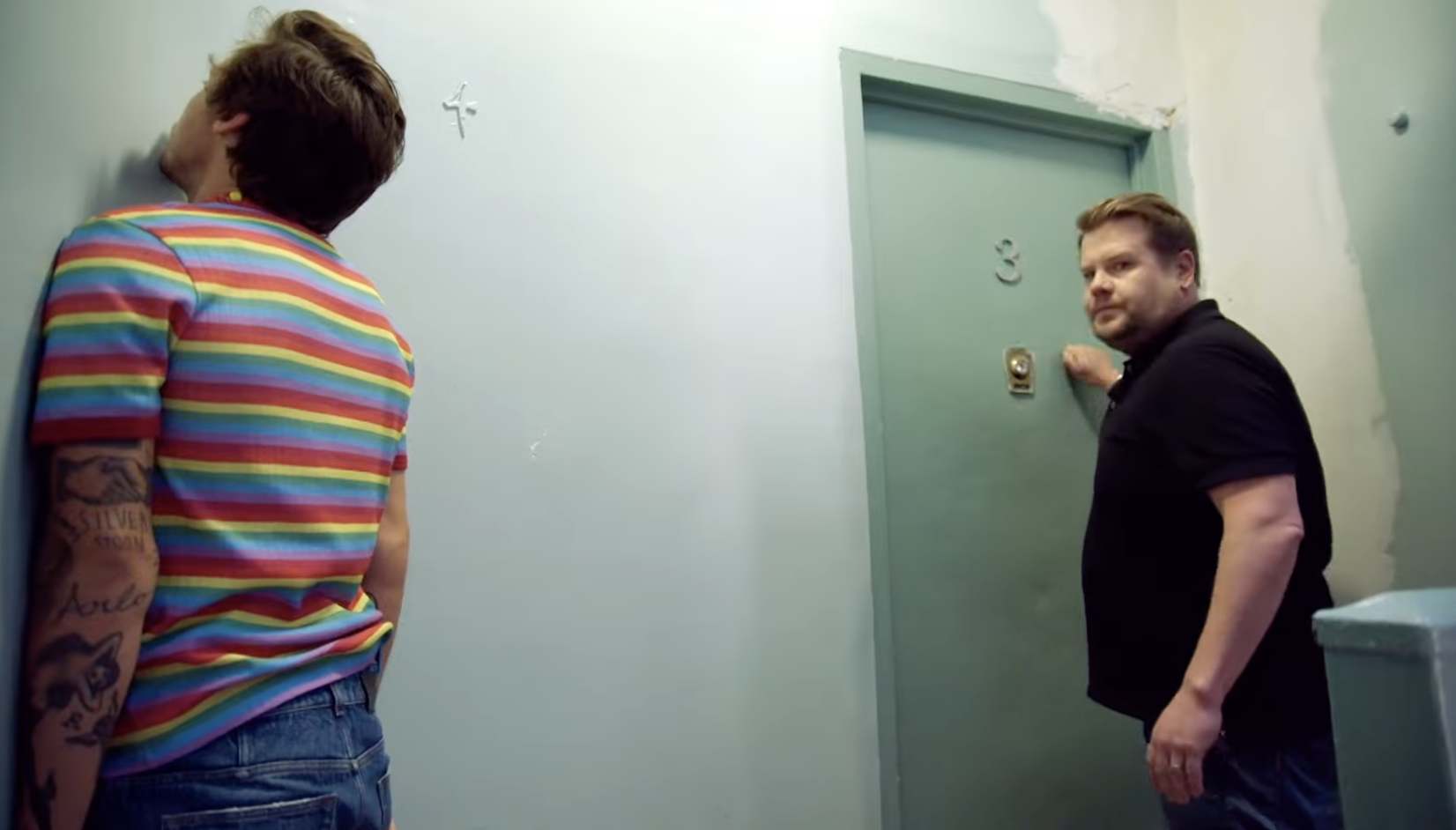 They recognized James immediately and were clearly a little bit starstruck as they offered their home up for whatever he needed. But when Harry appeared from around the corner, the girls lost it.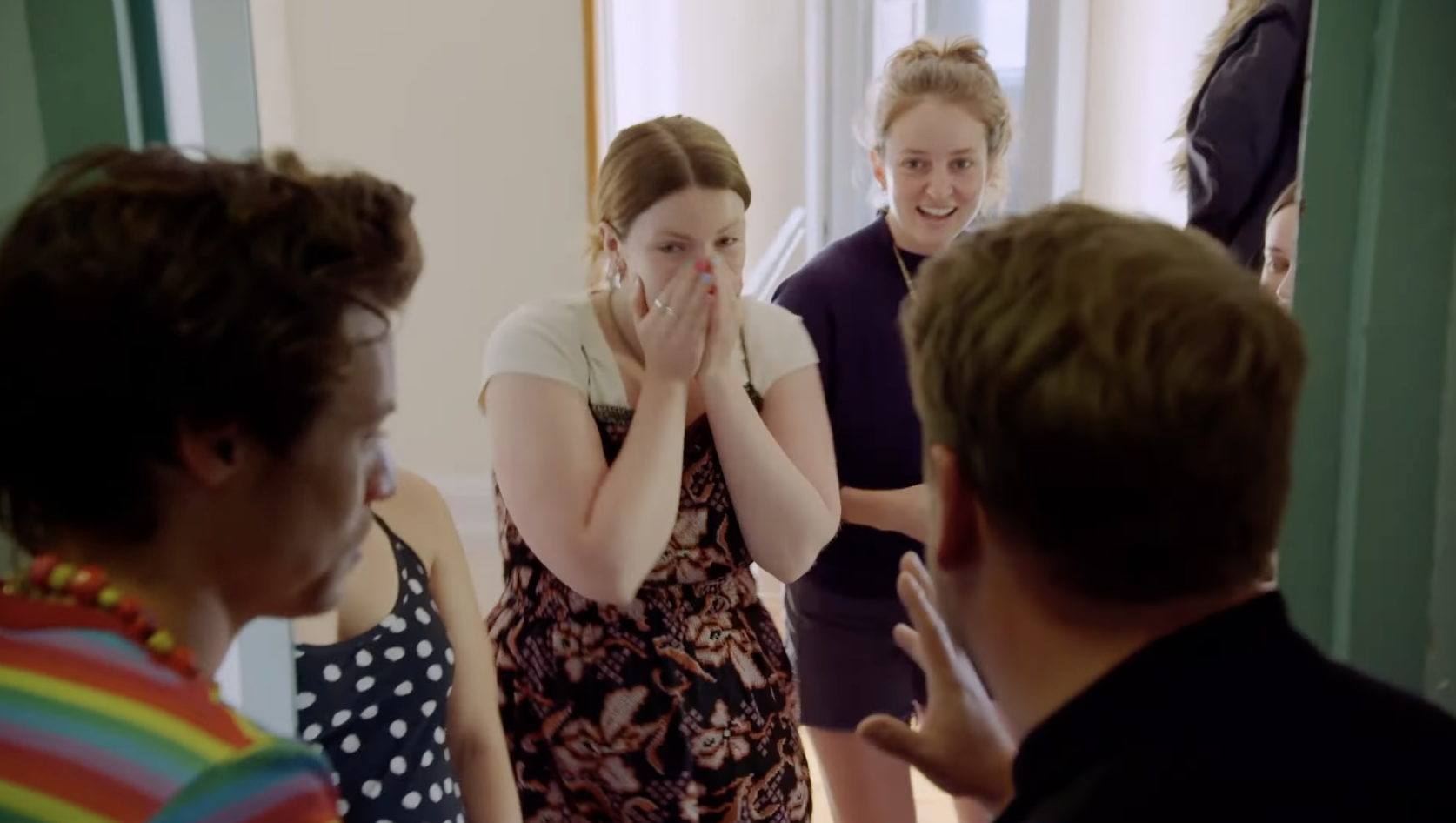 "This isn't real!" one of the roommates exclaimed as they all covered their mouths in visible shock.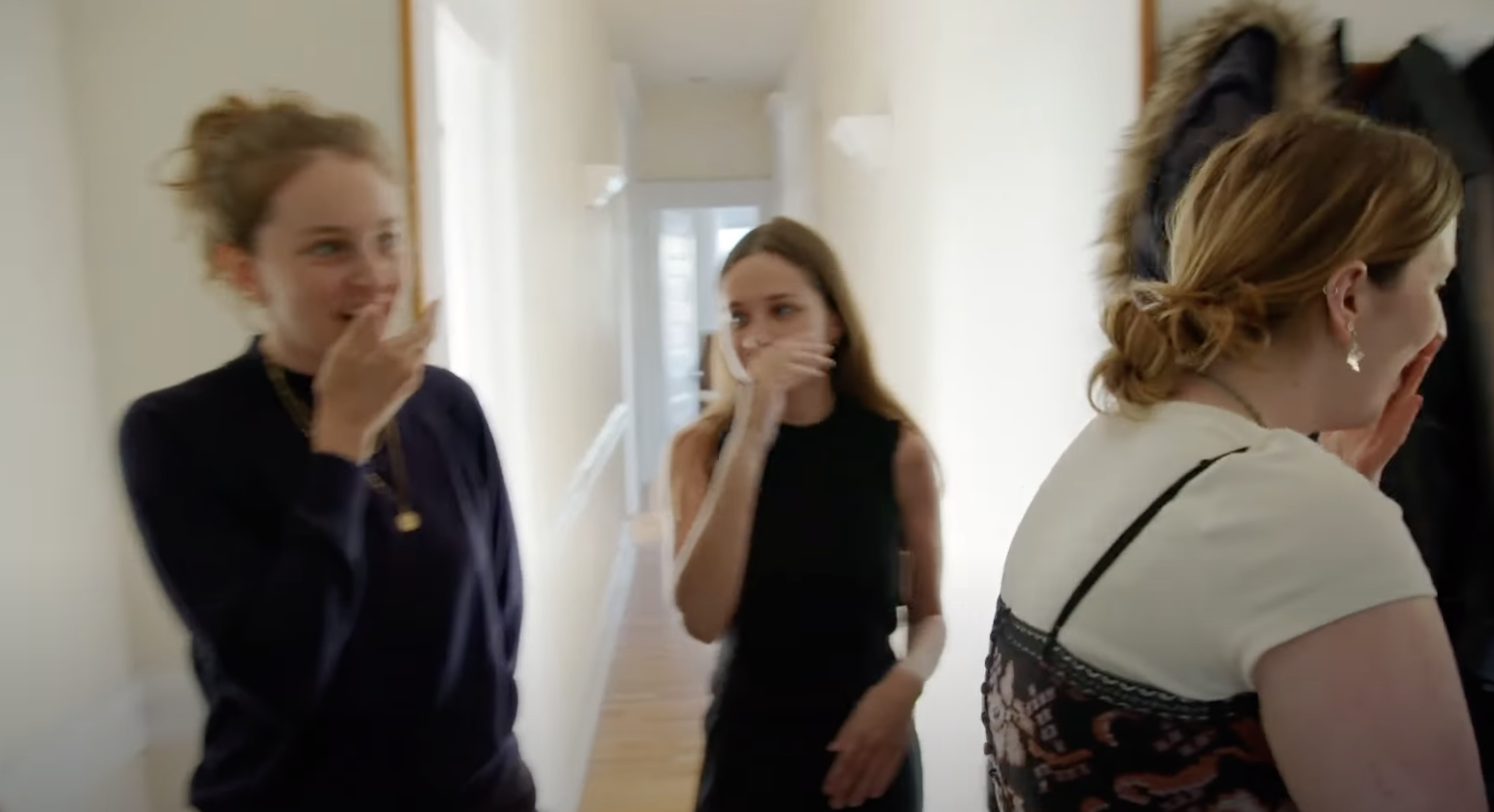 And it turned out that one of the foursome was actually a One Direction superfan, and she told James that Harry would be "in a lot of places" in her room as she showed off her merch.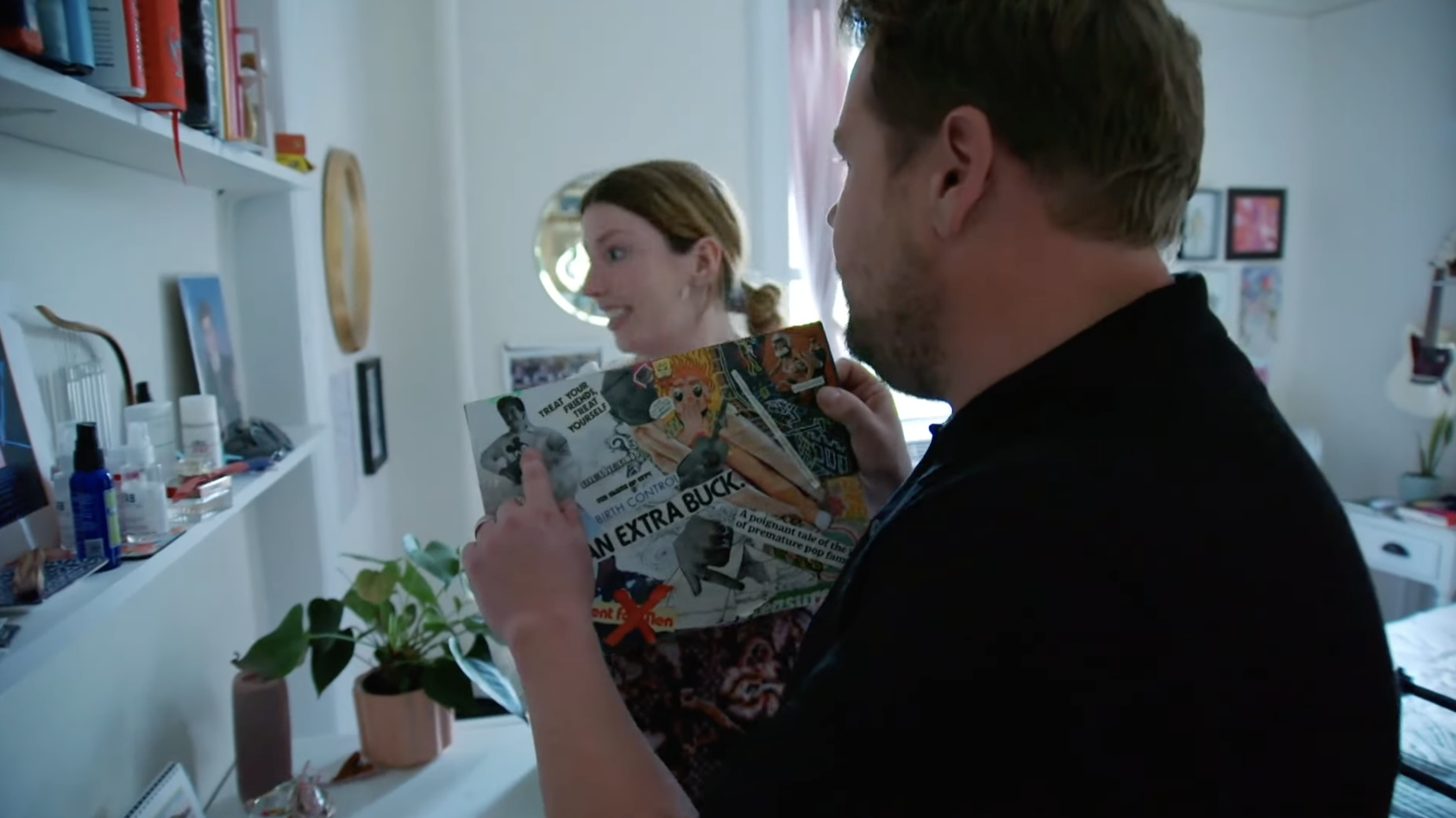 This included a portrait of Harry as Harry Potter, One Direction's perfume, and a One Direction book — among other things.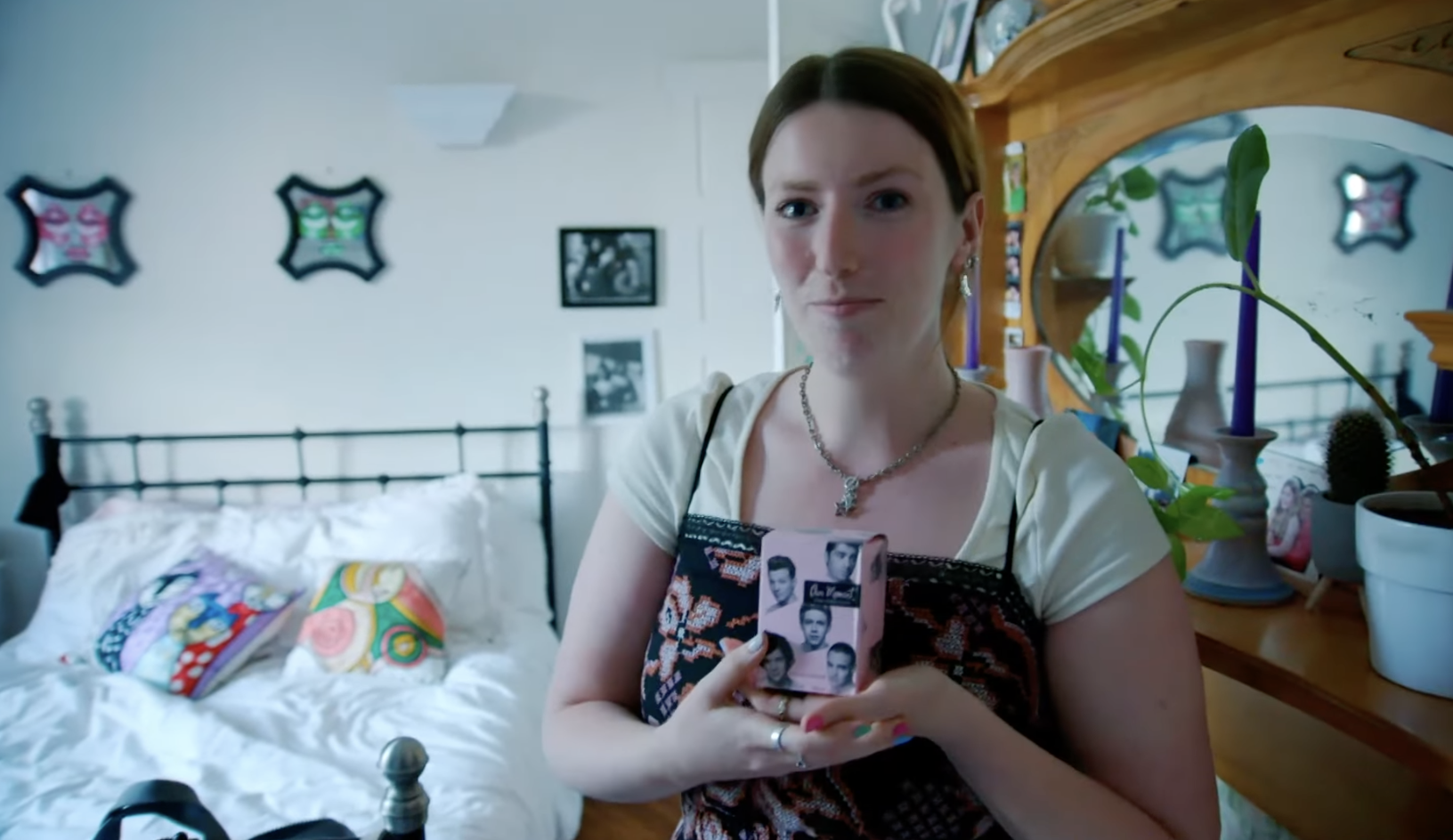 "Oh my god, Harry, stay out of there," James reacted, before asking: "Be honest, are you, like, a crazy psychopath?"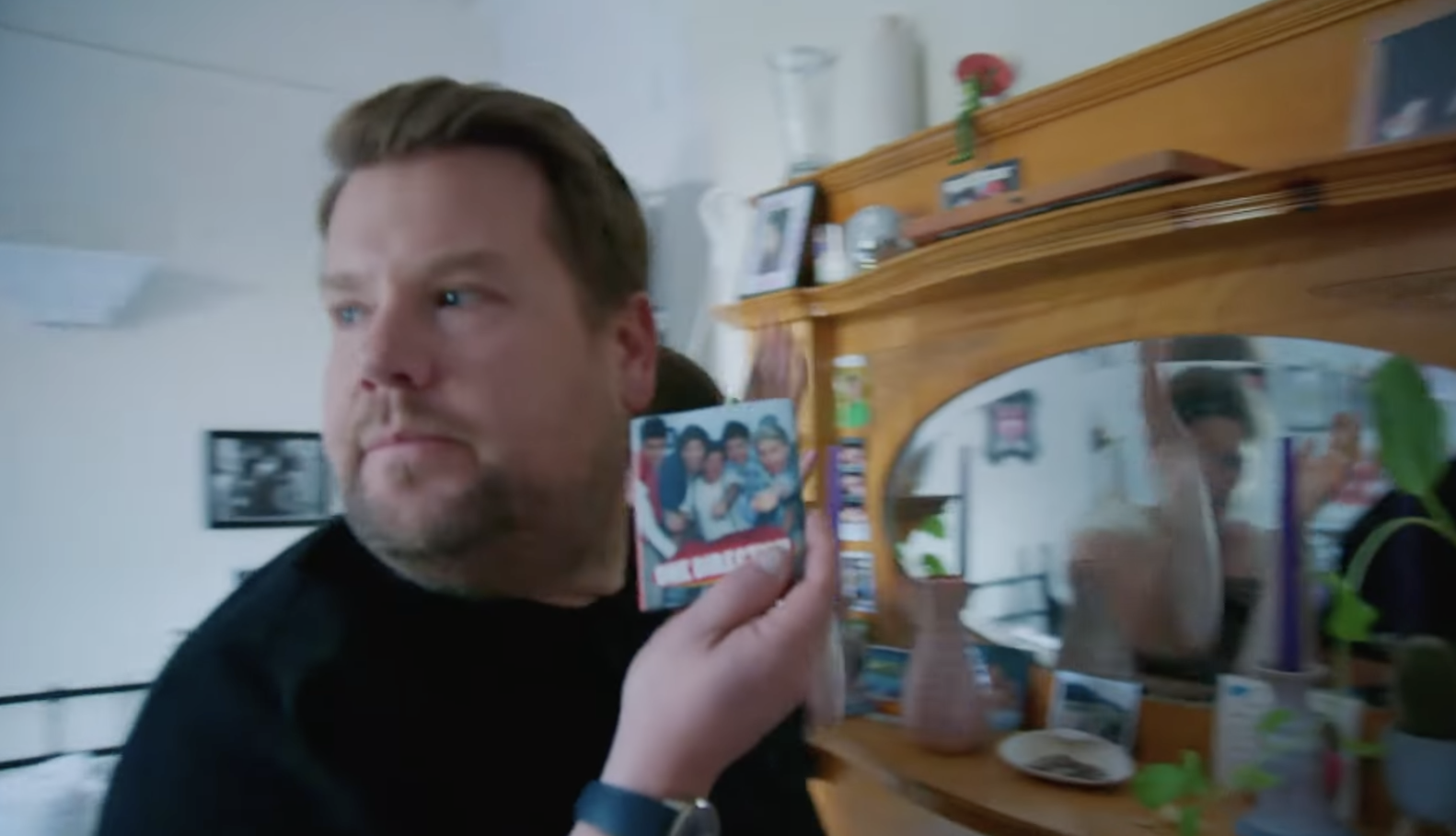 As he saw more and more of her merchandise, James added: "Oh no, I feel like you're going to kill him. Right, we need to hide all of this because I'm worried that you're a psychopath."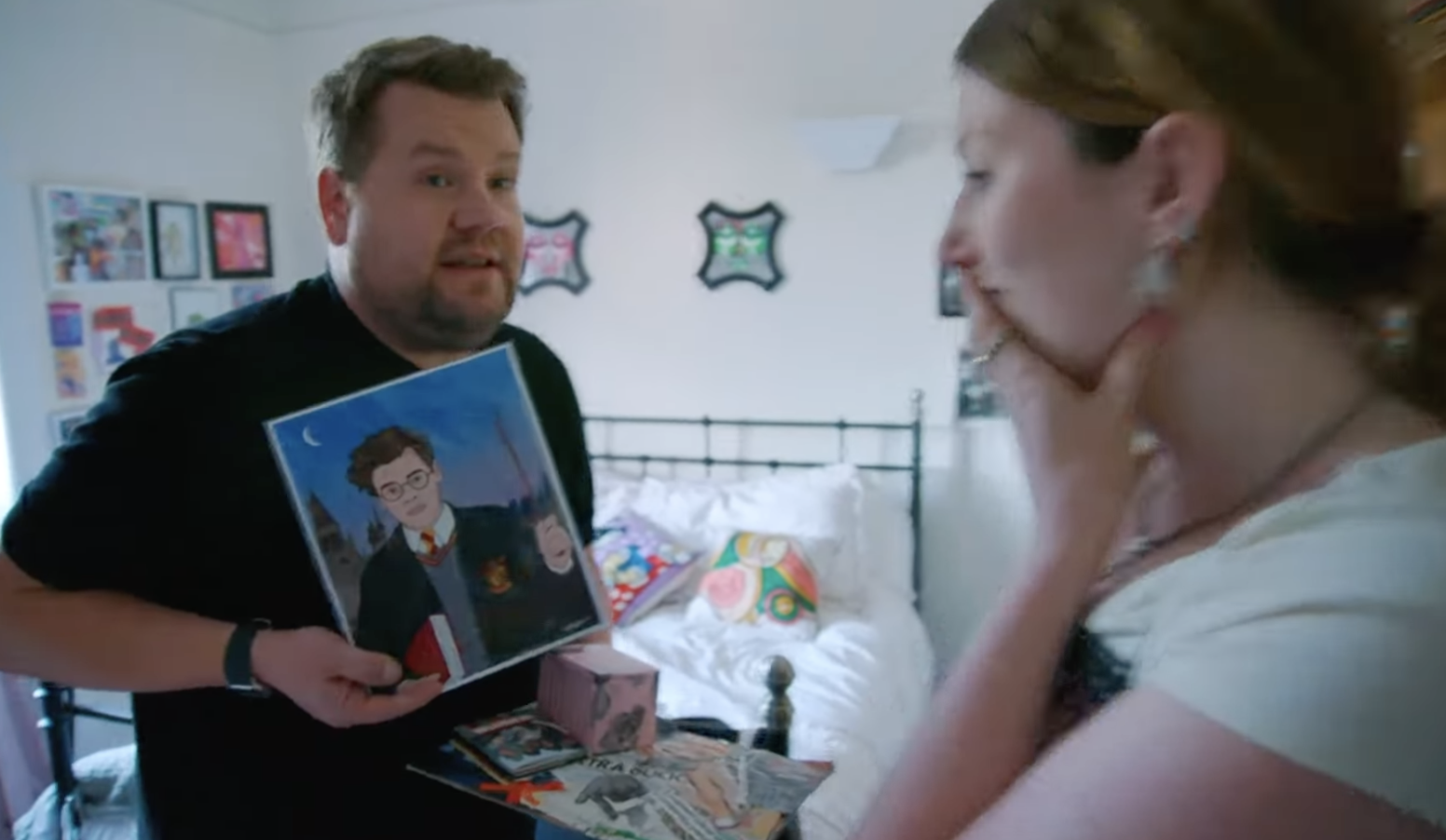 Thankfully, the girl was still able to fulfill her fanfic dream come true as she and her roommates began putting up some party decorations in the apartment. They were also invited to call some friends to join them.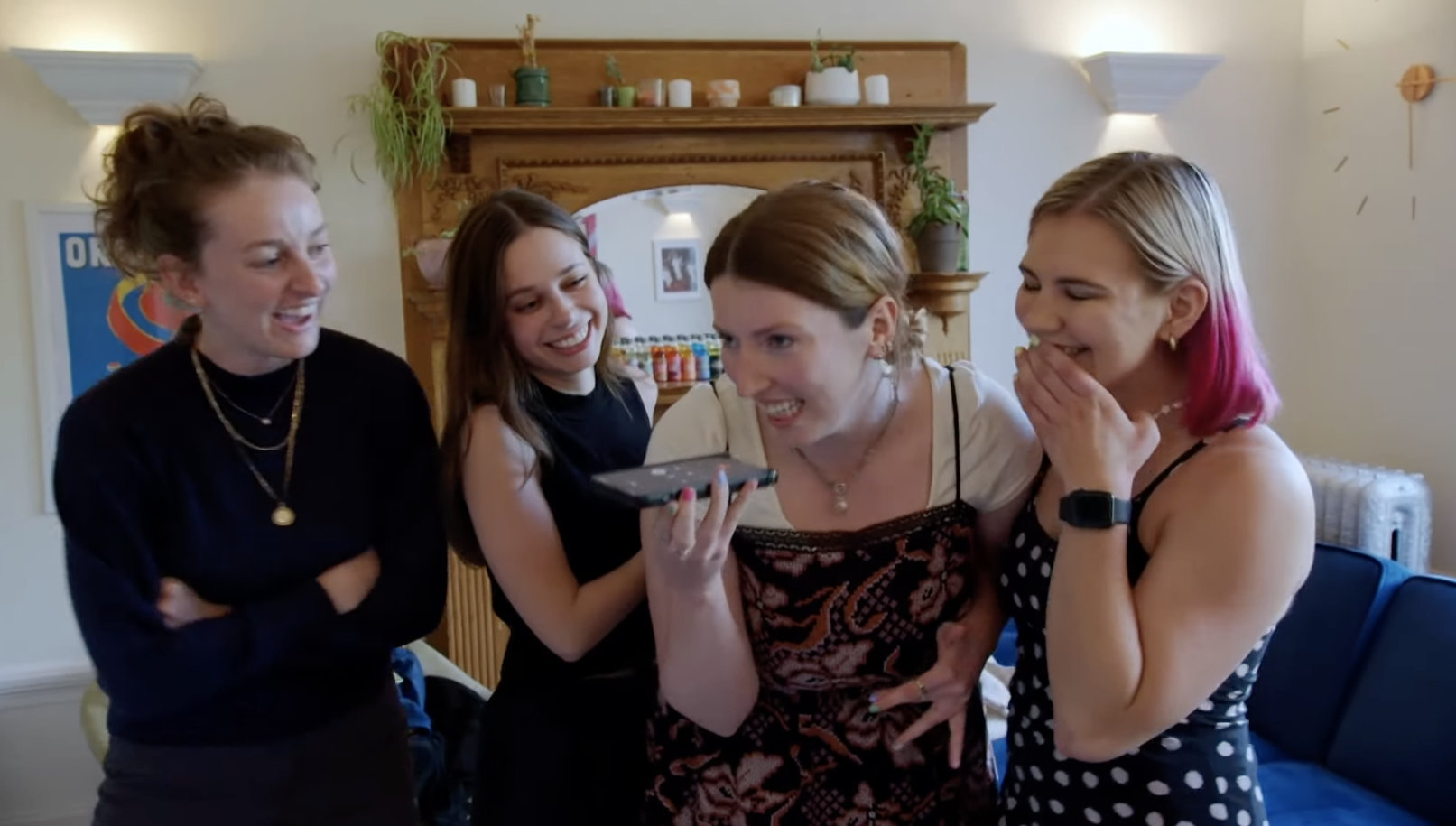 "We're filming a music video with Harry Styles and he's actually here!" they shouted down the phone to a friend, "Get your ass over here now!"
Meanwhile, James raided one of the closets for costumes and found a gold bowler hat and giant bowtie that Harry was somehow able to pull off with ease.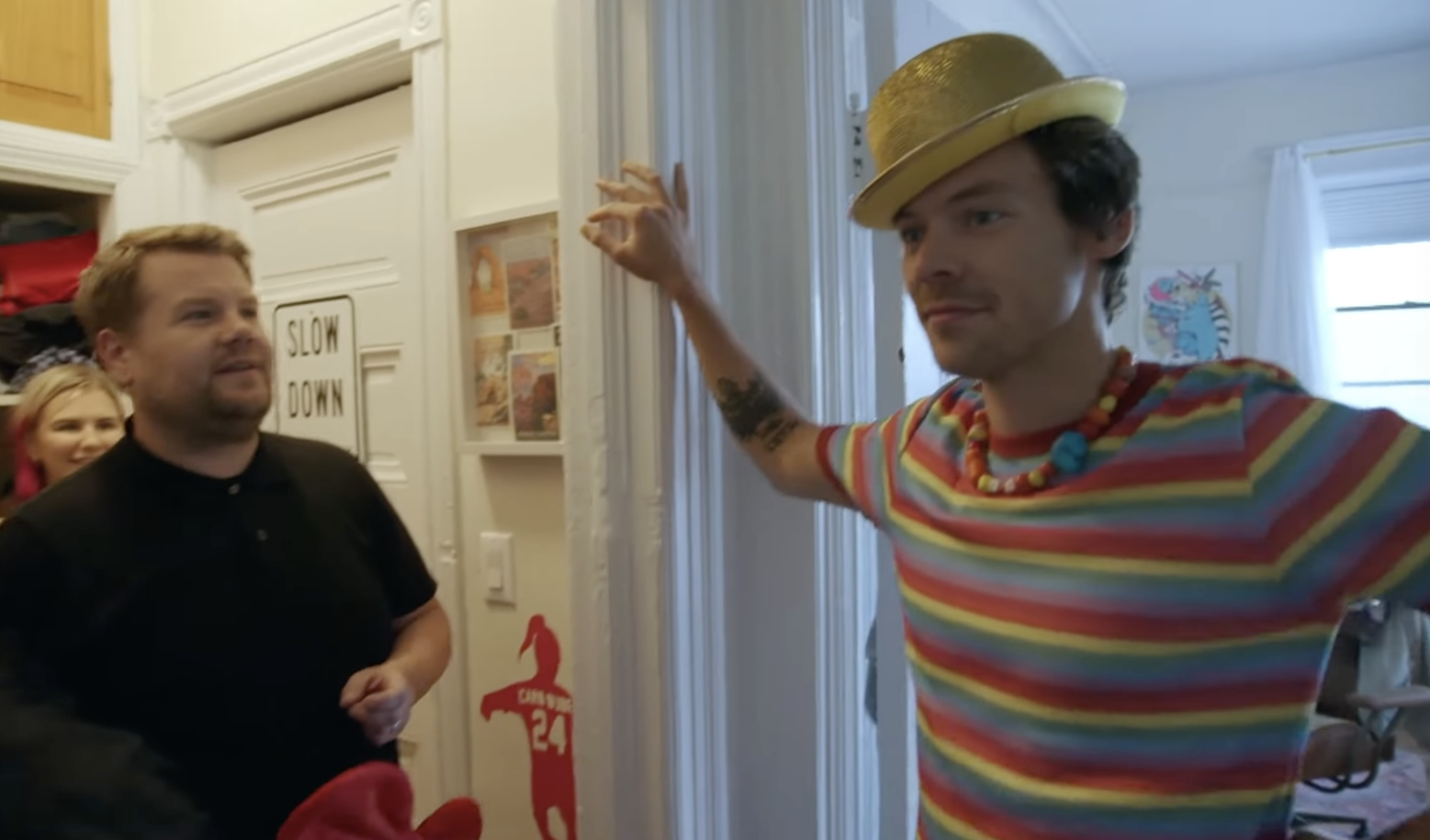 They then began to film the video, with the first shot featuring Harry sitting fully clothed in a bathtub.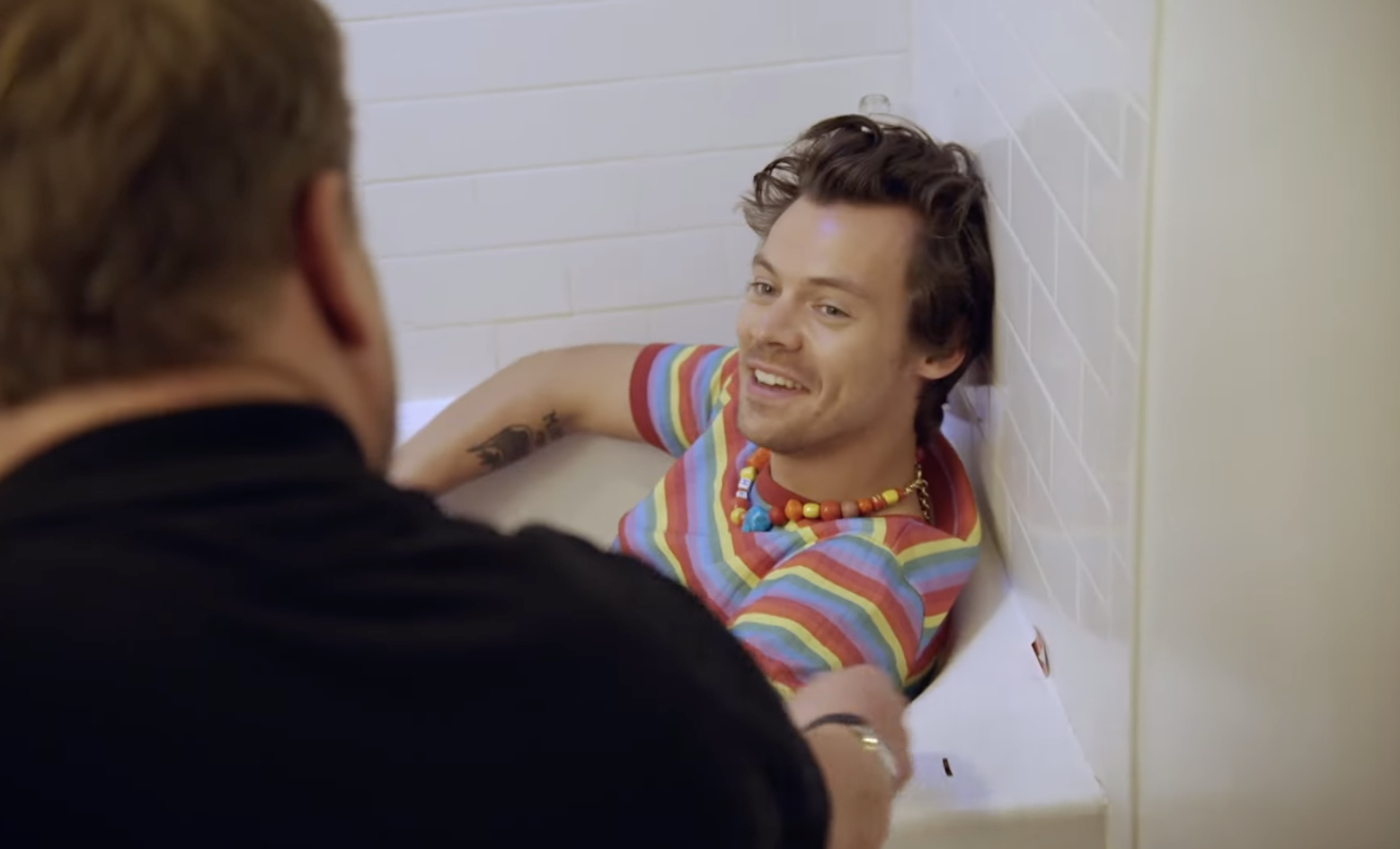 "I can't stress this enough. This was all James' idea," Harry joked as he spoke to the camera in the bathroom. "I was in a Christopher Nolan movie. Now this is my dressing room."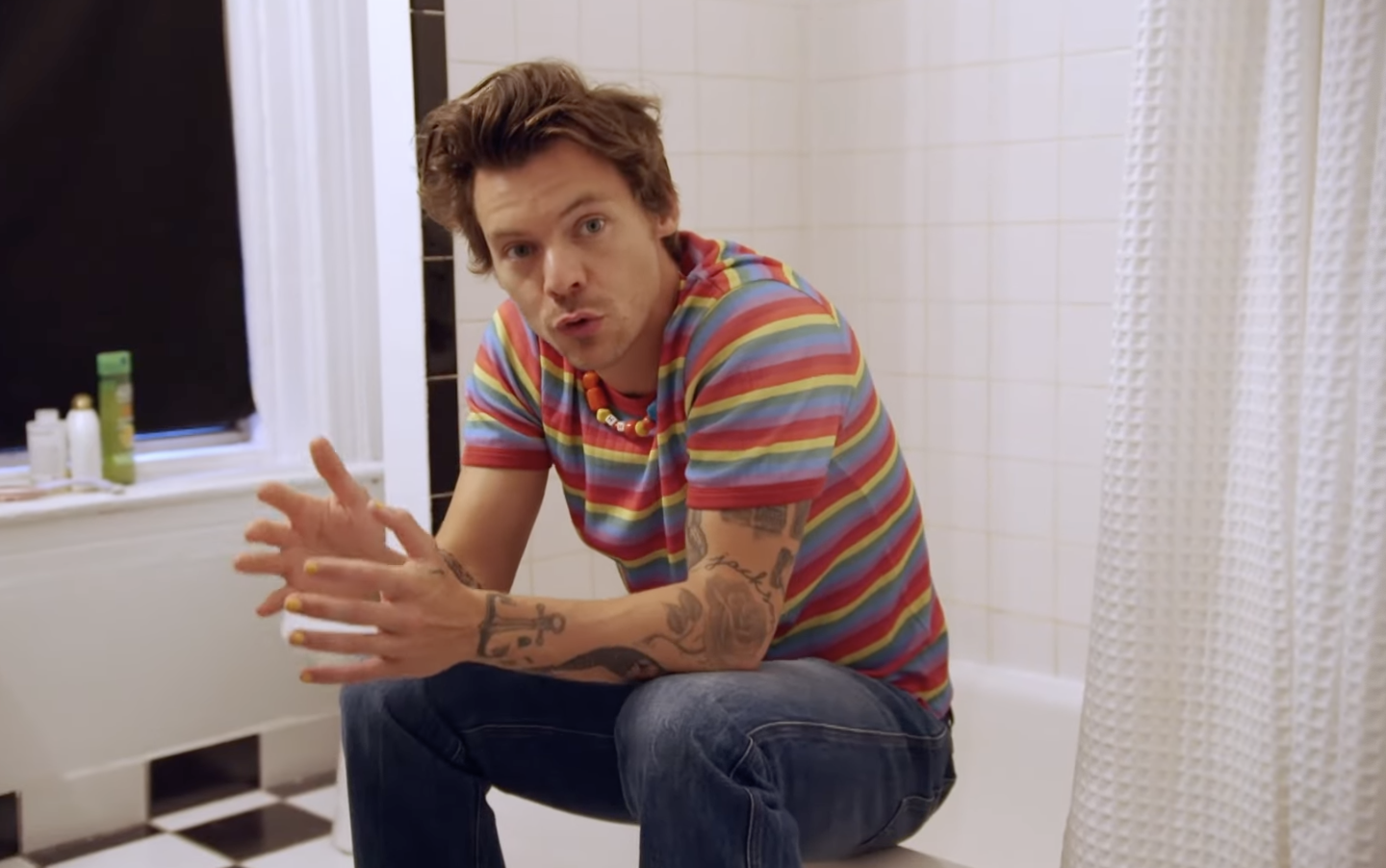 "Shall we just scrap it?" he added. "Is it too late to just do Carpool Karaoke?"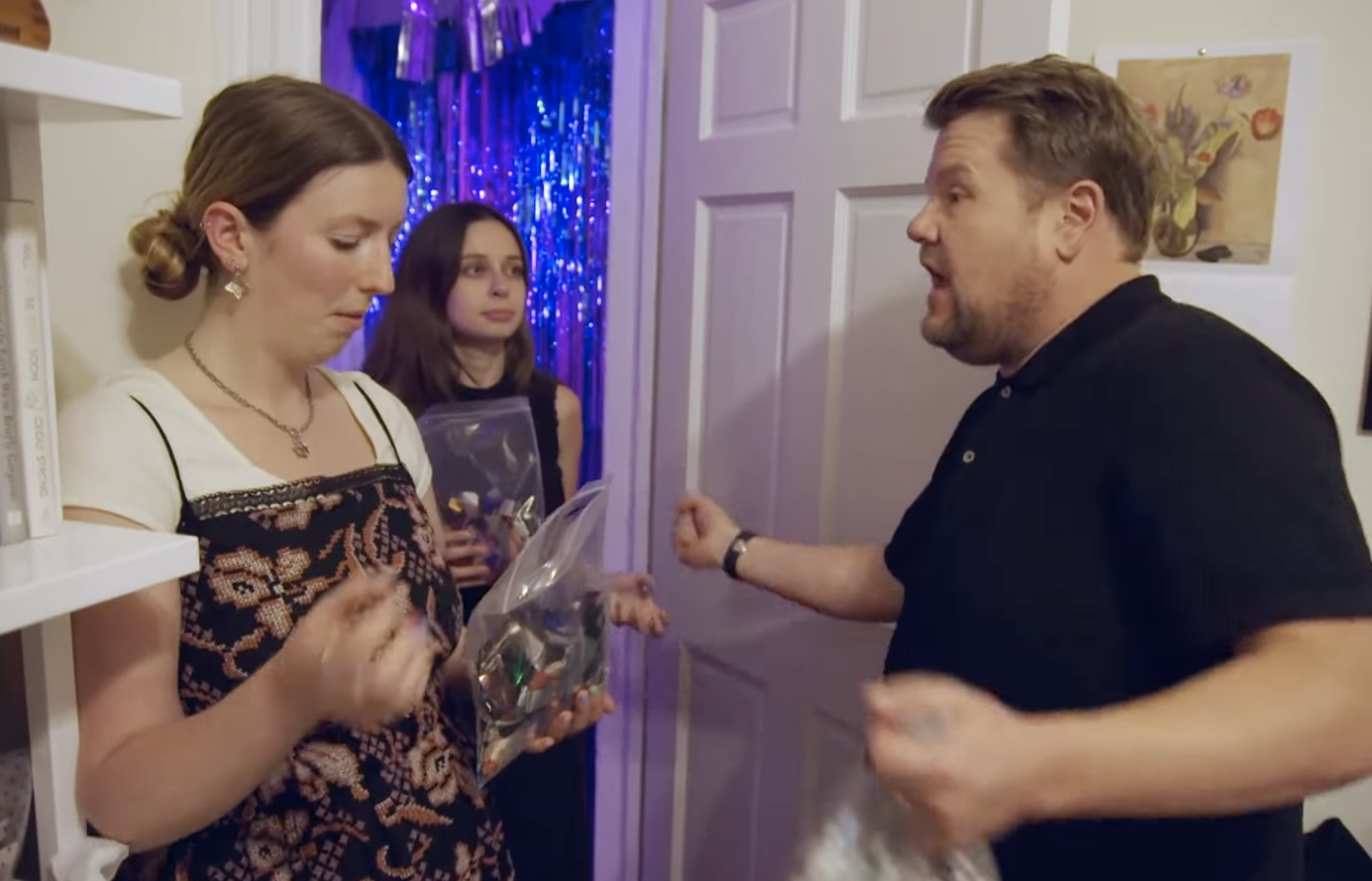 The girls got involved with throwing confetti at Harry for one of the shots, and they were even invited to fall on top of him as they filmed the party scenes.
James also asked them to show him to the roof, with the roommates admitting that they aren't allowed to go up there because "it's a little unsafe," before adding: "Don't tell our landlord."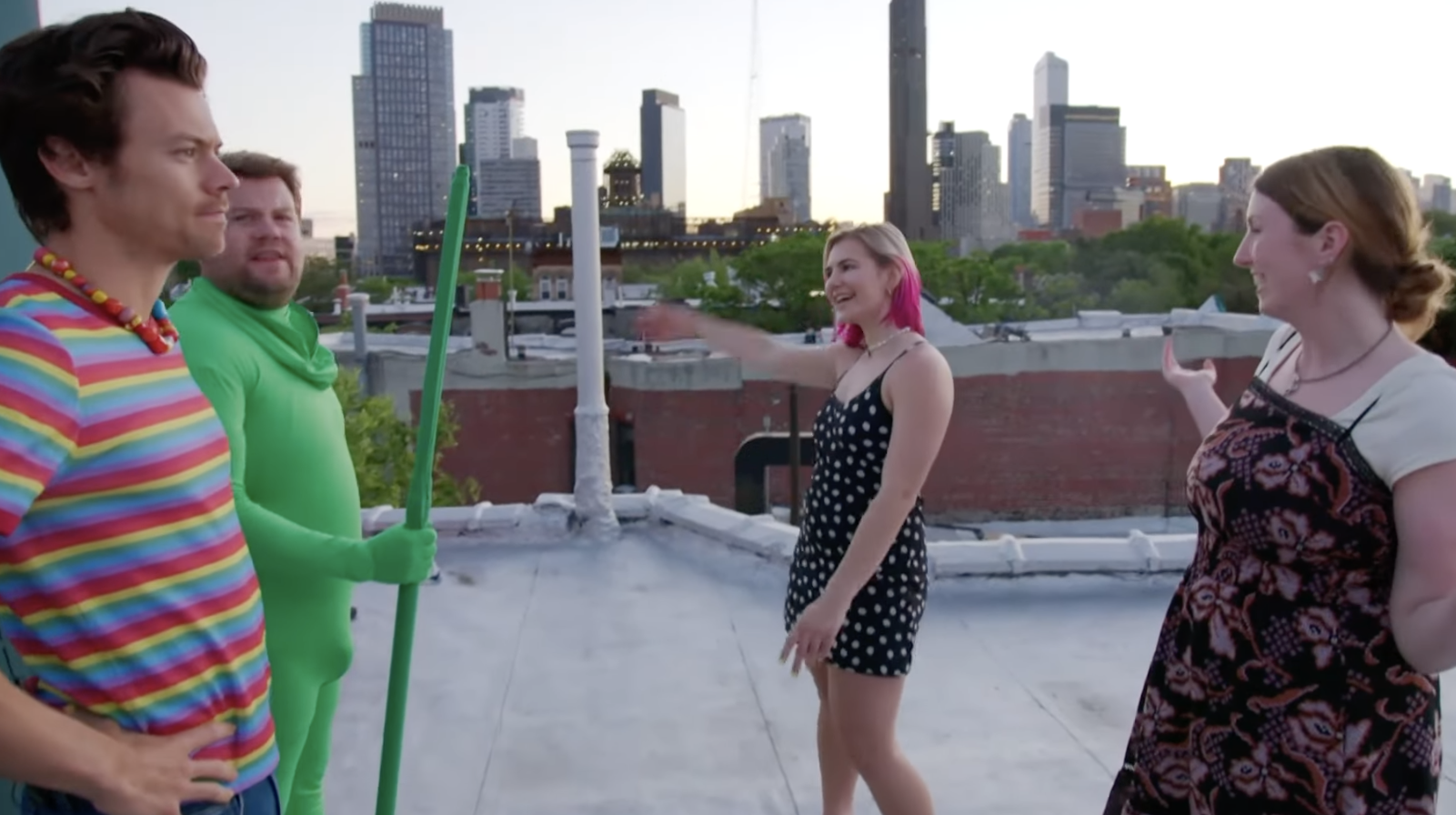 Harry and James were visibly blown away by the view up there, and they filmed some iconic scenes with James in a green screen suit so that he could be edited out of the shot for some low-budget visual effects.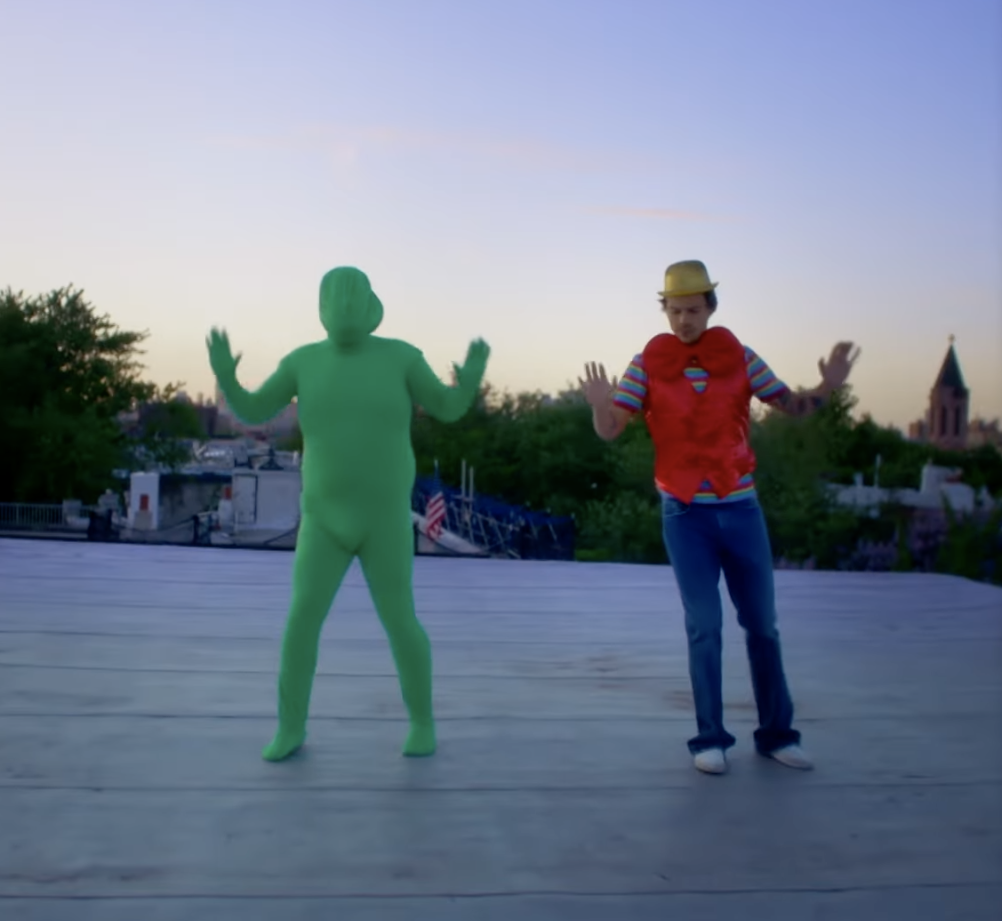 Finally, the girls' friends arrived and James was forced to shout at them to "behave like normal people" when they couldn't contain their inner fan and reacted to Harry's presence by screaming and jumping up and down.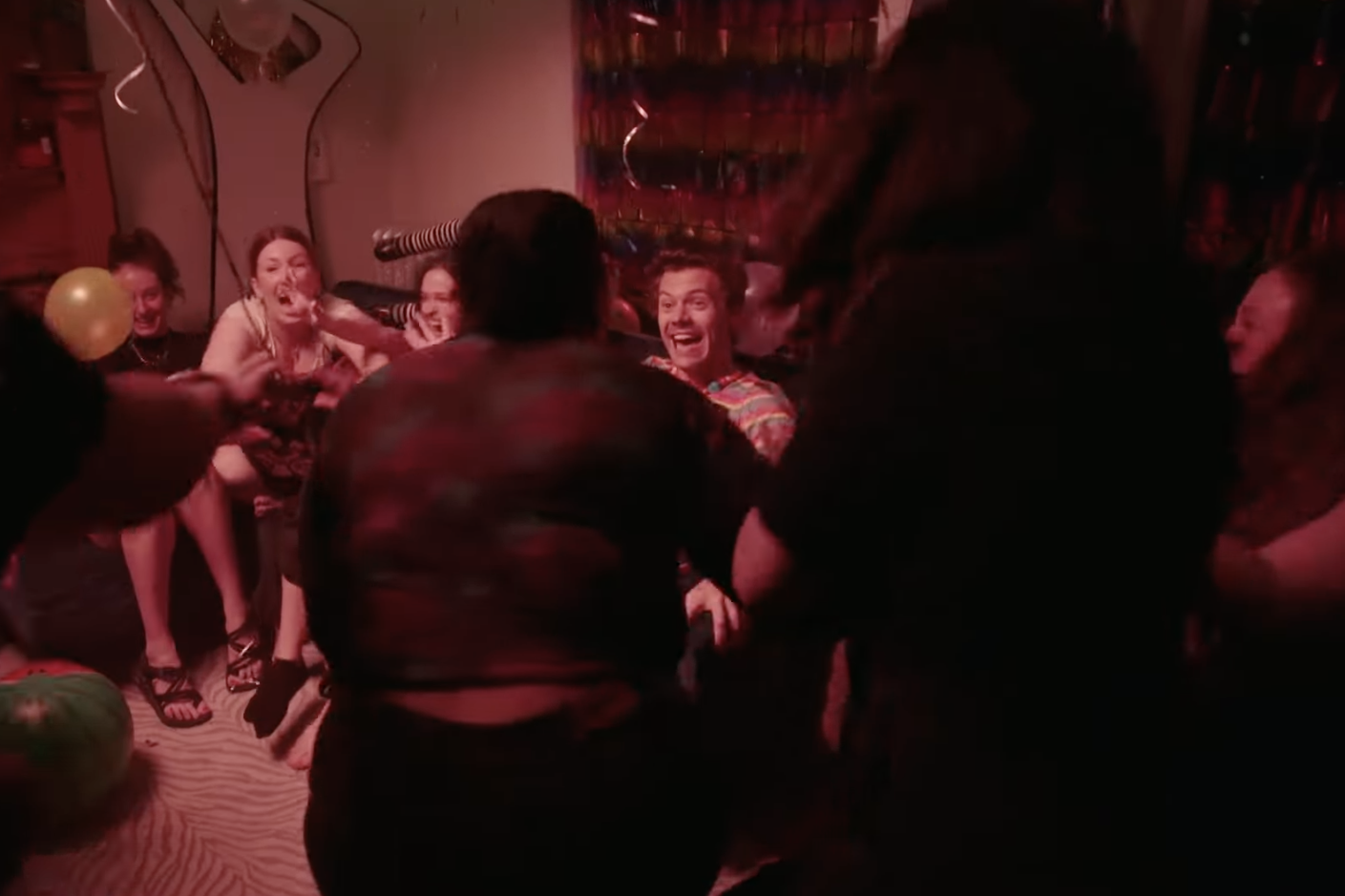 "Stop! Stop! I will have you removed!" James shouted in what was probably only a half-joke. "OK, say a proper 'hi' and keep it together. I will tase you. Let's behave like normal people."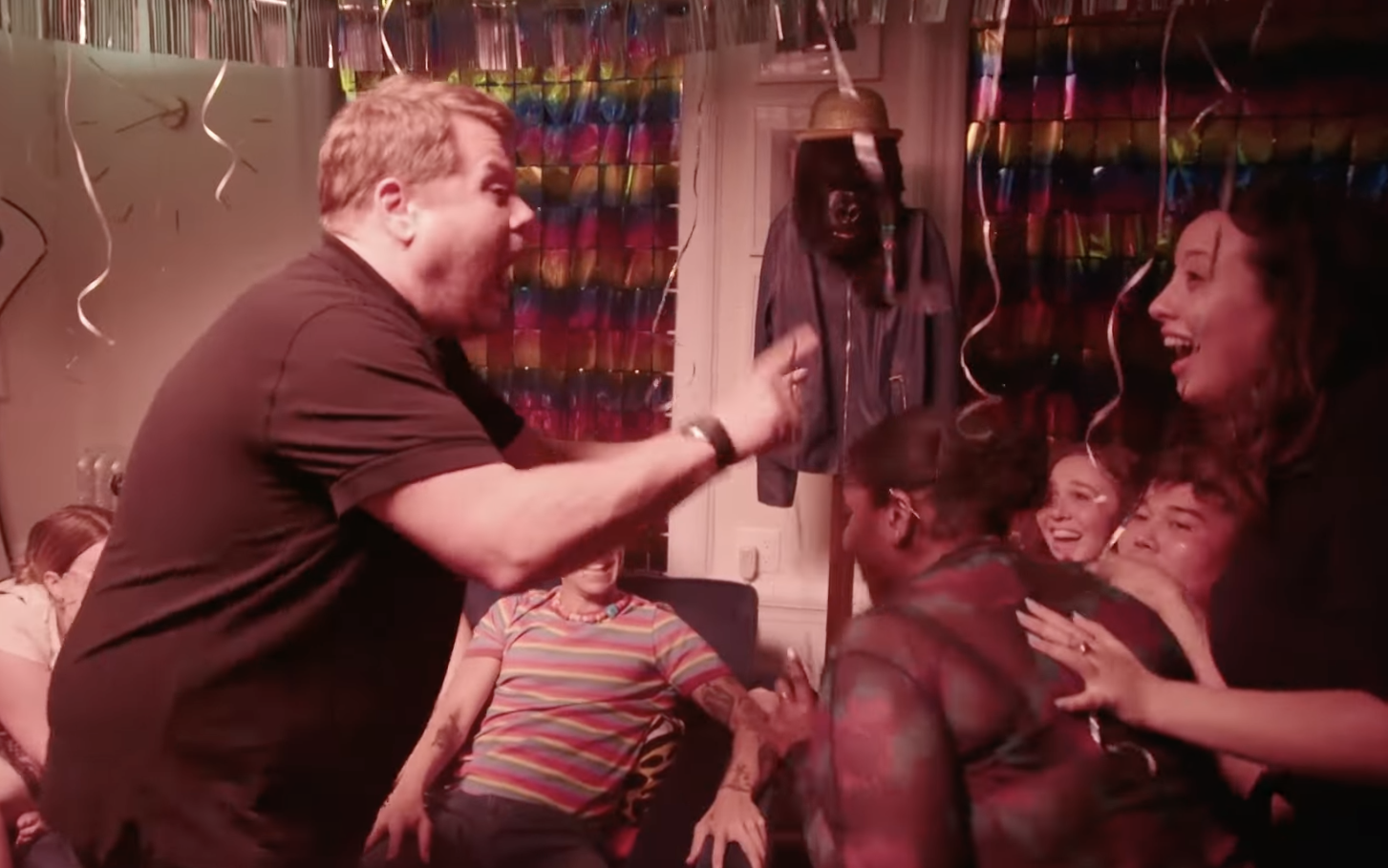 And giving direction for the party scenes, James added: "Don't treat him like he's Harry, treat him like he's someone called Chris."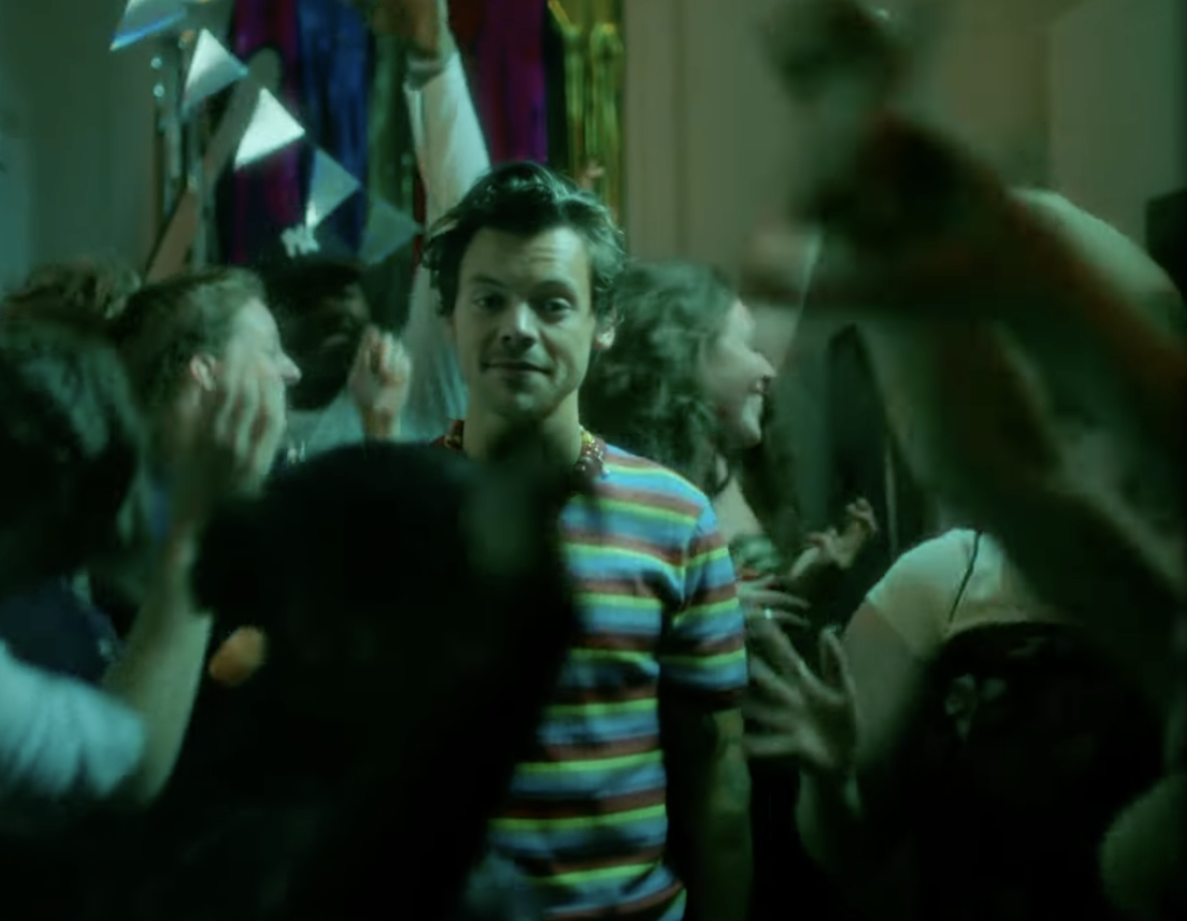 Thankfully the group were able to keep calm, and the final shots were definitely impressive, with James even inviting the pizza deliverer to have a brief cameo.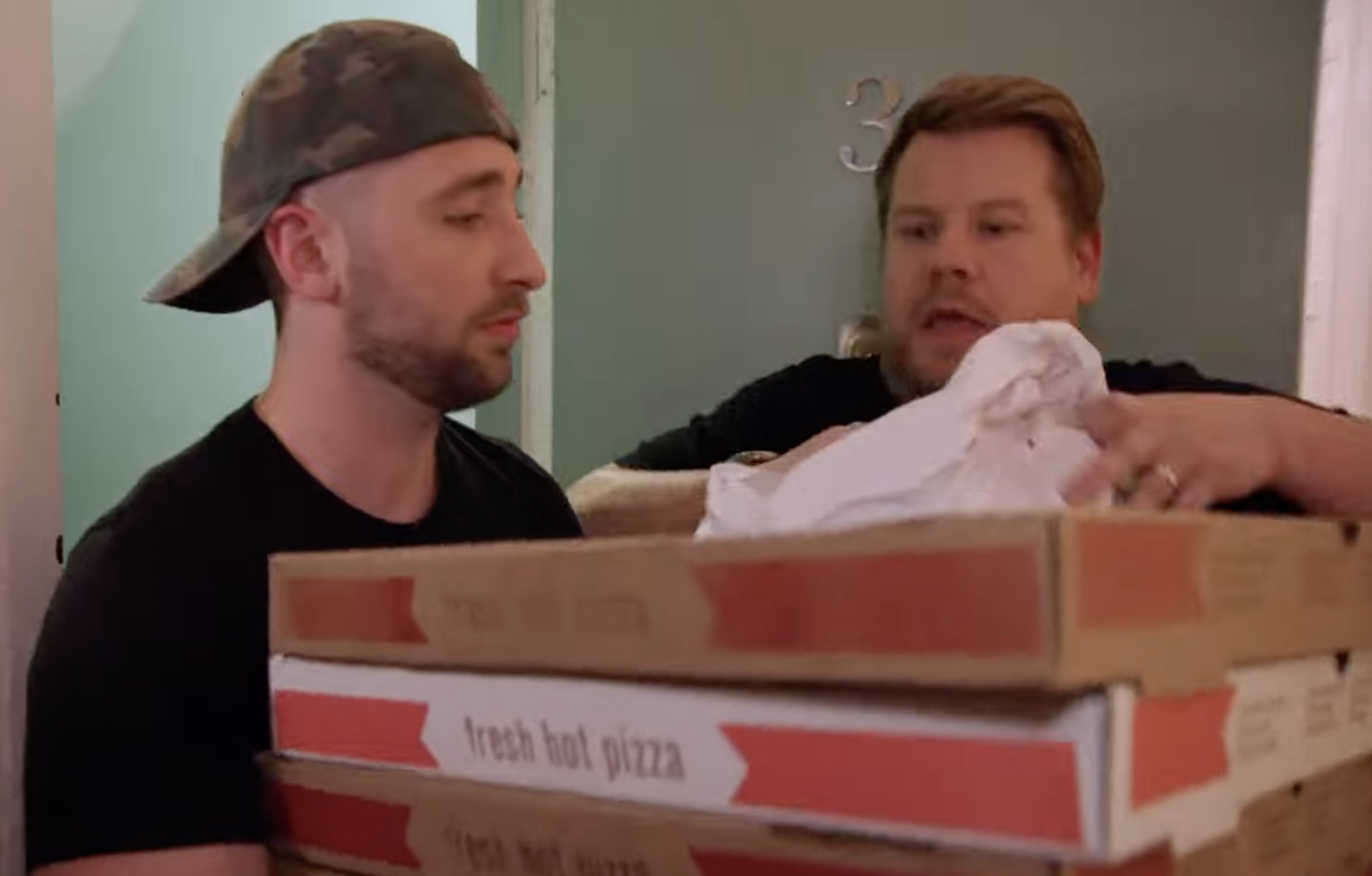 The completed music video was shown at the end of the Late Late segment, and it's fair to say that it is pretty VMA-worthy for something that was cobbled together in just a couple of hours.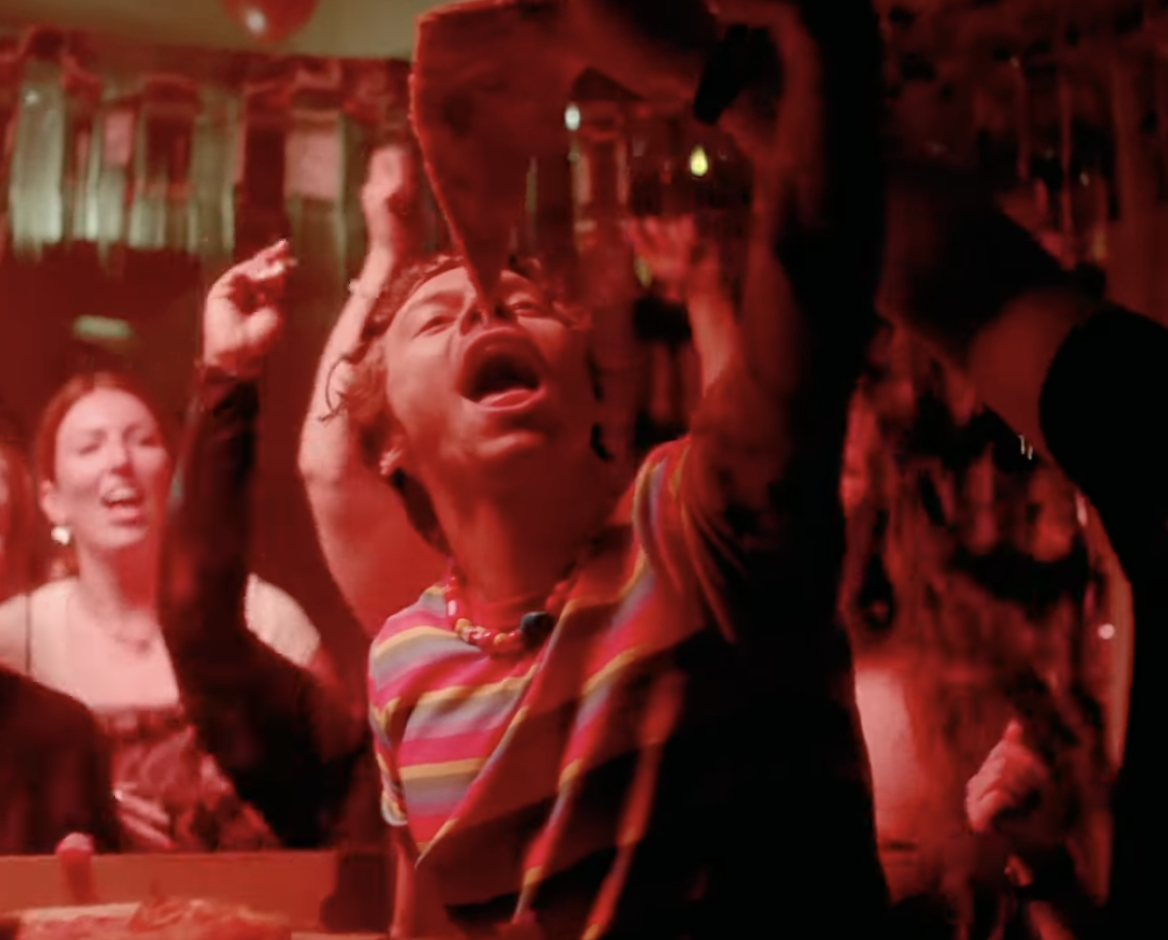 In fact, Harry's fans said that it was one of their favorite music videos of his to date, with one tweeting: "OMG THE MV HARRY FILMED THAT JAMES DIRECTED IS ACTUALLY SO GOOD OMG AND I THOUGHT THE SONG COULDN'T GET ANY BETTER 'DAYLIGHT' IS MY FAV SONG OF ALL TIME OMFG."
Another admitted: "If this was the legit mv for 'Daylight' I wouldn't even question it," while a third wrote: "'Daylight' music video easily became my favorite harry mv everything was just so preciously fun and genuine."
Others just couldn't get over how lucky the group of girls were to have had a regular day interrupted in such an iconic way.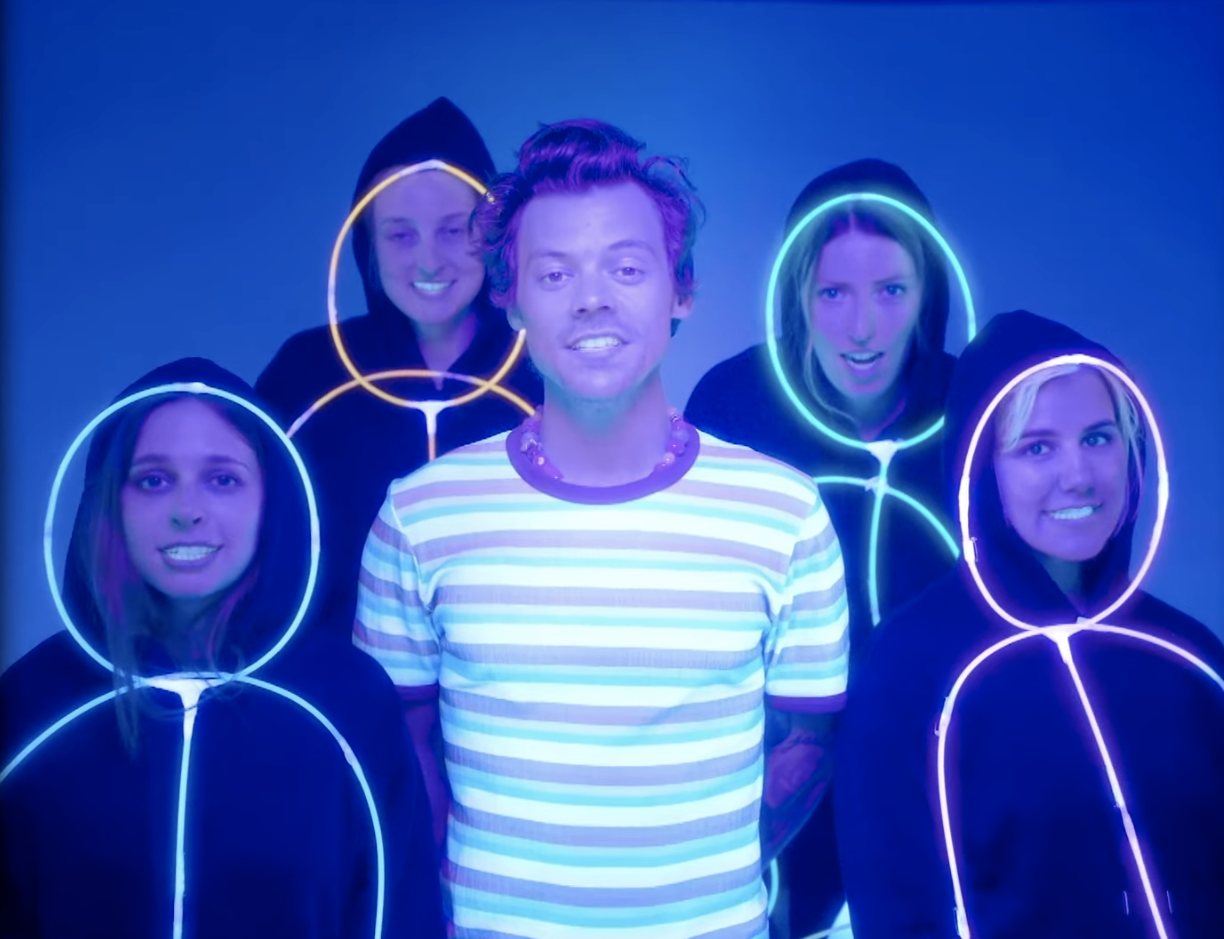 "This is EVERYTHING. Imagine you're just hanging out and suddenly James Corden and HARRY STYLES come to your house and ask you to shoot a music video. They're officially the luckiest people ever," one person commented.

"Those girls in the apartment & the friends they invited are so lucky, kudos for keeping your cool.. imagine having Harry Styles in your place, i mean i'd run out of breath," another tweeted.
And needless to say, if Harry and James ever want to re-create the magic with another impromptu music video in a random house, my door is always open.