In case you didn't hear, Hugh Grant has a surprise blink-and-you'll-miss-it cameo in the Knives Out sequel Glass Onion, which was released on Netflix last month.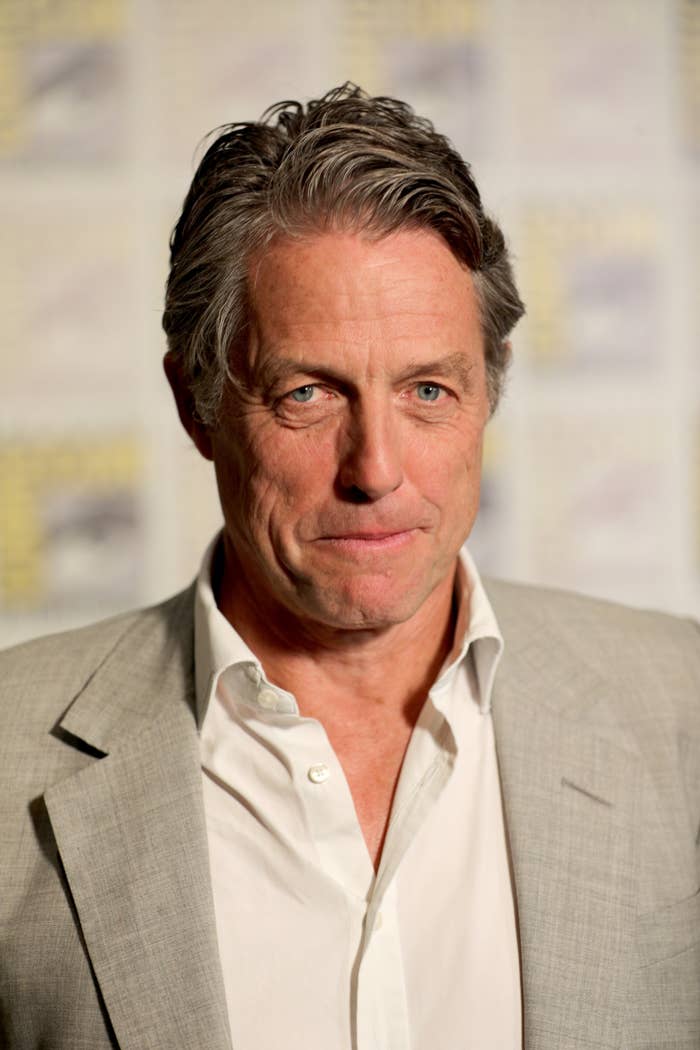 The movie sees Daniel Craig reprise his role as detective Benoit Blanc, and Hugh plays his partner, Philip.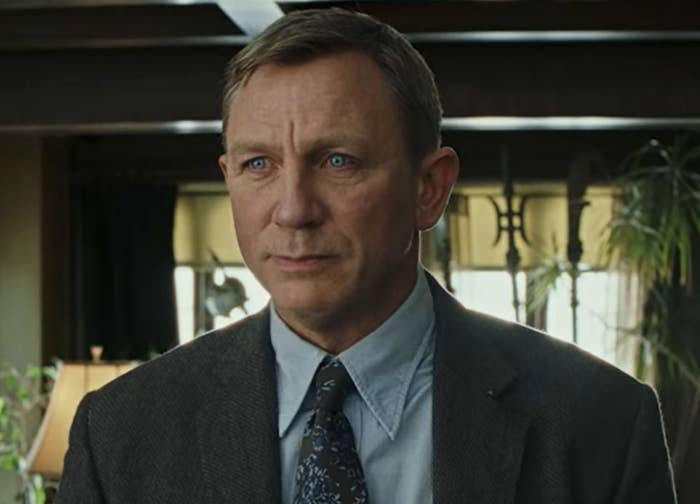 In the very brief scene, Janelle Monáe's character Helen shows up at Benoit's home, where Philip answers the door wearing an apron and holding a jar of sourdough starter.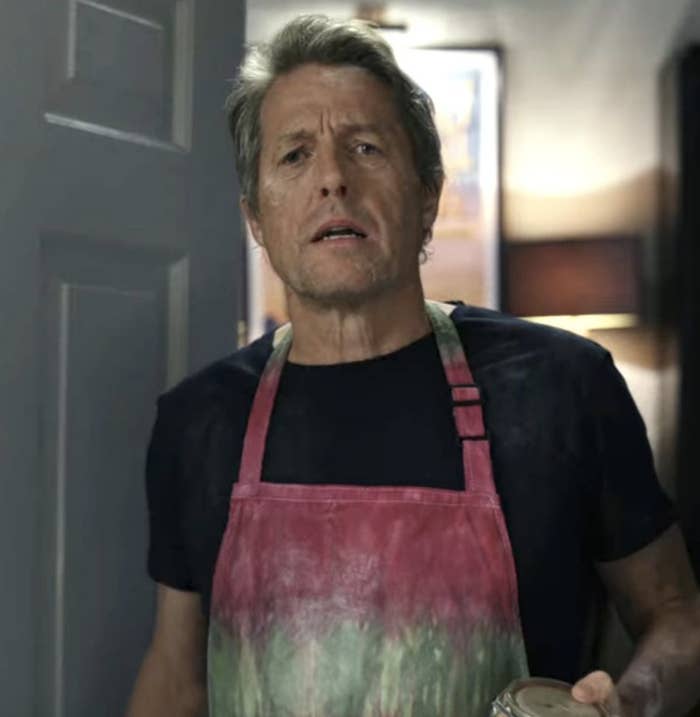 While it isn't explicitly stated in the movie, Hugh confirmed that Philip is indeed Benoit's husband in an interview with Collider for his upcoming film Dungeons & Dragons: Honor Among Thieves.
Hugh was joined by his D&D costar Chris Pine for this chat, and a clip of the moment when he said that Daniel — who previously played James Bond — is his husband has gone viral thanks to Chris's reaction to Hugh's bombshell.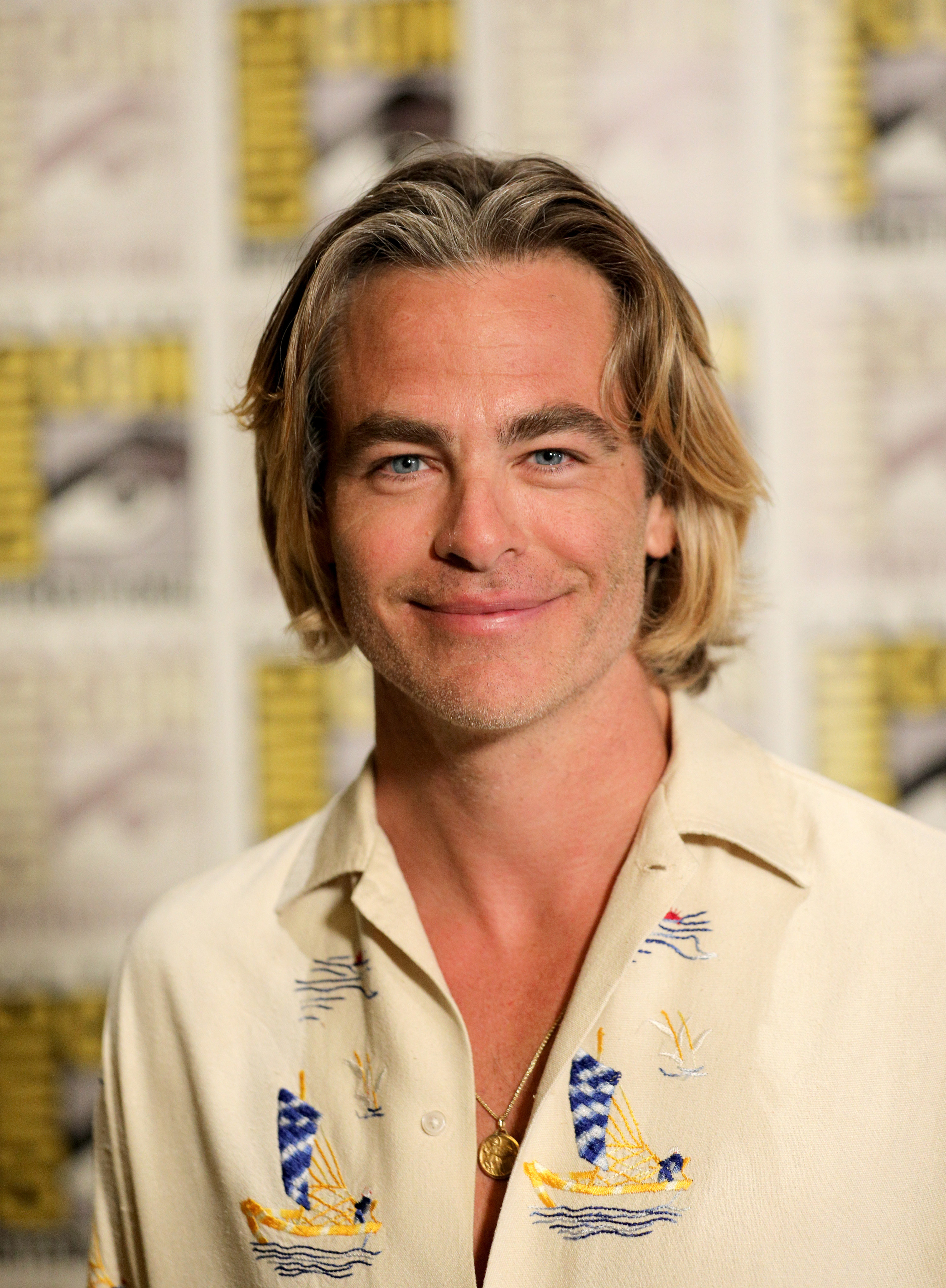 Many have claimed that Chris's wholesome response suggests that he genuinely thinks that Hugh is actually married to Daniel in real life.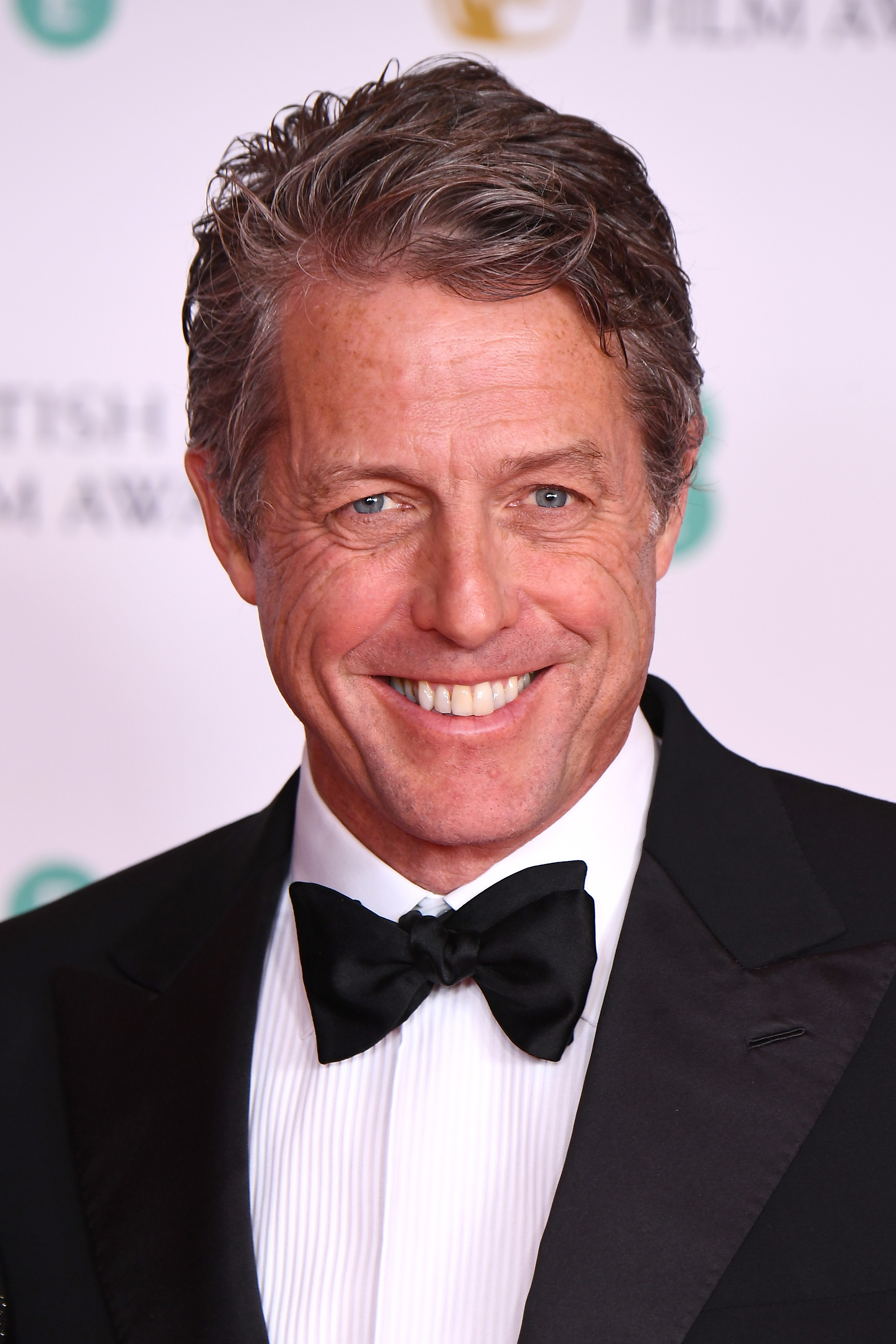 In the interview, Hugh tells the journalist with a laugh: "It's true, I'm married to James Bond."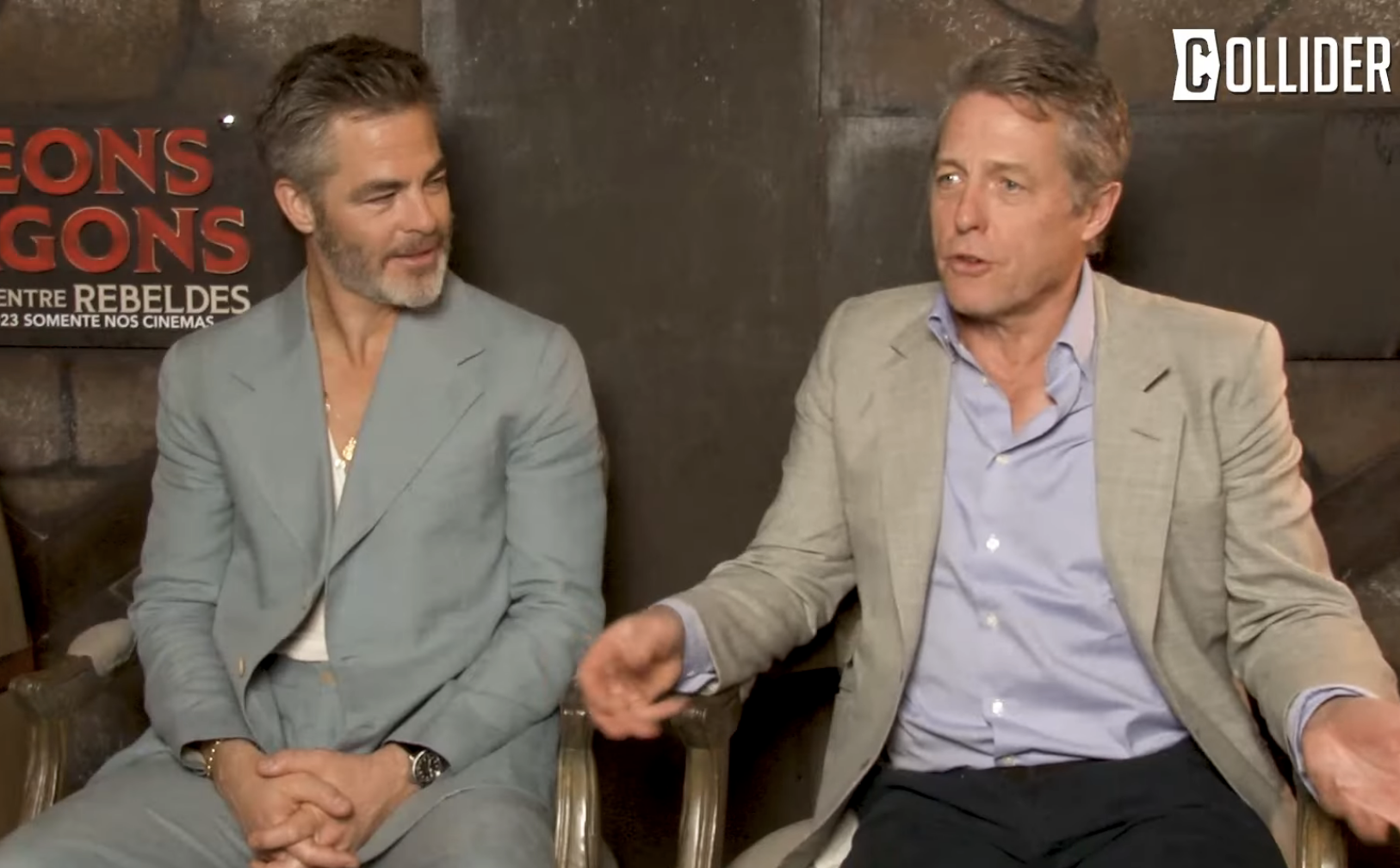 At this point, Chris does an obvious double take and, after a momentary pause, he looks genuinely happy as he beams at his costar and exclaims: "Oh fuck, man, I didn't know that!"
Sharing the moment to TikTok, a fan said, "I am fully convinced that Chris Pine took Hugh Grant 100% seriously and now believes he is married, in real life, to Daniel Craig," and it didn't take long for others to latch onto the theory.
Commenting on the post, one person said, "He 100% googled it afterwards 😭," while someone else observed: "I love his reaction so much lmao. Confused but incredibly supportive nonetheless."


Someone else wrote, "I agree hes jsut like aww man that's sweet congrats," and another added, "I love Chris Pine, he 200% think this is true and is like super stoked for them 🥰"


"The way he looks down at hugh's hands you can't tell me he wasn't looking for a ring," a TikTok user noted.
The clip is also making waves over on Twitter, with one fan tweeting: "that clip of hugh grant making a joke about glass onion saying 'I'm married to james bond!' and chris pine 10000% not realizing the context and going 'oh fuck, really?!' all excited is the funniest shit i've seen all week."
And someone else echoed: "thinking about the video of hugh grant saying hes married to james bond and chris pine being very happy for him."
But sadly, as fun as this theory is, the full Collider interview proves that Chris doesn't in fact think that Hugh Grant and Daniel Craig are married to each other — he was actually just seriously blindsided by Hugh's Glass Onion cameo.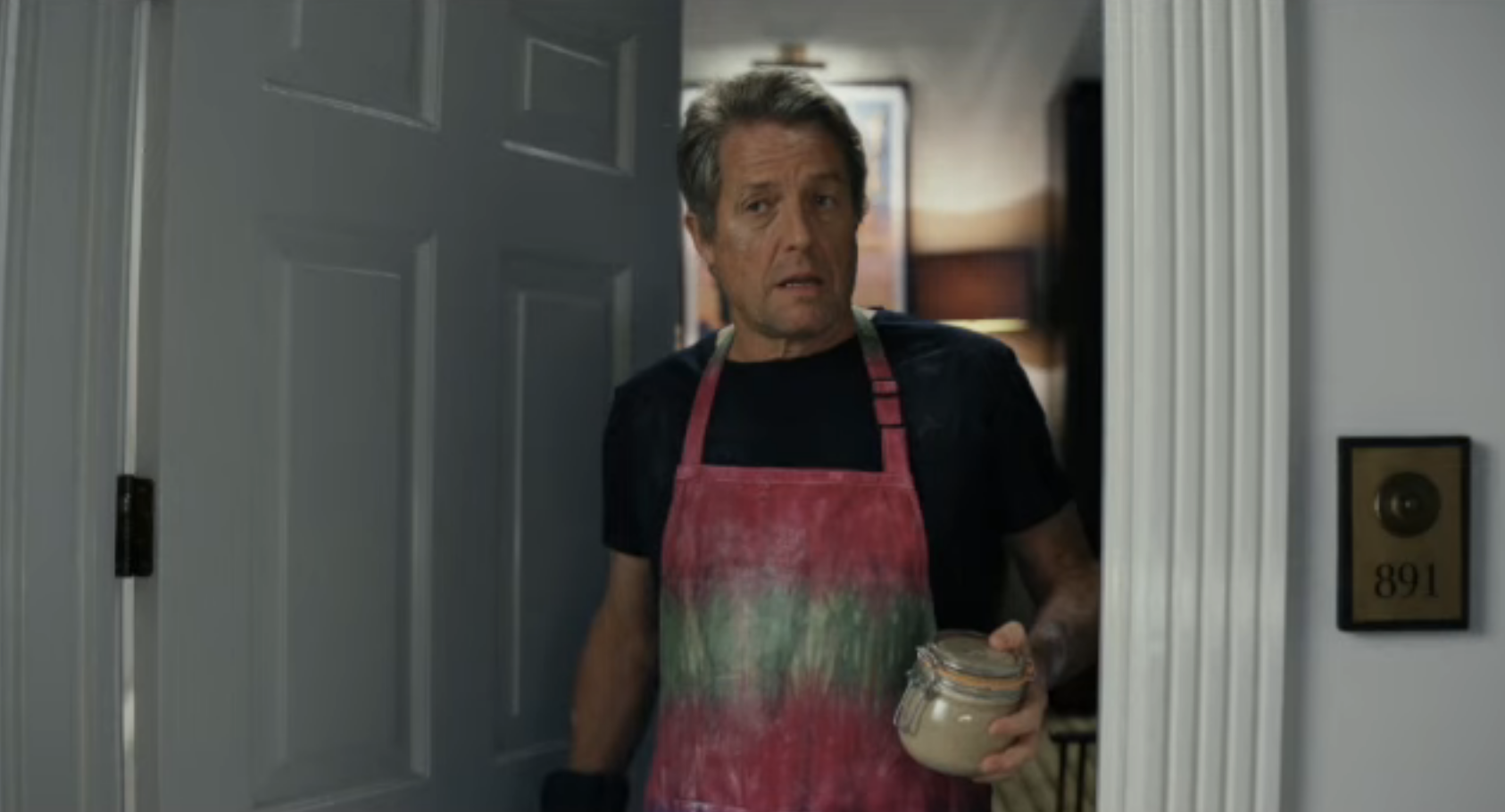 At the very beginning of the D&D conversation, the journalist asks Hugh: "I just have to start with what is it like being married to Benoit Blanc?"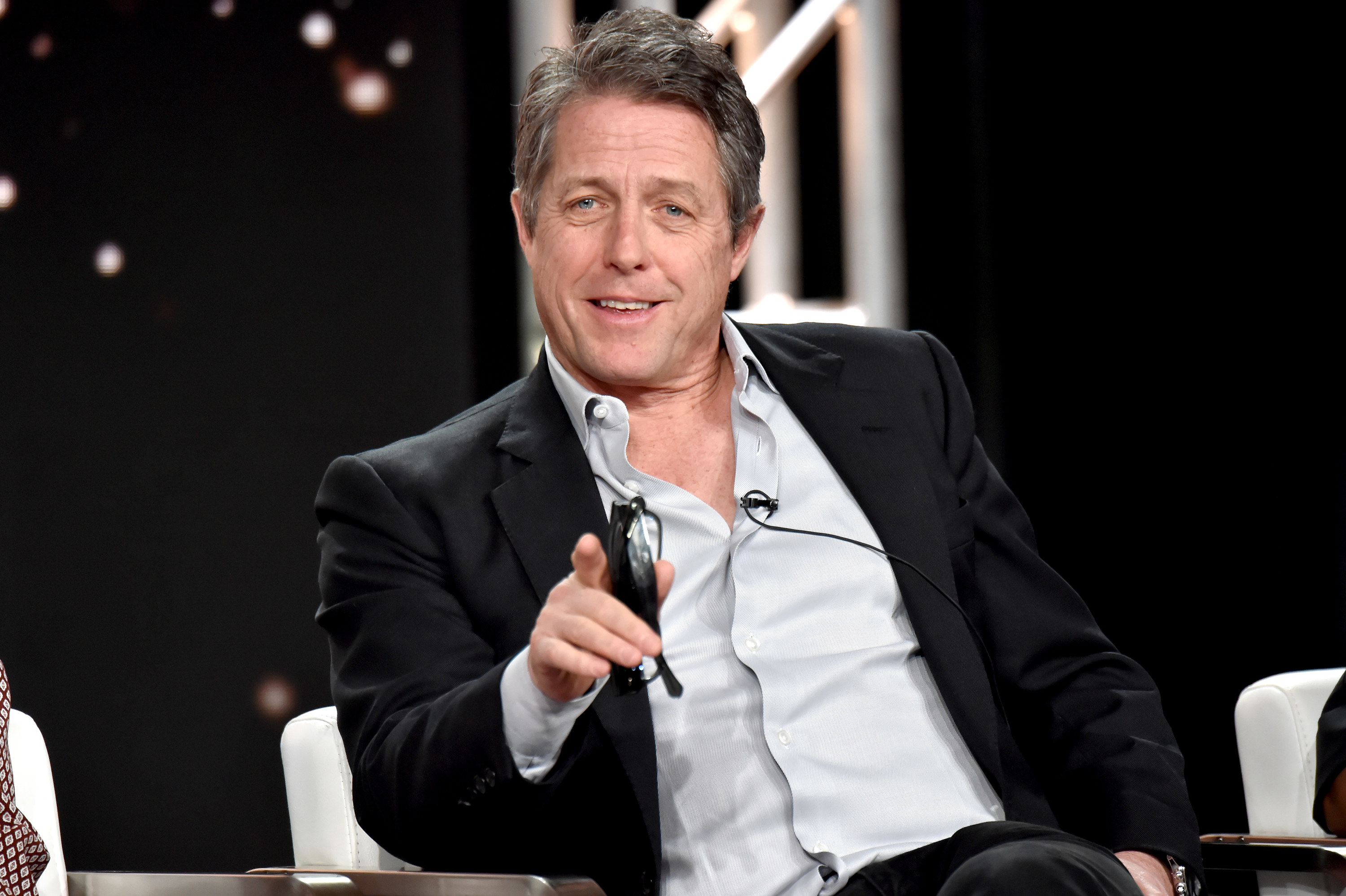 "Well, is that out of the can now?" Hugh replies. "I guess it's in the cinemas now… It is true, I'm married to James Bond."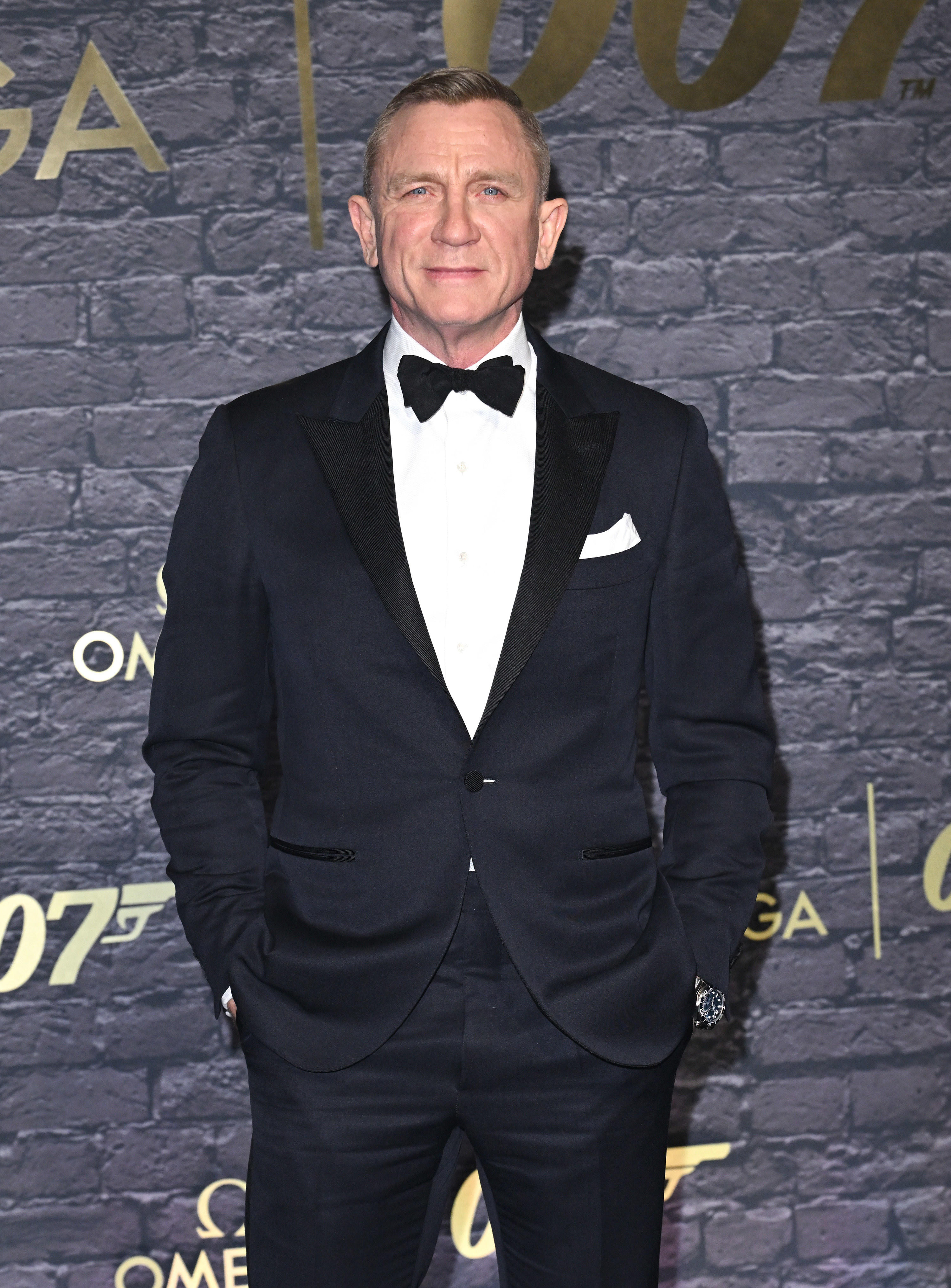 Smiling Chris does indeed reply with, "Oh fuck, man, I didn't know that!" But then he immediately asks, "Were you credited in the film?" — leaving no question that he knows that they are talking about Glass Onion.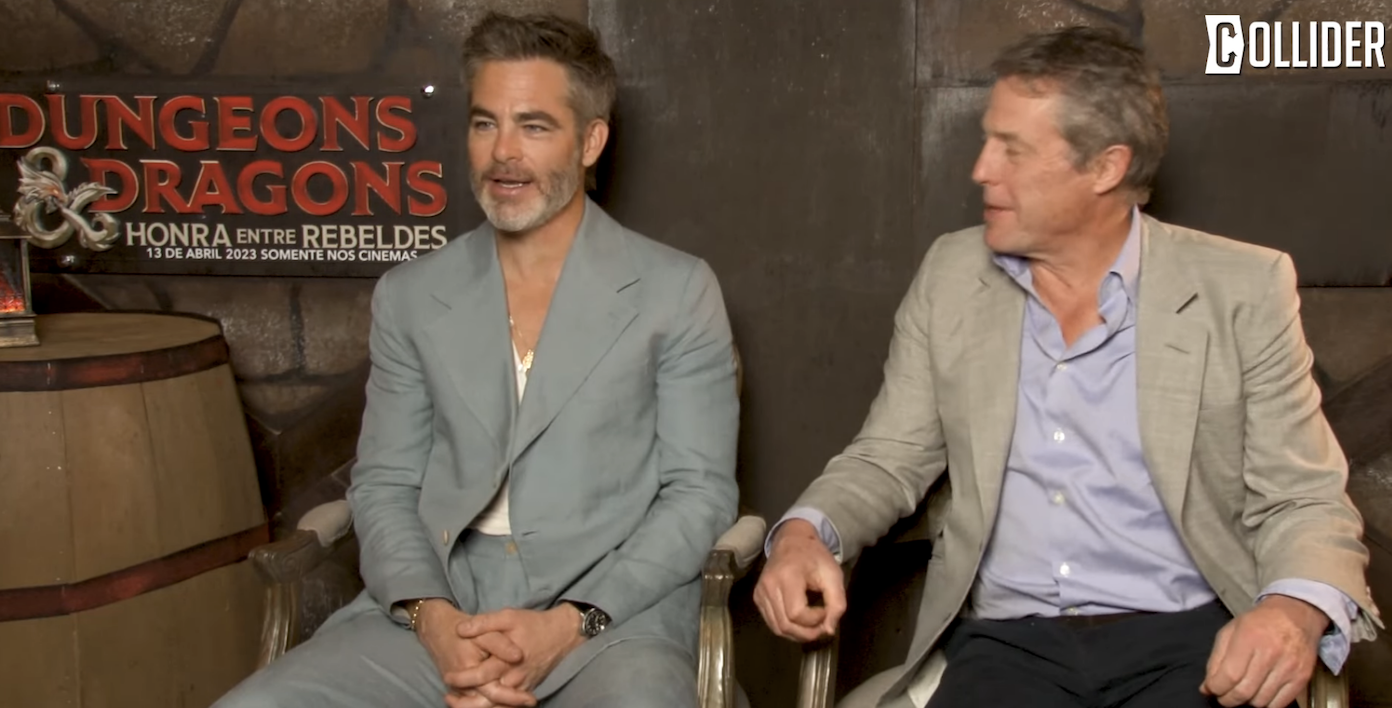 When Hugh tries to downplay the scene as "the tiniest little moment," Chris continues to show his excitement at the surprise as he insists: "But it's not!"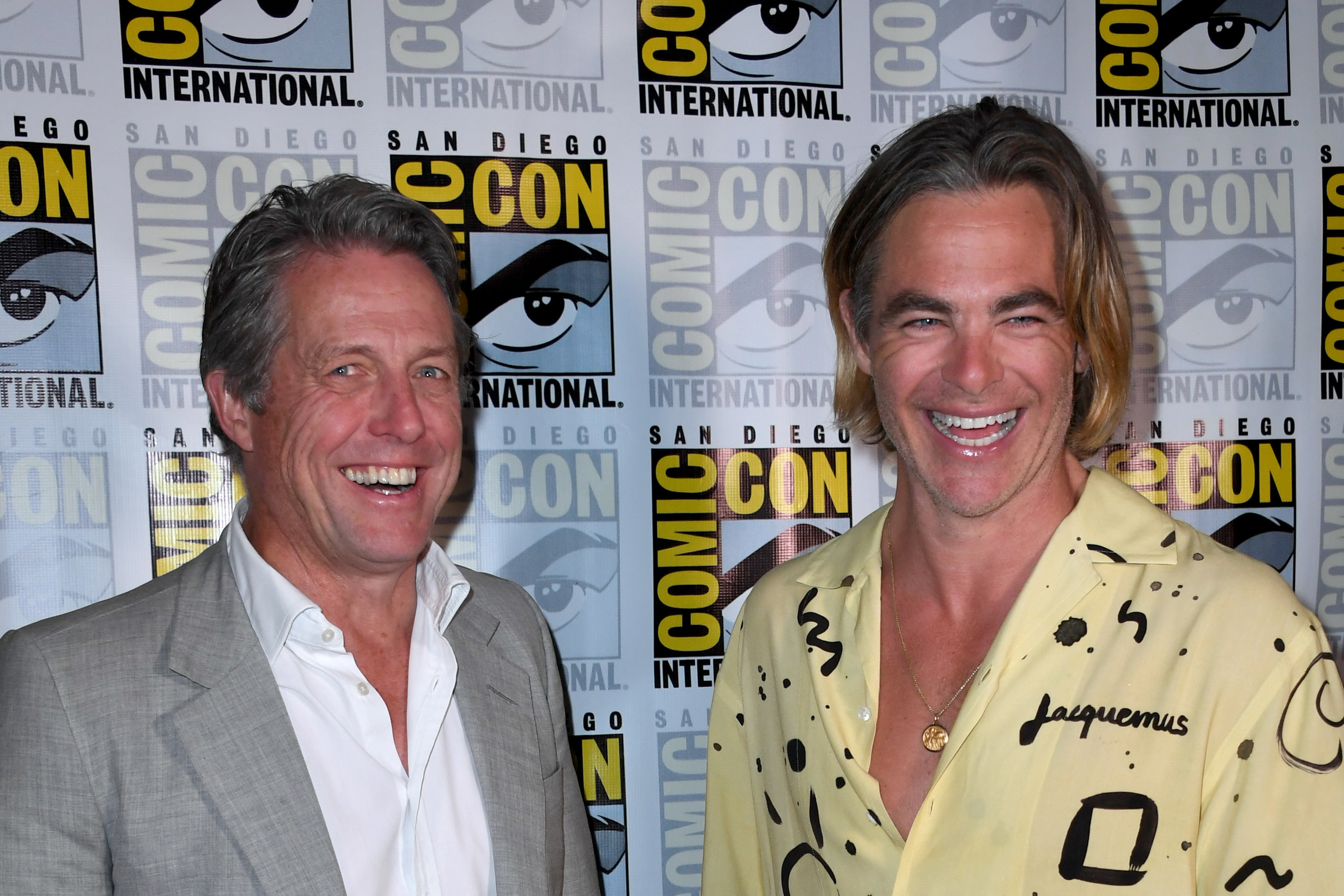 This isn't the first time that Chris has gone viral for a huge misunderstanding during one of his film's press circuits in recent months, with the star also at the center of Harry Styles's "Spitgate" back in September.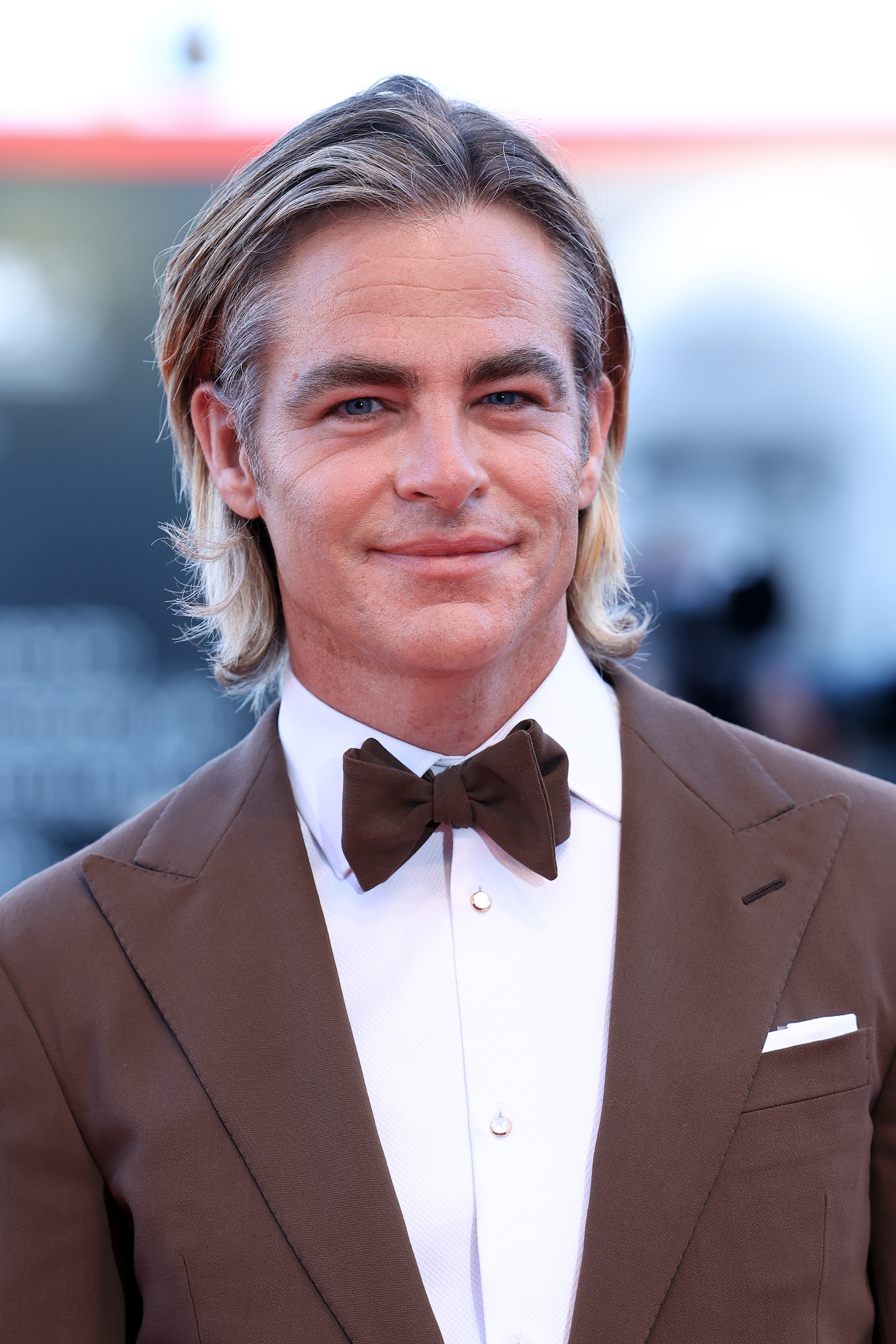 If you somehow managed to miss the scandal, pop culture enthusiasts across the globe were gripped by the Don't Worry Darling premiere at Venice Film Festival thanks to the plethora of drama surrounding the movie's rollout.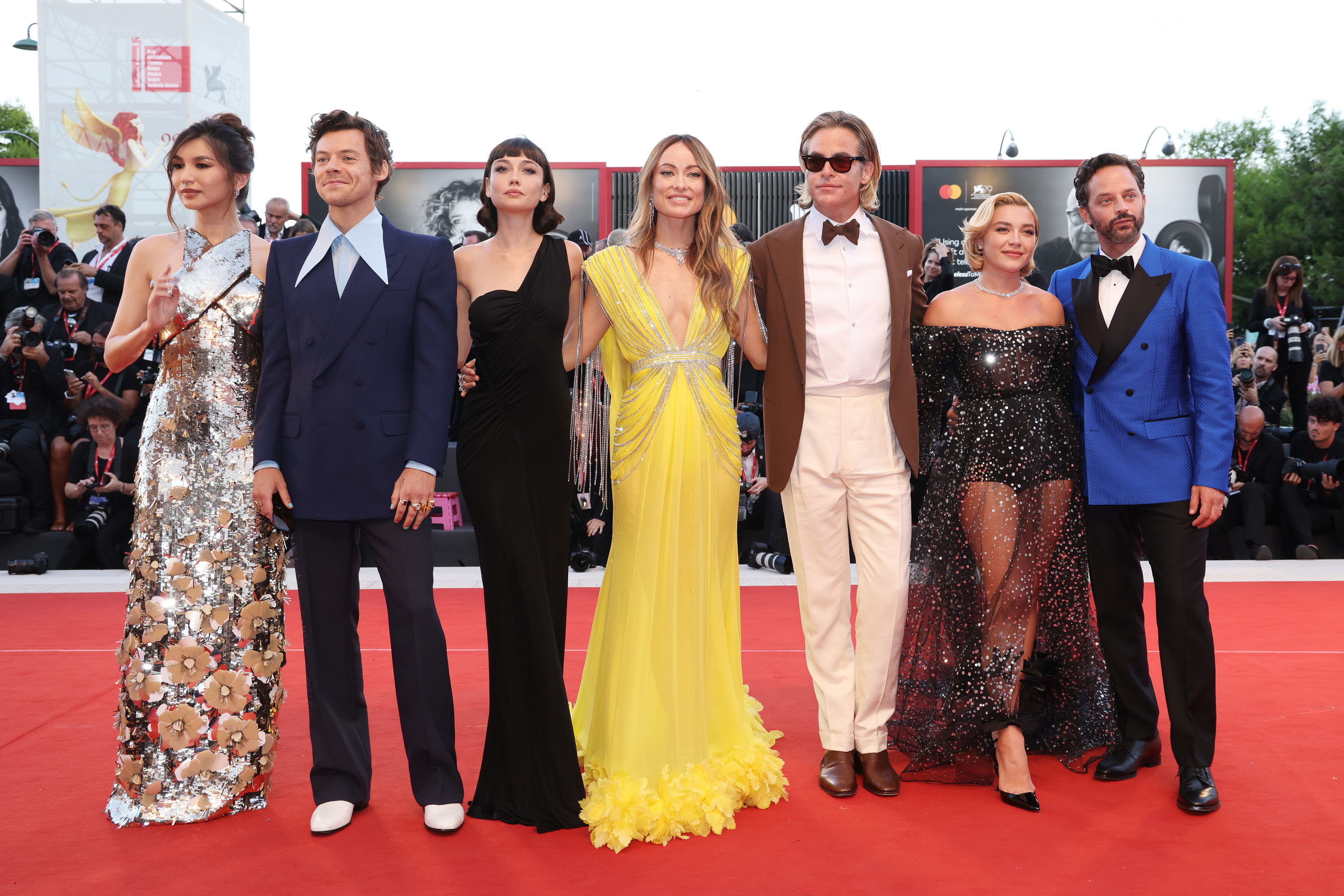 And a video of Harry and Chris inside the movie theater ended up circulating on social media after it was claimed that Harry had spit on Chris as he took his seat.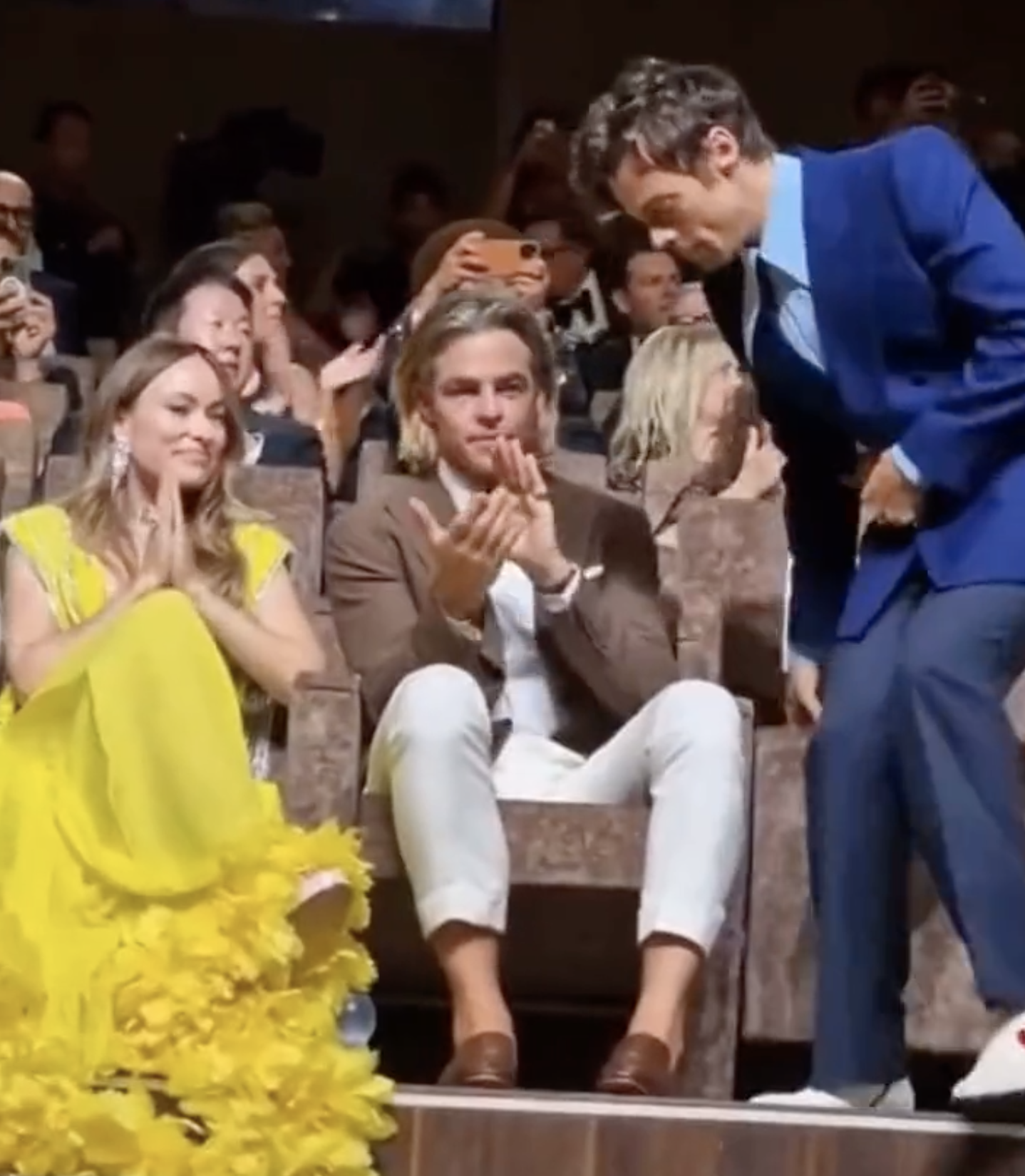 In the footage, Harry made his way over to his chair while Chris, who was already seated, applauded his entrance. Just before Harry sat down, Chris abruptly stopped clapping, looked down at his lap, and paused for a moment.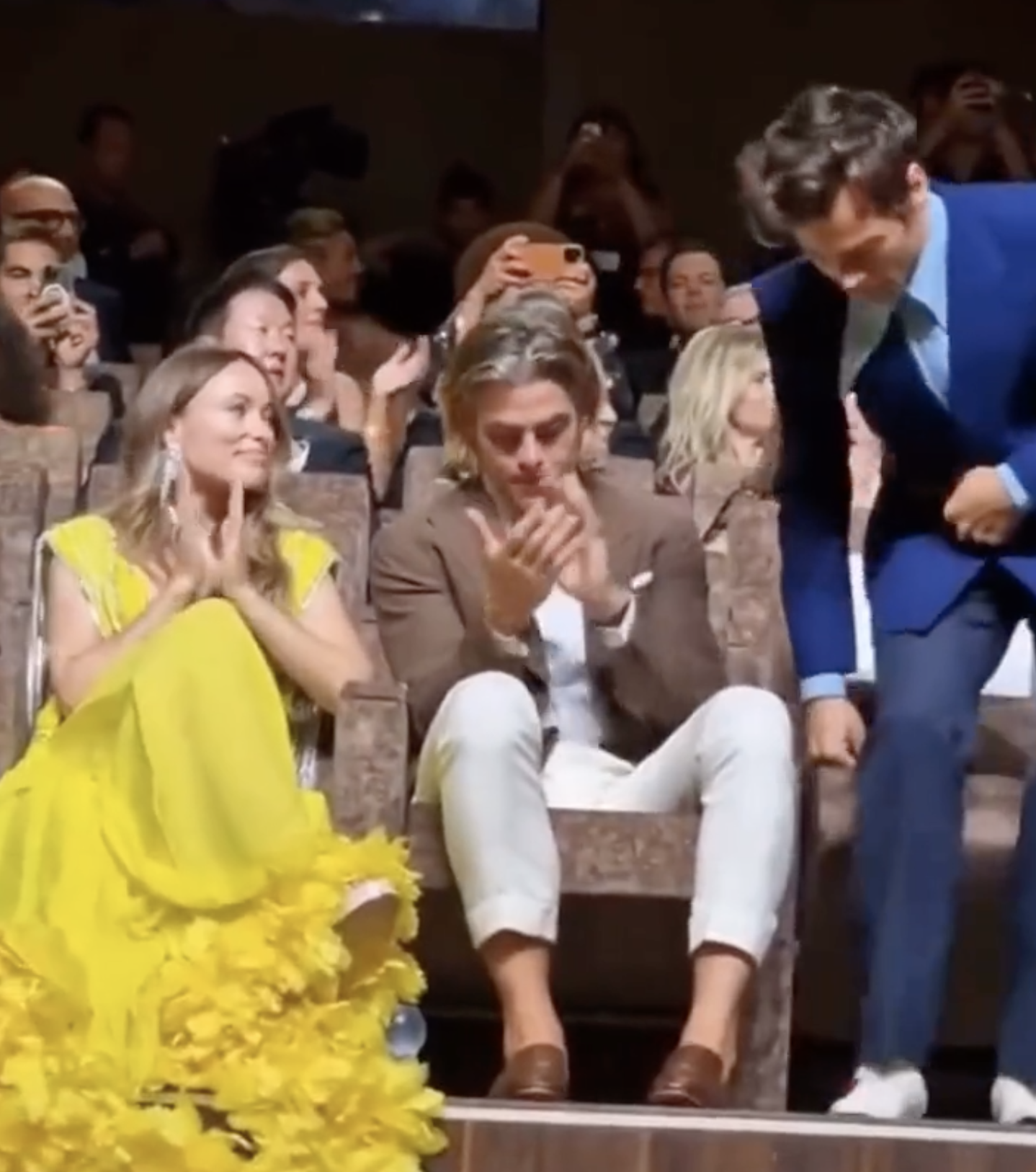 He then seemingly shook his head in disbelief while smiling to himself with a bemused look on his face, and internet sleuths were desperate to work out what had triggered this reaction.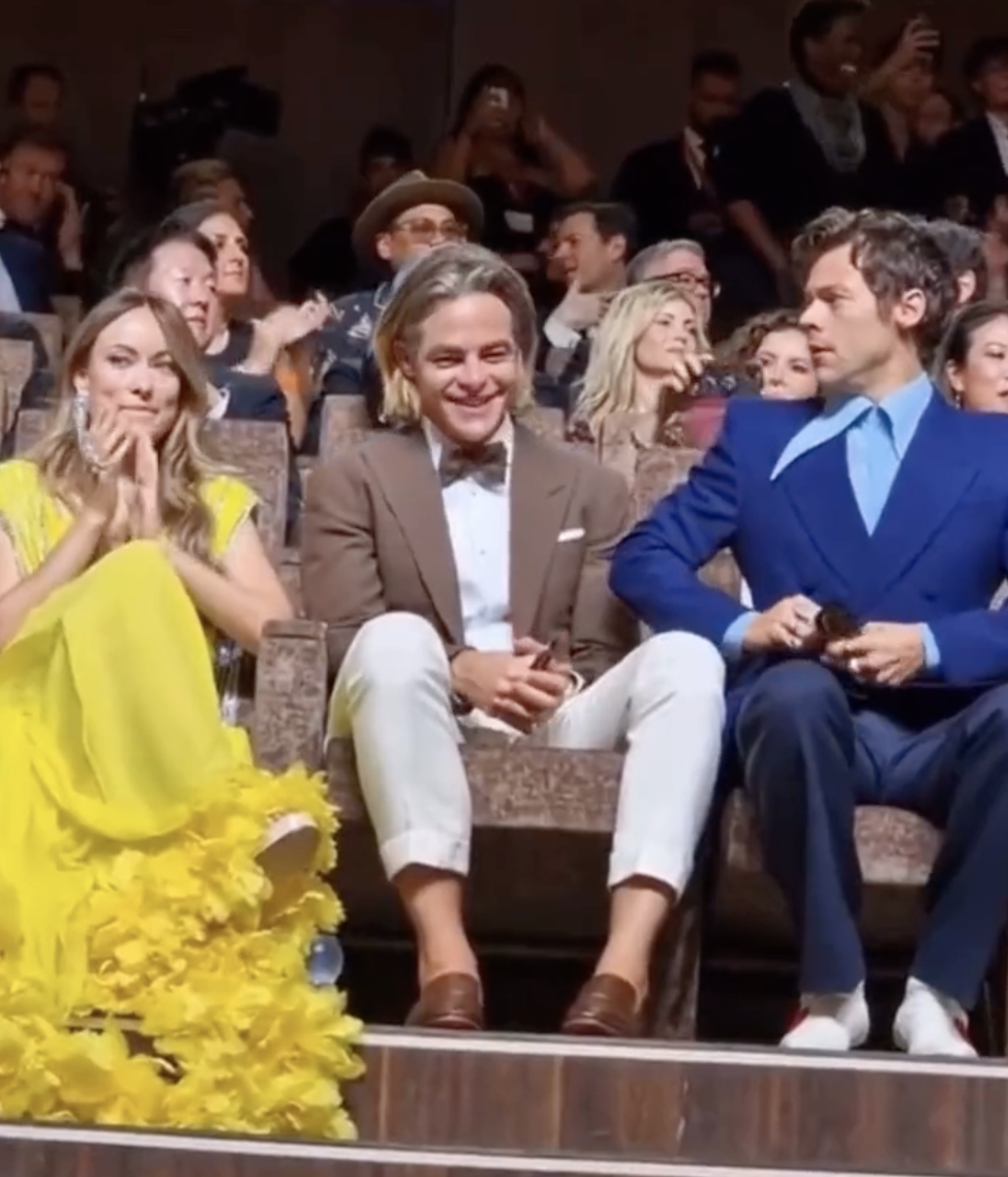 Slow-motion replays soon revealed that Harry made what looked like a spitting movement with his mouth right before Chris stopped his applause. And the actor's glance at his lap seemed to perfectly correspond with where Harry's spit would have landed on him.
It wasn't long before Twitter was alight with people's reactions to the scandal, and Chris's rep quickly released a statement that vehemently denied the claims and insisted that the video was just ill-timed body language from both stars.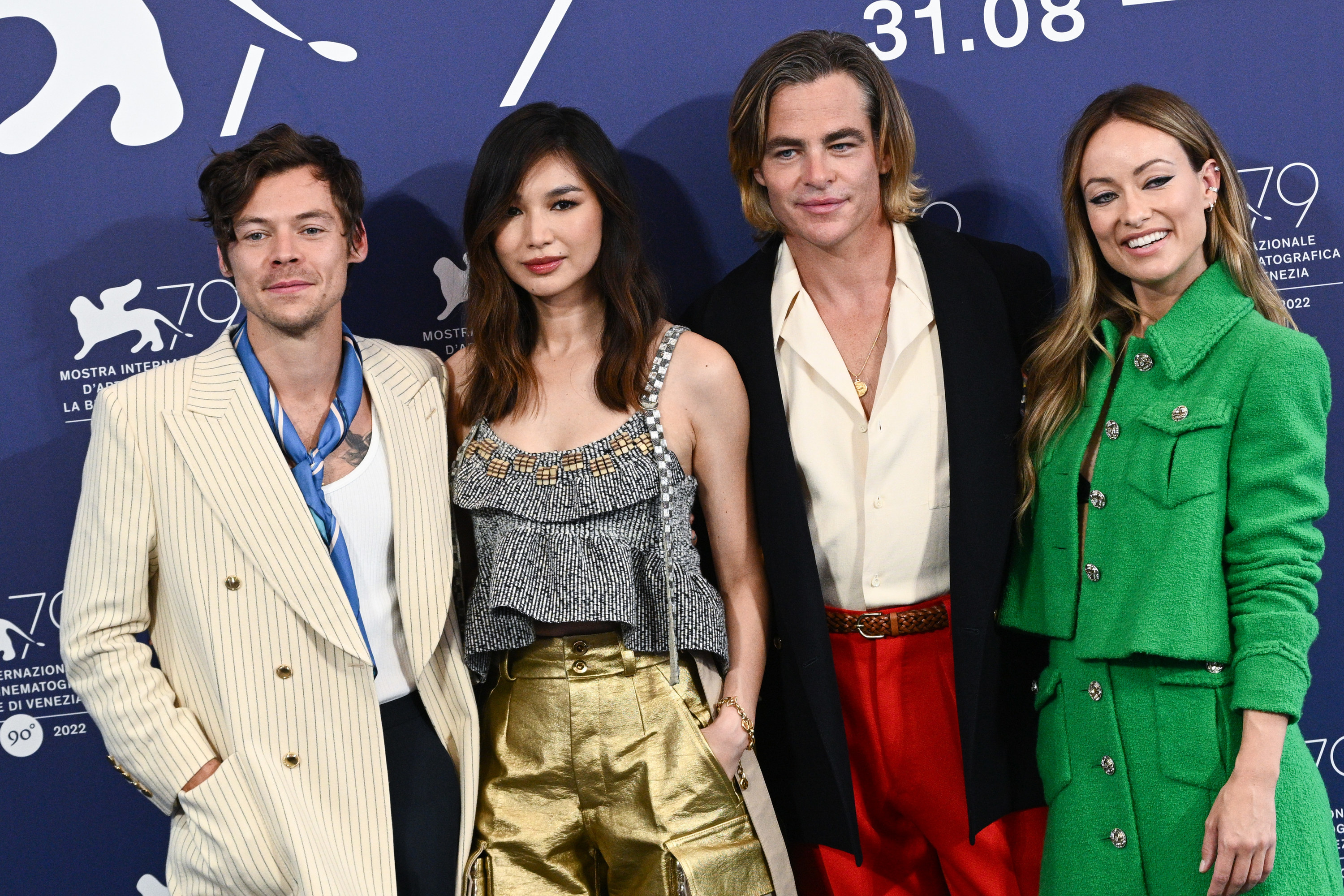 Two days later, Harry joked about the whole thing when he resumed his world tour in New York's Madison Square Garden, telling fans: "I just popped very quickly to Venice to spit on Chris Pine."