When David and Victoria Beckham's oldest son, Brooklyn Beckham, first started dating American actor — and billionaire heir — Nicola Peltz in October 2019, it seemed as though she'd settled into the famous family with ease.
Once their relationship was official, Nicola would regularly use Instagram to share snaps taken with Brooklyn as well as with his family.
Nicola often posted photos of herself with Brooklyn's younger sister, Harper Beckham, and referred to the now-11-year-old as her "little sister."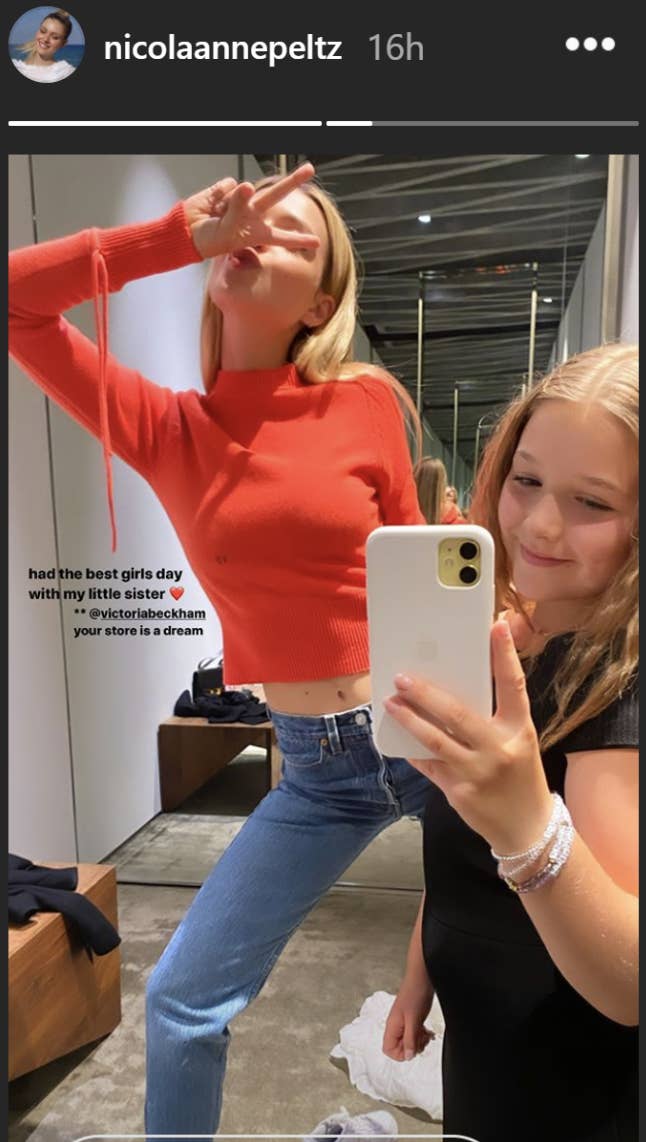 They enjoyed "girls' days" at Victoria's London store, which Nicola called "a dream," and she even bought them matching rings.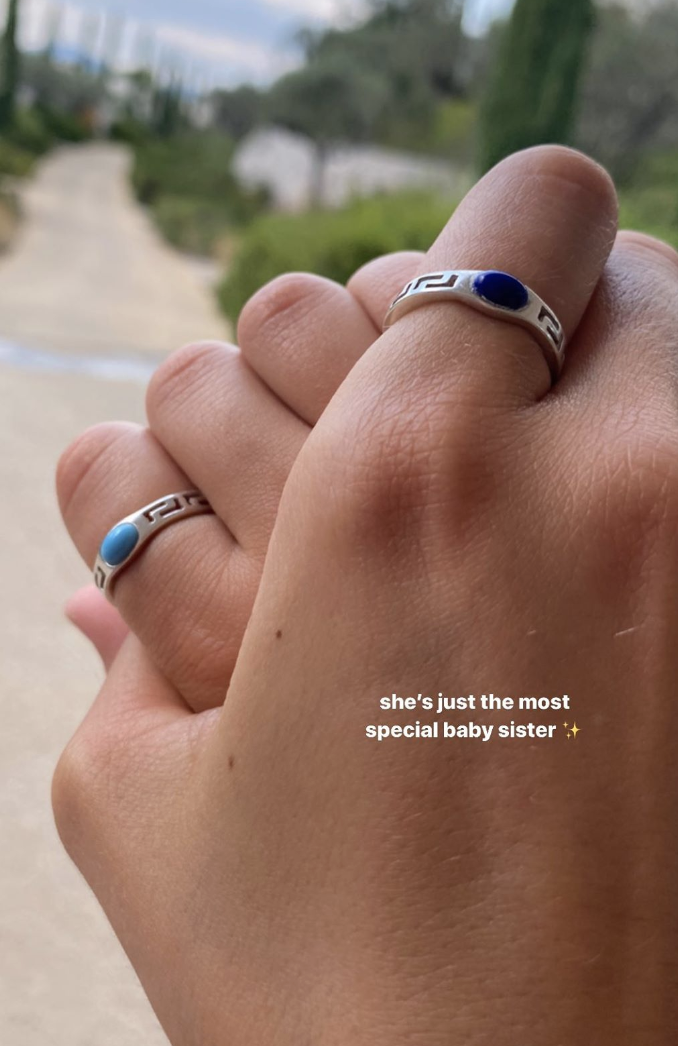 Victoria was always among the first to like and comment on Nicola's posts, seemingly giving the sisterly bond her seal of approval.
Brooklyn proposed to Nicola in summer 2020 after he spent three months stranded in the US with her and her family due to strict lockdown rules around air travel.
They did not publicly share the news until they'd returned to the UK and reunited with his parents, who quickly threw them an intimate engagement party at their Cotswolds mansion.
In their engagement photos, Nicola wore a striking yellow dress that had been designed by her future mother-in-law, and Victoria took to social media to share her joy at their announcement.
The former Spice Girl wrote on Instagram: "The MOST exciting news!! We could not be happier that @brooklynbeckham and @nicolaannepeltz are getting married! Wishing you so much love and a lifetime of happiness 🙏🏻We all love you both so much x."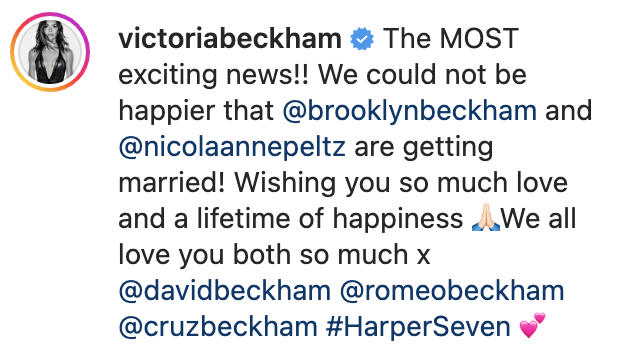 And Nicola was filled with high praise for Victoria too, writing in one Instagram post: "I'm beyond lucky to have so many strong women in my life that empower me and those around them."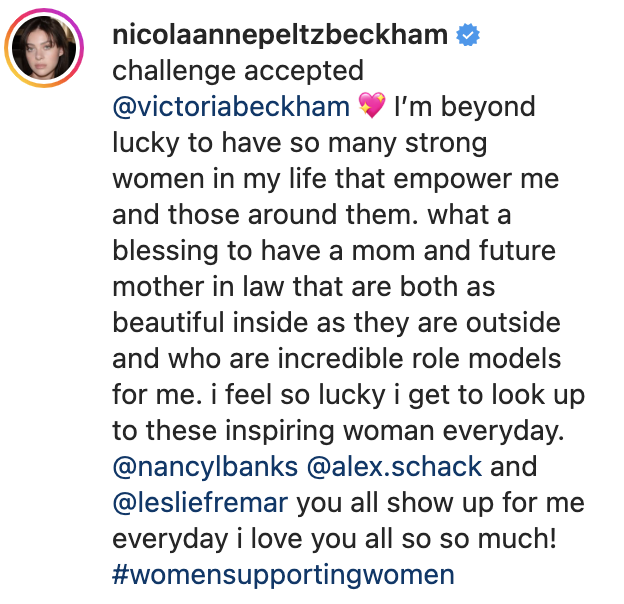 "What a blessing to have a mom and future mother in law that are both as beautiful inside as they are outside and who are incredible role models for me," she went on. "I feel so lucky i get to look up to these inspiring woman everyday."
Nicola also regularly documented the time she spent at the family's Cotswolds home, and often engaged in sweet online exchanges with Brooklyn's younger brothers, Romeo and Cruz Beckham.
However, as Brooklyn and Nicola's April 2022 wedding drew nearer, rumors began to swirl that there was tension between the bride and her future in-laws.
Eagle-eyed fans noticed that the once-constant Instagram interactions between Nicola and Brooklyn's family had become rarer and rarer, and Harper stopped appearing in Nicola's photos.
The tense situation seemingly came to a head after the wedding, with Victoria raising eyebrows when she repeatedly called Brooklyn and Nicola "Mr and Mrs Beckham" as she shared photos from their big day, despite the newlyweds choosing to take on the joint last name "Peltz Beckham."


Meanwhile, Nicola did not share a single wedding photo that included Brooklyn's relatives to her Instagram page — not even in her nine-picture carousel that she posted alongside the caption "family is everything to me 🤍🤍🤍"

There was speculation that the two women had fallen out because Nicola didn't let Victoria design her dress, a theory that was fueled when Nicola shared a photo of the Valentino couture gown that she did wear and wrote: "My dream dress thank you @lesliefremar @maisonvalentino."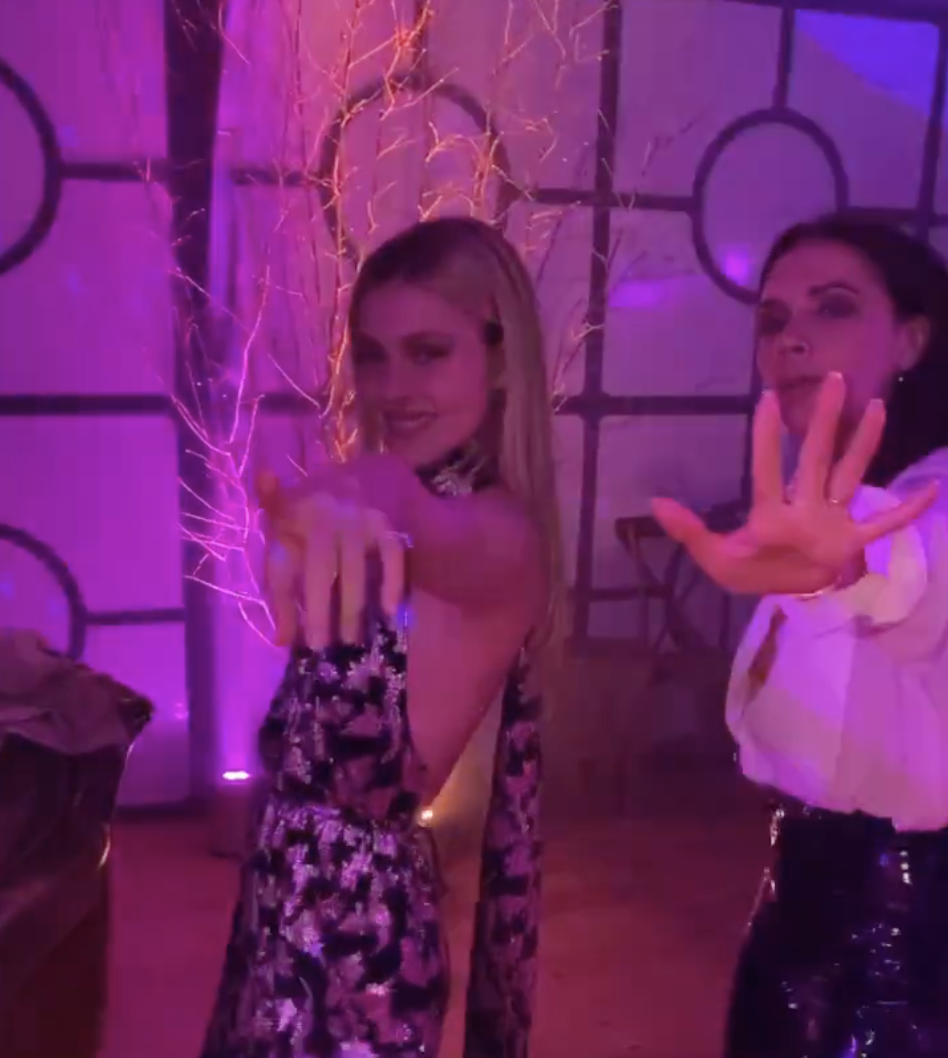 Victoria also fanned the flames when she shared a selection of photos of wedding guests who did wear her designs and wrote: "So proud to have dressed some of my favourite ladies and best friends for the occasion 💕"
Earlier this month, a source told Page Six that tension had been bubbling between the two families for some time, saying: "They can't stand each other and don't talk. The build-up to the wedding was horrendous."
The insider added that Nicola and her family did not want Victoria "to be any part of the planning" and would often leave her out of the loop with "minimal" communication.
They claimed that Nicola was jealous of Victoria's global fame and the attention that she commands, particularly in the build-up to her wedding day. Meanwhile, Victoria was said to have been hurt when Brooklyn shared Nicola's Tatler magazine cover that called her "the new Mrs. Beckham."
The source said that there ended up being "non-stop petty drama" that has ultimately driven a wedge between Brooklyn and his parents.
And while Victoria hasn't publicly commented on any of the speculation, Brooklyn and Nicola have broken their silence in his new profile in Variety.
Brooklyn — who is now known as Brooklyn Peltz Beckham — appeared on the magazine cover as part of the publication's "Power of Young Hollywood" feature, which also included covers showing Euphoria star Angus Cloud, actor Halle Bailey, and musician Becky G.
Brooklyn landed the spot for his upcoming venture into the food industry and showed off his cooking prowess during the interview, but it was his personal life that became the focus.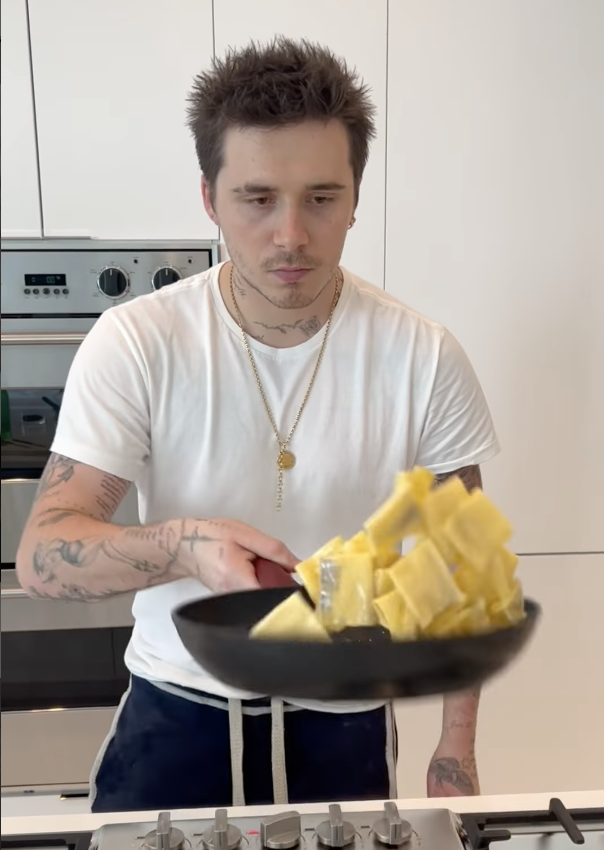 Addressing the rumors surrounding her choice of wedding dress designer as she responded to the feud speculation, Nicola told Variety that she was initially going to wear one of Victoria's designs until Victoria realized that her studio would be unable to fit in the work required.
"I was going to [wear Victoria's design] and I really wanted to, and then a few months down the line, she realized that her atelier couldn't do it," Nicola explained. "So then I had to pick another dress. She didn't say you can't wear it; I didn't say I didn't want to wear it. That's where it started, and then they ran with that."
And Brooklyn doubled down on the stance, insisting that "everyone gets along" as he dismissed the rumors as tabloid fodder.
"I've learned they're always going to try to write stuff like that," he told Variety. "They're always going to try and put people down. But everyone gets along, which is good."
This is similar to his approach to the accusations of nepotism that have accompanied his forays into football, modeling, photography, and now the food industry by the age of 23.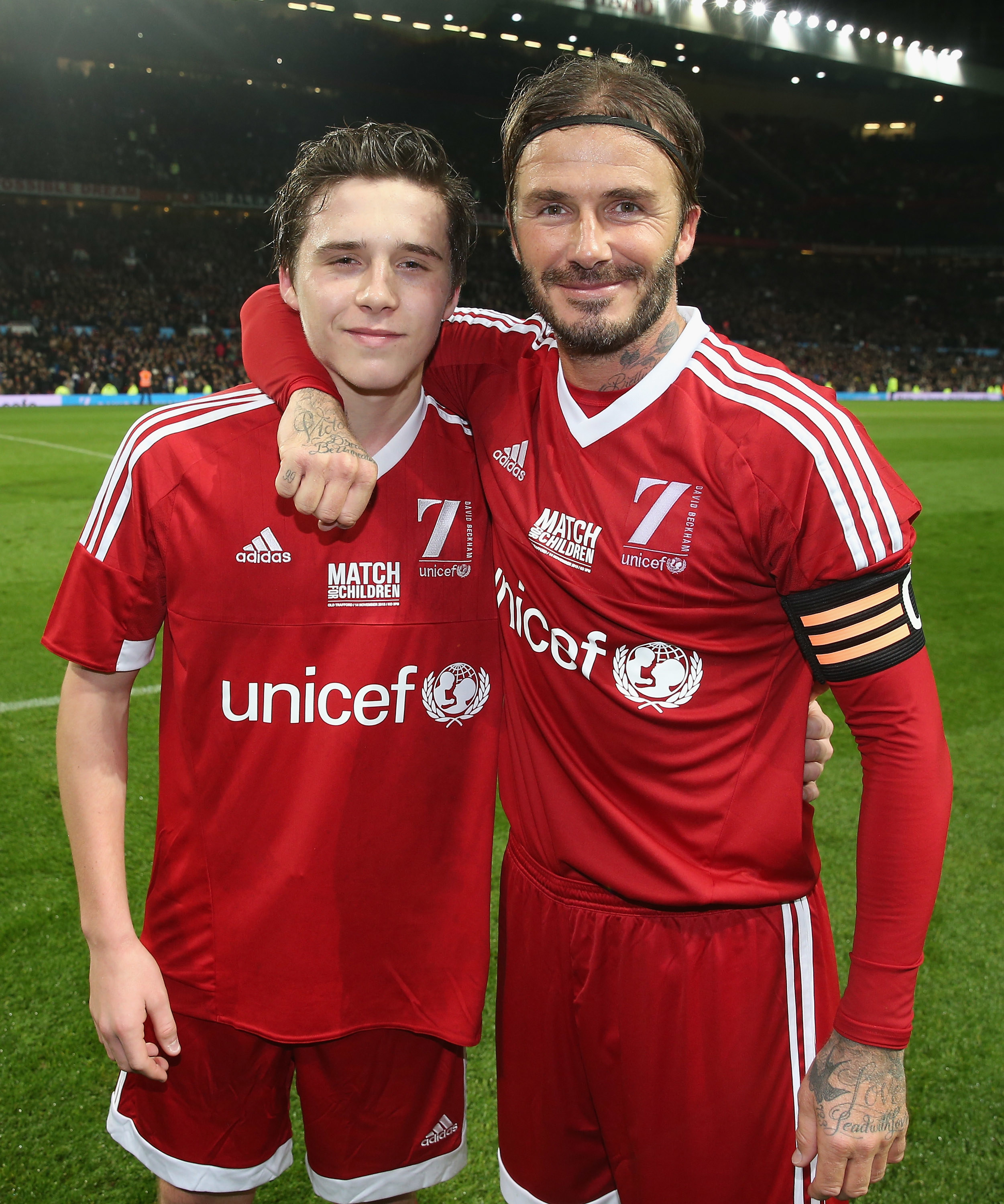 In 2017, Brooklyn faced fierce backlash following the release of his photography book, What I See, due to his out-of-focus and blurred pictures. And earlier this year, he was mocked when he appeared on James Corden's The Late Late Show to show off his cooking skills.
"I always wish them well, the haters," Brooklyn told Variety. "I'm just doing what I love doing, staying healthy, being happy, and that's what it is."