Earlier this month, movie critic Lena Wilson wrote a less-than-favorable review of Bodies Bodies Bodies for the New York Times, in which she accused its independent production company, A24, of shooting an "advertisement for cleavage."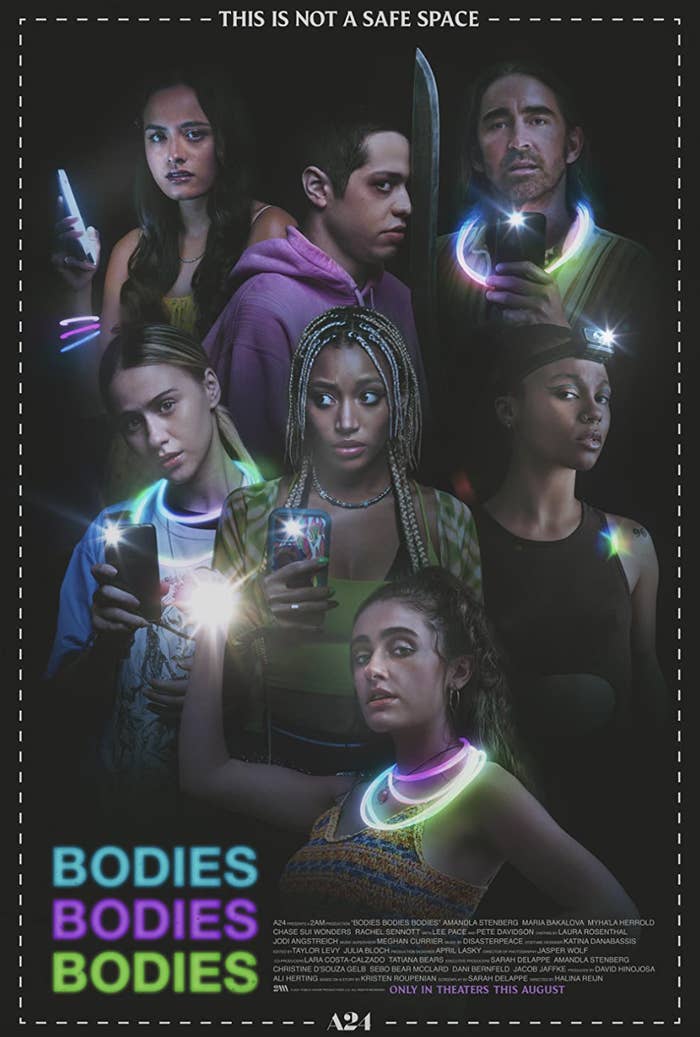 "The only thing that really sets Bodies Bodies Bodies apart is its place in the A24 hype machine, where it doubles as a 95-minute advertisement for cleavage and Charli XCX's latest single," she wrote.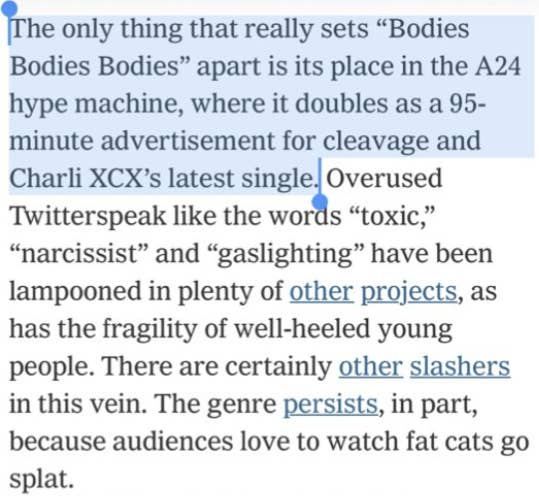 Many people who have seen the film have since expressed their confusion at the line as they recalled zero nudity, and just one scene where the actors wore bathing suits while in a swimming pool before covering up with robes as soon as they left the water.
The rest of the time, the characters wore T-shirts and tank tops, and one of the movie's stars, Amandla Stenberg — who uses she/they pronouns — called Lena out for her comment in a private direct message on Instagram.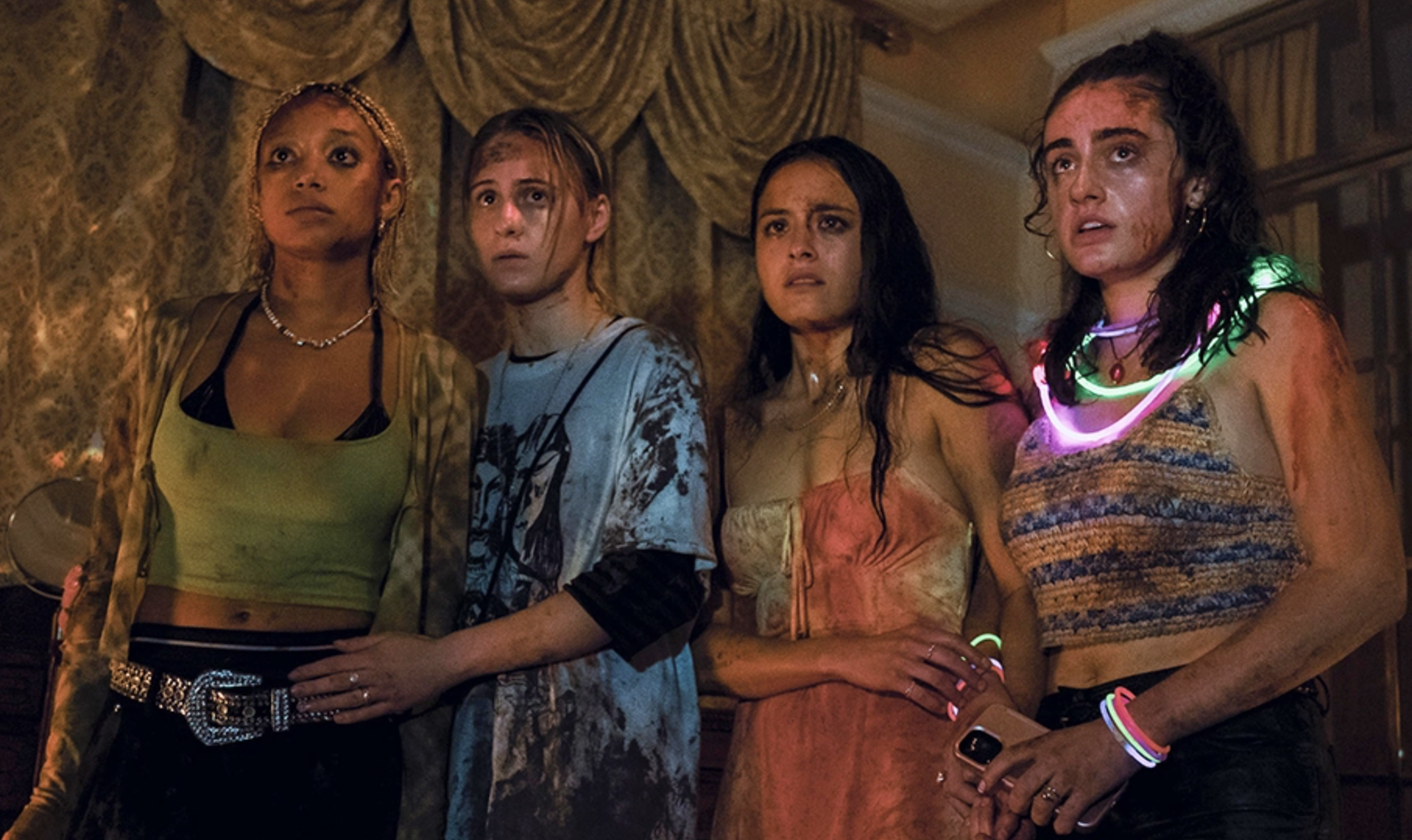 "Ur review was great, maybe if you had gotten your eyes off my tits you could've watched the movie," Amandla told the critic.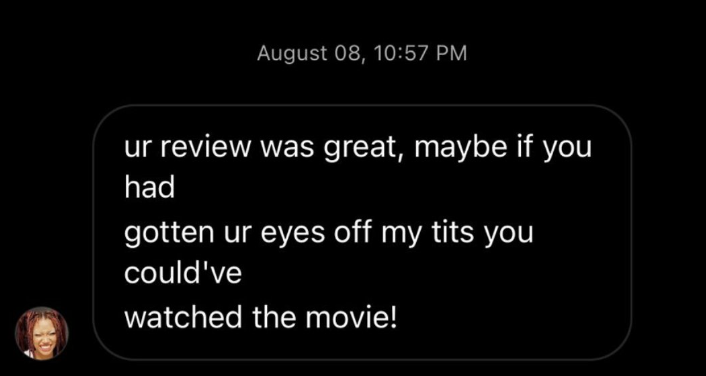 Lena replied: "Hey, Amandla! Generally a big fan of your work, but this sure is something. Really wishing you well in your career and life. Have a nice night."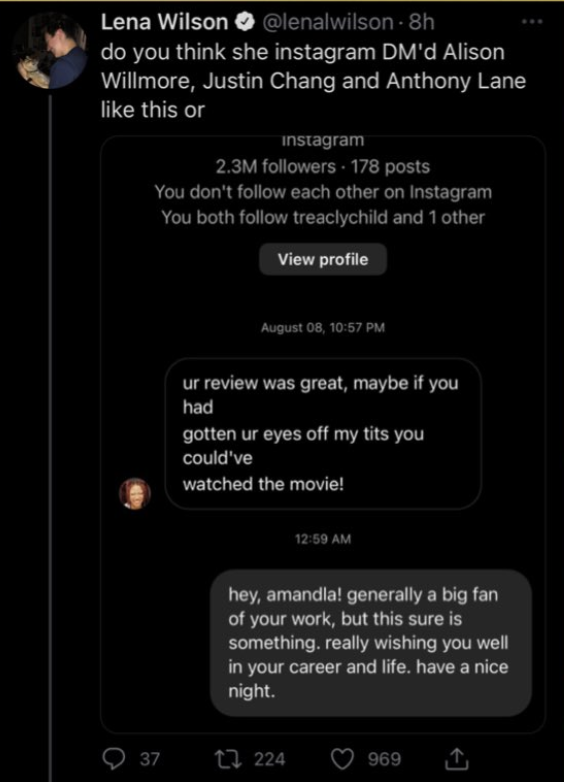 She then put the actor on blast as she posted the DM for her social media followers to see, sharing a screenshot and asking: "Do you think she Instagram DM'd Alison Willmore, Justin Chang, and Anthony Lane like this or."
Lena went on to suggest that Amandla's comment was anti-gay as she acknowledged that they are both are part of the LGBTQ+ community.
"Always weird when the homophobia is coming from inside the house," Lena wrote. "But this is something."
Later, Lena posted a TikTok video about the incident where she said: "I don't want anything else to come of this, I am devastated to have received this message in the first place. I was a genuine huge fan of hers, but I'm posting this because I don't want this person who has more social power than me to think that it's fucking OK to do something like this."
She also doubled down on her accusation of that Amandla's message was anti-gay, captioning the video: "unfathomably weird to get 'i don't want you in the locker room while i'm changing' bullying from a whole other lesbian."

Amandla then addressed the backlash on her Instagram story, where they said that they sent the DM as a joke and thought that Lena would also find the comment funny.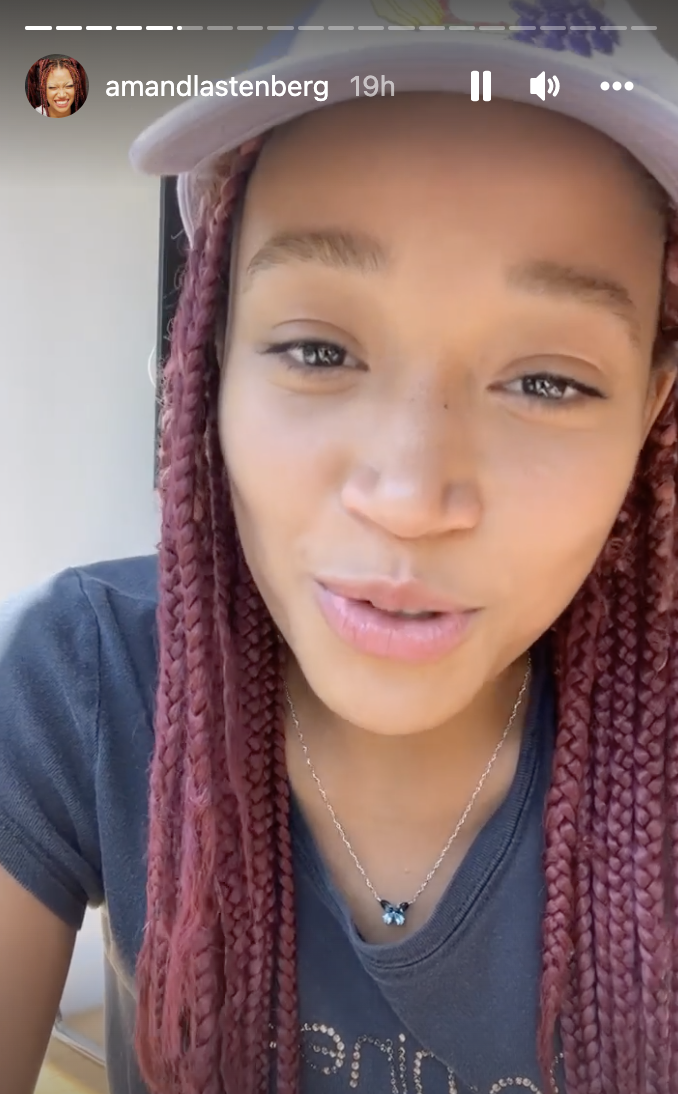 She also acknowledged the years of relentless sexualization that she has faced as a result of having large breasts. Amandla said that wearing a tank top in a movie didn't equate to her putting her cleavage on display, as Lena had suggested in the review.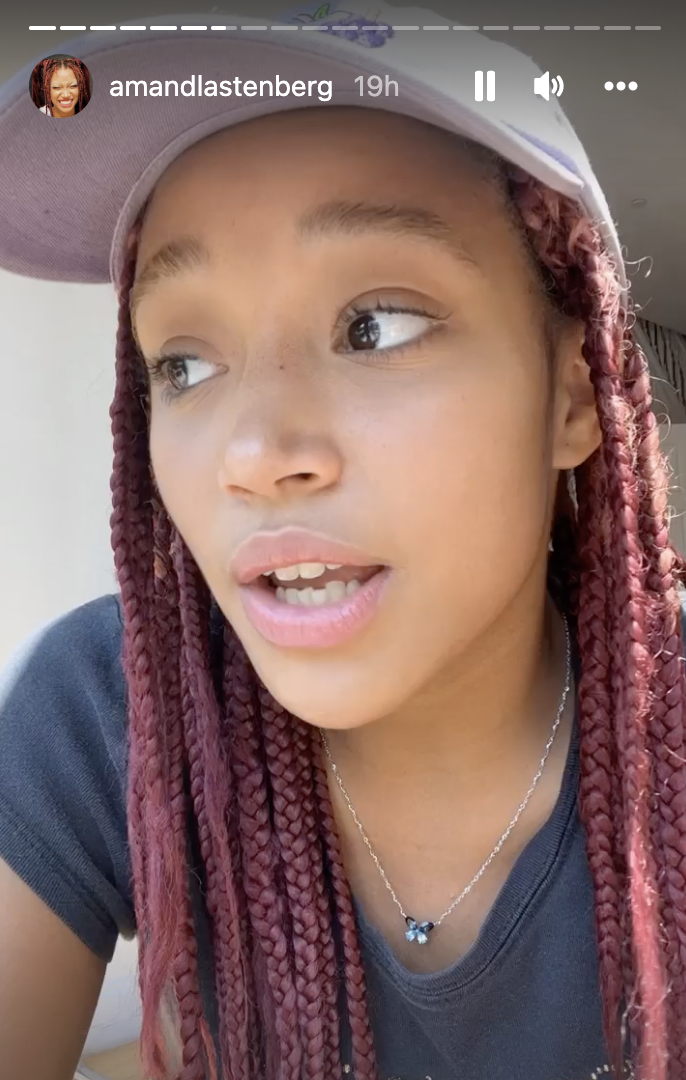 "I'm receiving a lot of commentary on the internet for being a very naughty girl and sending a DM that I thought was hilarious," Amandla said in the video. She then gave the backstory to the situation, and added: "[Lena] described the movie as a '95-minute advertisement for cleavage,' which I thought was hilarious."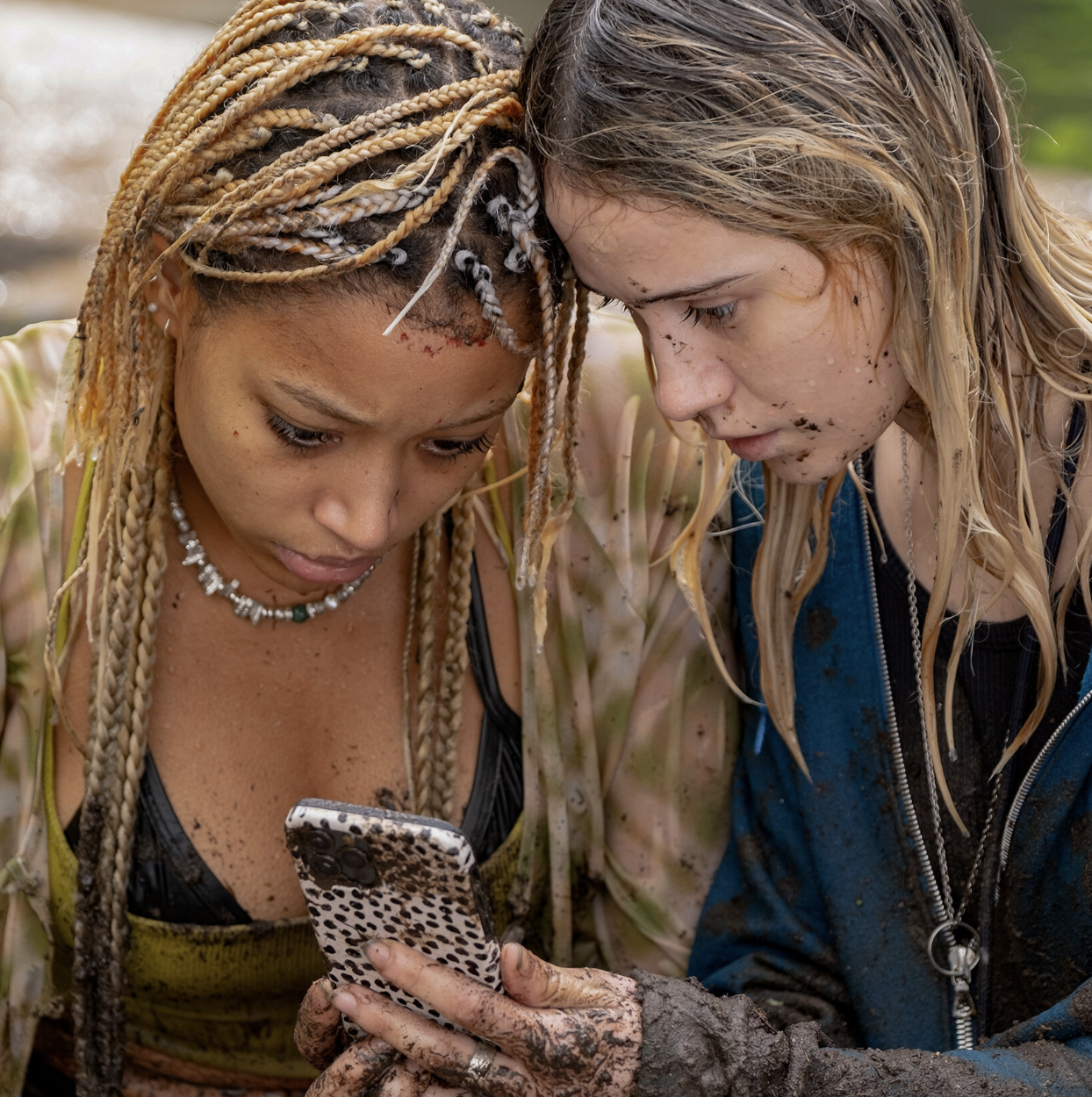 Between giggles, Amandla recounted the DM that she had sent, telling her followers: "I thought it was hilarious. I thought because Lena is gay, I am also gay, I thought as gay people we would both find this comment funny. I was also curious to know what Lena would say to such a statement, but Lena decided to publish it and also says that I am homophobic for saying that."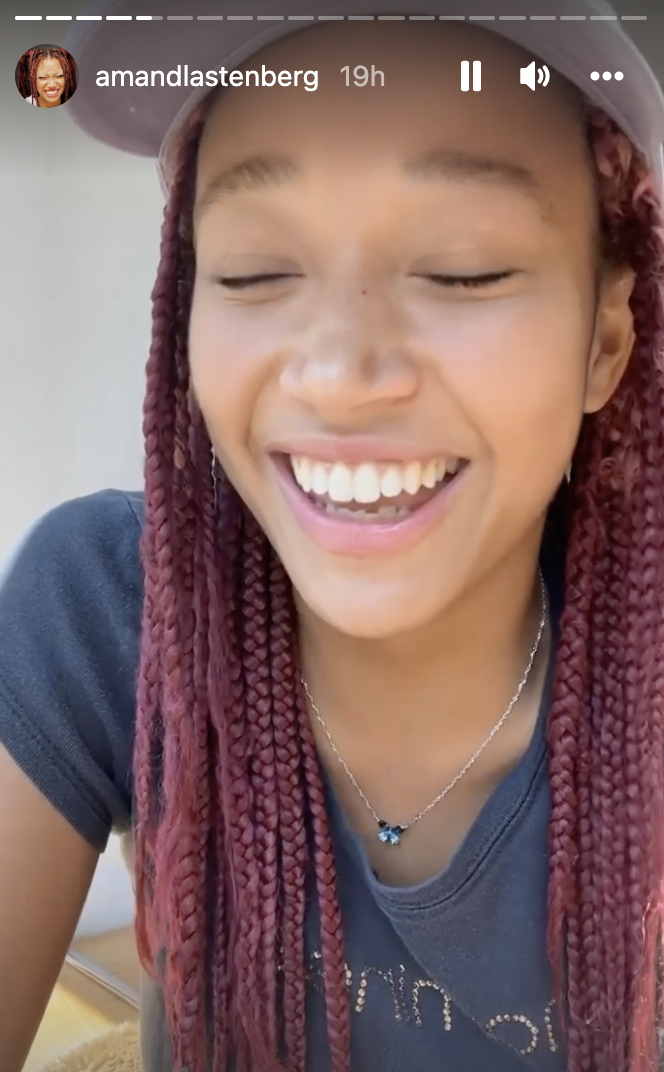 "The intention of why I said that, and this is my experience as an actress. It's quite surprising. ... The amount of commentary I receive on my boobs is so extreme, and this has happened since I was a teenager," they went on.
"I could literally be wearing a T-shirt and just because of the size of my boobs, there will be some sort of sexualization or commentary on my chest," Amandla explained. "In this movie, I am wearing a tank top, and I know that when I'm wearing a tank top the result is there's going to be some cleavage because I have boobs. So I knew that this comment was probably mostly directed towards me."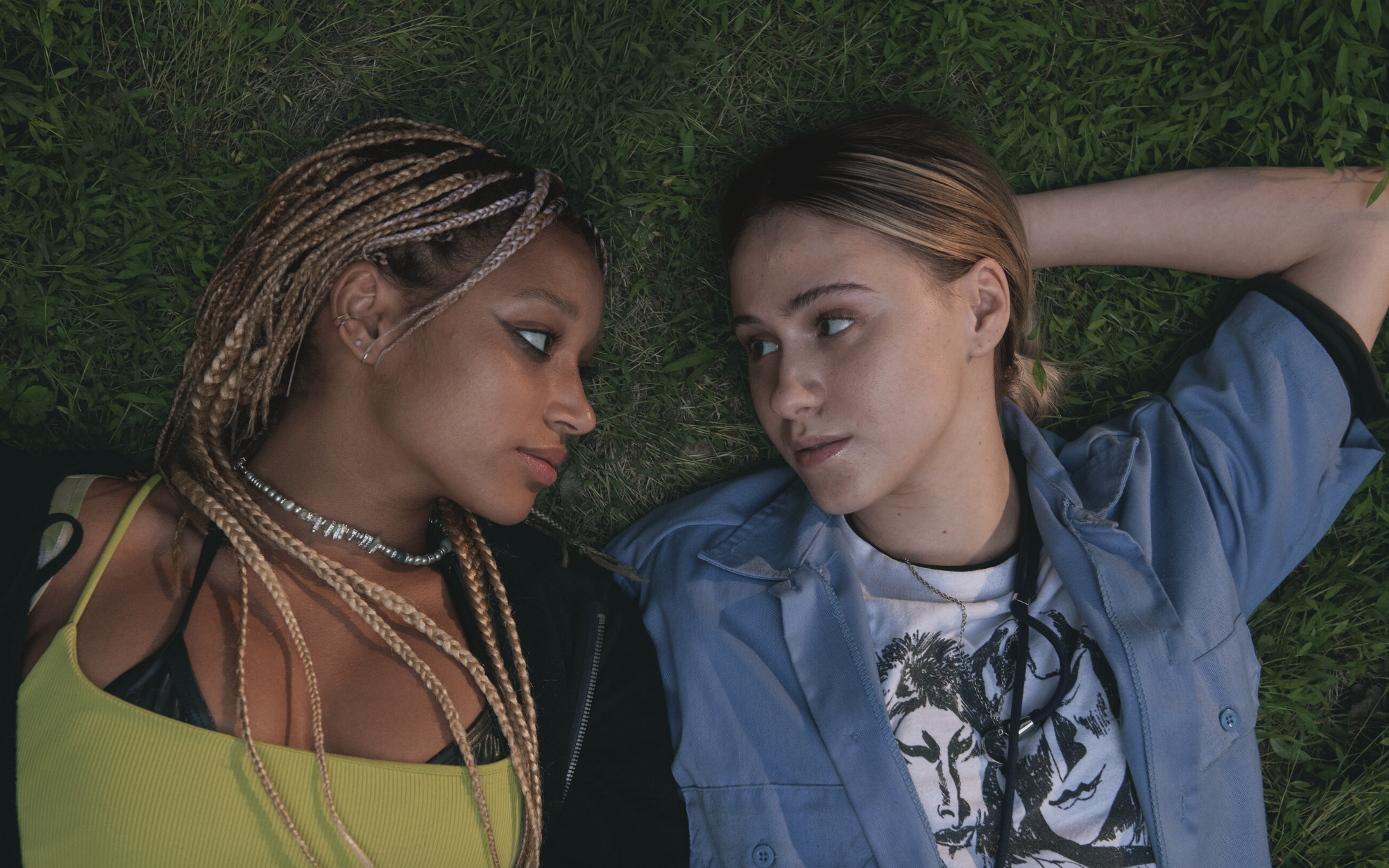 "I think that Lena was trying to make a commentary about A24 sexualizing me, sexualizing my body, exploiting young women in order to sensationalize them, to make their media more popular, which I understand the angle," she added. " I can tell you I wore this tank top in this movie because me and the costume designer thought that it fit the character well."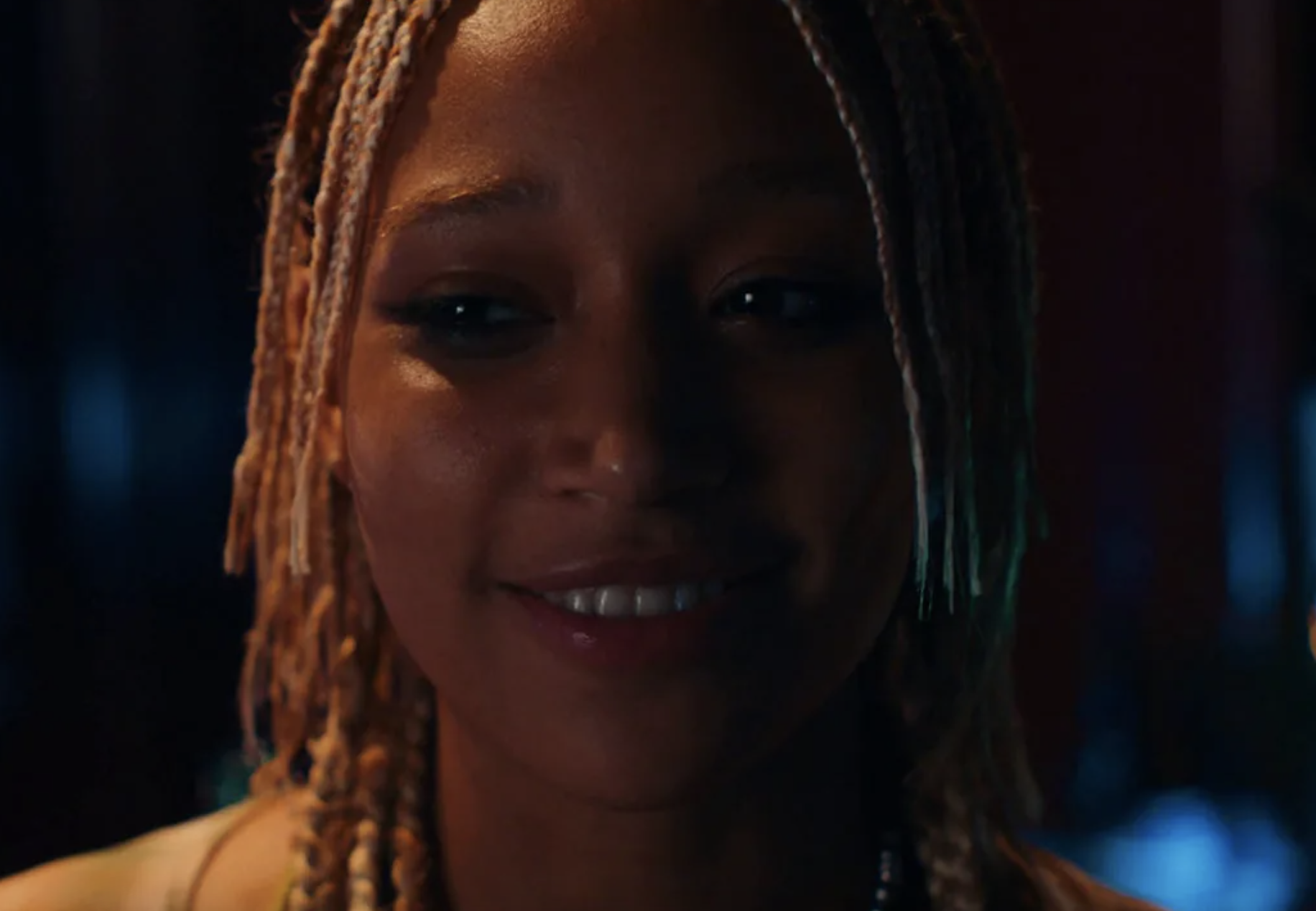 The 23-year-old actor admitted: "I do get tired of people talking about my chest. It seems to me in Hollywood it's not normalized to have boobs that are above an A or a B cup. I've actually noticed this in my time as an actress. There seems to be a lot of unwarranted conversation around my chest, that just kind of baffles me."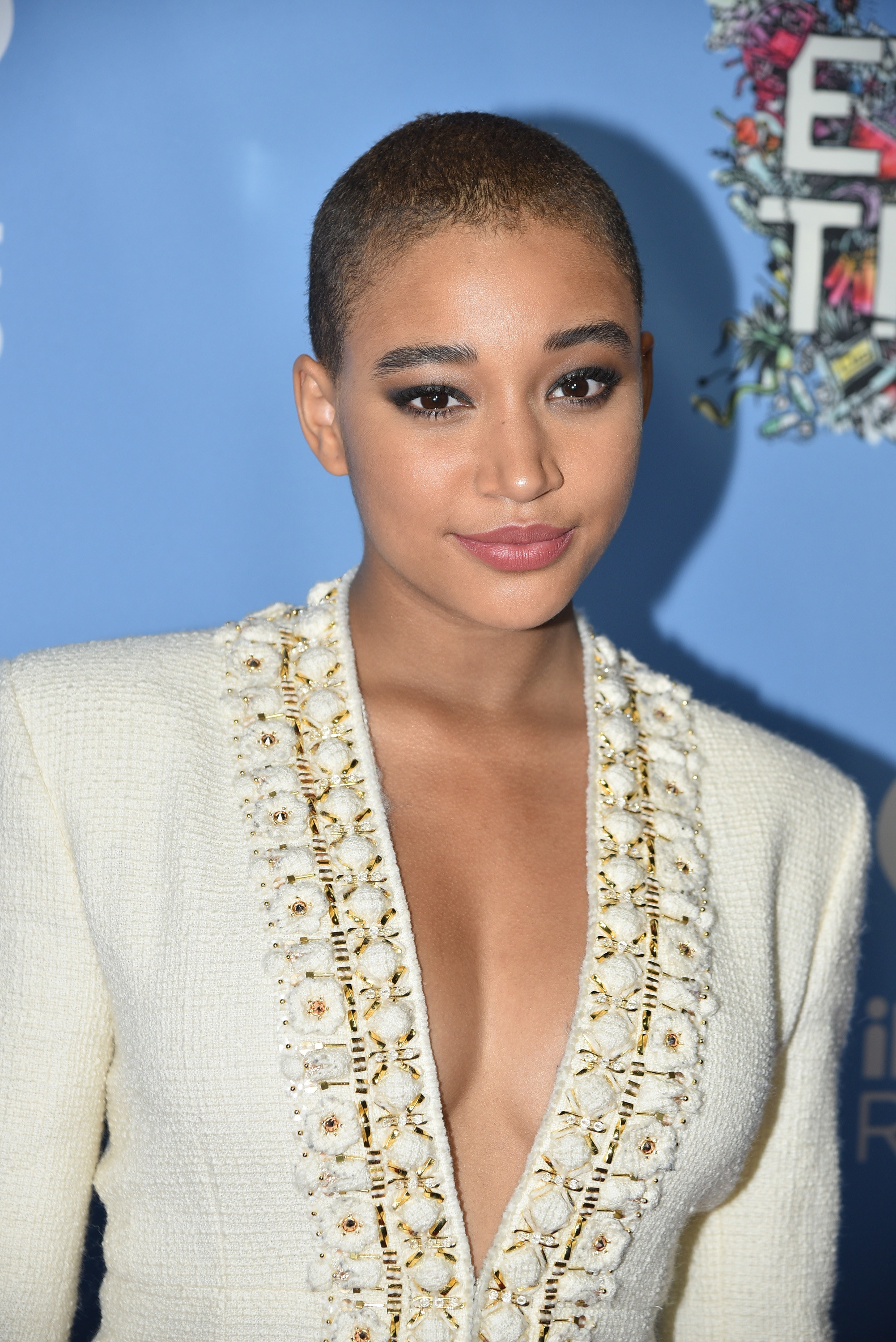 Amandla then extended an olive branch to Lena, saying: "Anyways Lena, I thought your view was hilarious, I thought my DM was funny, I did not mean to harass you. I do not wish you any harm. You are allowed to have your criticism of my work and I'm allowed to have my criticisms of your work and that is A-OK with me. I wish you the best."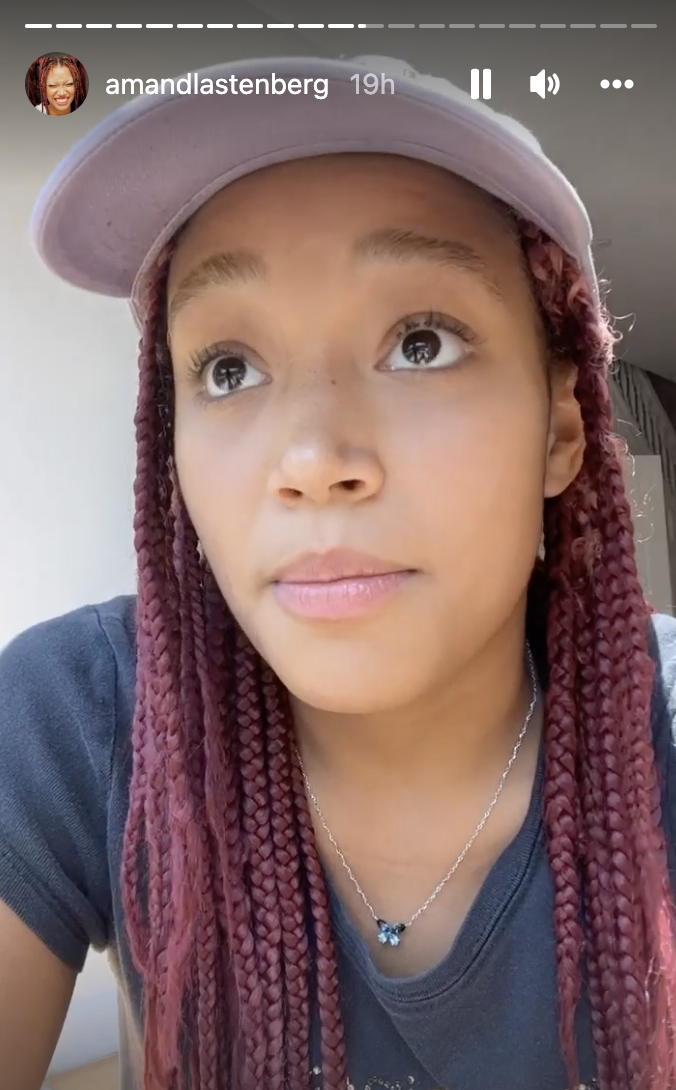 She went on to post a screenshot of one of Lena's tweets, which read: "me: (spends one line of a 500-word review facetiously commenting on how A24 objectifies young women to sell content). random men on twitter dot com and also, apparently, amandla stenberg: Local Dyke Cannot Stop Talking About Boobies."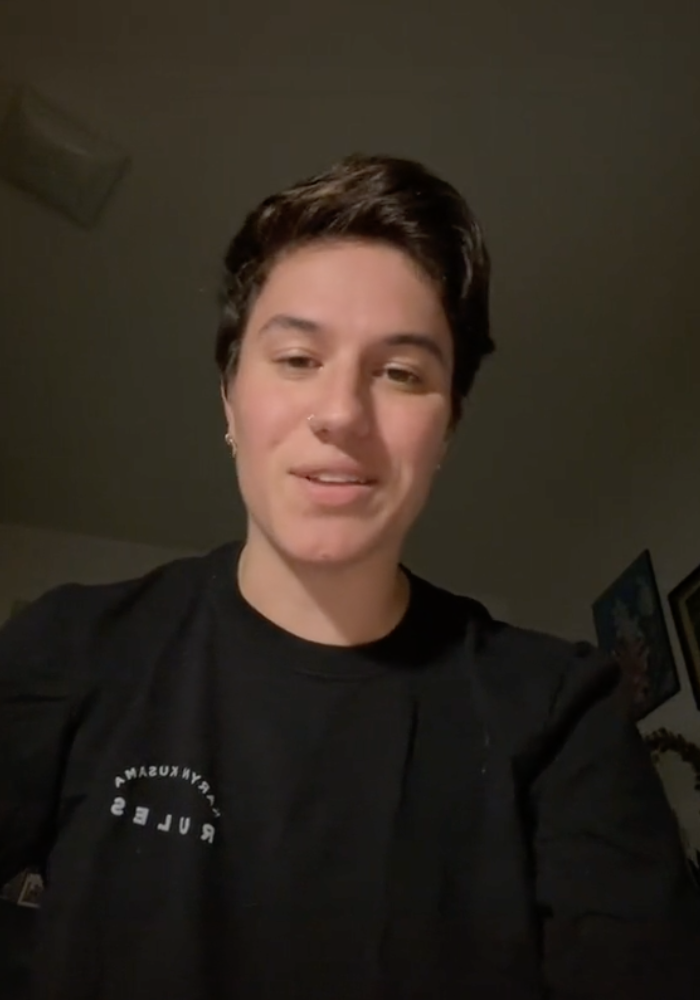 Amandla tried to lighten the mood as she joked: "@hottakelena I will change my bio to Local Dyke Who Cannot Stop Talking About Boobies if you will?"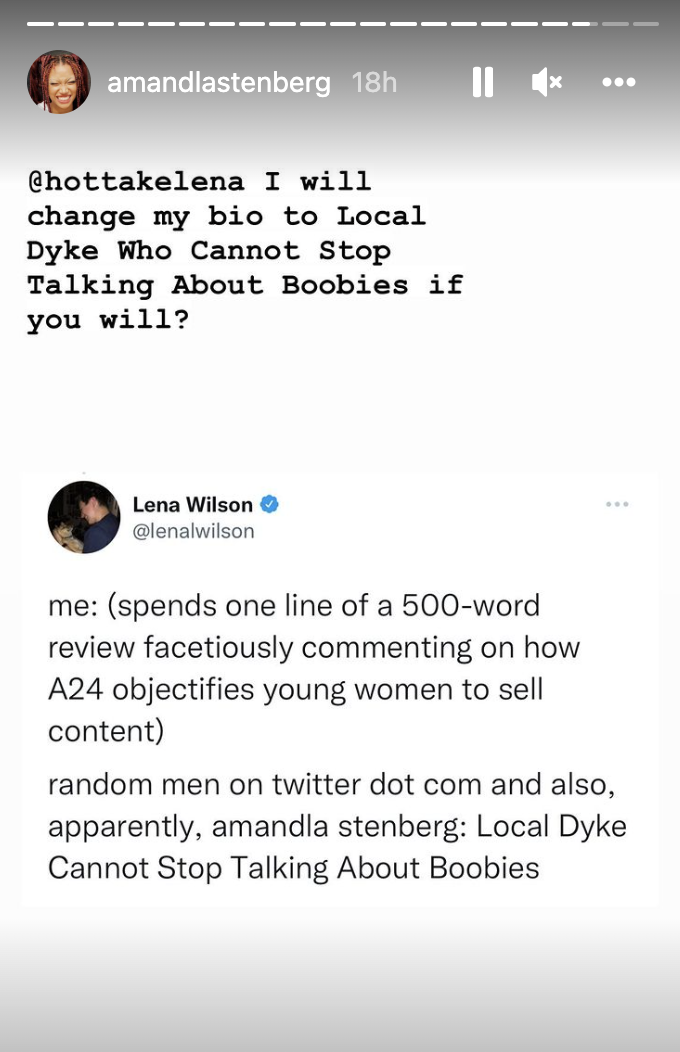 Needless to say, onlookers have been engaged in lively discussion over the situation, with many agreeing that Amandla was right to privately call Lena out for sexualizing her body.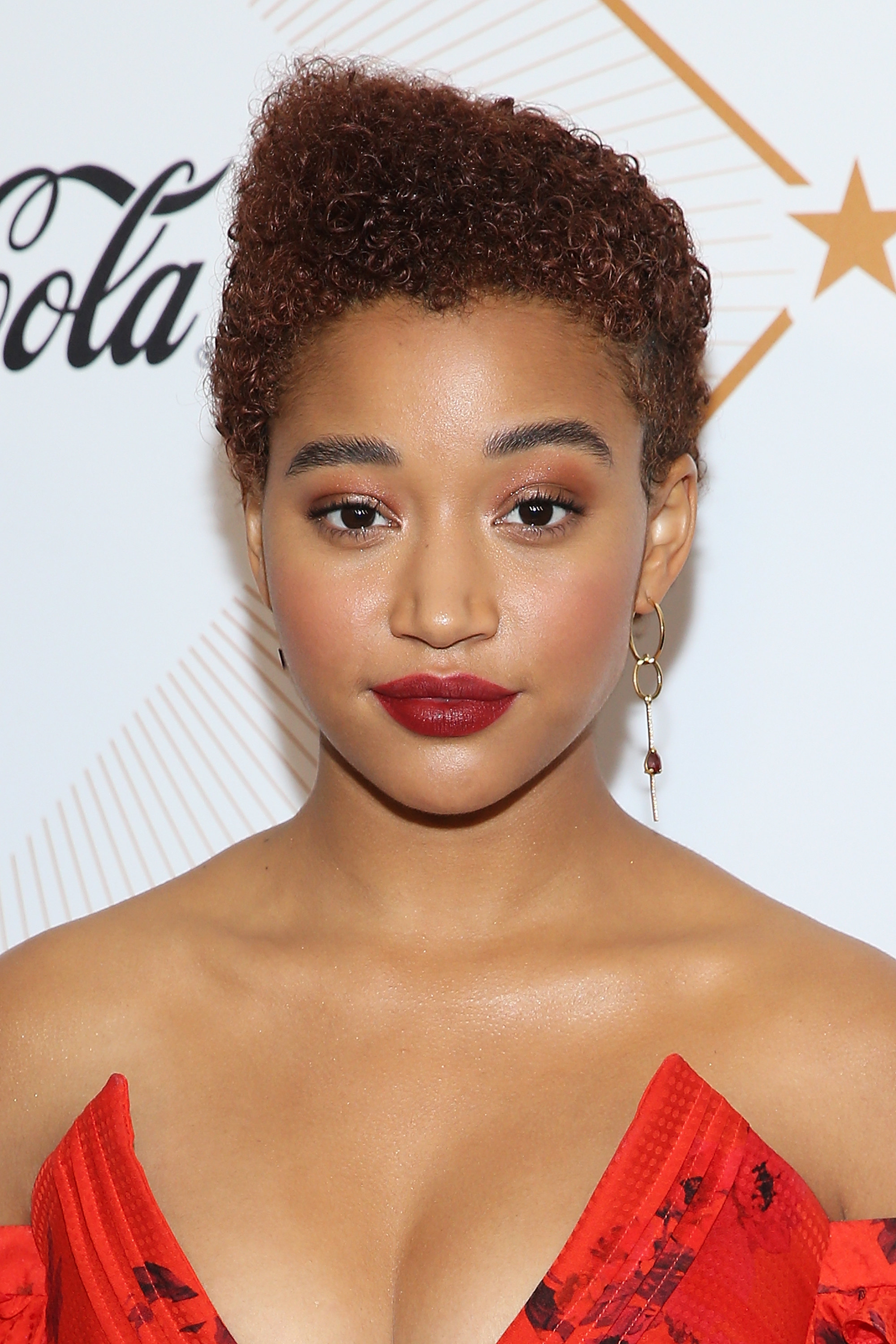 While some claimed that it was unprofessional for Amandla to react to a negative movie review, others acknowledged that it was reasonable for them to be unhappy by a reviewer "reducing the actresses to their breasts."
"If girls wearing tank top is considered sexualized, Lena should quit her NYT reviewer gig and go write high school dress codes instead," one person wrote on a Reddit forum.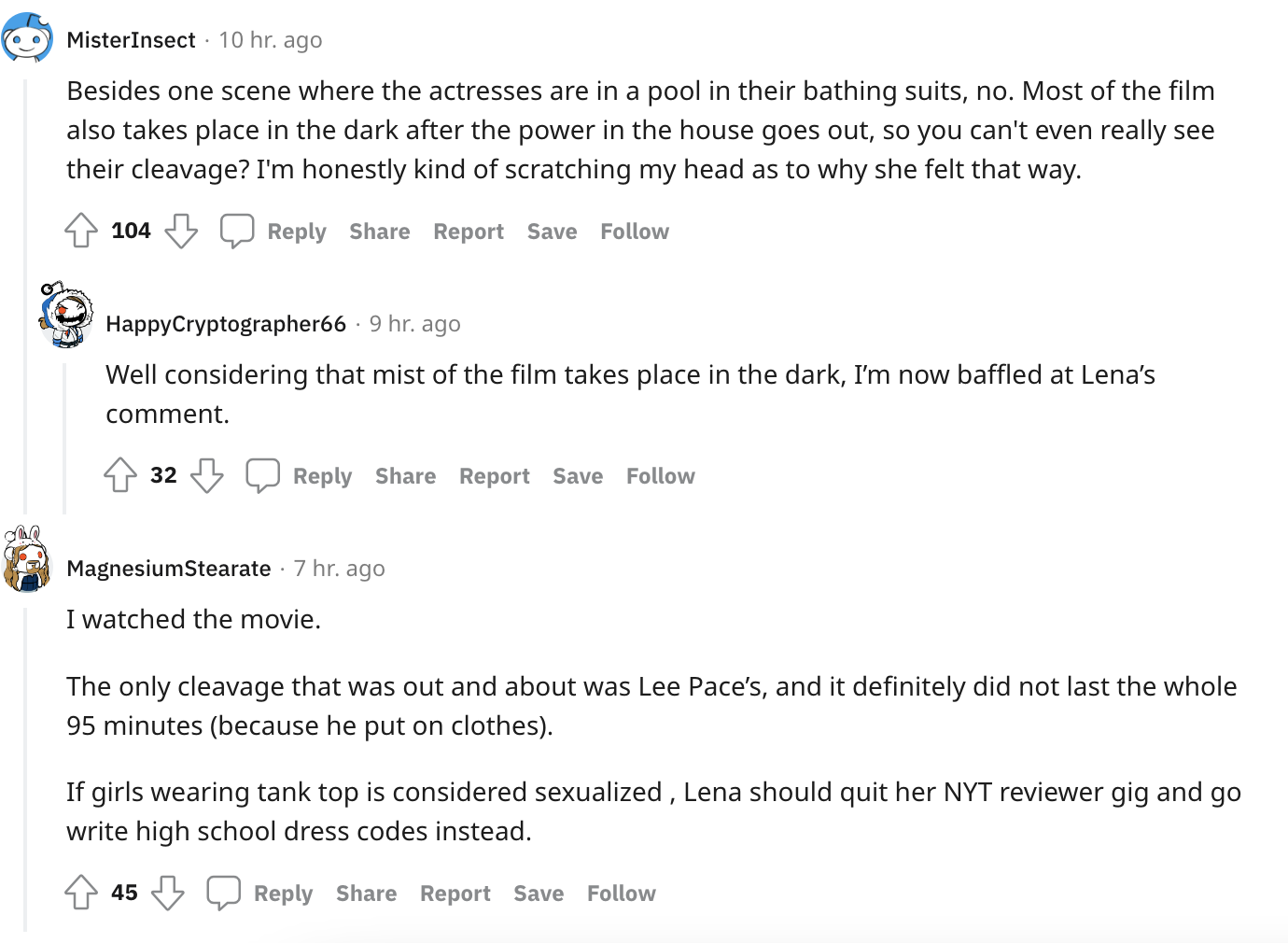 Another pointed out that it was Lena who publicized Amandla's message, adding: "Claiming Amandla's 'social power' was greater than hers despite lena being an employee of unknown indie publication the new york times AND being the one to publicize the private message."

"The tweet equivocating Amandla and 'random men on twitter dot com' was Not It either," a third person commented. "Even if Lena had good intentions, Amandla feeling upset because she thought her body was being discussed — which is very fair as a busty person — is not the same as straight men feeling entitled to seeing naked women on screen and getting angry when someone calls that out. It's weird that she's painting it all as 'Amandla just doesn't want the lesbian looking at her boobs.'"

"I saw Bodies Bodies Bodies last week and barely remember any nudity and cant even recall seeing [Amandla's] boobs," someone else wrote. "So major wtf towards the critic. The movie is basically in the dark the entire time and the characters are covered in mud and blood. So I can see why [Amandla] is annoyed."

"Very weird to accuse a black woman of being homophobic because she doesn't like you making weird bad faith comments about her breasts in a movie," one more added. Another commented: "To each their own, but I consider the review slut shaming. But whatever you call it the reviewer is reducing the actresses to their breasts and I can see why they responded."


Over on Twitter, one person said of Amandla: "Very un professional response to someone's criticism," but another replied: "very unprofessional of an established critic to be talking about 'all the cleavage' they saw as if that takes away from the film or it's acting at all… she mentioned their bodies first so amandla just gave the same energy."
Others highlighted Lena's comments on her TikTok post, where she suggested that Amandla was not well and needed help. "I will not be checking her story but I hope she gets well soon," Lena replied to one person who advised her to listen to what Amandla had to say.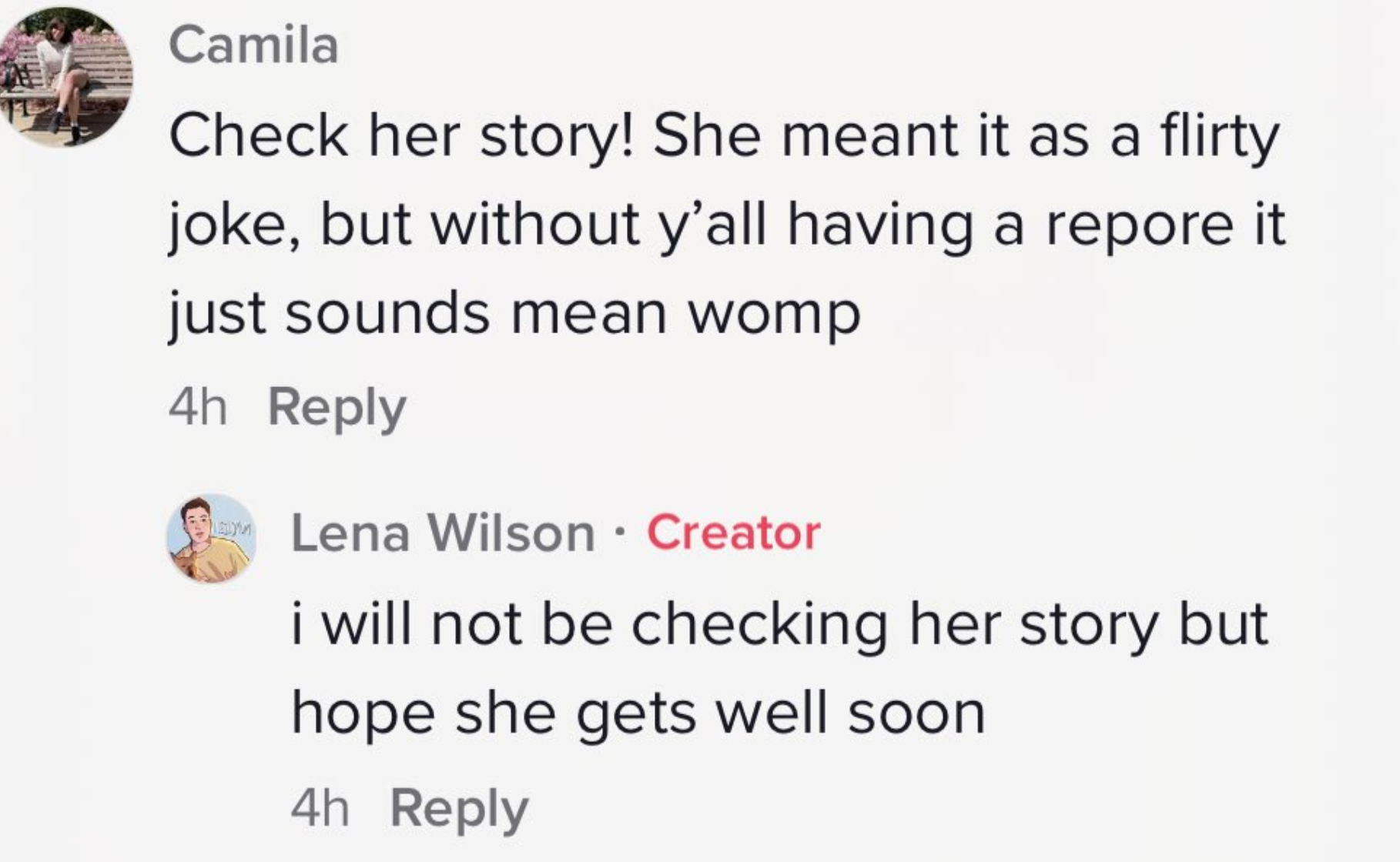 "I feel like I should post this to hold them accountable but it also really seems like she might be going through something so. truly wishing the best," Lena responded to someone else.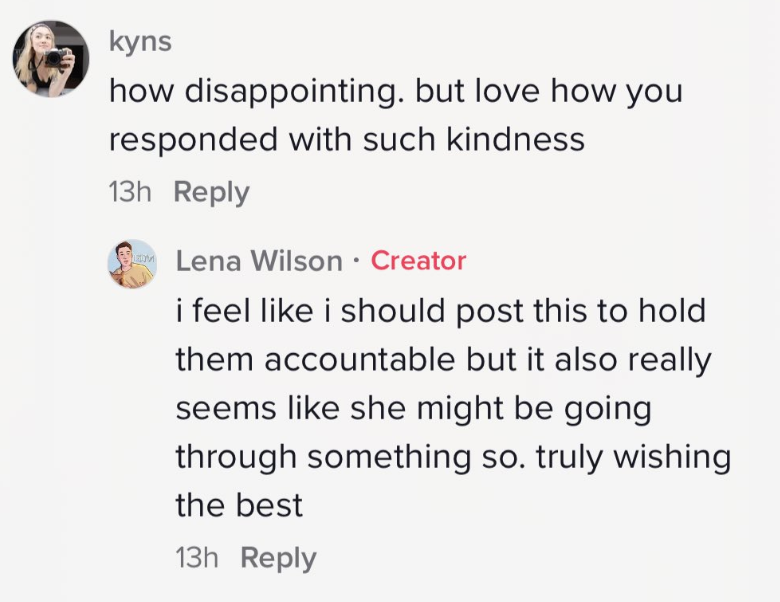 Sharing screenshots of Lena's comments, one person tweeted: "Suggesting [that] someone 'isn't well' because they had the NERVE to respond to her criticism. This is beyond unprofessional."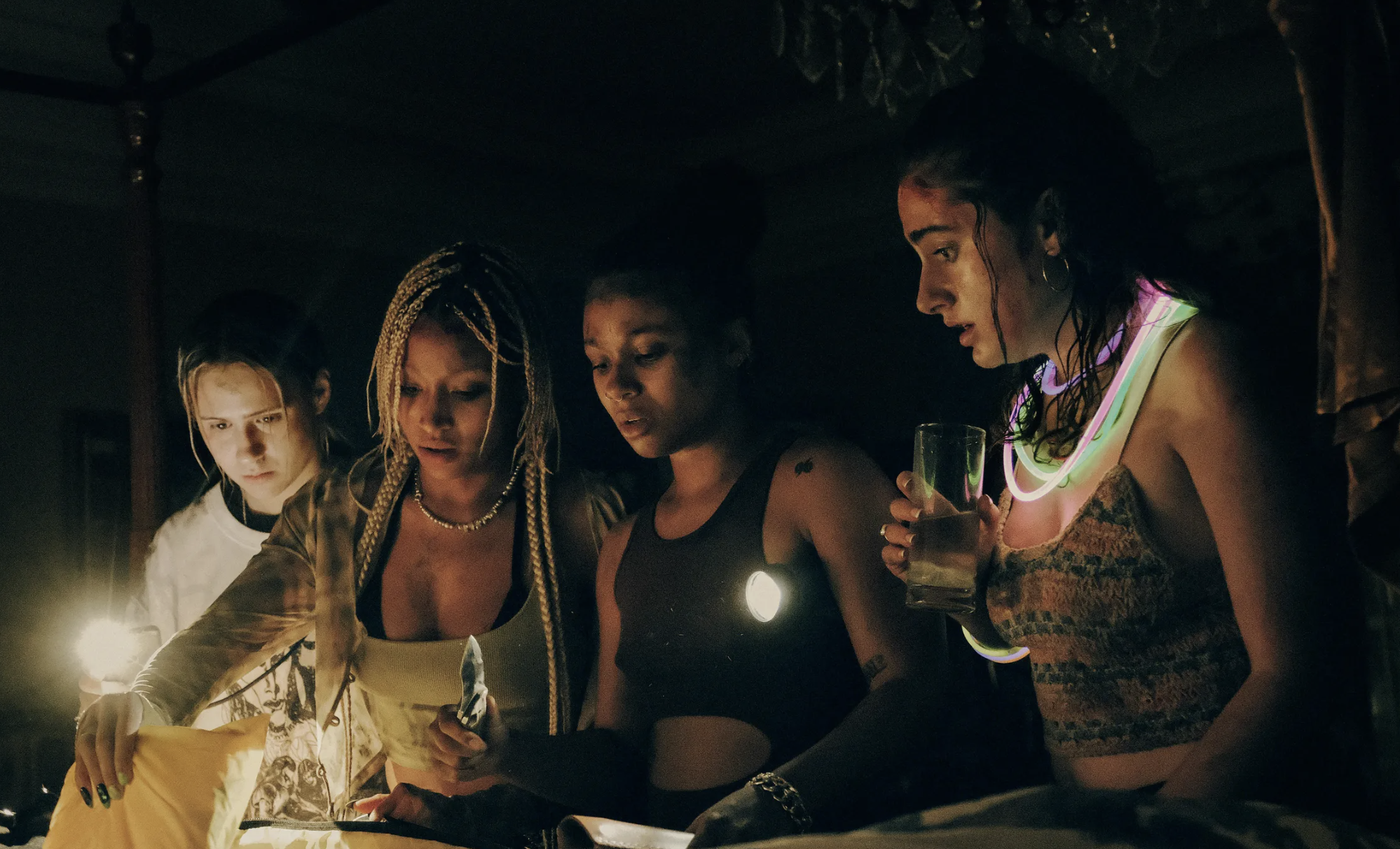 "This is getting worse and worse. Amandla inarticulately conveyed a fair criticism of an offhand remark in the original review that was pretty callous of L*na to make in the first place. The doubling down and positing that Amandla must be unwell is truly deranged," someone else wrote.
"Amandla's more than fine and ultimately it's a miscommunication and not a big deal but the same week everybody's talking about child stars and trauma and you're just wildly speculating that she's, idk, mentally unwell?? how do you think you ended up there??" another tweet read.