If you've ever googled "depression" to figure out if that's the name for what you're feeling, Google has now built a questionnaire to help you do just that.
Google already had a special feature that popped up at the top of search results for "depression" or "clinical depression," and it defined the condition and treatments for it. On Wednesday, the company announced that, for mobile search results in the United States, there will now also be a link to a built-in quiz to help people identify their symptoms and whether they should seek in-person help.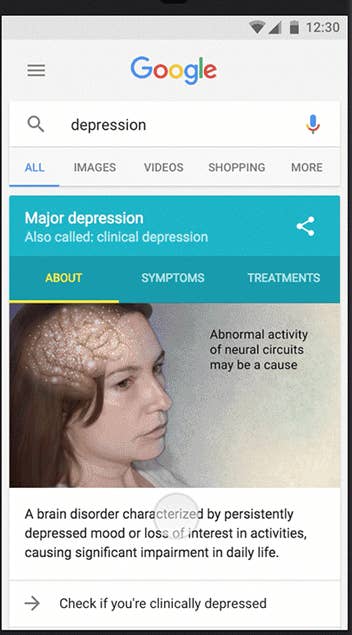 The feature is still rolling out to all users, but a sample question posted on Google's blog reads: "Over the past two weeks, how often have you been bothered by the following problem?: Little interest or pleasure in doing things." Options include "not at all," "several days," "more than half the days," and "nearly every day."
The company teamed up with the National Alliance on Mental Health to build the test, which is known in the mental health world as a "Patient Health Questionnaire-9" — a standard way of assessing a patient's symptoms. It's intended to be the first step in making information easier to access, the groups said.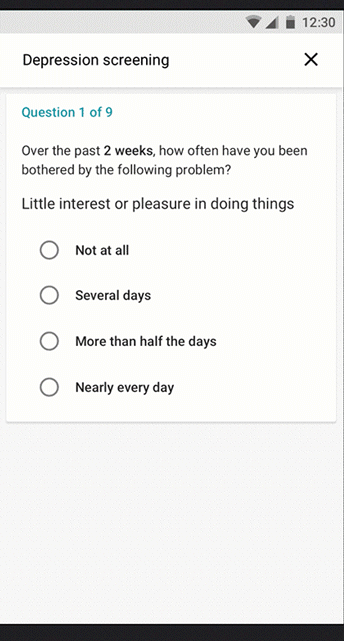 "Clinical depression is a very common condition — in fact, approximately one in five Americans experience an episode in their lifetime," Mary Giliberti, CEO of the National Alliance on Mental Health, wrote on Google's blog. "However, despite its prevalence, only about 50 percent of people who suffer from depression actually receive treatment."
From Google's point of view, the questionnaire serves the double benefit of giving people a reason to spend even more time on search results. One in 20 searches are for health-related information, the company has said.
So in early 2015, Google introduced blocks of information about more than 400 health and medical conditions — such as the one for depression — into its mobile search results.
Search results aside, Google's parent company has also shown interest in treating depression directly. Thomas Insel, a top neuroscientist and former director of the National Institute of Mental Health, was recruited to Verily, Alphabet's experimental life-sciences team, to develop ways of using smartphone sensors to screen for signs of depression and mental illness. He left this year for a startup with a similar mission.