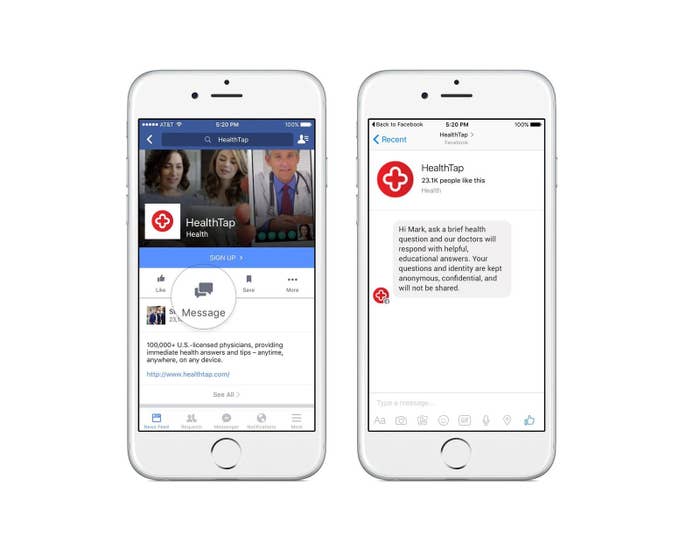 Facebook CEO Mark Zuckerberg announced Tuesday that Messenger was the fastest-growing app in the U.S. in 2015. Indeed, in the last year or so, Facebook has worked hard to make Messenger an indispensable digital one-stop-shop, beefing up what was once a a simple messaging app with features like video calling, peer-to-peer payments, a personal assistant called M — and now, a way to ask health questions, right in the app.
Starting today, you can send a (Facebook) message to HealthTap, a Palo Alto telemedicine startup; users can elect to either receive answers to similar questions in HealthTap's online database (instantly), or an answer from one of 100,000 physicians in HealthTap's network (usually within a few minutes, and all in under 24 hours, the company says). The service, which was announced as Facebook's F8 developers' conference took place Tuesday, is free.
While Google and Apple have invested in wellness and medical projects, this is Facebook's first effort to link its products with health services. "We want to make sure we're there for people when it's convenient for them," HealthTap CEO Ron Gutman told BuzzFeed News. "You don't need to open (another) app or go to a website. It's like having a discussion with your mom. You ask a question to a doctor and get an answer back."
HealthTap is one of several businesses that Facebook users can now directly message, including the shopping app Spring. "I've never met anyone who likes calling a business, and no one wants to install a new app for every service or business they want to interact with," Zuckerberg said at the conference.
Before you start tapping out an essay about your stomach pains and migraines, keep in mind this setup comes with caveats.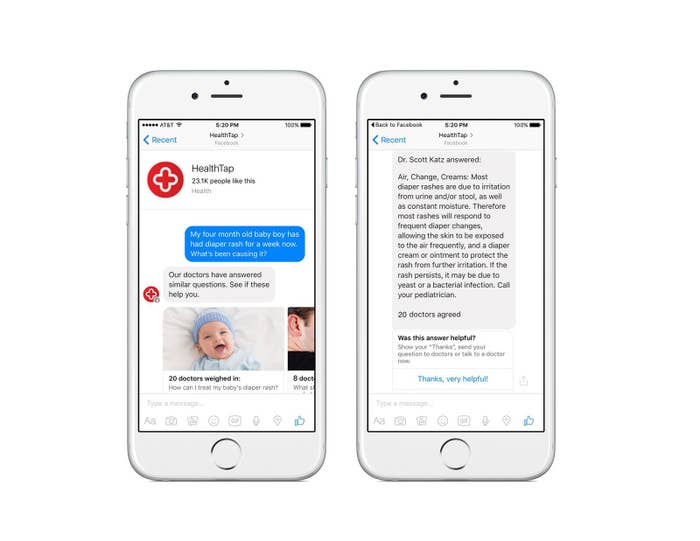 This is intended to be an educational service, not a replacement for visiting a doctor. So questions like "Can I drink alcohol while taking ibuprofen?" and "Is it OK to eat ___ if I'm diabetic?" are well-suited to Messenger, according to Gutman. This Q&A service is also free on HealthTap's app. Doctors are compensated by HealthTap in non-monetary ways, like getting continuing medical education credits.
But if you want to know why you have a fever and dizziness, a prescription for that ailment, a referral to a specialist, or to see and hear a doctor, you'd need to turn away from Messenger and sign up for HealthTap's premium service, which lets you video chat with doctors for $99 a month.
Given more than 1 billion Facebook users log on daily, it's very possible that HealthTap doctors will be overwhelmed with requests. But Gutman thinks the majority of questions can be handled by the 4 billion existing medical answers in HealthTap's library, which doctors have vetted and which an artificial intelligence-powered bot will automatically search and send to users.
Gutman said HealthTap has served "hundreds of millions of people" since it was founded in 2010, and its partnership with Facebook will surely introduce it to a few more. The deal sums up the choice before businesses as they seek to reach new users online: They can build and control their own apps and products — or they can rely on platforms, like Facebook, that are already enormous and will likely never stop wanting to grow.