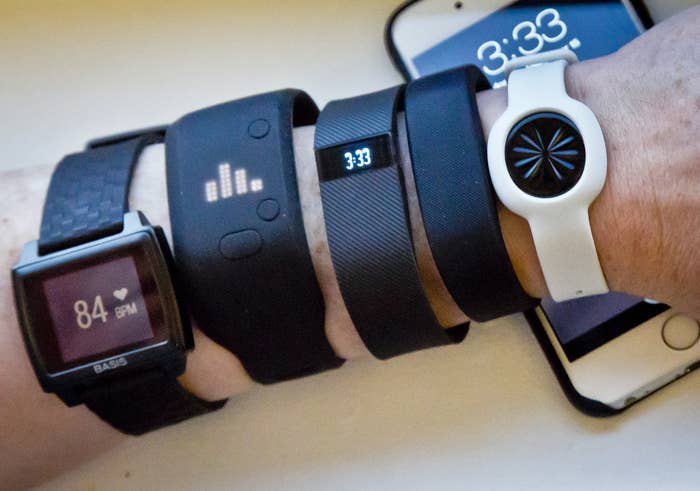 Lark launched in 2010 as a wearables company, with smart wristbands that fed data to fitness- and sleep-coaching apps.
But three years later, Lark changed course and ditched its gadgets on a bold gamble: The ultimate wearable wouldn't end up being a wearable at all. It would be the smartphone, the increasingly powerful sensor-filled device that millions of people already carry at all times.
Lark's artificial-intelligence app now coaches people on their fitness and sleeping habits, and it requires nothing but data quietly gathered by a chip inside the iPhone 5s and 6.
This chip automatically — and reliably — measures and distinguishes between walking, running, hiking, driving, and sitting, all while stashed in your pocket and using little battery. Tiny as it is, it stands to cannibalize hundreds of the activity trackers flooding the market. And that puts wearable heavyweights like Fitbit and Jawbone on the defensive.
"It is basically a 24-hour health sensor on your phone, in your pocket, all the time," Julia Hu, Lark's CEO, told BuzzFeed News. Lark is among a small but growing suite of health and fitness apps, including Moves, Strava Run, MapMyFitness, Nike+ Running, and Pedometer++, that can rely on just the iPhone to tell users about their movements.
It's no secret that people have short-lived relationships with activity trackers. They lose them, break them, stick them in the laundry, find them uncomfortable and ugly, get impatient with the battery life, or simply grow bored. One-third of U.S. consumers who have owned such a device stopped using it within six months of getting it, according to a survey by mobile consulting firm Endeavour Partners. And while 1 in 10 U.S. consumers owns a tracker, more than half of them no longer use it.
And those aren't the only reasons that standard wearables face potential extinction. The upcoming Apple Watch could also be a threat, because it will track fitness metrics like steps, although consumers may want it more for its other uses, such as messaging, calling, and calendar syncing.
The chip that could fell the wearables industry as we know it is called the M8 motion coprocessor, and it comes standard in the newest iPhones. It constantly measures steps, distance, and elevation change from the phone's compass, barometer, driving-detecting gyroscope, and distance-measuring accelerometer. The M8 is low-powered and doesn't require GPS to operate, so it doesn't drain battery life.
Many Android handsets also have an accelerometer that recognizes activities and steps, but this feature doesn't always work smoothly. Some phones are unable to use the accelerometer when the screen is off.
And smartphones appear to be just as accurate as wearables, if not more so. In a University of Pennsylvania study published this month, 14 participants walked on a treadmill for 500 and 1,500 steps and recorded their steps with 10 popular apps and wearables. The apps were only a little off from the steps counted by researchers — but the wearables' readings differed more.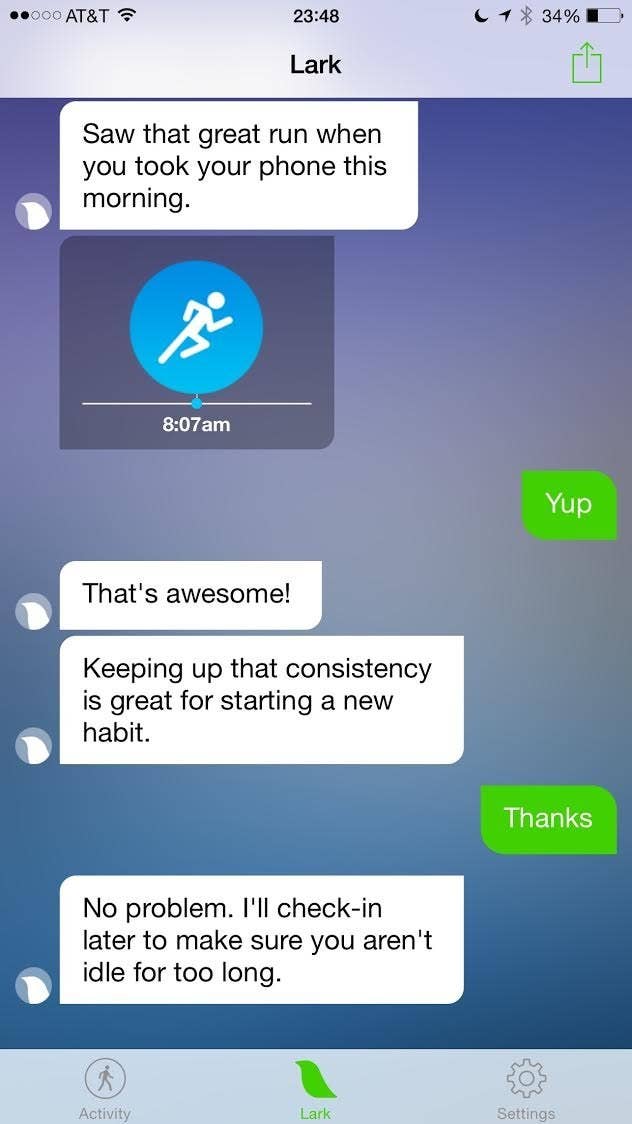 Even before the iPhone 5s came out, smartphone apps were shaping up to be the most promising direction for Lark, which by early 2013 had launched a sleep-tracking bracelet as well as a sleep and fitness tracker that received mixed reviews.
"If a phone could turn into your 24-hour wearable and could give us the data that was really rich, beyond just steps, then we realized we could have basically the top experts talk to you and coach you in your pocket 24/7," Hu said.
The result is a chat bot, now integrated with Apple's HealthKit platform, that texts back and forth with users in friendly, conversational language. It praises them for exercising, reminds them to work out if they've been sedentary, and offers tips for sleeping better after a rocky night.
Tracking apps by MapMyFitness also integrate with wearables, but can operate just off the iPhone by combining data from the GPS and M8, which automatically stores a week of users' fitness data. "They can get immediate feedback right then with their history of steps," said Jim Hanifen, senior product manager at MapMyFitness.
All these developments have at least one wearables company on the offensive: Last year, Fitbit yanked its gear from Apple Stores and refused to share tracking data with iOS 8's Health app. Yet even it, and Jawbone, lean on the iPhone's coprocessor. Both have released M8-reliant, gadget-independent apps in apparent recognition of the smartphone's tracking power — though the companies have built their empires around wearables.
"Consumers aren't sure whether they want to take that step into buying a dedicated device for tracking. So the app is an introductory thing," Fitbit CEO James Park told Recode last year. He also pointed out that few people carry phones on their person at all times.
Devices that track specialized biometrics will still appeal to athletes or patients who are highly motivated to improve their performance or chronic diseases, said Skip Fleshman, a partner at the venture capital firm Asset Management Ventures. But people who just want to lose a few pounds are much less likely to buy and stick with a wearable.
"Coprocessors like (the M8) will obviate the need for a wearable that doesn't have extra sensors or extra capability," said Fleshman, an investor in Lark and other early-stage digital health startups.
Movement tracking may be just the beginning. The ability to detect other elements, like location, light, and sound, could make the smartphone an even more robust health tool, said Dr. Daniel Kraft, a Stanford- and Harvard-trained physician-scientist who has founded multiple medical technology companies and teaches at the benefit corporation Singularity University.
"These will become not just dashboards for yourself to get some appreciation of your activity and your sleep," he said, "but will become potentially conduits of feedback loop for your physician and health care team if you have goals for health and wellness."