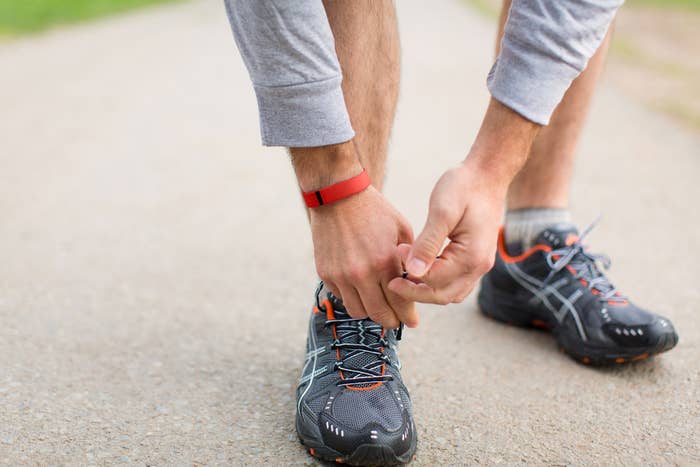 Kendra Albert has painstakingly logged a few million steps on wearable fitness trackers over the last four years. But the only proof of her hard-won progress resides on the servers of the company that makes them. For Albert, that data is almost as valuable and irreplaceable as photos or texts, and she worries what would happen if someday it were to become prohibitively expensive, or technically impossible, to export. "Getting locked into a specific provider would be unfortunate," the 25-year-old law student told BuzzFeed News.
As more people monitor every part of their health with gadgets and apps, a debate is emerging over a key question: Who owns the resulting data? A small but growing number of consumers, who've literally sweated for that information, say device makers should give them the tools to export, analyze, and delete the data as they please. But some of the leading fitness-tracking services haven't done much to make it easy to download data or integrate it into other systems — partly because they don't think most customers want to view their steps in massive Excel spreadsheets, and partly in a bid to keep them from taking their steps to a rival.
So over the last few years, a handful of programmers have built their own data-scraping tools for fitness apps. They're members of the Quantified Self movement, which uses self-tracking technologies to improve well-being, and part of a broader campaign to free our health data from institutions that have been historically slow to share it, be it for reasons technical, legal, or financial.
"The Quantified Self movement is fighting the same battles that patient advocates are," said Regina Holliday, a patient advocate in Grantsville, Maryland. Holliday believes her late husband, who died from kidney cancer in 2009, might have received better care if he'd had full access to his medical records.
"The idea is that all the data needs to be shared and needs to be able to follow the patient and be used in conjunction with each other," she said.
Owning data
Last June, Apple released Health, an iPhone app that's a dashboard for steps, calories, weight, sleep, and other metrics. You can manually enter data or import it from devices and apps. If you want to take that information off your phone, the app's built-in export feature generates a file like this: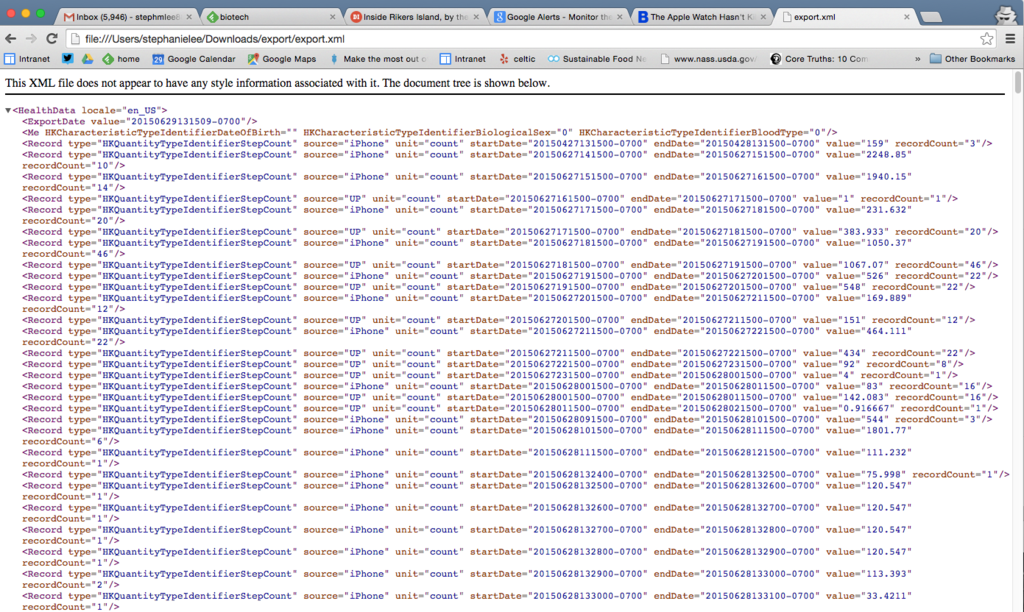 This format, called XML, isn't easy for the average consumer to open and crunch in Excel. That bothered programmers at Open mHealth, a nonprofit dedicated to standardizing health data through open-source code, and Quantified Self Labs, which organizes Quantified Self conferences. So they developed apps that extract Health data from the iPhone. Hipbone, which Open mHealth released last month, automatically converts the data to a more readable language and uploads it to Dropbox; QS Access compiles it into a simple table.
There are great reasons for having data like this on hand, Ernesto Ramirez, program director of Quantified Self Labs, told BuzzFeed News. Individuals might compare their hourly activity over different time periods to determine at what part of the day they're most active. They might use it to chart the difference in heart rate during a jog and a run, or to determine whether a move from city to suburb has made them sedentary. Neighbors in a particular community might share data with researchers hoping to map asthma hot spots or determine whether a new bike lane has inspired residents to bike more.
These are real-life examples of people putting their data to work, Ramirez said. "When personal data's freed up so individuals can be part of a community project, they can do things that are pretty fantastic."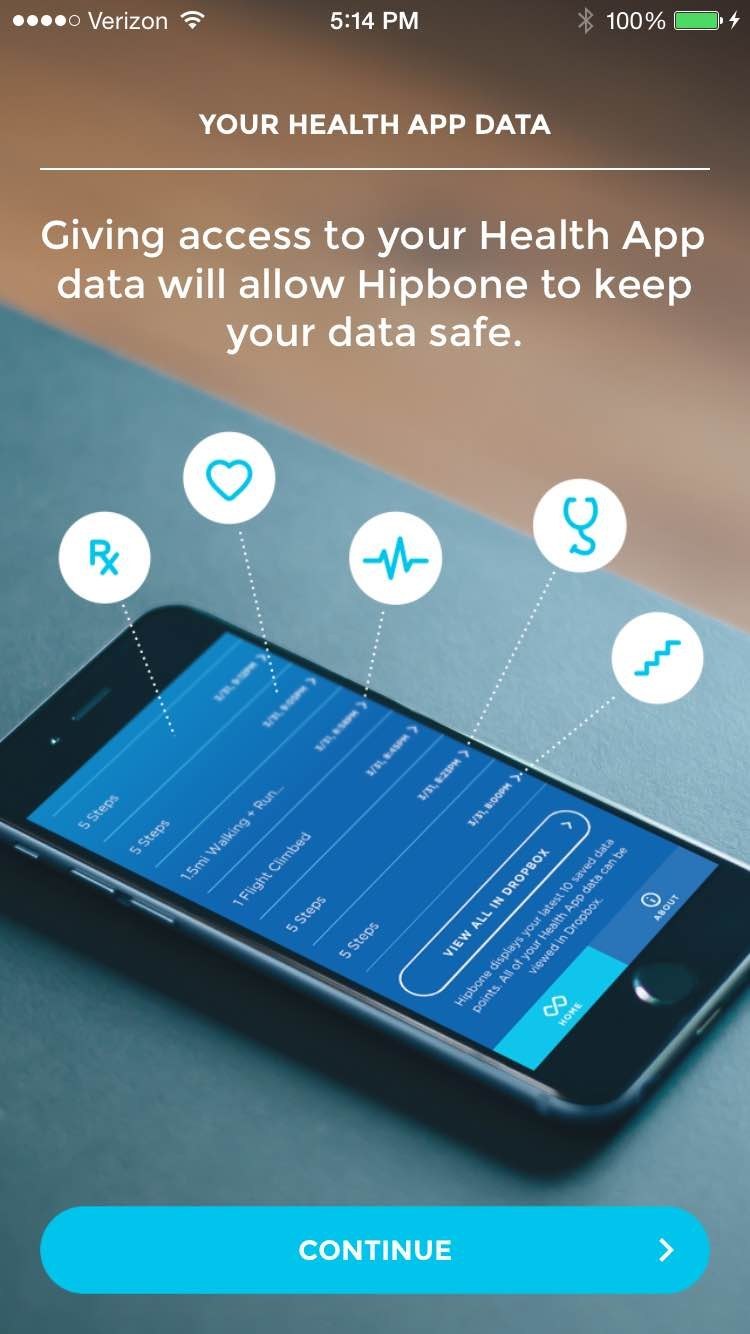 Different companies, different policies
Apple, which offers QS Access and Hipbone on its App Store, did not return requests for comment about whether it has heard complaints about Health's XML format. While data export is relatively painless on some fitness-tracking services — RunKeeper, Jawbone, Strava, Withings, MapMyFitness — it's less intuitive on others. MyFitnessPal members can export their logs to PDF, but those documents can be difficult to convert into spreadsheets. Nike+ Fuel and Nike+ Running lack export capabilities altogether. So does Google Fit.
Sources close to Google tell BuzzFeed News that may change. Meanwhile, customer requests have already inspired some other fitness-tracking companies to adjust their data export policies. Fitbit used to charge members $50 a year to download their records, but in January began offering that service for free due to popular demand. Some caveats remain, though: Fitbit, which controls an estimated 85% of the wireless activity tracker market and is worth $8 billion, provides daily total activity figures only — not hourly breakdowns — and has so far refused to support Apple's Health app.
That said, a Fitbit spokesperson said that users have always been able to connect to "hundreds" of outside apps and services. In general, too, fitness-tracking companies are increasingly allowing their customers to share data with other services, even if they don't yet support full-on export. Exporting is "something we continue to look at," MyFitnessPal spokesperson Rebecca Silliman told BuzzFeed News. "There's just so many things we're working on building and so many services we're integrating."
And Misfit Wearables, which doesn't offer a built-in export option in its app, recently integrated with Health, MyFitnessPal, and IFTTT (If This Then That), an automation service for internet-connected devices that can do things like export Misfit data into a third-party spreadsheet. There are also many other third-party workarounds.
It's worth noting that calls for greater control of our fitness data haven't yet begun to address the issue of deletion. And while companies like Fitbit, Jawbone, and Misfit allow users to delete their data, they also reserve the right to share user data in the event of a merger, acquisition, or other business deal.
"What the patients are doing is owning their data in a way that they have access to it at any time they want, and they can do whatever the hell they want with it," said David Haddad, Open mHealth's executive director. "They can sit on reams of it and not do anything. Or they can take it and actually build something useful, or pay someone else to dump it into a service that'd be useful for them." Beyond fitness-tracking
The quest to reclaim wearable-generated data is occurring against a larger backdrop of change in health care. Like the Quantified Self movement, a growing number of patients are demanding unfettered access to their medical records.
Patient advocates have doubled down on this idea in the last few months, following a Department of Health and Human Services proposal that would require hospitals receiving federal incentives through Medicare and Medicaid to meet a new electronic health record goal.
Currently, hospitals receiving such incentives must demonstrate that 5% of patients over 90 days have viewed, downloaded, or transmitted their medical data to another institution. Under the proposal, that requirement would be lowered to a single patient, which some hospitals have argued is an easier, more realistic target.
Holliday, the Maryland patient advocate, opposes the DHHS proposal. She contends it disincentivizes hospitals from encouraging patients to use their medical records. To demonstrate that patients are invested in their data, Holliday and others launched a "Get My Health Data" campaign over the July 4th weekend, a grassroots movement to request copies of health records from health care providers en masse.
Someday, Holliday says, she'd like to see our health records include a wider set of wellness data, including data collected by wearable fitness-tracking devices. "If you leave one element out, you don't have a real picture of the individual," she said.
For now, fitness-tracking data doesn't have a clear place in health care. As Dr. Bob Wachter, interim chair of medicine at the University of California, San Francisco, told BuzzFeed News, step count and heart rate data has limited clinical uses. It's most useful as a tool for monitoring patients with a diagnosed heart condition, or for motivating someone to work out more.
But wearable technology is still a nascent industry. And future devices will almost certainly gather data that's more clinically and medically relevant. Google is working on a contact lens to measure the glucose content of a diabetic's tears, and the Apple Watch may someday measure blood oxygen. Data like that could be very useful, especially if it were woven into a future electronic health record system that made it easy to analyze and access.
"I think we're going to rethink what an EHR [electronic health record] is over time," Wachter said. "These things won't be separable. There's a whole world of consumer-facing data collection that will involve everything from a sensor to a wearable to perhaps a survey you fill out every day that shows up in your email."
Does that data live in a computerized record, alongside your doctor's notes? Or in your Apple Watch?
It's far too early to tell. But, Wachter said, "At the end the day, all these things need to connect."