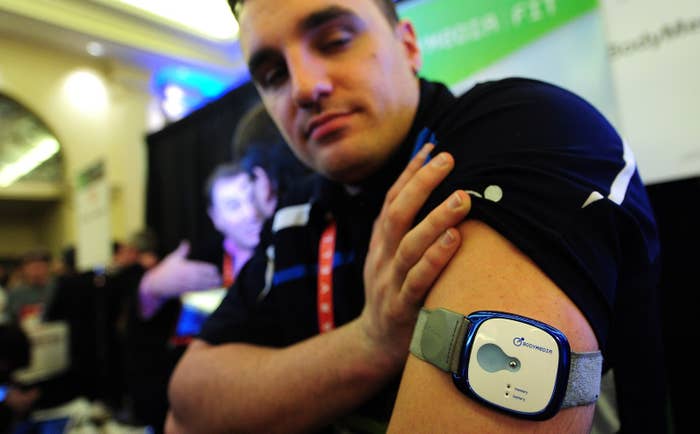 Whether he was dancing at Burning Man or biking through San Francisco, Greg Schwartz always trusted his BodyMedia Fit armband to track his activity. So when BodyMedia announced that, as of Jan. 31, its customers would no longer be able to access their data as the result of the company being acquired by Jawbone, Schwartz was disappointed. But what really frustrated him was the process of exporting his data before the shutdown.
BodyMedia's website let him download the totals of various activity levels logged per day. Yet Schwartz, who is on an ongoing and concerted quest to understand his health, wanted his data down to the minute.
As a member of the Quantified Self community, he probably cares about this data more than most people do — and yet, he argues, he and all other customers have a right to it in full.
"If I told you, 'You uploaded photos to our photo-backup website and you can't have them, we're going out of business, goodbye,' people would scream," Schwartz, a 32-year-old freelance user experience designer and online dating coach, told BuzzFeed News. "It isn't really fair to say, 'Oh, it's just data and sorry, you can't have it' or 'We're going to make you jump through hoops to get it.' It's something I think a lot of companies don't get yet and are starting to as this kind of thing happens."
Wearables startups have proliferated over the last decade or so. But as some of them get acquired, close, or change business models, customers are starting to find that it can be tricky to get large volumes of irreplaceable biometric data off their servers. For some, it's merely annoying; others see potentially bigger privacy issues in whether they're allowed to delete their data before a shutdown — or how a company might continue using it after it cuts off access.
Those questions could grow as the wearables industry begins to shrink to a handful of power players. (Last year, for example, Misfit was acquired by watchmaker Fossil, and Adidas bought the app and wearable maker Runtastic.) While relatively few people used BodyMedia until the end, it's not hard to imagine that at least some of Fitbit's customers would be peeved if the company were to theoretically go out of business and take away or limit access to their data.
In a way, it's the latest version of a classic problem: Data formats tend to become obsolete as technologies come and go, making it hard or impossible to read a floppy disc, watch a VHS tape, or listen to a CD.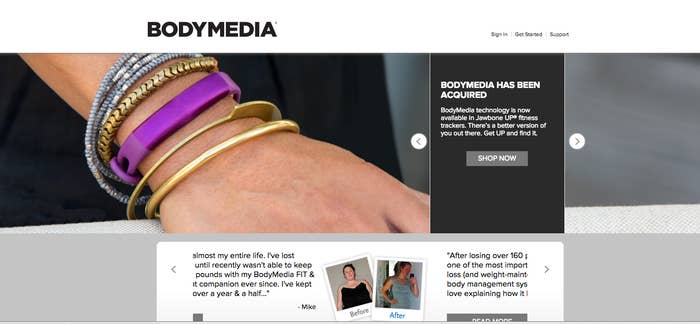 Jawbone, which has its own financial woes, snapped up BodyMedia for more than $100 million in 2013 in part to acquire its health- and fitness-tracking patents. (Jawbone is now claiming in a lawsuit that Fitbit infringed some of these patents.)
BodyMedia stopped selling devices in October 2014 and gave customers more than a month's notice before it shut down its website and started redirecting traffic to Jawbone. Mimi Huggins, a Jawbone spokesperson, said BodyMedia data was given to customers in daily totals so it'd be easy to understand. "Downloading data in full has never been an option for BodyMedia users, and it was not the expectation when the product was for sale," she told BuzzFeed News in an email, adding that she did not know of any complaints made to the company.

Schwartz went so far as to devise a complex work-around for other BodyMedia users, but he couldn't do the same when it came to another startup, Lark. Last fall, Lark announced that it would shut down the servers that supported its old sleep-coaching wristband and app. "That means we will be deleting the data and no longer have access to it," Lark told customers in an email and on its website. "Unfortunately, there is no way to export your data."
"If you went to a repair shop and you had sent them a computer to get repaired and they went out of business, it would be unethical of them to say, 'We sold your computer at auction,'" Schwartz said. "That'd be absurd. But that's what they're doing with data."
Lark CEO Julia Hu said that users' historic data can still be viewed, though not downloaded. "As a startup, we did not build out a data export feature, instead focusing on improving the user experience, so unfortunately individuals are not able to export their data," she said in an email. Lark now runs an artificial-intelligence-powered health and fitness app.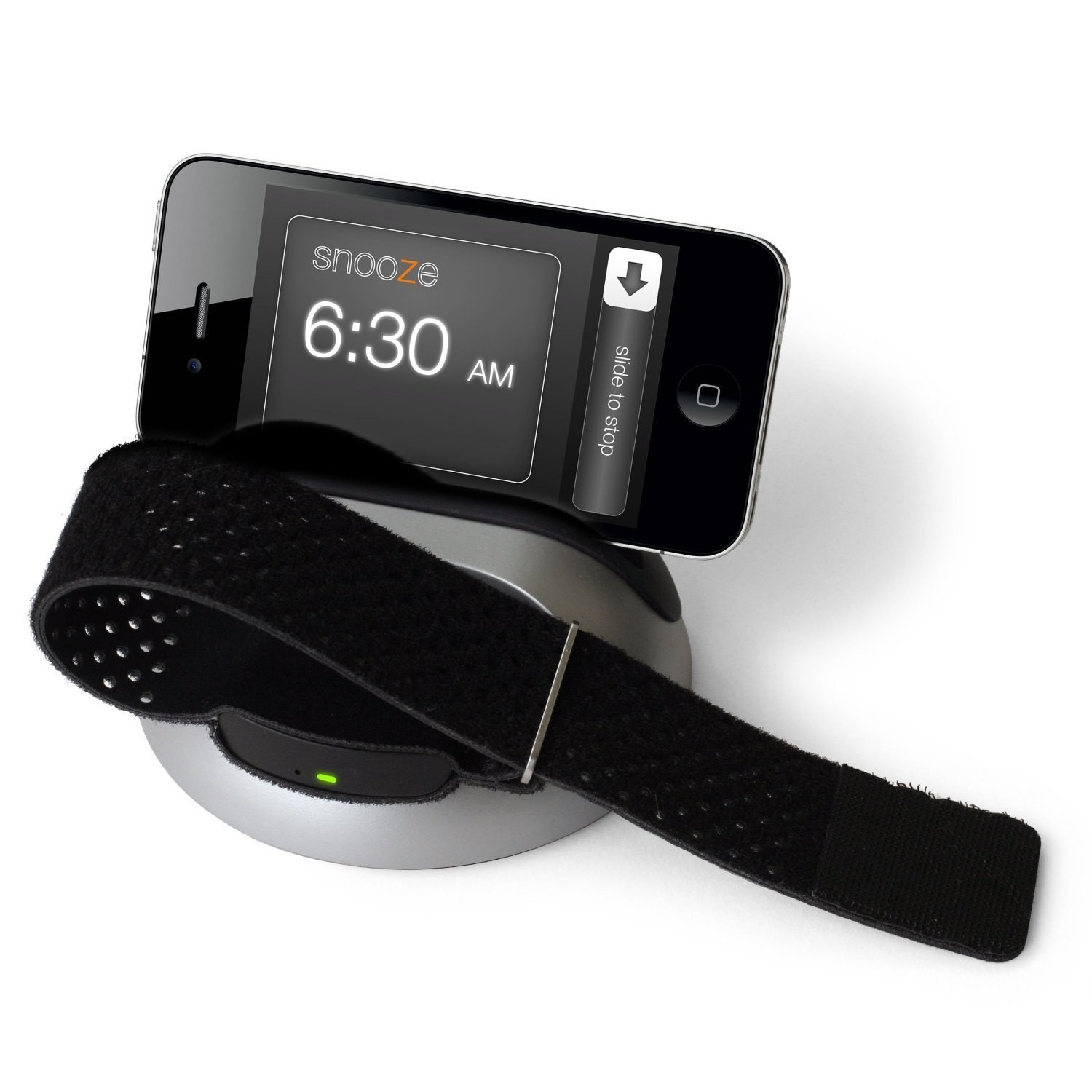 A potentially bigger privacy issue, though, is how a company might use customers' data after they cut off access to it. Lark customers weren't given a chance to delete their old sleep data, according to a Lark spokesperson. She said that the company is not doing anything with that data and it "will never be publicly disclosed to third parties." But Lark's privacy policy notes that it may sell customers' personal information in the event of an acquisition or bankruptcy.
Huggins noted that Jawbone is "not actively using BodyMedia data as most members left quite a bit ago and are using other devices," including Jawbone's. Still, Jawbone does have the ability to continue using their information — to develop its products and services, for example — and can sell it as part of a merger or acquisition, according to its privacy policy. And, Huggins said, BodyMedia members also weren't able to delete data from the platform before the shutdown.
Richard Sprague, a tech entrepreneur in Seattle, learned about data loss the hard way. He started wearing a sleep-tracking headband from a startup called Zeo around 2010. Periodically, he would plug a chip from the device into his computer and log on to Zeo's website, the only way customers could unencrypt their encrypted sleep data. But Sprague stopped being able to do that in 2013, when, with no prior warning, Zeo shut down.
Sprague, 52, isn't even sure where his data exists now, if anywhere, which annoys him: "When there's data about myself, I want to be able to keep it."
But at the same time, he understands that it won't be the last time this happens to him and other early adopters. "That's kind of the price you pay for being at the cutting edge," he said.