For Cassandra Smolcic, the trouble began at her dream internship. Handpicked to spend a summer working on movies at Pixar, the 26-year-old logged marathon hours, and more than a few all-nighters, at her computer and tablet. At first, she managed to ignore the mysterious pinching sensations in her hands and forearms. But by the time her internship ended and a full-time job offer rolled in, she could barely move her fingers.
For Skylar, a 12-year-old in South Florida who loves her laptop, phone, and tablet, the breaking point came at the start of sixth grade last fall. Suddenly her neck, shoulders, and back felt strained whenever she rolled her head, as if invisible hands were yanking muscles apart from the inside. All her neck-rolling, she worried, made her look like she was trying to cheat off someone's test.
To be a perpetually plugged-in, emailing, texting, sexting, swiping, Snapchatting, selfie-taking human being in 2016, a little thumb twinge is the price of admission. There are the media-anointed outliers: the Candy Crusher with a ruptured thumb tendon, the woman who over-texted her way to "WhatsAppitis." And then there are people like the 18-year-old woman who said, "If I'm scrolling down Tumblr for more than half an hour, my fingers will get sore." "When I hold my phone," a 22-year-old complained, cradling her iPhone in her palm, "my bottom finger really hurts." A 30-year-old software engineer said his fingers "naturally curl inwards," claw-like: "I remember my hand did not quite use to be like that." Amy Luo, 27, suspects her iPhone 6s is partly to blame for the numbness in her right thumb and wrist. Compared with her old iPhone, she said, "you have to stretch a lot more, and it's heavier." Dr. Patrick Lang, a San Francisco hand surgeon, sees more and more twenty- and thirtysomething tech employees with inexplicable debilitating pain in their upper limbs. "I consider it like an epidemic," he said, "particularly in this city."
"I consider it like an epidemic, particularly in San Francisco."
To be clear, no one knows just how bad this "epidemic" is. At best, we learn to endure our stiff necks and throbbing thumbs. At worst, a generation of people damage their bodies without realizing it. In all likelihood, we are somewhere in the middle, between perturbance and public health crisis, but for the time being we simply don't — can't — know what all these machines will do to our bodies in the long term, especially in the absence of definitive research. What we do know is that now more people are using multiple electronics — cell phones, smartphones, tablets, laptops, desktops — for more hours a day, starting at ever earlier ages. But we weren't built for them.


Growing up in the Rust Belt city of Greensburg, Pennsylvania, Smolcic was the kid who was always sketching characters from movies and cartoons. And in her adolescent years in the '90s, computers became an important tool for honing her artistic talents: She made clip-art greeting cards and banners, and high school newspaper layouts, on desktop computers. At Susquehanna University, she went all in on graphic design as a career after she took a computer arts course on a whim. That meant long hours on various iMacs, and even more screen time when she went on to earn a master's in graphic design at the Savannah College of Art and Design. Over the years, she's also carried a flip phone, a Motorola Razr, a Dell laptop, and, at the moment, a MacBook Pro and an iPhone 6s.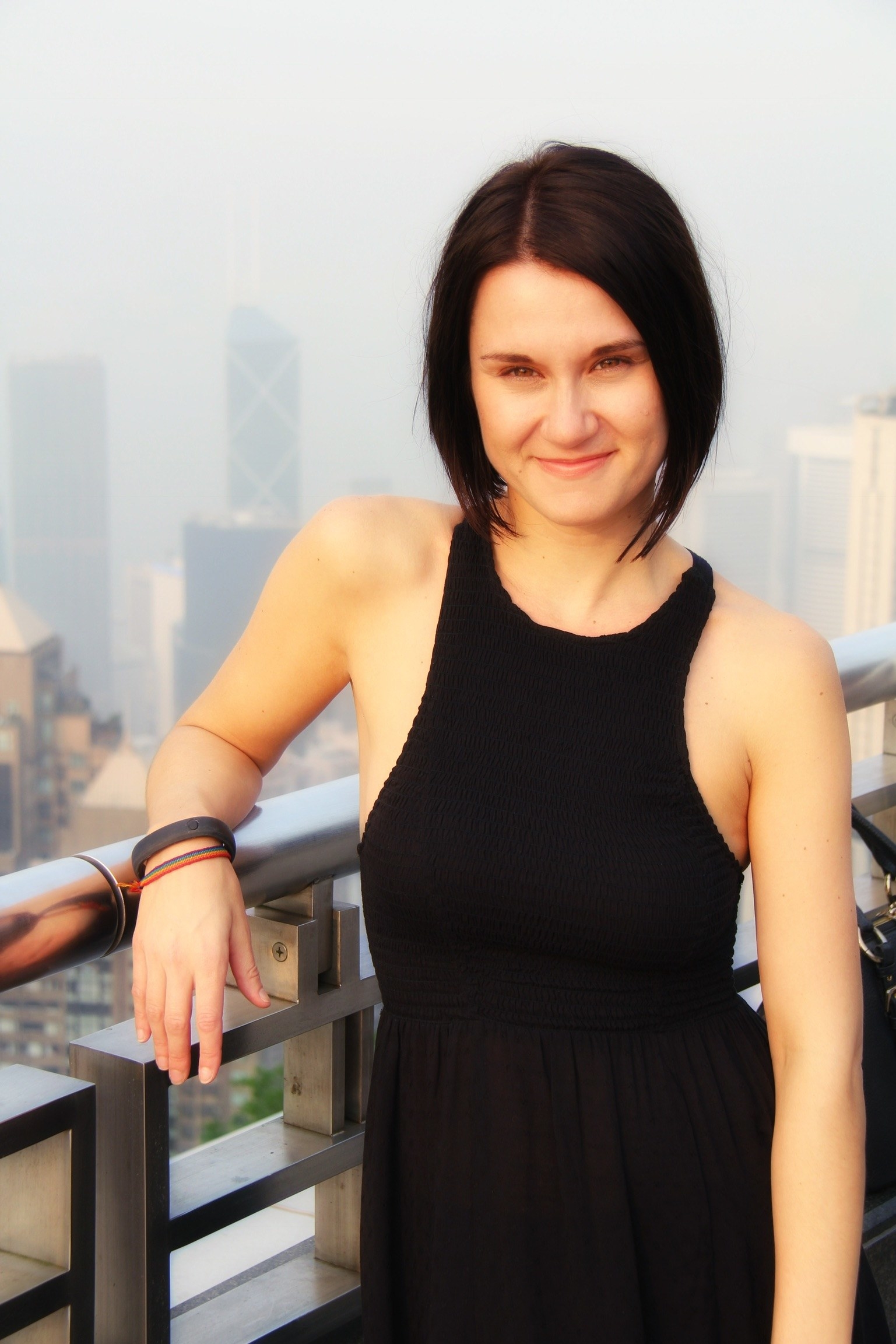 Machines were crucial to Smolcic's burgeoning artistic career, as they are to so many of our lives. But it'd be hard to call them human-friendly.
Consider the minimum biomechanics needed to work a smartphone. Put aside all the other risks — of getting depressed and lonely; of sacrificing sleep, hearing, eyesight, and focus; of dying while snapping selfies on cliffs, or texting while walking or driving. The act of just using the thing is precarious.
Our heads sit atop our necks and line up with our shoulders and arms, just as a two-footed species' should. But a forward-leaning head shakes up this graceful arrangement: The upper body drifts back, the hips tilt forward, and pretty much everything else — the spine, the nerves below the neck, the upper limb muscles — tightens up. Slouching is all too easy when we hold a phone in our outstretched hand or reach for a mouse. When we type on our laptops cross-legged or sprawled on our stomachs, our necks and shoulders strain from leaning into the low screens. (Yes, as counterintuitive as it sounds, you probably shouldn't put a laptop on your lap.)
Our hands are uniquely capable of grasping objects, a useful trait for our branch–swinging primate ancestors. Especially remarkable are our opposable thumbs, free to flex, extend, curl, and press in all sorts of directions. But their inherently unstable joints didn't evolve to be constantly pushed beyond their range of motion. Yet they are when we flick through our phones or, worse, tablets.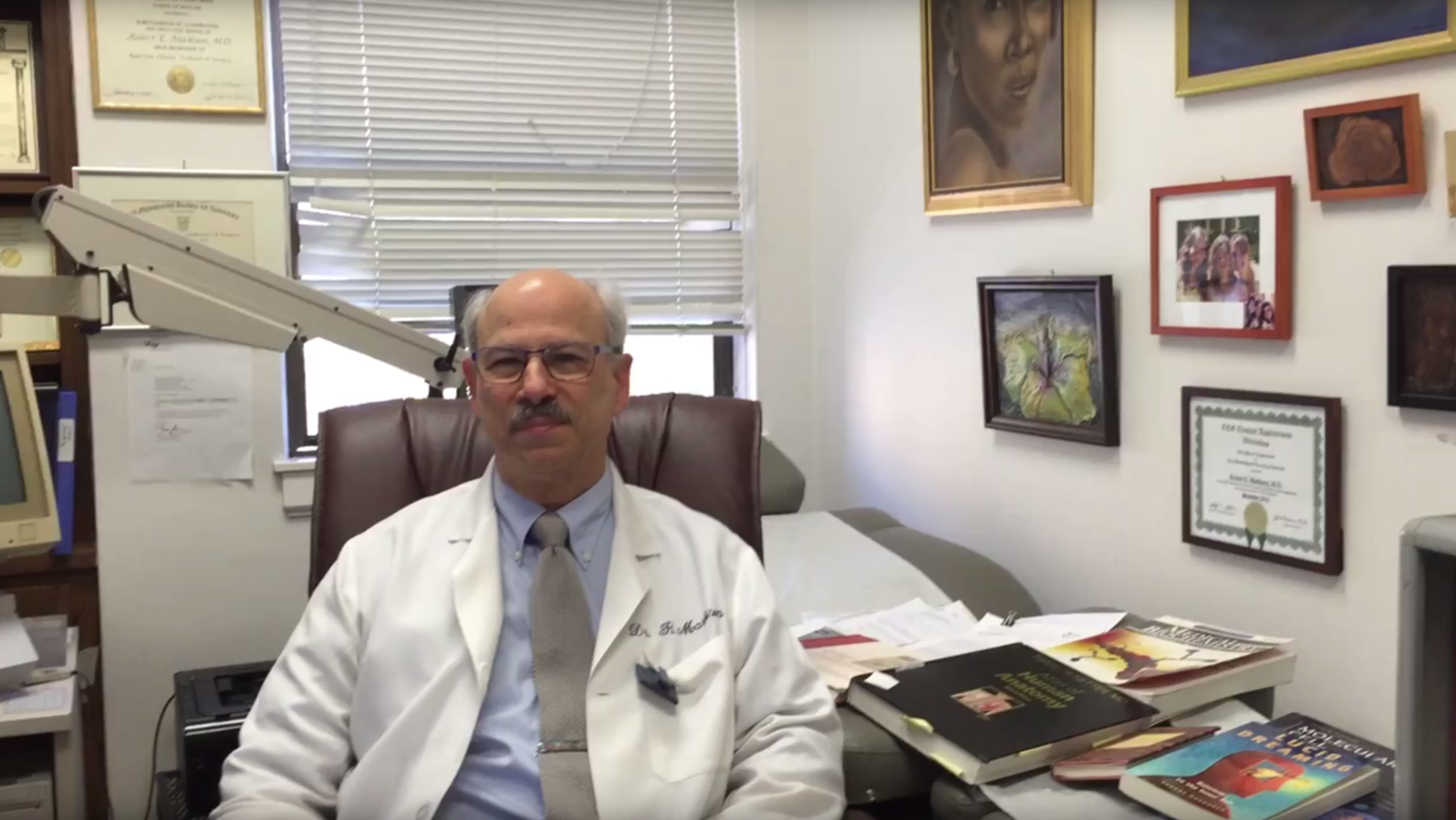 To Dr. Robert Markison, it's clear: Virtually none of Silicon Valley's inventions, from the clunky Macintosh 128K of 1984 to the sleek iPhone 7, have been designed with respect for the human form. Markison is a San Francisco surgeon who depends on his hands to operate on other people's hands. He so believes in technology's potential to harm — and treats so many young startup workers who confirm that suspicion — that he almost exclusively uses voice recognition software. He also has his own line of smartphone styluses that double as pens, with colorful barrels made of manually mixed pigments, pressure-cast resin, and hand-dyed silk.
On a recent afternoon in his office, Markison asked me to make a fist around a grip strength measurement tool, with my thumb facing the ceiling. It felt powerful, easy. Then he had me turn my palm to the floor, the keyboarding stance of a white-collar worker, and do the same thing; my grip immediately lost a noticeable amount of strength. "There's no reason to think a mouse is a good idea," Markison said.
Of course, many people with office jobs probably suspect that already. During the '80s and '90s, when computers — then also known as "video display terminals" — invaded workplaces around the world, employees felt their arms and fingers go numb, and headlines warned of the harm these newfangled devices appeared to be inflicting. In the early '90s, telephone operators, journalists, clerical workers, and employees from other fields filed hundreds of lawsuits against the manufacturers of equipment such as computer keyboards, which they blamed for severe arm, wrist, and hand injuries.
All that worry woke a generation up to the physical (and psychological) toll of automated, ultra-efficient work. Then came furniture and appliances to align technology with our bodies. Ergonomic mice are gripped vertically, and foot mice save clicks. Slanted and split keyboards let hands relax. Desks convert to a standing position or have adjustable split levels for monitors and keyboards. Some software transcribes speech, other software alerts your boss when you type too fast.
But these inventions have been largely for desktops. The dizzying rise of cell phones, tablets, and laptops, fueled by the rush to make screens ever more portable and ubiquitous, have all but left human-centered design principles in the dust.

Chances are good you're reading this on your phone. In fact, chances are good your phone was the first thing you looked at this morning and the last thing you looked at last night. Wake up to a phone alarm. Scroll, bleary-eyed, through email, texts, Facebook, Twitter, Instagram. Field more news and email on your phone on public transit (or, er, in the car). Sit behind a computer of some kind at work or school. All day your buzzing phone demands to be held, whether you're out to lunch or, admit it, on the toilet. Come reverse commute, you're once again head down on your phone, or an e-reader, until you finally take a break at home — by watching Game of Thrones on your laptop or tablet. Bonus points if you play Words With Friends while you do it.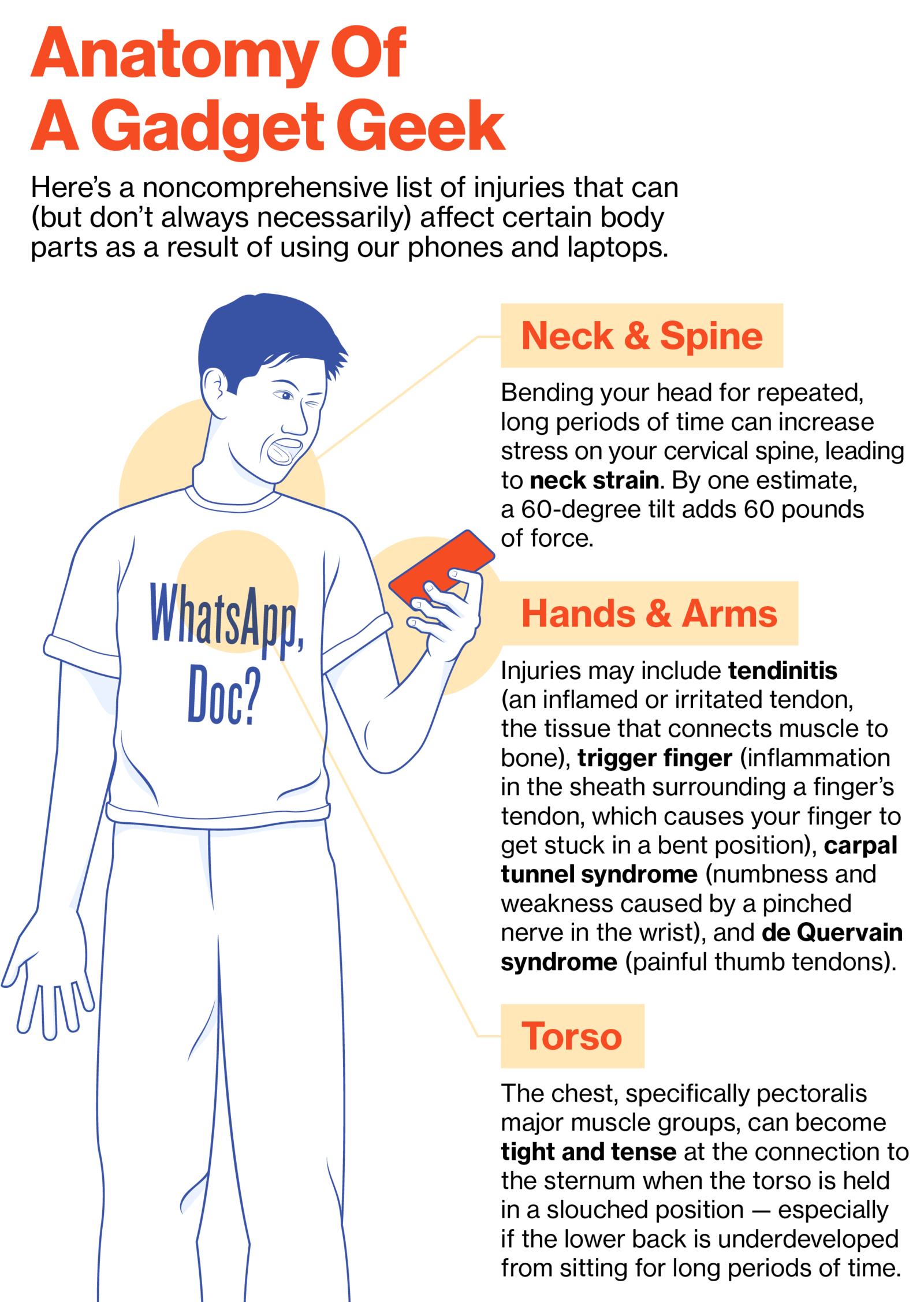 Last year alone, an estimated 164 million laptops and 207 million tablets were sold worldwide. Sixty-three percent of the world's population had a mobile subscription; by 2020, more than 2.5 billion new smartphone connections are predicted to come online. We are surrounded by gadgets. Luo's hand may hurt from holding her iPhone, yet her lifestyle leaves her little choice but to swipe and soldier on. "I have considered being on the phone less," said the Twitter product designer, "but it's kind of hard because it's how I keep in touch with my friends and everything." Her doctor told her to "absolutely stop" laptop work. Luo admits she doesn't listen.
Eighteen hours, from waking up at 7 a.m. to going to bed at 1 — that's how long Owen Savir, 35, says he's on his Nexus 6P every day. (He keeps busy as the president of Beepi, an online car marketplace.) Savir's pinkie sometimes goes numb under his phone, and the cover cuts his skin so much it needs a Band-Aid.
How would he feel, I asked, if his phone got taken away?
He paused. "I would use my other phone."
"I have considered being on the phone less, but it's kind of hard because it's how I keep in touch with my friends and everything."
Scientists don't definitively know how all this activity affects our bodies. While some studies link hand ailments to heavy computer and video game use, far fewer have examined new devices like smartphones. "The phones have only been out 10 to 15 years at best," said Jack Dennerlein, who directs the Occupational Biomechanics and Ergonomics Laboratory at Harvard University. "We haven't had the long-term exposures to start seeing some of the more chronic issues that come up later in life."
No reliable measurement of technology-related ailments exists. The closest thing is an annual survey of workplace injuries by the US Bureau of Labor Statistics, whose data suggests that cases of musculoskeletal disorders, including carpal tunnel syndrome, have dropped over the last two decades. But these figures are at best "a very crude measure" of problems, said Dr. Kurt Hegmann, who directs the University of Utah's Rocky Mountain Center for Occupational and Environmental Health. As Dennerlein put it: "They're better than nothing."
Hegmann offers some theories for why the numbers are shrinking: High-risk jobs like manufacturing are decreasing. Panicked workers in the '90s likely reported nonexistent ailments before the hysteria subsided. Some offices may have became more ergonomic. And there are other reasons the numbers are probably off: Non-work-related factors like obesity can contribute to carpal tunnel, and if you're constantly sending work emails but also Instagramming for fun, it's hard to blame your sore hand on work alone.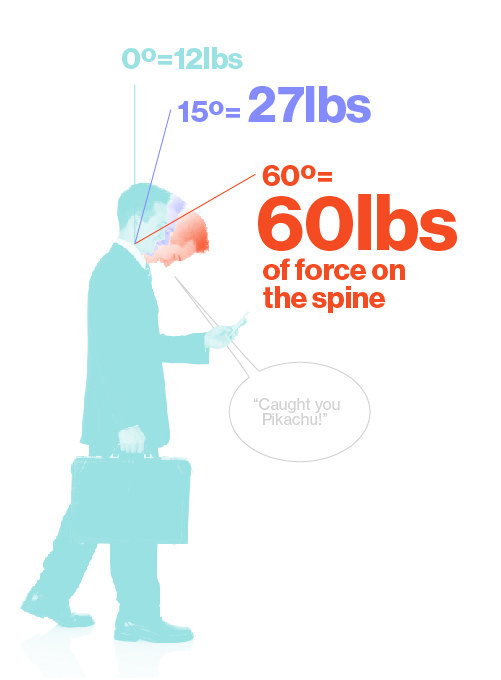 However widespread phone-linked injuries may or may not be, a small cluster of studies suggests that they are real. A 2011 study of nearly 140 mobile device users linked internet time to right thumb pain, as well as overall screen time to right shoulder and neck discomfort. Another found that smartphone overuse enlarges the nerve involved in carpal tunnel, causes thumb pain, and hinders the hand's ability to do things like pinch.
Upright, an adult's head puts about a dozen pounds of force on the spine, according to a 2014 paper. But tilted 15 degrees, as if over a phone, the force surges to 27 pounds, and to 60 pounds at 60 degrees. (That's the weight of four Thanksgiving turkeys.)
"It's harmful when you're younger, because the bones are still malleable and pliable and they may be disformed permanently," said New York spinal surgeon Dr. Kenneth Hansraj, who wrote the paper after treating a patient "head down in his iPad, playing Angry Birds four hours a day." Older people can suffer too, he said, because their spines are prone to narrowing, making them susceptible to injury.
But the doctor insists he's no "cell phone basher." "I love the ability to have a cup of coffee and contact 10 of my friends in 10 countries with one text and say, 'I love this coffee,'" he said. "I'm just saying, my message is to keep your head up and be cognizant of where your head is in space."

Skylar started using an iPad a couple years ago to watch movies in the car. Then, at age 10, she got a MacBook Air and a rose-gold iPhone 6s, says her mother, who requested to withhold her last name to protect her identity. Game-playing, filming lip-sync sessions, Snapchatting "weird faces," checking Instagram, FaceTiming, and texting, not to mention doing homework on the computer, keep Skylar busy three hours or so a day. Recently, she discovered Friends, a show about "a group of friends that do a lot of weird things and they always meet up at every single day at Central Perk. It's a coffee shop."
When the Pew Research Center surveyed teens in 2011, one-quarter had smartphones. In 2015, three-quarters did. According to Common Sense Media, a San Francisco nonprofit that surveyed more than 2,600 young people across the US last year, 8- to 12-year-olds log nearly two hours a day on tablets, smartphones, and other mobile devices. And the habit starts even younger: 38% of children under 2 have played games or watched videos on a mobile device. Even lower-income teens, who are less likely to own the latest gadgets, may be catching up to their wealthier peers: In a 2015 study of 350 children under age 5 in a low-income community in Philadelphia, most already had their own mobile device, and in fact had started using one before their first birthday.

"It's not like an hour that goes by I don't check my phone, unless I'm asleep, you know," said Kendall Holle, 15. "It's bad. It's bad. As soon as I wake up, open my eyes, brush my teeth, wash my face, I'm on my phone, making snaps."
"I wake up and I start snapping," said Jeff Ren, 19.
"When my phone got taken away," confessed Sara, 15, "I cracked."
"I just don't feel normal without my phone on me now," said Howard Lin, 18. "It would just feel like something's missing."
But researchers aren't studying how so much gadget exposure, so young, affects children's physiology — at least not to the degree they're studying how it affects their learning, playing, and thinking. The American Academy of Pediatrics recommends that children under age 2 avoid screen time completely, and that older children have no more than two hours a day. After more than 15 years, it's now rethinking these guidelines. "In a world where 'screen time' is becoming simply 'time,' our policies must evolve or become obsolete," it has explained. When I asked if physical risks were being weighed along with social and psychological ones, Dr. Ari Brown, who's leading the overhaul of the recommendations, told me by email that "the particular question you are asking ... is not being addressed by our group."
Meanwhile, people like Diane Cho didn't see the pain coming and don't know what will happen next.
At the news site she recently left, Cho spent her days typing 10 hours at a time, mostly on a laptop, and reading her phone — until her right arm went periodically numb, immune to icing. "A huge reason why I wanted a career change was literally my arm was falling apart," she said. "My body was just aching." She's 26.
George McIntire, 27, occasionally sees his right thumb act up: "It starts twitching back and forth, it's shivering, and it's going really fast too."
"A huge reason why I wanted a career change was literally my arm was falling apart. My body was just aching."
Tanner Bell, a 17-year-old who makes DIY craft videos on YouTube and helps companies digitally market to teens, feels his thumbs cramp twice a week. "It doesn't even happen when I'm holding it, it could happen later on in the day or night," he said. "There's an extra tension … sort of like a tingling."
After trading volleys of texts with a long-distance girlfriend, Vincent Hennerty, 26, ended up with early-stage carpal tunnel. Cutting back on video games was annoying, as was doing push-ups on his knuckles. Still, nothing could prepare him for what one might call the ultimate sacrifice.
"When I was with girls," he recalled, "I would either have to finger them less during sexual intercourse or messing around, or I'd have to be in a position where my wrists were completely straight."
This, he said, "weighed on me the most: 'I need to stop texting.'"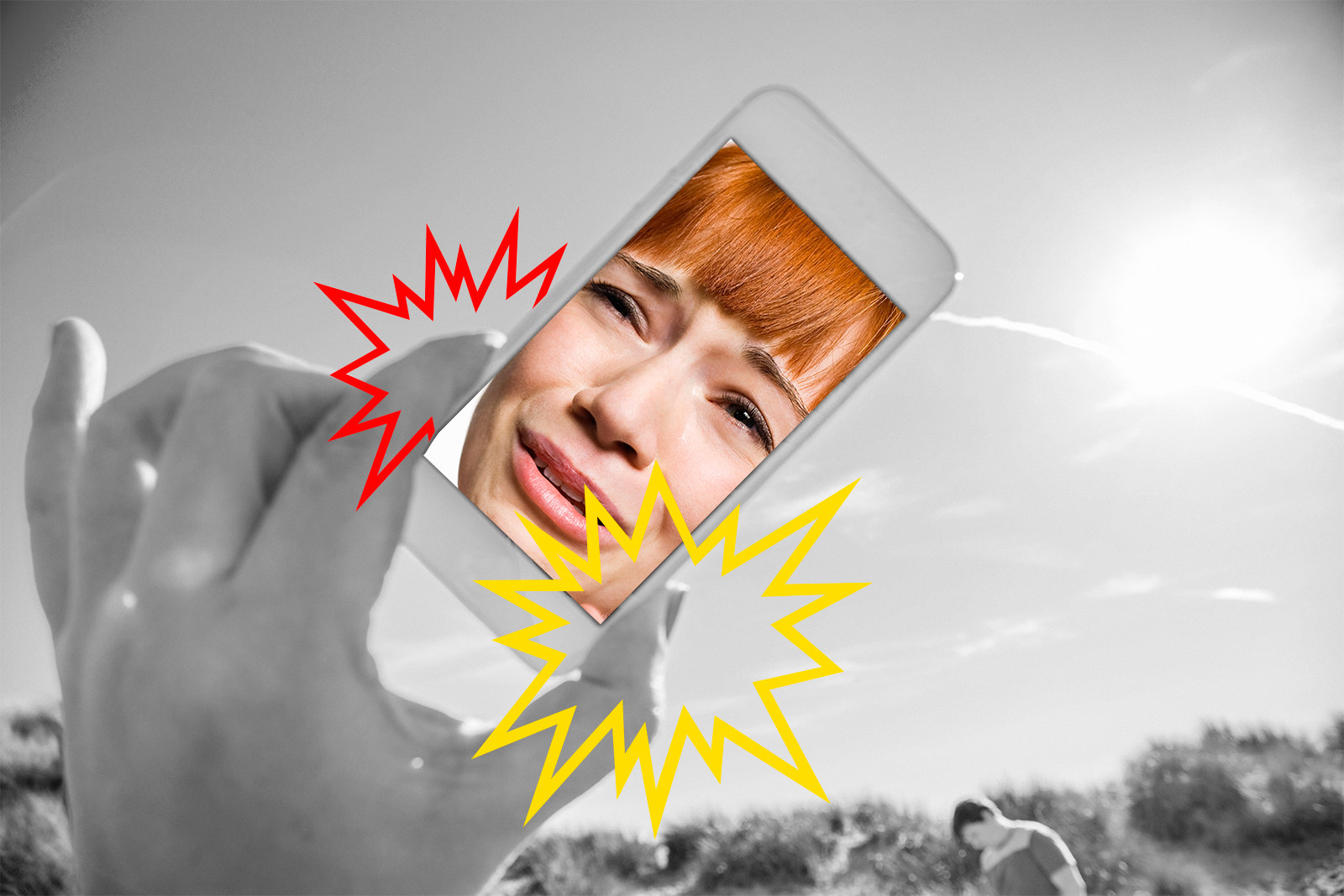 When neck rubs and ice packs didn't soothe Skylar's stiff neck, her mother took her to Dean Fishman, a local chiropractor and physical therapist. He sees so many people like her that in 2009 he started the Text Neck Institute outside Fort Lauderdale, Florida. The clinic now handles 700 visits a month, he says.
"I started to notice very early on, when texting started to become popular as far as communicating goes, that I was seeing more and more younger people coming in with complaints we hadn't seen before — headaches, neck pain, arm pain," said Fishman, whose youngest patient so far has been a 3-year-old iPad-loving girl. So-called text neck "is not a blunt force trauma," he said. "You're not going to see a lot of bulging or herniated discs overnight. Over time, it's going to be microtraumas that end up being a bigger symptom for our patients."
"When texting started to become popular, I was seeing more and more younger people coming in with complaints we hadn't seen before — headaches, neck pain, arm pain."
Patients are utterly, unnervingly unaware of their own bodies. "When these younger people are in the middle of studying on their digital device, or if they're in the middle of gaming or the excitement of texting with their friends, they don't perceive pain," Fishman said. "It's not until they put it down, lay down at night, and feel pain, and don't attribute it to what they've been doing during the day."
Cyrene Quiamco is not a patient, but has all the markings of a future one. "I don't even know when I don't check Snapchat," said the 27-year-old, who Snapchats for brands like MTV, Jolly Ranchers, Pixar, and Disneyland — and charges $10,000 to $30,000 per Story. "It's like, I'm in a restaurant, and then I don't spend all of the time I'm there (on Snapchat), but then I spend five minutes checking what's in my Snapchat feed. It's not one sitting, it's various sittings throughout the day."
How many texts does she send a day? "Oh gosh, more than a thousand." She added, "I never actually thought about how many that would be."
Two to three hours a day, Quiamco draws colorful, detailed cartoons for Snapchat on her phone. "You're so focused on creating it because you don't want to stop," even when a pang runs up her forearm, she said. "I tell my mom, 'Hey, I'm getting hand cramps by using the phone.' She says, 'You're going to develop something. If you lose your hand, that's everything.'"
She laughed.
As a 6-year-old, Smolcic fell in love with The Little Mermaid. As a grown-up graphic designer at Pixar, across the bay from San Francisco, she got to make her own mark on films like Monsters University, Cars 2, and Finding Dory. For Toy Story 3, she crafted the logo of pink teddy bear and chief antagonist Lots-o'-Huggin' Bear; for the Scotland-set Brave, she whipped up Celtic patterns for furniture and costumes. Meetings with famous directors and other "pinch me" moments overflowed during her five years there. "There's just all those amazing little life lessons buried into the entertainment aspect of it that do make an impact on people," she said of Pixar's movies. "It felt special to be part of that."
Despite the grueling hours, Smolcic didn't seriously believe that hand injuries could be a hazard of the trade. But once the aches arrived, they stayed. Even when she felt normal after a monthlong break, the stabbing sensations would flare up when she jumped back into work. Pixar was supportive, she said, and gave her an elaborate work station with a motorized standing and sitting desk, a sideways mouse, programmable foot pedals, ergonomic chairs, extra monitors, and a tablet sensitive to touch. Doctors and specialists put her through one treatment after another, some less conventional than others: acupuncture, acupressure, breathwork, massages, physical therapy, personal training, biofeedback, myofascial release, NeuroKinetic Therapy, reflexology, naturopathy. According to some of her many medical professionals, her diagnosis was fibromyalgia, a musculoskeletal pain disorder. Others called it a "repetitive strain injury."
"If I go to the doctor, what is he going to say? 'Don't hold your phone that way.' What's the point?"
That's probably the first term that comes to mind for these types of impairments. But occupational health experts shy away from it because it lumps together a lot of different ailments. Take carpal tunnel syndrome: A compressed nerve in your forearm numbs and weakens your hand. But painful thumb tendons, the cord-like structures that link muscle to bone, might mean de Quervain syndrome. Tendinitis (inflamed tendons) shouldn't be confused with trigger finger (inflammation around a tendon). And for anything too vague or early-stage to neatly fit a diagnosis, there's the handy label of "nonspecific pain."
To make things more confusing, none of these injuries can be easily blamed on technology. You can fiddle with gadgets your whole life without a sore thumb. Or your ailment can build over years, making it hard to know whether gadgets are the sole cause. Recovery, too, varies. All you may need to do is vigilantly sit up straight and take breaks, whereas others would need anything from a steroid shot to surgery.
These nuances can confound primary care physicians, who don't necessarily know when to refer patients to specialists — who in turn don't always have all the answers either. "People go to the hand surgeons, who are frustrated because they're not surgical patients, so they send them to therapy," said Melanie Johnke, who runs Golden Gate Hand Therapy in San Francisco. "And I'm not a doctor, either," meaning she can't make official diagnoses or prescribe medications.
As Savir put it: "If I go to the doctor, what is he going to say? 'Don't hold your phone that way.' What's the point?"

Despite knowing everything we should do, from sitting straight and stretching to taking breaks and using a phone stylus, we probably don't and won't follow suit. And maybe that's just how things are now. Maybe only technology can save us from ourselves.
Tech giants like Apple, Google, and Microsoft are racing to turn their machines into mind readers. Every swipe saved, every "frictionless" convenience engineered, keeps us coming back for more: It's a business strategy that also happens to be ergonomically friendly. Speech recognition software — Siri, "OK Google," Alexa, Dragon — promises to take the manual labor out of internet browsing and looking up directions. But it doesn't work perfectly, which isn't news to anyone who's yelled at Siri, and it's still kind of weird, frankly, to talk to your phone in public. "I'm in a shared office space, and I don't know how that would work out," said Saima Jamshed, 42, who has chronic pain in her right arm.
Then there are the machine learning–powered apps that, seemingly magically, cue up the next word in your message, person to call, or video to watch, based on your past activity and keystrokes. See (as of last week) Google's new messaging app Allo, which comes with prepackaged responses and predictive texts. But accepting their help does require sacrificing privacy to an unsettling degree.
Of course, we could also use technology less. We certainly seem to want to. Virtually all 30 or so people who spoke to me wished they could leave their phones at home, stop refreshing their notifications, watch less YouTube. Asked to guess how much time this all amounted to, they answered: too much.
Cutting back would almost definitely be healthier. But we may not be willing to do that.
Skylar has almost fully recovered, thanks to physical therapy at the Text Neck Institute and exercises at home. Her mother says she's diligent about setting her devices at eye level (and telling everyone else to as well), just like the doctor told her to. But she isn't actually cutting back on screen time. The peer pressure is intense: All her friends have phones, and some have iPads and computers. "Sometimes it gets annoying when I go to a friend's house and all we do is play on our phone or watch something on our iPad," Skylar said. "I went to their house to play with them or hang out with them, not just go on our electronics and be silent the whole time."
Cutting back would almost definitely be healthier. But we may not be willing to do that.
"When I was growing up," her mother, Kerri, recalled, "the phone was in the house, so if you left the house, the phone rang and somebody would call you later." It was a non-negotiable break when the world had to accept that you were physically untethered from your device. "Now," Kerri said, "it's just everywhere."
Smolcic has largely disconnected from technology, just not by choice.
When she was 28, a pain management specialist gave her the devastating news: She would never fully recover. She hung on for a few more years, but finally left in October 2014 for a San Francisco design agency where, she hoped, her role would be less hands-on. "I really felt like I'd tried everything I could," she said.
But the work and pain remained more or less the same, so this March, she left the agency, and design, for the foreseeable future. Her life's work hurt.
Since then, she's been using money saved up to travel through Hong Kong, Greece, and Iceland, with stops to see shamans and alternative healers in Indonesia, Thailand, and Mexico. She's also writing, which she now believes to be her true calling. Composing an 1,800-word essay this spring — through a combination of typing and recording voice memos — took a month and a half because she could only work for an hour a day. Now she says she can write for several hours at a time with almost no pain, and she's working on a memoir partly about her injuries.
At 33, Smolcic believes that she's 90% recovered. She can't be sure it's permanent — but even if so, she no longer wants a trade design job. "I think I'd be okay with not having a lot of the luxuries I had in my San Francisco life," she said, "as a trade for having more time to be actively living and out in the world, as opposed to being behind a desk."
But despite all that she believes technology has cost her, physically and emotionally, Smolcic hasn't been able to resist turning to her iPhone and MacBook on the road this year. They are a source of directions and travel tips, an outlet for writing and music, a camera to record memories, a line of communication to friends and family. "These machines," she wrote to me this summer, "put so much power at my fingertips." And now that she's feeling better, she uses them all the time. ●