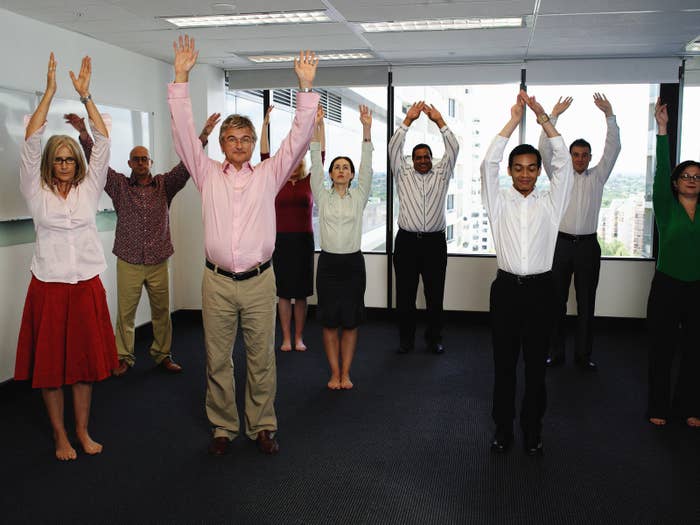 Sometime next year, you may hear about a new way to save money on your health insurance. To get the discount, you and your spouse have to join your company's voluntary "wellness program," the kind that typically promotes exercising more or losing weight. As part of signing up, you're both asked to share your blood pressure, weight, diseases you've had or have, and your medical records, which may include the results of any genetic tests.
But if you don't want to fill out a questionnaire or get medically screened? You won't qualify for the discount. Or your premiums could go up by hundreds or thousands of dollars.
Many workers in the U.S. will soon find themselves in such a scenario, thanks to new regulations finalized by the Equal Employment Opportunity Commission (EEOC) last month.
Companies offer wellness programs because they boost workers' health (albeit modestly) and therefore save on health care costs. So they're always looking to increase participation — and industry surveys suggest that employees are more likely to join if their spouses are involved, too. Starting Jan. 1, 2017, wellness programs will be allowed to entice employees and their partners with rewards or penalties.
The changes come at a time when wellness programs are becoming ever more common across the U.S.: About 66 million people work at large companies that offer such programs (though actual participation rates are well below 20%, according to a 2013 survey of 5,000 employees). New tools like DNA testing also give people increased access to their sensitive health data, raising hard questions about how to keep it private and secure.
Companies, health-benefit administrators, and wellness program operators mostly favor the regulatory changes, which were meant to smooth out contradictions among existing laws. But patient privacy advocates argue that the new incentives will in fact force people to pay extra for their privacy.
"Our argument is participation in a wellness program is simply no longer voluntary if employees can be penalized in this way," Derek Scholes, science policy director of the American Society of Human Genetics, told BuzzFeed News.
Scholes also worries that the new rules could be discriminatory. If a worker opts out of a program, does that imply that they have secret health problems? Their employer, he said, "may choose to discriminate, either by letting them go or by deciding not to promote them to a more senior position."
Employers argue that the more employees reveal about themselves, the easier it is to get healthier. When workers learn through screenings that their high blood sugar makes them prediabetic, for example, programs could offer diabetes prevention classes.
But over the past few years, some workers have pushed back. In 2014, for instance, the EEOC sued Honeywell, the industrial conglomerate, in response to two employees' complaints, alleging that its wellness program violated federal law because it was not voluntary.
All Honeywell employees and their spouses were asked to get blood drawn to measure their cholesterol, glucose, and nicotine use, and to report their body mass index and blood pressure. If a couple opted out, they faced a penalty of as much as $4,000: a $500 surcharge on health insurance premiums, up to $1,500 in lost employer contributions to a health savings account, and a $1,000 tobacco surcharge per person.
Similar suits were brought against Flambeau, a plastics manufacturing company, and Orion Energy Systems, both in Wisconsin.
Employers protested the lawsuits, citing what they saw as a confusing discrepancy between existing laws. The Affordable Care Act says that wellness programs can give financial rewards for meeting health goals or participating in activities, as long as they are "reasonably designed" to improve health or prevent disease. They must also be voluntary, defined in part by keeping incentives under a set rate.
But several other federal laws — including the Americans with Disabilities Act and the Genetic Information Nondiscrimination Act — generally aim to protect people from disclosing such information and prohibit workplace discrimination based on health factors.
So when putting together the new regulations, the EEOC tried to strike a compromise, defining what programs can legally ask for while remaining "voluntary." Now they're allowed to offer a financial incentive of no more than 30% of the cost of what a single person would pay for insurance through work. So, if your premium was $6,251 (last year's national average), you could pay — or save — up to $1,875. Same goes for your partner, even if they're not on your health insurance.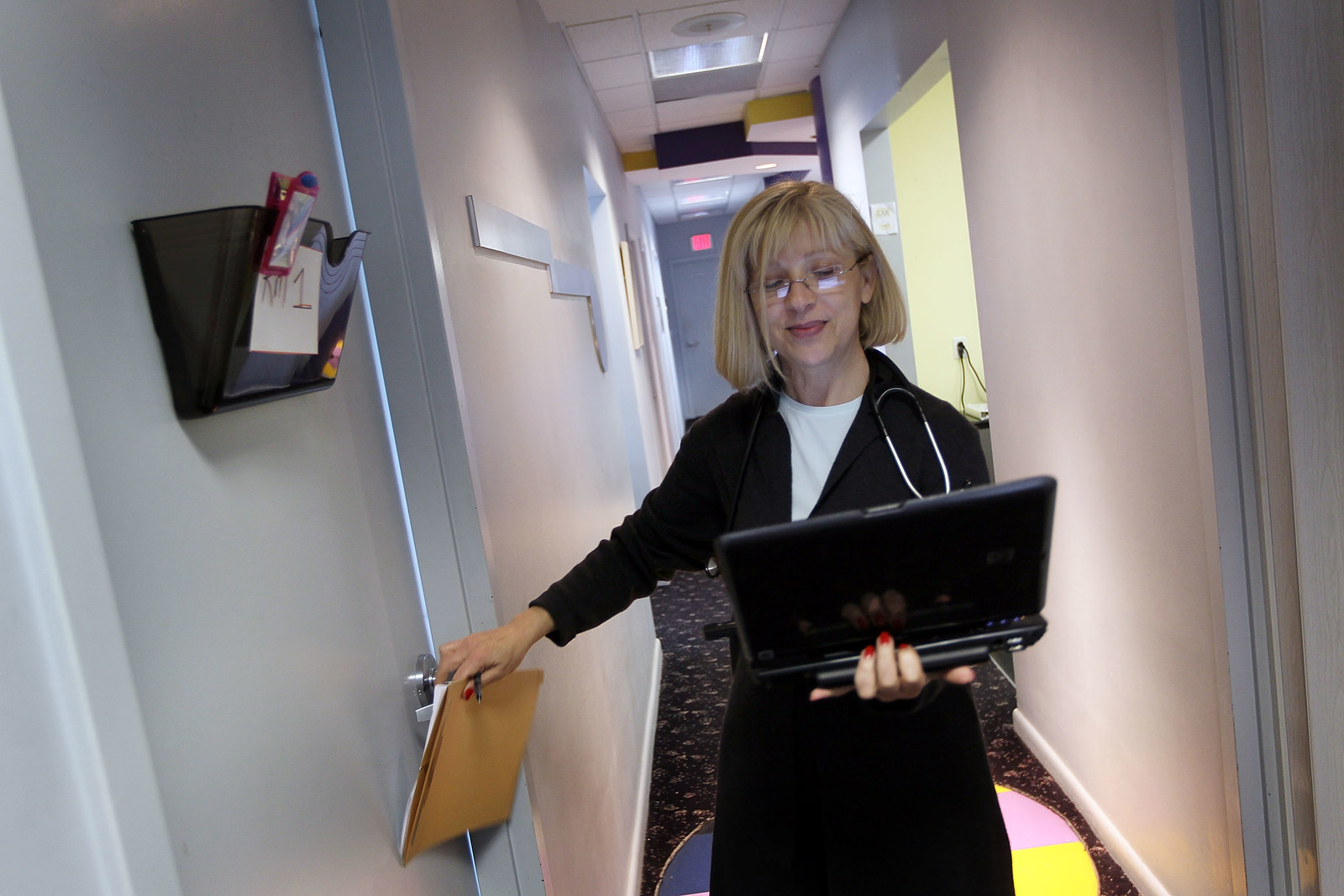 Steve Wojcik, vice president of public policy at the National Business Group on Health, which represents about 425 companies with an average of 10,000 employees, says his members' wellness programs offer incentives "well below" the 30% threshold. The group's median incentive is around $500 per person, he said, and there's little reason to fear they would significantly increase.

Only when the rules take effect will employees know if they'll remain relatively low, or, as patient advocates fear, if they'll increase to the point of being impossible to turn down.
This might be especially difficult for older workers, who may be struggling to keep their jobs until retirement and are likelier to have health problems.
"Nobody should be forced to turn over their private health information," said David Certner, legislative counsel for the AARP.
There are some types of medical information that employees don't have to share with wellness programs, including their genetic makeup, or any health information about their children.
But programs are free to collect medical records and insurance claims data — and if any of those records contain genetic test results, they're free for the taking, said Karen Pollitz, a Kaiser Family Foundation senior fellow who studies wellness programs and private insurance.

Programs can also ask pretty much anything about workers' and spouses' medical history, including potentially genetically linked conditions such as cancer and heart disease.
Legally, bosses are prohibited from using this information to discriminate against employees. But they can now have access to it, a notable change under the EEOC regulations. "They just have to be careful about what they do with it," Pollitz said.
In exchange for giving up their information and receiving an incentive, employees are supposed to trust that wellness programs will give back information or advice that is "reasonably designed to promote health or prevent disease," as the new regulations require. And the rules say that programs shouldn't exist "merely to shift costs" to employees, or mandate that workers sacrifice lots of time and money.
But wellness programs will have the freedom to share employee health data, such as weight and exercise habits, with other companies. Imagine, Pollitz said, that your wellness program encourages you to do more cardio — then serves up an ad in the mail for running shoes made by one of its business partners.
And that would give your get-healthy-at-work program a slightly different purpose, Pollitz said. "A wellness program could be about marketing wellness services to people."
CORRECTION
Under the new regulations, wellness programs will be allowed to offer an incentive of up to 30% of the cost of what a single person would pay for insurance through work. Under last year's national average ($6,251), this would be up to $1,875 per married couple, totaling a maximum of $3,750. An earlier version of this article mistakenly stated that $3,750 was the amount per person.