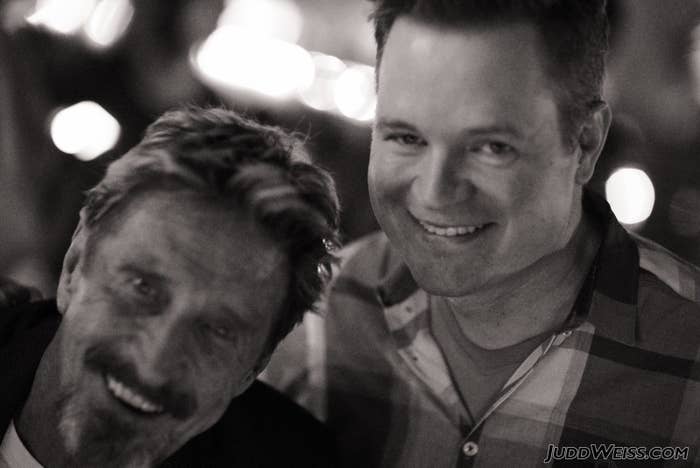 Before he became one of President-elect Donald Trump's potential picks for Food and Drug Administration commissioner, Jim O'Neill, an associate of Silicon Valley venture capitalist Peter Thiel, showed up one night last year to support another presidential hopeful. It was John McAfee, aspiring Libertarian candidate, cybersecurity tycoon, and person of interest in a murder case.
On May 17, 2016, the day after a Libertarian presidential debate in Las Vegas, McAfee and his running mate, photographer and entrepreneur Judd Weiss, were in San Francisco for a fundraising party. The bash was at the home of two founders of Velorum Capital, a venture capital firm, one of them a former SpaceX engineer. Tickets were going for $40 to $90 a head; San Francisco magazine reported that dozens were in attendance.
Among them was O'Neill, who posed with McAfee in a picture snapped by Weiss and posted on Facebook.
O'Neill is managing director at Mithril Capital Management, a growth-stage fund launched by Thiel in 2012. He is one of a few names being floated for FDA commissioner in the Trump administration; on Thursday, he met Trump in Trump Tower.
O'Neill's libertarian leanings aren't secret: He's publicly argued for free markets in health care services and goods.
McAfee, however, is not a run-of-the-mill politician, even by libertarian standards. He was the founder of McAfee Associates, which sold the antivirus software of the same name. (He left the company in 1994 prior to its sale to Intel.) McAfee then spent years in Belize, where he was funding a lab to turn plants into an unproven form of antibiotics. There, he came under investigation when a neighbor of his was murdered (McAfee has repeatedly said he was not responsible) and fled to Guatemala, where he was later arrested and deported to the United States.
McAfee told BuzzFeed News by email that he's met O'Neill "a couple of times" in addition to the fundraiser.
"I can think of no one better qualified than Jim to be the FDA Commissioner," he wrote. "Under his command I can guarantee that medical costs will decline - which is the fundamental problem with our meducal (sic)/insurance system."
On the Eventbrite page for the May 2016 gathering, Weiss wrote, "You'll want to make sure you're here for this. This will be more of a high level tech/futurist crowd. Perfect company for a legendary high level Tech CEO like John McAfee. Especially since these are the people who consciously regularly think about how to re-imagine a better way to move the world forward, and they actually do it!"

BuzzFeed News has reached out to O'Neill for comment.
UPDATE
This post has been updated to include a comment from John McAfee.