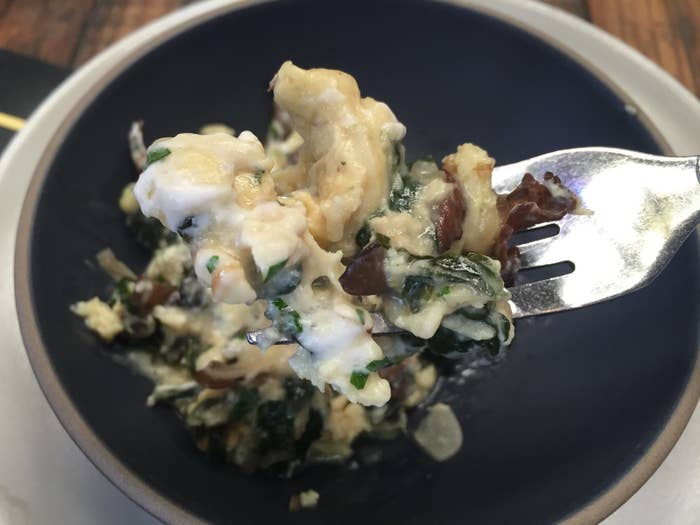 After a tumultuous year of reported financial losses and executive departures, the food startup Hampton Creek is trying to get back on track by unveiling eggless scrambled eggs — a product years in the works — along with a new infusion of investment money.
The San Francisco–based company, best known for its vegan condiments and cookie dough, revealed Just Scramble on Thursday. It's a yellow liquid that fluffs like an egg in a frying pan, but is largely made from mung bean. While it's not the first vegan scrambled egg out there, Hampton Creek says it's the best.
Hampton Creek plans to roll out Just Scramble in restaurants, starting with a handful this year in San Francisco, and eventually to food-service distributors and grocery stores. The company is betting that customers will like the sustainability factor: It's free of antibiotics and cholesterol, doesn't risk contamination from things like salmonella and avian flu, requires less water, and emits fewer carbon emissions than normal eggs.
But it also looks, tastes, and scrambles like a regular old egg — and so, at least in theory, customers won't have to sacrifice flavor and texture for the good of the environment. One challenge, though, will be whether they'll be willing to pay for its relatively steep price. Conventional eggs cost an average of $1.05 by the dozen. In contrast, Just Scramble's price is on par with a dozen free-range eggs, between $4 and $6, according to Tetrick.
"It's not a product just for conscious consumers," CEO Josh Tetrick told reporters at a breakfast preview on Thursday. "It's not a product just for people who care about the environment or animal welfare. It's something for everyone."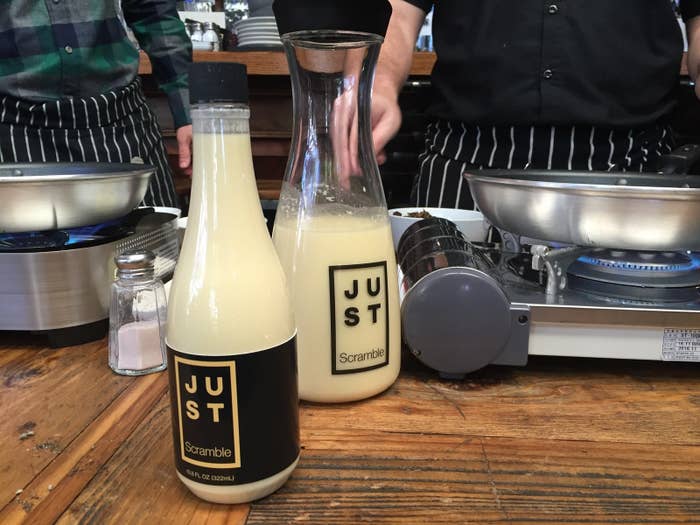 There aren't many options for people, vegan or otherwise, who crave non-egg eggs. In a review of powdered vegan eggs made by the company Follow Your Heart, a Bon Appetit writer did not approve. "With the watery texture and lack of taste, it reminds me of a wet newspaper blowing in the wind, running across any puddle in its way, hoping to find its home in a larger mound of uncollected trash," he wrote.
Just Scramble tastes much better than that. Poured into a skillet, the liquid sizzled and congealed into bite-sized clumps as a chef stirred it around. The whole process took about 30 seconds. It tasted pretty much like one would expect — fluffy yet dense, light, and chewy — although the clumps were perhaps a bit clumpier than a regular scramble.
"It's not a product just for people who care about the environment or animal welfare."
Hampton Creek has been developing Just Scramble for more than four years, and it's gone through thousands of iterations. The staff experimented with at least 200 types of beans before settling on mung bean, a small, green legume mostly cultivated in South and Southeast Asia, said Udi Lazimy, who oversees global plant sourcing for Hampton Creek. The final mix is a combination of mung bean protein, water, salt, oil, acid, onion, and garlic.

The public will first get to try Just Scramble at Flore in San Francisco, which is serving it up — along with spinach, mushrooms, and cheese — for brunch, as of Thursday. According to Tetrick, it'll be on the menu at other to-be-named restaurants in the city by the end of the year, followed by others in New York, Los Angeles, and Birmingham, Alabama (where Tetrick is from), in 2018. Just Scramble is also expected to be in retail stores by the end of next year, as well as available in major cities in China, one of the world's biggest egg consumers.
"Wherever an egg is cracked or wherever an egg is scrambled, we want to be there," Tetrick told BuzzFeed News. He said that he expects the cost of production to go down with time.
The company has the assistance of new investment from Radicle Impact, an early investor, and Blue Horizon. Tetrick declined to disclose the amount.
Hampton Creek has been busy this year. In May, it revamped its food labels. In July, it announced that it was growing lab-made meat out of meat cells — and that it would put it on the market by the end of next year, an aggressive goal considering the slew of other startups developing similar products. Memphis Meats, for example, has said it plans to start selling its product by 2021.
But Hampton Creek, which has raised some $220 million at a $1.1 billion valuation since being founded in 2011, has also been reportedly struggling internally. All its board members except Tetrick quit in July, according to Bloomberg. (It later replaced those members.) Tetrick told BuzzFeed News the fundamental disagreement was over whether to sell Hampton Creek or keep it independent.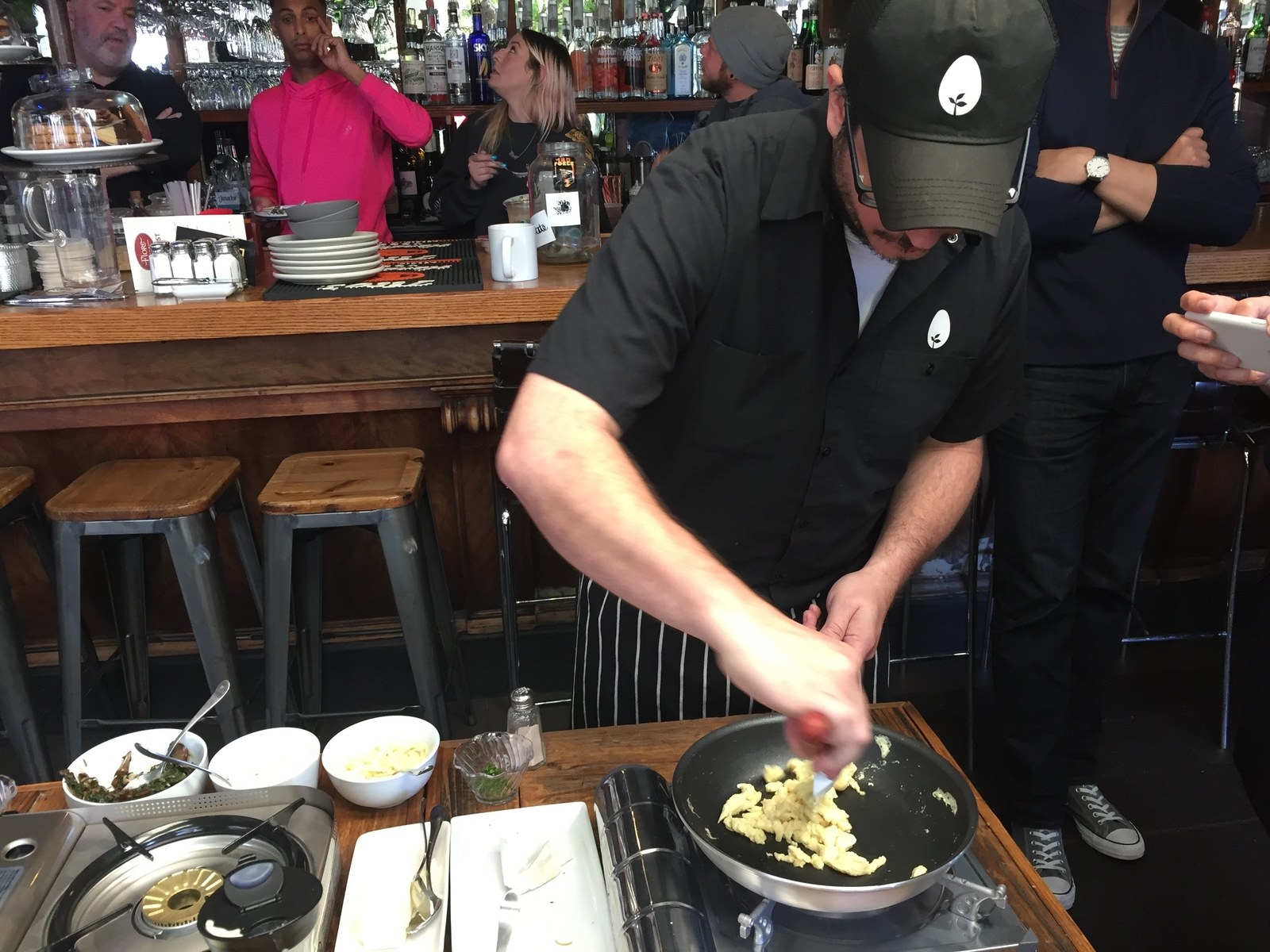 In July, Bloomberg reported that Hampton Creek was losing $4 million a month and, without new funding, was projected to run out of money within six months. The company disputes that report. Tetrick says that a number of its products are profitable, although the company as a whole is not.
Those haven't been the only issues. Bloomberg reported last year that Hampton Creek had enlisted people to buy back mass quantities of Just Mayo, its eggless mayonnaise, to artificially inflate demand. But the Securities and Exchange Commission and the Department of Justice dropped their inquiries into the matter this spring.
In August, Target stopped selling Hampton Creek products, citing allegations it had received about safety concerns. (Around the same time, as BuzzFeed News reported, somebody sent an unsigned letter to another major retailer, claiming that Hampton Creek had contaminated and mislabeled products.) Even though the Food and Drug Administration said that it didn't have any safety concerns, Target stuck by its decision. Hampton Creek still remains on the shelves of other retailers like Kroger and Publix.
In other words, there's been a fair amount of drama — but Tetrick doesn't think his customers care. "As long as we're focused on doing the right thing, we'll deal with it and continue to grow," he said.