This Boy Was Thrown Out Of School Because Of His DNA, Parents Say
Colman Chadam carries genetic markers for cystic fibrosis, but doesn't have the disease itself, according to his parents. Inside their legal battle against the school district in Palo Alto, California.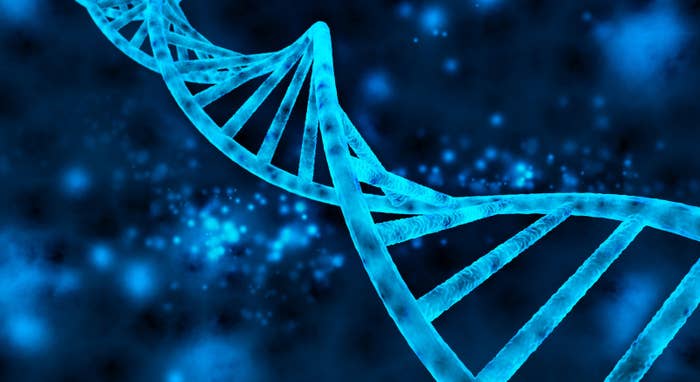 On Oct. 10, 2012, 11-year-old Colman Chadam was pulled out of class at his public middle school in Palo Alto, California, and asked if he wanted to say goodbye to his friends. According to Chadam's parents, the teacher told him it was his last day at the school. Officials allegedly told the Chadams that the reason for their son's dismissal involved his DNA: Colman had genetic markers associated with the rare disease cystic fibrosis — even though, James and Jennifer Chadam say, he is healthy and has never had the actual disease.
The Chadams say that a teacher revealed this confidential information to other parents, who then complained that Colman posed a health risk to their children, inciting the Palo Alto Unified School District to force Colman to transfer schools, according to their complaint.
So they sued, alleging that the district violated the Americans With Disabilities Act (ADA) and their son's First Amendment rights to the privacy of his medical information. Their 2013 lawsuit, which sought to recoup legal fees and damages, was thrown out by a federal court that said there wasn't enough evidence that the district denied Colman access to a service because it considered him disabled. But this month, the Chadams appealed to the U.S. Ninth Circuit Court of Appeals — and attorneys for the U.S. Departments of Justice and Education are voicing support for the family.
As DNA testing proliferates, this case raises broader issues about how genetic information should be protected and shared — not just in schools but also in workplaces and insurance companies.
"The family would like a definitive and unequivocal statement from the Ninth Circuit that you can't just do this to people based on genetic markers alone," Stephen Jaffe, the family's attorney, told BuzzFeed News in an interview. "The more people that get genetic testing done, either for medical reasons or recreationally, the more possibility this stuff gets out. … It's not a great leap to be concerned about what happens to this information."
A spokesperson for the Palo Alto Unified School District said in an email, "The Palo Alto Unified School District cares about and is committed to the safety and well-being of its student population. That said, the case is on appeal because the Federal District Court found the claims insufficient to allege fault on the part of the District. PAUSD continues to agree with the ruling of the Federal District Court."
Colman's DNA was analyzed as part of a treatment he underwent after having emergency surgery to correct a heart defect at birth in 2000. From a DNA test, Colman's parents learned he had genetic markers linked with cystic fibrosis — an inherited disease that creates thick, sticky mucus in the lungs and digestive system. Yet Colman has been monitored ever since and has never developed the illness, his parents alleged in court documents filed Jan. 14.

Based on the complaint, Colman's genes appear to contain a mutation or mutations that have been identified in people with — but are not necessarily proven to lead to — cystic fibrosis, Dr. Dennis Nielson, director of UC San Francisco's Cystic Fibrosis Center, told BuzzFeed News. Out of 2,000 associated mutations, "there are 160 or more we know cause disease," said Nielson, who does not have direct knowledge of the case. "There will be a bunch more that cause disease that we don't know that much about. There are a whole bunch of genetic variations that cause minor problems that don't ever lead to the kinds of problems we really define as cystic fibrosis."
Colman's genetic makeup wasn't an issue until summer 2012, the Chadams say, when they moved to Palo Alto. To enroll Colman at Jordan Middle School, Jennifer Chadam filled out district-requested paperwork with private medical information about him, according to the lawsuit. That September, one of Colman's teachers told another set of parents that Colman "had the disease of cystic fibrosis," according to the complaint.
These parents, whom the lawsuit refers to as "Mr. and Mrs. X," appeared to be alarmed by the news because their children had active cystic fibrosis. People with cystic fibrosis can cross-infect each other and spread germs that lead to lung infections, according to the Cystic Fibrosis Foundation. (The organization recommends that such people keep at least 6 feet apart and use separate facilities.)
School administrators told the Chadams that these other parents had "discovered" Colman's condition, according to the lawsuit. Mr. and Mrs. X then allegedly asked the district to remove Colman from school, citing concerns about their children's health — even though the Chadams explained that Colman was healthy. The Chadams' doctor also defended Colman in a letter, saying that he wasn't a health risk, according to the lawsuit.
To diagnose cystic fibrosis, doctors look for not only genetic mutations, but also a positive sweat test (a high amount of salt in sweat) and a clear symptom like a lung infection. Only then does someone have cystic fibrosis, said Nielson of UCSF. "If he really doesn't have clinical cystic fibrosis," he said of Colman, "then he's not a risk to anybody else."
In 2012, when Colman was told he would be transferred to another school, his family sought injunctive relief and settled that case, which ultimately kept him in school. The Chadams later sued in federal court; the district successfully sought to dismiss the lawsuit. The trial court ruled in 2014 that the district had reasonably believed, based on medical advice it had received, that Colman did pose a health risk, and therefore hadn't violated the ADA. The Chadams didn't show evidence that the district had denied Colman access to a service, program, or activity because it considered him disabled, the trial court ruled. It also ruled that under the First Amendment, the Chadams could sue only individual employees in the school district, not the school district as a whole.
The district cited a letter from a Stanford University doctor recommending that the school remove Colman for the safety of Mr. and Mrs. X's children, according to court documents. But the Chadams say in court filings they did not know who the doctor was, despite asking the district.
Jaffe, the Chadams' attorney, argued in the appeal that the trial court order suggests that "a school district's real or imagined concern over potential safety issues overrides ... an individual's First Amendment rights to the privacy of his medical and other information. That is a dangerous holding against which a strong public policy exists." He cited a 1987 case in which the Supreme Court ruled against discrimination based on the contagious effects of a physical impairment.

And he argued that the Chadams' case could have broad implications. "Affirming the district court's ruling in this case will open a wide gap in the wall of privacy protection the law presently affords personal genetic information," Jaffe continued. "It will implicitly permit unqualified non-medical persons such as school districts, insurance companies and employers to base life-altering decisions on private genetic information. It will cause the public to hesitate or refuse to get genetically screened when to do so may be in their best interests or would assist medical research."
"If he really doesn't have clinical cystic fibrosis, then he's not a risk to anybody else."
He described one hypothetical scenario to BuzzFeed News: "An employer sees some of his employees has a genetic marker … and says 'I'm going to fire you because you're a danger to my other employees and I don't want them getting sick.' That's not a great leap."
The Chadams now also have support from attorneys from the Departments of Justice and Education. In an amicus curiae brief filed this week, they argued that the trial court hadn't had the legal grounds to throw out the case — so it should be revisited.
"In view of these straightforward allegations," they wrote, "the complaint cannot reasonably be construed to allege anything other than that defendant intentionally removed (Colman) from his school, and therefore denied him the benefit of attending his neighborhood school, because of his perceived disability."
CORRECTION
Upon seeking injunctive relief to keep Colman Chadam in school, the Chadam family settled that case before it was heard in court. An earlier version of this article incorrectly described this series of events.
UPDATE
This story has been updated to include a response from the Palo Alto Unified School District.