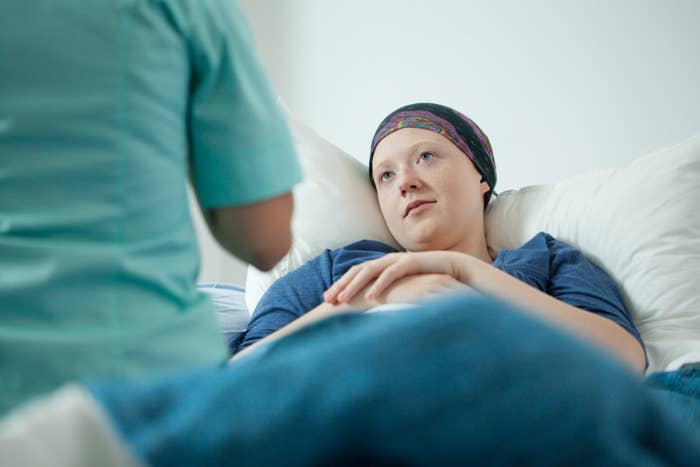 DNA-testing startup Color Genomics, which launched in spring 2015, is notable in the biotech world because of its emphasis on the "tech" side: Two of its cofounders are former Google and Twitter engineers. Another way it's setting itself apart from the competition: Its costs. Color prices its cancer gene tests at a fraction of the cost of many tests on the market in an attempt to make them accessible and affordable — and in turn to broaden its data pool.
San Francisco Bay Area–based Color now has plans to make its tests even more widely available. Currently, its $249 saliva-based test scans 30 genes to detect an individual's risk of common hereditary cancers, including breast, ovarian, colon, pancreatic, prostate, uterine, colorectal, and stomach cancer; in contrast, other tests range from $1,500 to $4,500. Color's test is cheap enough that many people could pay for it out of pocket, instead of going through insurers, who traditionally shoulder the bulk of the cost for genetic tests.
Now, the startup is teaming up with the BRCA Foundation and private donors to offer the tests at an even steeper discount — $50 — to first-degree relatives of people who have already tested positive for one of the 30 mutations on Color's test. Parents, siblings, and adult children are then eligible to also take a Color test. A relative of someone with a BRCA mutation, for example, has a 50% chance of having the mutation, too, which can lead to breast or ovarian cancer. Color has partnered with private donors and the BRCA Foundation to subsidize the screening program.
Unlike DNA-testing startup 23andMe, whose tests can be bought without the approval of a medical professional, doctors and genetic counselors are involved in interpreting and reviewing the results of Color's "spit kits." Already, the tests are being used in a $14 million study in which the University of California is aiming to put 100,000 women through personalized breast cancer screening. Color customers can choose to contribute their anonymized data to research, or not.
To support its growth more broadly, Color also said it's raised $45 million from General Catalyst, U2 frontman Bono, Khosla Ventures, 8VC, Laurene Powell Jobs' Emerson Collective, and Susan Wagner, a BlackRock cofounder. Wagner is also joining its board of directors, along with General Catalyst managing director Hermant Taneja. To date, the startup has raised $60 million in total.

Color is up against several other hereditary cancer-testing companies, including both startups and established heavyweights, such as Myriad Genetics, Invitae, and Counsyl. The company says it keeps costs low by employing advanced software and machine learning technologies to be more efficient — from highly automating the analysis of DNA samples, to automatically creating family trees for the Color genetic counselors who explain results to customers.
"We're viewing what we're doing as biology 2.0," CEO and cofounder Elad Gil told BuzzFeed News. That tech mindset comes from Gil's years as a former vice president for corporate strategy at Twitter, as well as a product manager at Google. Another cofounder, Othman Laraki, also worked at Google and was vice president of product at Twitter. (The two came to Twitter after founding Mixer Labs, which made geolocational software, and selling it to the social networking company in 2009.) But Gil also has a PhD in biology from the Massachusetts Institute of Technology, and chief scientific officer Taylor Sittler trained in clinical pathology at UC San Francisco.
Referring to the idea of tailoring therapies to individuals' unique backgrounds and risk factors, Gil said, "The thing we ask ourselves every day is, 'How can we help facilitate things so precision medicine will be available to everybody next year or in two years?'"