The First-Ever 360-Degree Video Surgery Is Happening On Thursday
As a surgeon prepares to broadcast a cancer tumor removal, startups are working on a universe of ways to marry virtual reality with health care.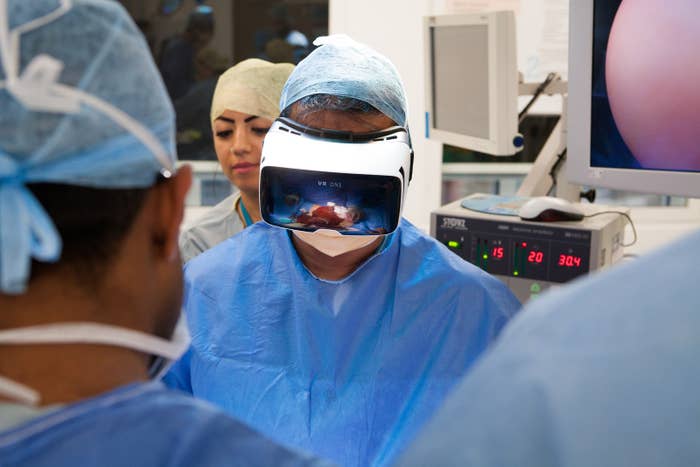 Over the course of two hours or so on Thursday, Dr. Shafi Ahmed will perform a more-or-less routine surgery on a man in his seventies with colon cancer. The 47-year-old cancer specialist will make a small slice on the patient's belly, remove the tumor from his bowel, and stitch the tissue back together. And people all over the world will be watching from every possible angle.
Ahmed's surgery, which will take place at the Royal London Hospital, will be the world's first to be live-streamed in 360-degree video. A suite of 360-degree cameras mounted around the operating room will allow any remote observer with a virtual-reality headset and a smartphone to tune in to a feed that will be delayed by one minute.
You might not think a surgeon would want so many eyes trained on his and his team of five's every grisly move (or potential mistake). But Ahmed's a genuine tech geek, and he's excited that people will get an up-close look at a process that normally happens behind closed doors. "You're in the operating room and you see how the team is working — the monitors, the noise, how the systems are behaving, you can look at the video feed," Ahmed told BuzzFeed News. "In surgery, how a team operates is just as important or more important than how an individual surgeon does an operation."
Two years ago, Ahmed led the first team that conducted a live operation broadcast with Google Glass. Today he's even more excited about virtual reality, which he calls a "much more immersive learning tool," and is a co-founder of Medical Realities, which is helping live-stream the operation.

He's not the only one enthused about the possibilities; investors, entrepreneurs, engineers, artists, media organizations, massive tech companies, and others are all rushing headfirst into the nascent industry. And while gaming and entertainment are the technology's most obvious uses, a growing number of people — including Ahmed — are exploring how virtual and augmented reality could make people physically and emotionally healthier.
"Where this ends up is very hard to predict, but it's extremely powerful," said Mike Rothenberg, CEO and founder of Rothenberg Ventures, a San Francisco fund that invests in virtual- and augmented-reality companies and other emerging technologies. "You can create anything you can imagine or visualize in virtual reality."
At the moment, virtual reality's health applications fit into two broad categories: medical education (in which students use VR to visualize, and hopefully better understand, procedures and concepts) and therapies (in which people see and interact with images in ways that help them overcome a condition).
In the education department are efforts like Ahmed's, as well as startups like Vicarious Surgical and Medical Realities (surgical training; the latter, along with Mativision, is streaming Thursday's surgery) and Orosim (dental education).
On the therapy side, there are startups like Psious and Fearless (which helps people overcome phobias by putting them in anxiety-inducing situations), DeepStream (which helps people deal with pain by immersing them in relaxing scenes), and One Caring Team (same, but for seniors struggling with dementia and loneliness). MindMaze, a Swiss company that recently raised $100 million, is doing clinical trials to test whether its 3D software and motion-tracking camera, together known as MindMotion Pro, can help patients recover from stroke.
One potential hurdle for MindMaze and companies like it: The FDA asks medical device makers to compare their products to existing products so the agency can weigh the relative risks and benefits. With emerging technologies, that's trickier. "We are the only ones to treat stroke with VR and nothing has changed in 60 years," Frederic Condolo, global product director of MindMaze, told BuzzFeed News. "And so it's pretty difficult to give a reference, because there's no real reference."
Of course, it wasn't long ago that another head-worn tech gadget was being sold as the best new way to help doctors communicate better, call up medical images and records on their screens, and get other doctors' opinions about what they were seeing. Given that enthusiasm about Google Glass has all but died out, it's not hard to wonder if virtual reality is destined for the same fate.

But proponents say the new medium has key advantages. While a Glass cost developers $1,500, virtual-reality programming is relatively cheaper and easier to consume and produce — all you need is a smartphone and a headset like Google Cardboard. As a result, many more developers are building apps for VR than they were for Glass. "There's thousands and thousands," said Brayton Williams, co-founder of Boost VC, a seed-stage accelerator in Silicon Valley that has invested in 34 virtual-reality startups. "I don't think that was the case with Google Glass."
Glass may not have been the perfect tool in and of itself, but some observers say it was a catalyst that helped make augmented, and then virtual, reality seem somewhat mainstream. "In the early days of augmented reality, when you talked about it, not a lot of people understood what you were saying," said Sean Lane, who co-founded APX Labs, which makes software for wearable technology in the workplace. "It's tough to describe." (Lane has since moved on to start a health startup, CrossChx.) "Thank goodness for Google Glass, because it brought to the forefront what augmented reality was."
At the end of the day, of course, it doesn't matter how well-made the devices are if clinicians and patients don't embrace them. But Rothenberg doubts that'll be a problem. "There's two kinds of people when it comes to VR," he said. "Skeptics, and people who have tried VR."