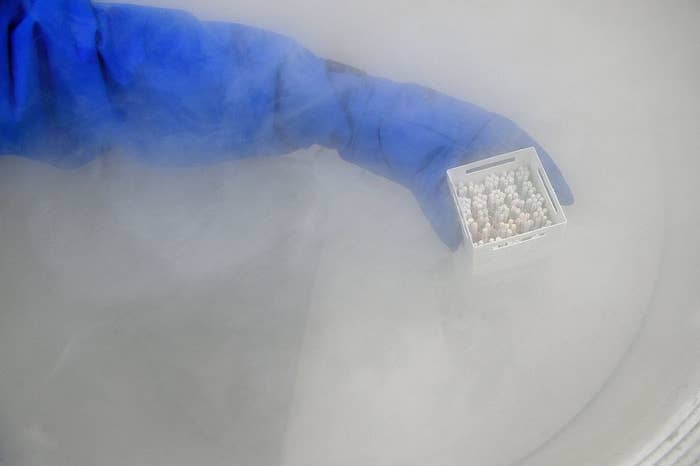 Customers are suing a San Francisco fertility center where an equipment malfunction this month may have damaged thousands of frozen eggs and embryos, and, by extension, their owners' dreams of starting families.

At least two lawsuits have been filed against Pacific Fertility Center, most recently Thursday, by husband and wife Megan Bauer and Jonathan Bauer, after liquid nitrogen levels reportedly fell too low in a storage tank that contained eggs and embryos.
The incident is the second of its kind to happen nationwide this month. A Cleveland fertility clinic told 700 fertility patients and their families that eggs and embryos could have been damaged when the temperature rose in a storage tank.
The Bauers, both in their late 30s, had been storing their frozen embryos at the Pacific Fertility Center for more than three years — and were planning to start the in vitro fertilization process in April, according to their class-action lawsuit, which was filed in US District Court of the Northern District of California. The couple, who live in the Sacramento area, are seeking damages in excess of $5 million.
"The Pacific Fertility Center squashed this couple's dreams of becoming parents in the future," said Adam Wolf, an attorney representing the couple, on a call with reporters. "Pacific promised to safeguard and protect my clients' frozen embryos, vowing to maximize their chances of becoming pregnant and their opportunity to raise as many children as they would like."
The Bauers aren't alone: A San Francisco woman identified only as "S.M.," whose frozen eggs were stored at Pacific Fertility Center, has also filed a class-action lawsuit. Angry customers at the Cleveland clinic are also suing.
Pacific Fertility Center did not return a request for comment. Nor did its parent company, Prelude Fertility, a private-equity fertility company that's backed by $200 million and operates a network of fertility clinics. Prelude took a majority stake in Pacific Fertility Center last fall.
In a statement reported by the San Francisco Chronicle, Pacific Fertility apologized. "We are truly sorry this happened and for the anxiety that this will surely cause," the statement said. The company also noted that it had done a lab inspection and protocol reviews with staff.
The Bauers' eight embryos, along with thousands of other embryos and eggs, had been stored in a storage tank, Tank No. 4, at Pacific Fertility Center's laboratory, according to their lawsuit.

A cycle of egg retrieval and freezing, plus the first year of storage, costs $8,345 at Pacific Fertility Center. Additional storage of embryos and eggs costs $600 a year.
The couple received an email from the center earlier this month informing them that their embryos "may have been impacted" when liquid nitrogen levels dropped, causing the tank's temperature to rise, according to the court filing.
"We are incredibly sorry that this happened and for the anxiety that this will surely cause," the center's email said, according to the lawsuit. "We are heartbroken by this situation and our thoughts are with each of you who may have been touched by this event."
The couple believes that the malfunction destroyed their embryos — though, according to their attorneys, the fertility center has told them the only way to know for sure is to try thawing them.
These sorts of malfunctions are rare, but may become more common as egg freezing becomes more popular. In 2012, the American Society for Reproductive Medicine said the practice was no longer "experimental," and companies like Apple, Facebook, and Google now subsidize egg freezing, IVF, and other fertility services for their employees.