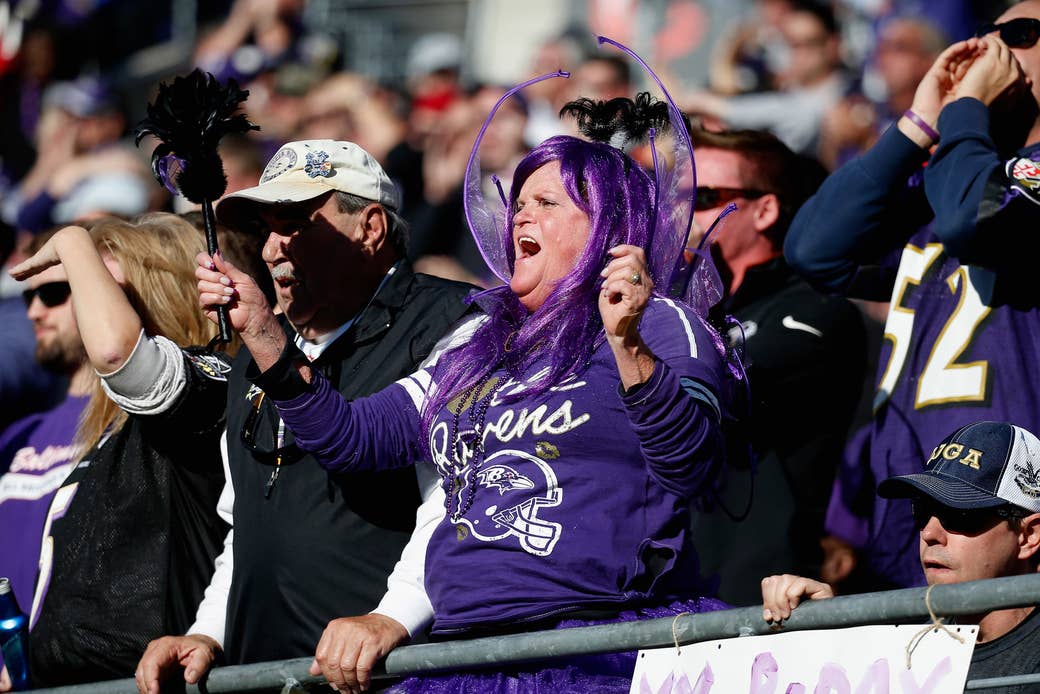 A biotech startup called Orig3n and the Baltimore Ravens abruptly canceled their plans to give away a free DNA test to 55,000 football fans at Sunday's game, apparently because of concerns raised by state health officials.
"Orig3n received some late breaking questions from government officials in Maryland and wanted to ensure Orig3n, and Maryland officials, had time to have a dialog before the event which unfortunately could not happen in time for this weekend," a company spokesperson told BuzzFeed News by email.
The Maryland Department of Health confirmed to BuzzFeed News that it was "in communications with Orig3n," but declined to elaborate.
The test makes dubious claims about how four genes influence health and wellness traits, such as how your skin will age, whether you learn words quickly, and your athletic prowess. Interested fans would have dabbed the inside of their cheeks with a cotton-swab kit and dropped it off in bins around the stadium.
The company still hopes to do the promotion ("DNA Day") at a future game. But several bioethicists and genetic experts told BuzzFeed News that the idea was troubling. Not only are Orig3n's scientific claims suspect, they said, but giving them out so casually, and without proper consent protocols, could unknowingly compromise customers' privacy. The company, meanwhile, stands to gain droves of new customers and add valuable genetic data to its proprietary databases.
"Is this really a giveaway for the fans or is it more a giveaway for the company?" Patti Zettler, an assistant professor at Georgia State University's law school, told BuzzFeed News.
"Is this really a giveaway for the fans or is it more a giveaway for the company?"
In an interview with BuzzFeed News on Saturday, before the promotion was called off, CEO Robin Smith explained that Orig3n employees would have customers register their emails at ravensdna.com (a website created for the event and subsequently taken down) and agree to their privacy policy and terms of service.

Smith also noted that the test-takers would receive a follow-up email the day after the game, which would offer a chance to withdraw if they'd changed their minds.
"We treat these people as adults," he said. "I think that we should respect that people are smart enough to figure this out."
But others worry that at a noisy football game, fans wouldn't fully digest several thousand words of legalese, or take the time to contemplate the legal, medical, and privacy risks of turning their DNA over to a private company.
"It's just not the kind of setting where people are used to thinking about these kinds of things," Zettler said. "It's loud, people are drinking — it's not the same as thinking it over at home or talking to your doctor about it."
The average test-taker may not realize, for example, that Orig3n had the right to sell or give their genetic data to a third party — like an advertiser or a drug company — as long as their name and other identifying information was removed, according to Kayte Spector-Bagdady, chief of the research ethics division at the University of Michigan Medical School, who reviewed the company's terms of service and privacy policy.
"I'm worried that people don't fully understand that the ways these companies operate is like Google, which offers you a free search engine, but the way it makes its money is selling your data to advertisers," Spector-Bagdady told BuzzFeed News.
Late Saturday, in response to BuzzFeed News' questions about Orig3n's terms of service and privacy policy, the company revised those documents to clarify how it handled customers' genetic information versus other personal information, like emails and credit card information, collected by Orig3n. (Those documents are now posted on Orig3n.com.)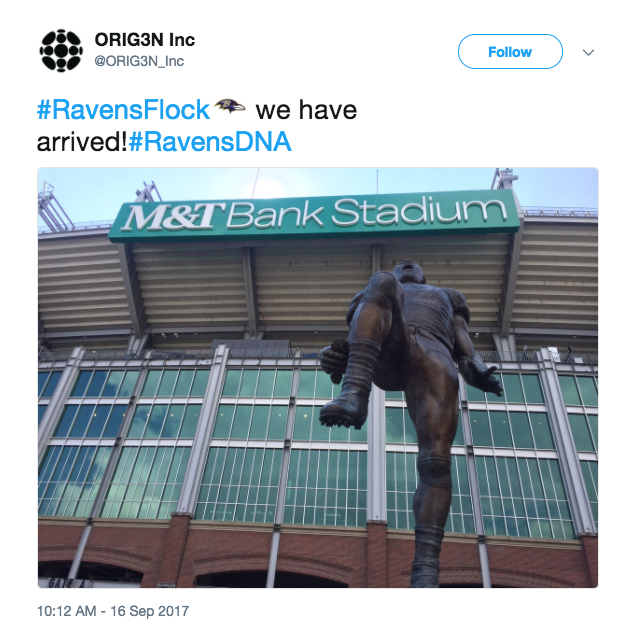 And the updated documents still include language that contradicts Smith's contention that customers could have changed their minds about participating the day after the game. "Once you have consented to use of your genetic information, you may not withdraw that consent," Orig3n's privacy policy for genetic information reads. (Smith said the clause was intended to protect the company in cases where a customer wanted to back out later in the process, after their DNA had been analyzed and couldn't be easily withdrawn.)

The Ravens game test would have looked at four genetic variants that, according to the company's dubious marketing language, give insight into a wide variety of health traits, such as whether your skin will age faster when you eat a sugar-filled diet, and if you're inclined to pick up new vocabulary quickly. It also says it's checking to see if you're at increased risk of low levels of vitamin D, and if you're likely to have better-than-average muscle force and sprinting ability — athletic prowess that football fans might especially be curious about.
These genes are tested as part of more extensive kits that Orig3n sells online under names like the $29 "Superhero" ("From rare, above-average intelligence to physical prowess, this fun DNA test lets you tap into your hidden superpower") and $149 "Fitcode" ("so you can get the info you need to fine-tune your routine and reach your goals faster").
"Orig3n DNA tests uncover the links between your genes and how you think, act, and feel," the company's website states. "The more you know, the easier it is to reach your highest potential."
But Laura Hercher, a genetic counselor at Sarah Lawrence College, said that people won't find anything out from these genes that they don't already know about themselves.
"There are no genes that tell you what you should eat," she said. "There are no genes that tell you how you're going to age."
For example, Hercher said, long-distance runners don't need a genetic test to find out they're faster because they have a certain variant of the so-called fitness gene being tested by Orig3n. There's also slim evidence that this particular gene, known as ACTN3, has any significant effect on athleticism. Studies find that it explains just 2% to 3% of the variation in muscle function in the general population. "Which might mean the difference of shaving a second off your time if you're an Olympic sprinter, but means very little to you or me," Spector-Bagdady said.
It's fine if people find the test fun or interesting, Hercher said, "but they shouldn't be making any decisions about what to eat or what lifts to do or whether or not to have sugar" based on it.
Smith defended the tests, saying that the company validates them internally. "We try to do our best to make sure these are based on real scientific studies that are out there and published in the world," he said.
He also said that the tests could in fact be meaningful for people. "Sometimes you kind of know these things about yourself — you may know you're a quick learner, for instance — but when you see it from a perspective of looking at the genetics of it, it's kind of eye-opening for people," he said.
Genetic tests aside, the main mission of Orig3n, founded in 2014, is to collect stem cells via blood sample donations to study diseases and advance regenerative medicine. It raised $20 million in venture capital this summer.
This isn't Orig3n's first partnership with a sports team. Last year, it began collecting blood samples from San Francisco 49ers fans, and selling DNA tests outside the team's Levi's Stadium.
The genetic testing market is booming. And as dozens of companies compete for customers' attention, many are exaggerating what their tests can actually show.
Cecile Janssens, an epidemiologist at Emory University, said she worries that tests like Orig3n's will confuse the public. Someday, she told BuzzFeed News, "the public may not be able to distinguish the tests that are informative and useful from the tests that are claimed to be informative and useful."