No One But Apple Really Knows How The Apple Watch Is Doing
More than six months after the Apple Watch became available to the public, people who buy it seem to like it a lot. But how many people are buying it?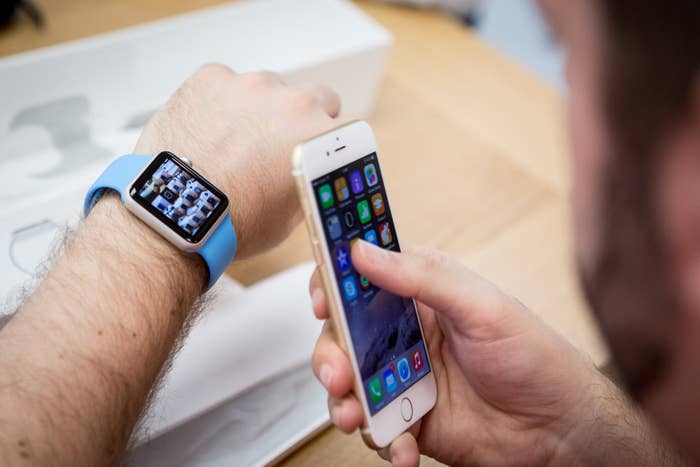 When the Apple Watch arrived at market in late April, it was Apple's first-ever wearable and its first new product category in five years. The questions about it then, and ever since, have been simple: Would people buy it? Would they like it?
More than six months later, well into the holiday gift-buying season, it's impossible to definitively say just how well the Apple Watch is selling — but there are signs that it's gained momentum.
The popularity of the watch is a mystery of Apple's design. Prior to the device's launch, Apple said it wouldn't reveal sales numbers, as to do so might tip off its competitors in a nascent product category. Instead, the company lumped the device into an "other products" category that also includes Apple TV, iPod, and Beats accessories. That category generated $10 billion in net sales this year, up 20% from $8.4 billion last year, according to Apple.
And so analysts looking to gauge demand for the Apple Watch have been left to cobble together some very rough guesses. Market research firm International Data Corporation believes that worldwide sales enjoyed some modest growth since launch, going from 3.6 million to 3.9 million in the most recent quarter.
One explanation for the apparent boost: Starting in August, the Apple Watch, which was initially sold exclusively at Apple stores and a handful of high-end retailers, debuted on store shelves at Target, Best Buy, T-Mobile, and Sprint. The watch was among Target's five most popular electronics during Black Friday pre-sales, along with iPads and Beats Solo 2 headphones.
So if Apple and its Apple Watch retail partners won't offer release sales data, how are we to gauge sales? All that's left are clues here and there. IBM Watson Trend, which uses IBM's artificial intelligence software to analyze millions of online reviews and social media conversations, predicts that the Apple Watch will be one of this year's most popular holiday gifts. A small survey of 110 Apple Watch owners this summer confirmed that people were buying the device at non-Apple outlets, said Josh Lowitz, partner and co-founder at Consumer Intelligence Research Partners, a market analysis firm.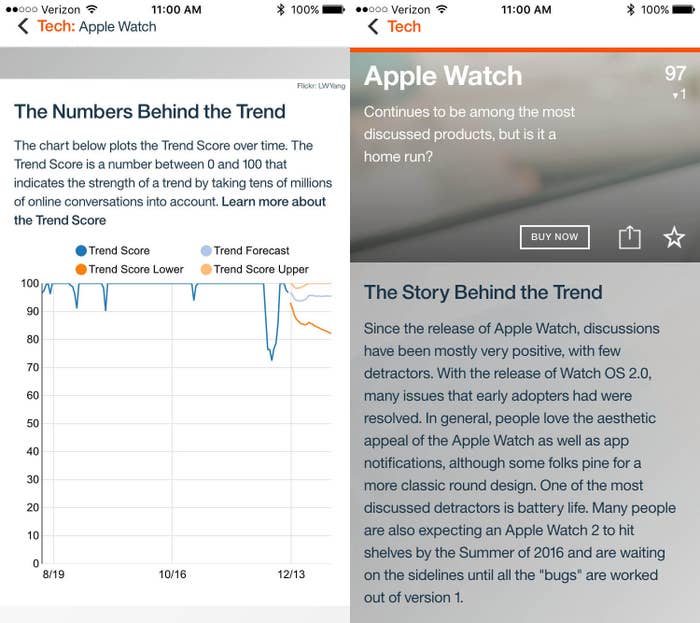 The challenges that the watch faced at its launch have remained constant: With a price tag starting at $350, it's costlier than wearable devices with overlapping functions, such as a Fitbit (even with $100 discounts). It also has an inherently smaller audience. "Opposed to a Fitbit, where the addressable market is everybody with a wrist," Lowitz told BuzzFeed News, "for an Apple Watch, the addressable market is everybody with a wrist and iPhone 5 or newer. That's an inherent challenge."
The demand for smartwatches overall indeed seems to be relatively tiny: Based on a survey of 11,000 U.S. consumers at the end of the summer, consumer research firm Kantar Worldpanel extrapolated that about 3% of the U.S. population possesses smartwatches and smart bands (like Fitbit). Smartwatches were the more popular category of the two, Kantar's analysis found, and Apple Watch was the most-worn one. "For a lot of consumers, it's still a nice-to-have and not a must-have," compared to a smartphone, said analyst Carolina Milanesi.
The Apple Watch's biggest rival? By some accounts, Fitbit. It shipped an estimated 4.7 million devices in the third quarter, according to IDC. Slice Intelligence also found that while the Apple Watch boosted sales in the wearables device overall this year, they've been recently surpassed by Fitbit.
What's slightly easier to pin down is whether people actually like the Apple Watch and use it regularly. According to Wristly, a market research group dedicated to the Apple Watch, the answer to those questions is yes.
In a Wristly survey conducted last month and provided to BuzzFeed News, about 85% of 1,440 people said they were happy with their model of watch and wouldn't change to another. (Eight percent even said they would have chosen a more expensive model.) Owners also reported checking their watch four to five times every hour on average, and most used it to track fitness levels and do productive tasks such as check the weather and shop with Apple Pay, not play games.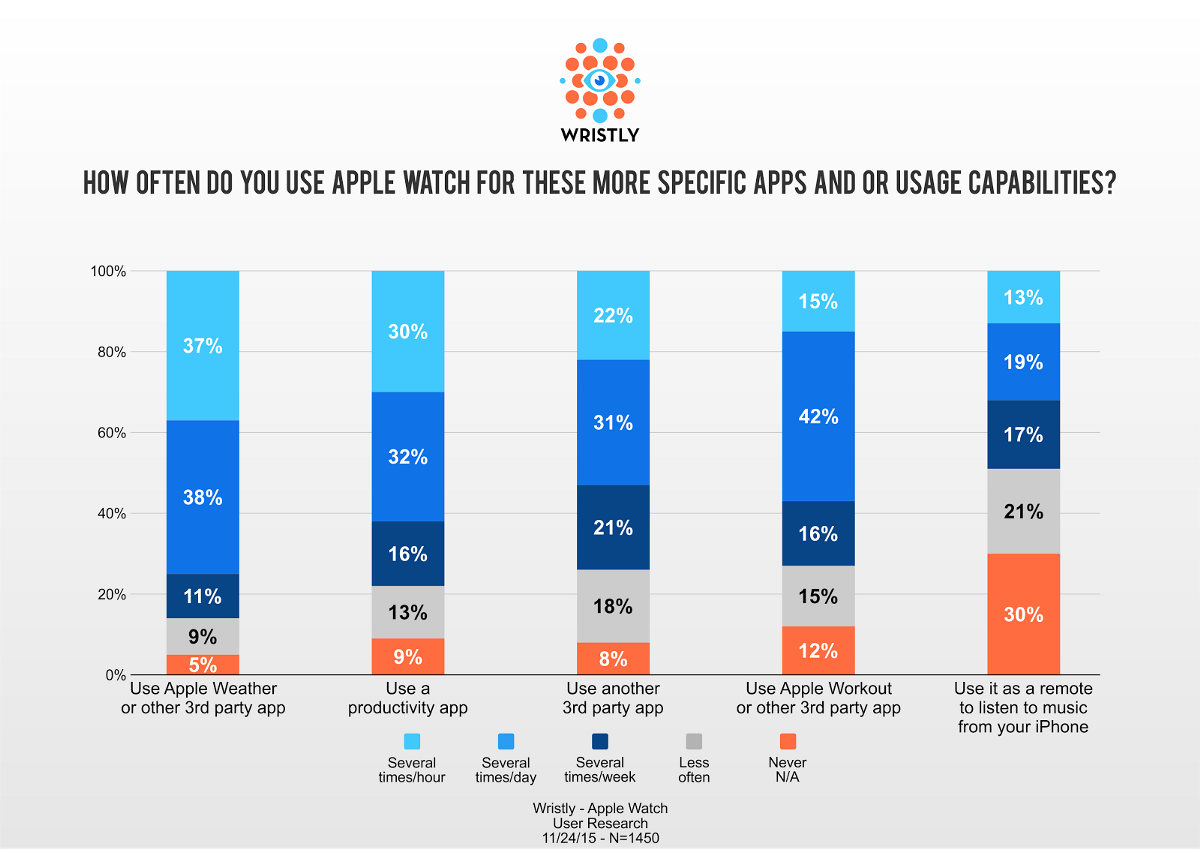 There are exceptions, of course. A smaller Wristly survey of 340 people who stopped wearing the watch found that slightly less than half of them quit within the first two weeks. (Most respondents said theirs was now in a drawer somewhere.) The most common complaints addressed what are perceived to be limited features: slow performance and unsatisfactory battery life (the watch typically lasts a day on a full charge).
And the Apple Watch remains "really weak" when it comes to high-quality non-Apple apps, said Wristly founder Bernard Desarnauts. The second version of the watch operating system, released in September, lets users customize their settings a little more, "but the third-party apps to me are still way behind — there's really not a lot of substance yet," he said. Nearly 80% of 1,450 survey respondents said they never used such apps, even on the new operating system. Desarnauts added, "I assume there's a bunch of people who feel they got burned and are just going to wait" for the situation to improve.
Apple did not respond to a request for comment. It hasn't yet announced plans for a successor the the Apple Watch, but it's certainly working on one. And when it finally arrives at market, we may get a clearer idea of its mainstream viability.
"The long and short of it is this is a first-generation device, it's getting its legs under it, it's making strides, but it's not the final be-all end-all product," Ramon Llamas, an IDC research analyst who tracks wearables and cell phones, told BuzzFeed News. "It's not as developed and mature as, say, an iPhone or an iPad. This thing is going to go through several iterations before we see Apple settle into a pattern where they're comfortable with how the Apple Watch looks like, feels like, how it functions."