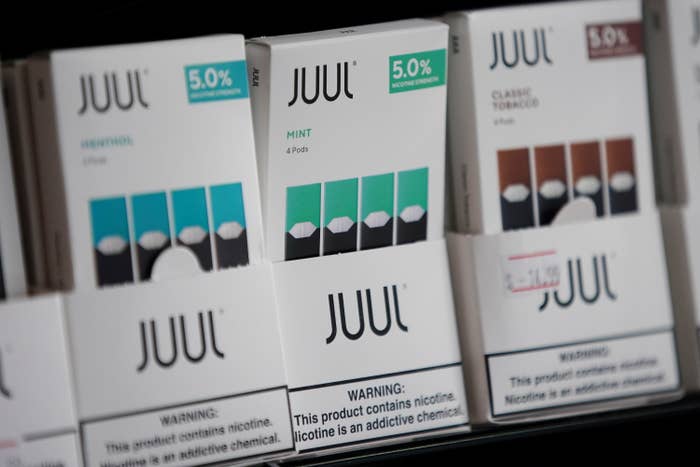 SAN FRANCISCO — Juul plans to cut about 500 jobs by the end of 2019, capping off a tumultuous year in which the company, once a fast-growing e-cigarette giant, has cut back its expansion efforts in the face of regulatory scrutiny around the world.

The San Francisco–based company said Tuesday that, under a reorganization, it will be laying off staffers in some departments and consolidating others. It did not specify which departments would face layoffs, but said the cuts will amount to about 10% to 15% of its 4,000-person workforce, according to a spokesperson. The layoffs were first reported by the Wall Street Journal.
The company also said that four executives would be departing. Among them is chief marketing officer, Craig Brommers, who had joined in April after spending nearly three years as the top marketing head at the Gap. No one will fill Brommers' role, according to the spokesperson.
Other departures include Tim Danaher, chief finance officer, David Foster, senior vice president of advanced technology, and Ashley Gould, chief administrative officer.

The cuts are the latest retreat for a startup that has until recently enjoyed skyrocketing growth and become all but synonymous with the e-cigarette industry. It hired an average of 300 people a month this year and captured an estimated 75% of the US e-cigarette market. Last year, it was valued at $38 billion with an investment from tobacco giant Altria.

Do you work for Juul or have you worked for Juul? You can contact this reporter at stephanie.lee@buzzfeed.com or stephaniemlee@protonmail.com. For more ways to securely get in touch, visit tips.buzzfeed.com.
But the company has come under fire from government agencies, public health advocates, and clinicians — and its valuation was recently slashed by more than a third.
Juul's marketing efforts in particular have invited scrutiny. Its stated mission is to help adult smokers quit cigarettes (and e-cigarettes have been shown in some studies to be effective tools for doing so). But the Federal Trade Commission is investigating Juul for allegedly deceptive marketing practices, including using social media influencers and targeting minors.
While it's the THC-containing vape pens, not nicotine-only devices like Juuls, that have been linked by public health agencies to most of the cases in the ongoing lung-injury illness outbreak, advocates are blaming Juul for addicting a new generation to nicotine. Some young people say they've developed lung injuries, and one family is blaming the company for causing the death of their 18-year-old son.
Over the last two months, Juul has announced that it would suspend all broadcast, print, and digital advertising in the US. It will also stop selling fruit-flavored pods pending FDA review, stop federal lobbying on a proposed ban to ban flavored e-cigarettes, and stop funding a San Francisco ballot measure that would overturn a ban on e-cigarette sales in that city.
Those directives came from new CEO K.C. Crosthwaite, a former Altria executive who took over in September.
On Tuesday, Crosthwaite said in a statement that the reorganization was part of a "necessary reset" in the vaping industry.
The company described its reorganization as having three goals: to reduce and prevent underage use, invest in scientific research as it seeks to apply for FDA approval, and develop "new technology," potentially including Bluetooth-connected devices.
Companies have until May 2020 to seek FDA approval in order to sell e-cigarettes in the US. At Juul, government affairs, corporate responsibility, and clinical and scientific affairs teams will now report to Chief Regulatory Officer Joe Murillo, the company said. And the technical teams — product, hardware engineering, software engineering, advanced technologies, and design — will be rolled into a group called Product. Both newly combined teams will continue to grow, the company said.
UPDATE
This story has been updated to include the departures of three additional executives.