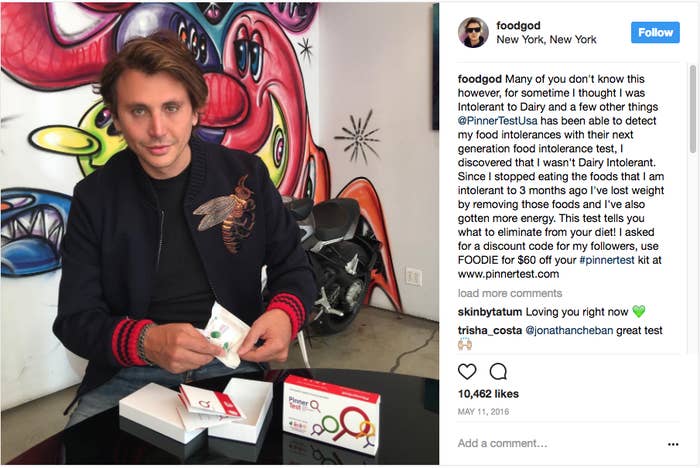 Jonathan Cheban is Kim Kardashian's close friend, a fellow reality star, and the "Foodgōd" on Instagram, where, true to his brand, he shares lots of meal photos with his 2 million followers. There's seemingly nothing he won't consume: multi-layer burgers, pizzas bigger than his head, rainbow ice cream tacos.
But on May 11, 2016, the Foodgōd announced that he had changed his eating habits, thanks to a "food intolerance" test called Pinnertest.
"Since I stopped eating the foods that I am intolerant to 3 months ago I've lost weight by removing those foods and I've also gotten more energy," Cheban wrote in a post that racked up more than 10,400 likes (and was deleted after this story was published). "This test tells you what to eliminate from your diet!"
Even better, customers could get $60 off their own test on Pinnertest.com with Cheban's code, "FOODIE."
His was a high-profile endorsement for Pinnertest, which claims it has sold nearly 1 million of its $490 blood tests. The mail-order kits use a run-of-the-mill screening technology to identify specific antibodies in the blood, and claim to reveal intolerances to 200 food items.
Even though scientists say these test results have nothing to do with food intolerance, Pinnertest, like a growing number of brands, aggressively plays an online marketing game: paying for celebrity endorsements on social media.
Cheban is among dozens of celebrities who have endorsed Pinnertest on Instagram, including Mario Lopez, Lindsay Lohan (in a since-deleted post), and Real Housewives of New York City star Ramona Singer, as well as fitness gurus and lifestyle influencers. They say the test can help people avoid problematic foods, or has personally helped them feel better.
And many have been rewarded for their enthusiasm. Pinnertest paid Cheban around $5,000 — according to two former employees who spoke to BuzzFeed News on condition of anonymity — even though, according to one of them, Cheban "never got his results back when he wrote whatever he wrote."
Other stars were offered anything from a couple hundred to several thousand dollars depending on the size of their following, according to one of the ex-employees.
The company does not deny that it pays celebrities. "Paying influencers to try a product and comment on their experience is a common practice utilized by brands big and small across Instagram and other mediums," Patricia Costa, Pinnertest's director of marketing and social strategy, told BuzzFeed News by email.
"If an individual endorsed Pinnertest and did not actually use the product," she added, "that would be a violation of the Pinnertest confidence placed in such individual."
Cheban did not indicate that his post was an ad — such as by including the hashtags #ad or #sponsored — per the Federal Trade Commission's guidelines for sponsored content. (Representatives for Cheban declined to comment.)
Pinnertest, Costa noted, "has always complied with [FTC] guidelines." But in the spring, the agency sent letters to Pinnertest and dozens of other brands, reminding them of its social media advertising guidelines. Specifically citing Lohan's now-deleted Instagram post, the FTC noted that Pinnertest's celebrity endorsements must disclose any business relationships with the company. What's more, Pinnertest must ensure that all claims about its product are "truthful" and evidence-based. (The FTC sent a similar letter to Lohan. Her representatives declined to comment.)
Although Cheban's "FOODIE" code implied that he was letting his fans in on a special deal, it wasn't as exclusive as it seemed. Entering any word at all on Pinnertest.com will lead to the same discount. (When a BuzzFeed News reporter entered "BULLSHIT," for example, she, too, was offered $60 off.) This loophole was intentional, according to the former employee who pointed it out: The "codes" were just to help salespeople on the other side keep track of their commissions.
As the fragmented advertising landscape makes it ever harder to get millennials' attention, brands are spending more than $255 million a month on influencer marketing on Instagram alone, according to a 2016 estimate by Captiv8, a company that connects influencers with brands. On the image-heavy platform, food-related posts are especially popular.

As scientists told BuzzFeed News last month, there is no fast, easy test for food intolerance, which consists of uncomfortable digestive reactions to foods that your body can't break down. (It's different from an allergy, which is an immune reaction.)
Scientists said there is no evidence that the antibodies screened by Pinnertest are proof of food intolerance.
Scientists said there is no evidence that the antibodies screened by Pinnertest are proof of food intolerance — in fact, they could just indicate that you recently consumed that food. Even some scientists whose studies are listed on Pinnertest's website said their research was cited out of context.
"If this test has any value, we will see literature that would be published to prove this test really could be useful," Alessio Fasano, a pediatric gastroenterologist at Harvard Medical School, told BuzzFeed News. "But honestly, I haven't seen anything like this so far. In the literature, in practice, I don't see it."
Extreme elimination of foods can be dangerous in the long run, Fasano added.
Until recently, Pinnertest's homepage sought to sell visitors on the test through a series of health questions: "Do you have unexplained rashes, acne, or eczema? Do you have painful joints from time to time?" Enough "yes" answers meant "you might have a Food Intolerance."

But at some point in the three days after the BuzzFeed News story was published, the company had removed the list of questions, and added a wordy caveat.
"Although Pinnertest is not meant to act as a diagnostic tool, it can serve as wellness advice to alleviate negative food intolerance related symptoms," the site now reads. "While we do not prescribe any specific dietary plans after testing, eliminating the problem foods from your diet and replacing them with nutrient-dense alternatives is highly recommended."
The website still describes Pinnertest as a "next generation blood test that can determine a client's individual food intolerances."
Pinnertest's laboratory is in Silicon Valley, but its sales office is in North Bergen, New Jersey. The sales team, according to the ex-employees, is led by Costa and Ferit Erdem, a consultant with a PhD in industrial engineering from Istanbul Technical University. (Although Ferit Erdem is the name he provided BuzzFeed News, the FTC letter refers to him as "Ferit Rahvanci," a "manager." Ferit Erdem Rahvanci is also listed as the owner of the Pinnertest trademark.)

According to one former employee, the endorsement process would begin with the sales team looking for celebrities with some connection to food or health care — and usually at least 100,000 followers — and messaging them. Depending on the size of their following, the exercise and nutrition bloggers were typically offered amounts in the low hundreds, whereas the more high-profile actors could make into the thousands, the ex-employee said.
Pinnertest's Instagram has featured endorsements from at least three dozen personalities, including Lopez; Lohan; Singer; soap and reality star McKenzie Westmore (84,700 followers); fitness models Lauren Drain Kagan (3.6 million), Lauren Abraham (359,000), Sandra Prikker (3.4 million), and Sarah Stage (2.1 million); and Noelle Foley (679,000), the daughter of wrestler Mick Foley.
Representatives for Singer, Lohan, and Stage declined to comment on their relationship with Pinnertest. The others' did not respond to requests for comment.
After a star Instagrammed their selfie-endorsement, the team would repost it to Pinnertest's own Instagram account in the US, which has more than 60,000 followers. But former employees said many of those followers, as well as many of the company's 12,000 Twitter followers, are bots purchased by the company, not real people. The salespeople were also told to use their personal accounts to like and comment on the posts (such as "This is amazing!" or "I can't believe my results!"). "This way it looked like people were interested in the product," one of the ex-employees said.

Costa denied these allegations. "All of our followers are real people," she wrote.
The former employees also said that Erdem, the consultant, never gave the staff a clear explanation about how the test worked. "He would always say, 'Go refer to the website,'" one recalled. "All he said was, 'This is the best one on the market.'"
Costa denied this as well, threatening to sue BuzzFeed News over this story. "We are preparing over 20.000 pages of study for the lawsuit. No worries. You will read them all," she wrote. "Also, you can be sure that we have serious proof about why you are trying to make such claims. You can be sure that legally you will pay every penny we lose for this defamation."
The former employees said that they figured out on their own that the tests didn't work. Some skeptical customers were taking the test under different names and getting different results, until Erdem told the staff that they weren't allowed to sell one person multiple tests unless they were a doctor, according to one ex-employee. (Costa denied this, writing that Erdem "does not know our marketing. We can sell to anyone.")

Even marketing to doctors was hard, though, since the company lacked studies that validated its test. So the staff had to try selling to "personal trainers, gyms, and other places that might not require medical studies," the ex-employee said.
Celebrities were one of the company's biggest hopes for sales — even if, as one ex-employee put it, "celebrities" was a generous term.
"That's why they're C-list. They're not going to get Brad Pitt," the former employee said. "They get people desperate for money."
UPDATE
After this story was published, Jonathan Cheban's Instagram about Pinnertest was deleted. This story now includes a screenshot of the old post, and also reflects the fact that it was deleted.