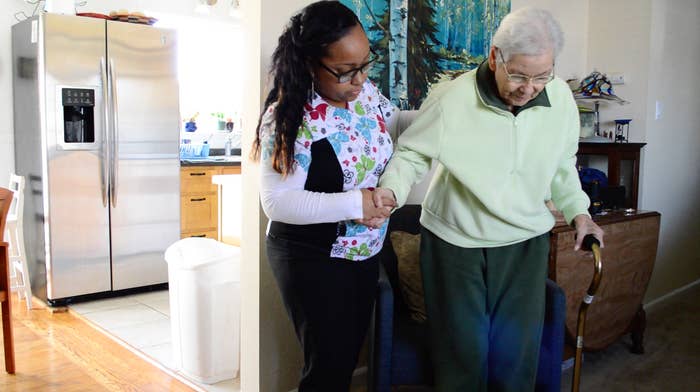 A few different tech-enabled startups want to take care of a vulnerable group of people, one whose numbers are growing at a faster rate than the rest of the United States population: senior citizens.

Honor, one of these companies that connects older adults living at home with caregivers, said today that it's growing. It just got a new funding round of $40 million led by Thrive Capital, so it's expanding its service outside California. It currently operates in Los Angeles and the San Francisco Bay Area, and soon it will offer its caregiving in Dallas/Ft. Worth, Texas. Honor launched in April 2015 with $20 million in funding, $15 million of it from Andreessen Horowitz. (Andreessen Horowitz also invests in BuzzFeed.)
For $15 and up an hour, Honor's caregivers do things like remind people to take their medications, drive them to errands and appointments, and clean the house. Through an app, they match with customers, schedule appointments, and share information with the customers' relatives.
And while Honor doesn't provide medical care, it's taking steps toward having its caregivers communicate more with doctors, nurses, and other health care providers. It's rolling out a new app feature that lets caregivers collect basic health information about their customers — like their mood, sleep schedule, and pain levels — that can be shared with the customers' relatives, and could someday be shared with doctors.
"One thing that we've been told repeatedly by the health care system that we didn't understand initially is they only see people for less than 1% of their lives, when they're at the hospital or the doctor's office," said CEO Seth Sternberg, who co-founded the company with Sandy Jen. (The pair, along with a third co-founder, previously founded instant-messaging service Meebo, which Google acquired in 2012.) "Honor sees people all the time where they live and that is actually a better set of data to figure out someone's fundamental health, so it's almost like we're the eyes and ears into the home." He added, "One of the things you can do with that is try to see if someone might be trending in the wrong direction," like if they're developing signs of pneumonia.
One reason Honor wanted to set up shop in Dallas, Sternberg said, is because it may want to partner with a health provider there in the future — although he declined to say which.
Honor's competition includes a startup called HomeHero, which operates in Los Angeles, San Diego, San Francisco, and Orange County; and the similarly named HomeTeam, which is available in New York, New Jersey, and Pennsylvania. And in June, Google Capital bought a majority stake in Care.com, which went public in 2014 and provides care for seniors as well as children and pets.
These other companies have also announced plans to offer services resembling health care. HomeHero has announced a program in which it would take care of patients newly discharged from hospitals; HomeTeam has also said it will take care of patients discharged from rehabilitation facilities at CareOne, a skilled nursing provider in New Jersey.
Like other "marketplace" startups, Honor initially classified its caregivers as independent contractors. But in the spring, it switched them to W-2 employees. Even though it was more expensive for Honor, the company hoped it could retain employees better by offering them more training and career advancement opportunities, not to mention health care benefits and even equity in some cases. The majority of employees decided to make the W-2 transition, Sternberg said, and the company is no longer hiring independent contractors. (Honor won't say how many employees it has.)
HomeHero said this spring it would convert its contractors to employees as well. All of HomeTeam's employees are W-2.