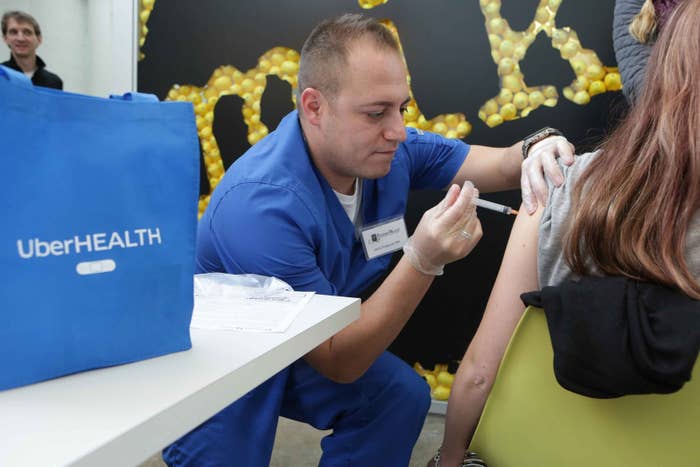 Someday, an Uber — not an ambulance — could appear at your door and whisk you to the hospital. Or to a doctor's appointment. Or it could bring the doctor to wherever you are, whenever you want.
Uber doesn't have immediate plans to do any of this, but it appears to be laying the groundwork to serve up health care at the tap of a button, just as it has rides and, more recently, food, drugstore necessities, and even kittens.
For four hours on Thursday, Uber customers could summon nurses to administer flu shots for $10; the company hoped to vaccinate as many as 10,000 people across 36 U.S. cities.
More significantly, the company announced this week that it'd hired its first-ever health adviser: John Brownstein, director of the Computational Epidemiology Group at Boston Children's Hospital.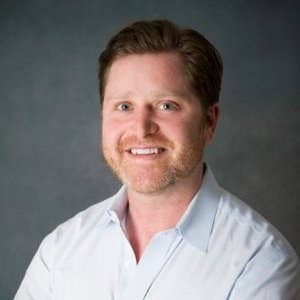 Flu shots are a major public health intervention, but "it's still not necessarily convenient," Brownstein, who is also a biomedical informatics professor at Harvard Medical School, told BuzzFeed News. "We had this idea: Why not bring vaccines to people as opposed to making people go to vaccines? Even more broadly, there are so many more opportunities in health care with on-demand logistics technology. … You can imagine transportation's not always the most available to anyone in need of health care."
Trained in epidemiology at Yale University, Brownstein co-founded Epidemico, a startup that analyzes data to predict public health problems, in 2007. He first started working with Uber last fall, when it did a one-day trial run of the flu shot program in four cities: Boston; New York City; Washington, D.C.; and Chicago. A total of about 2,050 people were vaccinated, according to a study published Tuesday in Annals of Internal Medicine. Of the 486 who responded to a follow-up survey, 70% said they were somewhat or definitely unlikely to get a flu shot in a traditional way — like in a doctor's office — and about 80% said the program's convenience was a significant reason they got vaccinated.
Those figures inspired Uber to expand the service this year. Ten bucks bought patients a "wellness" bag with flu prevention supplies (tissues, hand sanitizer, an Uber water bottle) and the option to request up to 10 free flu shots (for other people on-site, like relatives or co-workers) administered by registered nurses with Passport Health, a travel medicine clinic. Patients had to fill out consent and waiver-of-liability forms, just as they would at a pharmacy, Uber said. (The nurses did not drive themselves, but rode with a mix of UberX and Uber Black drivers, according to Meghan Joyce of Uber.)
Brownstein has big plans for Uber's foray into health care: He said Uber's drivers, which now number around 400,000 in the U.S., could someday shuttle patients to clinical trial centers or doctor's offices, especially for scheduled, repeat visits — or vice versa.
"We know that people don't follow up on treatments on whatever course of therapy they're on," he said. "That can ultimately lead to poor health, but also a huge amount of costs to the health care system. Any way to create more convenience and more options for people to access health care means the overall cost of the health care system is going to come down." One example he cited: ambulance rides, which can cost up to tens of thousands of dollars.
Uber is already starting to put some of these ideas into practice outside the U.S. The company announced this week a partnership with Practo, whose app now lets users in India, Indonesia, the Philippines, and Singapore book medical appointments and request an Uber to travel to them.
Brownstein acknowledged that all plans would have to be delicately implemented, considering how personal and risky health care is. "We'd have to think about liability, the idea of patient privacy — all these concepts are so key and so vital and of course those will be considered as part of any operations we go after," he said.
Uber wouldn't be the first startup with an app that lets customers order house calls. Pager does that in New York City and San Francisco; Mend in Dallas; and Heal in Los Angeles, Orange County, San Francisco, and Palo Alto. All are much smaller and relatively less-funded, and all have been described or described themselves as an "Uber for health care."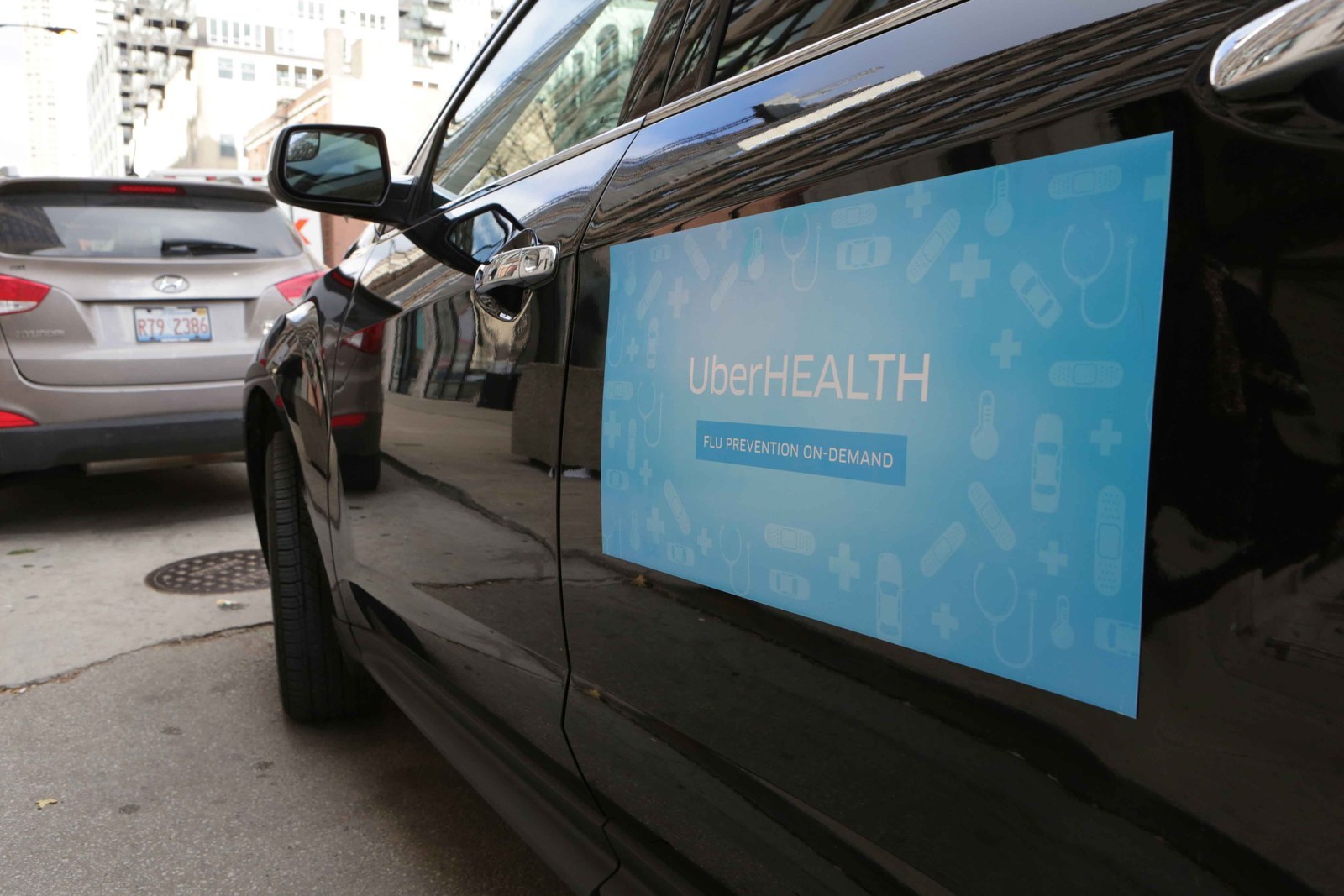 Heal's 100 or so clinicians have provided on-demand primary and urgent care to more than 1,000 patients since it launched last year, according to co-founder Dr. Renee Dua. The doctors have called ambulances for some patients, but they purposely don't drive patients to the hospital, for the same liability issues that Uber would have to deal with if it went down that route.
"If you were to fracture your wrist and your wrist needs to be stabilized, then you can make your way to an ER or urgent care setting for a splint, and ideally the person doing that splint or stabilizing that bone knows what they're doing," Dua told BuzzFeed News. "If they don't and get you in a car and get you in an awkward position in the car, it can wreak havoc. The person who's doing this kind of work — and this is why I'm big on the fact we bring a doctor — is very skilled and knowledgeable about what could go wrong if things aren't handled correctly."
Dr. Elizabeth Anderson, an internal medicine doctor in Fairfax, Virginia, raised other, bigger questions about Uber's model. A consistent doctor-patient relationship is crucial because it lessens the chances of errors and gives patients a clear way to follow up with concerns, she said. Prioritizing convenience above all — as in the case of Uber's on-demand vaccinations — can be dangerous.
Anderson and her colleagues do home visits, but "the difference is we're their doctors, we have their charts, we have their history," she said. "I can't tell you the number of people who get duplications of shots because nobody bothers to check their record."
"As a society," she added, "what has happened is that we put expediency and immediacy above other more valuable qualities with regards to health care, and we're paying for that."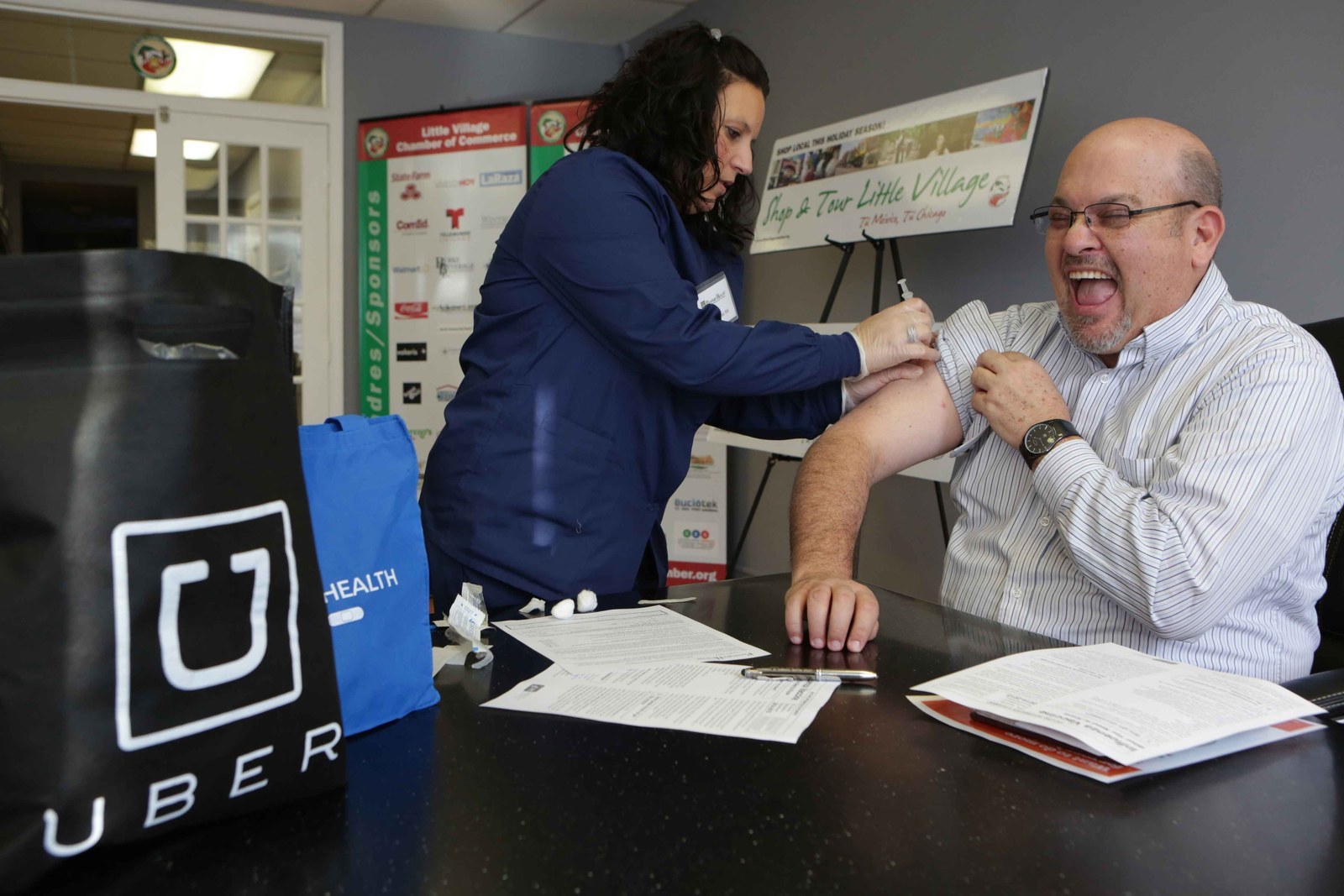 UPDATE
This story has been updated to include a partnership between Uber and Practo.