One online ad claimed that Jennifer Aniston owed her youthful skin to a wrinkle-smoothing cream. On the website Every Day With Dr. Oz, the celebrity doctor and talk show host Mehmet Oz seemingly talked up a weight-loss pill. And a Men's Health article reported that a supplement was making actor Jason Statham "jacked."
But according to the Federal Trade Commission, this reporting and marketing was all untrue. The agency alleges it was part of a vast online network of fake news sites, fake customer testimonials, and fake celebrity endorsements that existed to promote unsubstantiated health claims about more than 40 weight-loss, muscle-building, and wrinkle-reduction products. It apparently worked: People nationwide spent $179 million on these products over a five-year period, the FTC alleges.
What's more, the agency says, customers who thought they were signing up for "free" and "risk-free" trials were in fact automatically charged recurring monthly fees without their consent.
Three people who ran the promotional network through Tarr Inc., a Del Mar, California, company, have agreed to settle the charges, the FTC announced Wednesday. Under a court order, Tarr Inc. must pay the agency more than $6 million, and it is prohibited from using the marketing and sales tactics it had allegedly used. The company did not admit guilt.
Leonard Gordon, an attorney for Tarr Inc., told BuzzFeed News by email, "We're pleased that the matter has been resolved."
The FTC's investigation sheds light on how it says this company appears to have spread unsubstantiated health claims like "LOOK 10 YEARS YOUNGER IN LESS THAN 4 WEEKS" and "30% MORE MUSCLE MASS IN 30 DAYS OR LESS!" across the internet. This breed of advertising has become ubiquitous online in part because it successfully mimics authentic news stories and bypasses traditional banner ads.
According to the FTC's October complaint, Tarr Inc. is made up of a total of 19 companies run by Richard Fowler, Ryan Fowler, and Nathan Martinez.

They — and marketing affiliates they paid — ran sites that resembled established news and magazine sites, like Good Housekeeping and Men's Health, on legitimate-sounding domains like goodhousekeepingtoday.com and menshealth.com--i.link, according to the agency.
On these so-called publications and in online ads, the FTC claims, the company peddled fake celebrity endorsements. One fake magazine article, for example, claimed that actor Will Ferrell "lost 18 lbs of fat and gained 20 lbs of muscle in just 3 weeks with Elite Test 360 and Ripped Muscle X," referring to two supplements.
In another fake article identified by the FTC, celebrity chef Paula Deen purportedly claimed to have tried a product called "Flawless Raspberry Ketone" and wrote that she "couldn't be any happier with the results. I Lost 30 lbs in 4 Weeks, No Special Diet, No Intense Exercise."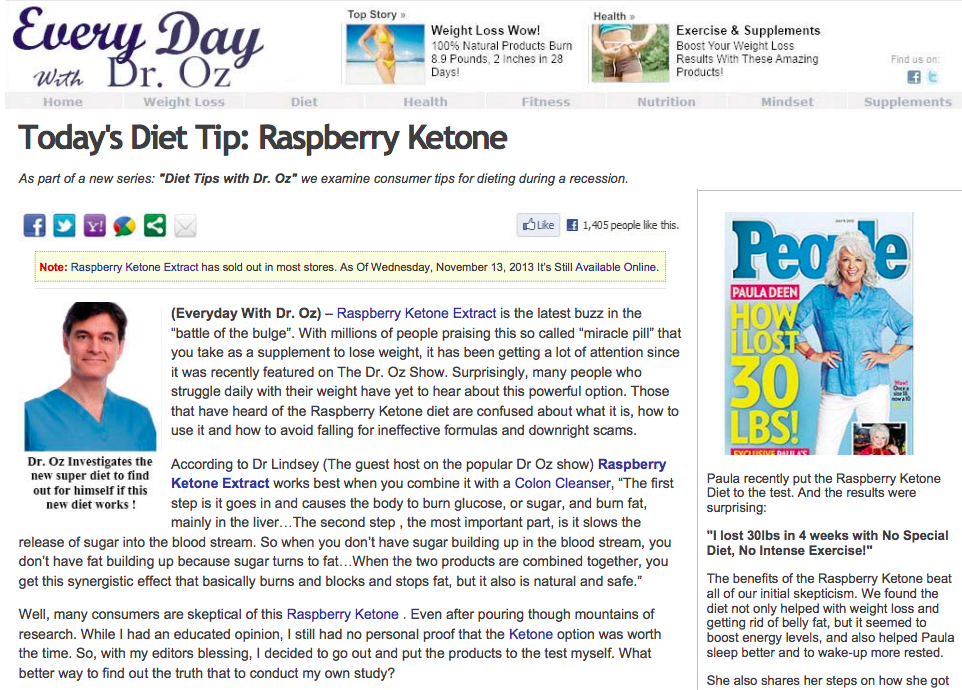 And an ad for a skin-care product claimed: "Celebrities around the world like Cindy Crawford, Jennifer Aniston, and Kelly Ripa have all admitted to using Bellalabs and La Creme to maintain their youthful glow."
On his show in 2014, Oz confronted Tarr Inc. for using his name and face to sell its products, and called the staff "scam artists." At the time, the company denied that it was using his image to endorse its products. "Dr. Oz's producers said they wanted to make an example out of us. There are definitely a lot of sketchy supplement companies out there. We are not," Martinez said in a statement.
On Tarr Inc.'s various websites, the products were also supposedly endorsed by reporters who tested them, as well as non-celebrity customers. People identified as "Jenna" from "Detroit," for example, would praise a product in comments, or look dramatically thinner or younger in before-and-after pictures. These were also fake, according to the FTC.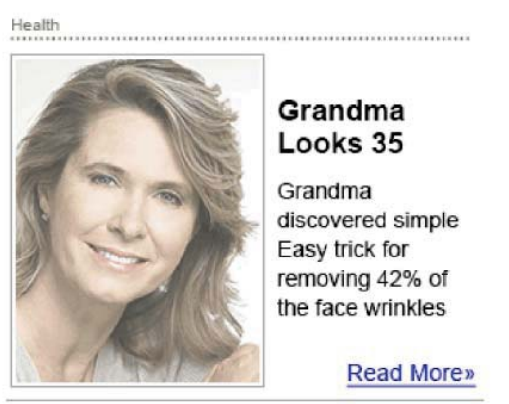 Nor was there evidence that these products worked, according to the FTC. One ad for a weight-loss supplement, for example, claimed — without sufficient proof, the agency said — that in a study, "subjects taking Garcinia Cambogia lost an average of 19.3 pounds in 28 days without diet or exercise."
If customers did decide to order the products, the ads and websites promised that trials were "free" or "risk-free," and came with a "100% guarantee" of satisfaction. Yet this wasn't the case, the FTC alleged.
On the order pages of these websites, customers were told the "total" cost for a 30-day supply of a trial product was $4.95 for shipping and handling. But once they entered their credit or debit card information, they were likely to be charged about $87 for the item — plus recurring amounts for future shipments, the FTC alleged.
The websites didn't make their auto-enroll, cancellation, and refund terms clear, so many customers reported never seeing them, the FTC alleged. And getting a refund was hard. The company's customer service training manual, according to the FTC, instructed representatives to tell customers that they could only get a full refund if they had quickly canceled their automatic enrollment and returned the unused portion of their product.