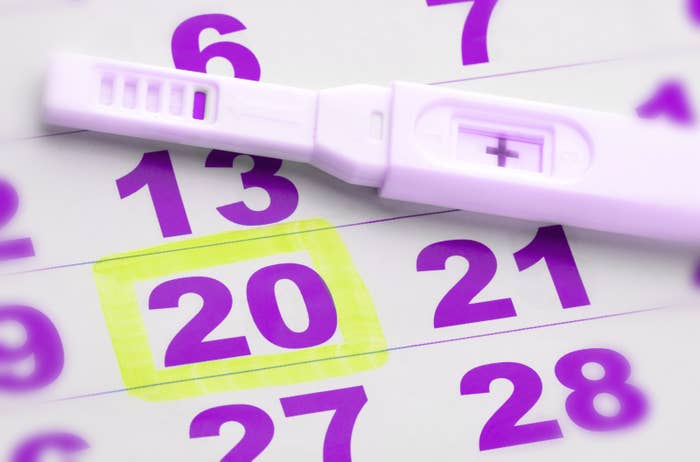 Ellie experienced severe mood swings, weight gain, and spotting while taking birth control pills. Then she tried an IUD until it fell out one painful day. So for the last year, the 26-year-old Chicago resident has been trying to avoid getting pregnant by using a period-tracking app.
"I track my fertility cycles and make sure that my partner and I are extra careful" — meaning by using condoms — "around the time I'm the most fertile," Ellie told BuzzFeed News. (She declined to use her last name because of the personal nature of the topic.) "I feel a lot better not being on something — I think that's just my body — and the app has really helped me keep track of me."
Ellie uses Period Tracker, one of hundreds of apps that can help people prevent unintended pregnancies by noting when they're likely to conceive, reminding them to take a pill, or dishing out contraceptive advice. With the tap of a button, women and others who use fertility apps are collecting, analyzing, and accessing all kinds of data about their bodies. But reproductive health apps, being apps, can contain wrong information, as they have virtually no regulatory oversight. And people can use them to independently make decisions that may not sit well with their doctor — like scheduling unprotected sex for days when an app tells them their risk of pregnancy is low.
Those concerns were raised last month in a study by Emily Mangone, a graduate student who studies reproductive health policies at the University of North Carolina at Chapel Hill. More than half of pregnancies in the United States are unintended, and they disproportionately occur in young, lower-income, African-American women. Reproductive health apps could help flip that ratio, Mangone thinks, given how widespread smartphones are and how much time people spend using them.

So in late 2014, Mangone and her colleagues went looking for apps that claimed, or were designed, to do specific things: help people prevent unintended pregnancies or make decisions about safe sex and birth control. But out of nearly 220 iOS and Android apps the team looked at, most "miss opportunities" to give evidence-based, useful information, according to the study. Forty-one percent didn't mention any kind of contraceptive device. Some of the more egregious ones "may increase the likelihood of unintended pregnancy due to the low effectiveness of the contraceptive methods promoted," the researchers wrote in the journal JMIR mHealth uHealth.
"Anybody can make an app about contraception and about sexual health and it doesn't necessarily have to have any founding in science or reality," Mangone told BuzzFeed News.

A typical birth control reminder app, in Mangone's experience, sends a push notification but doesn't explain "what to do if you miss a pill, it doesn't tell you about emergency contraception, it doesn't tell you you may want to consider condoms for dual protection." Many people use period-tracking apps to get pregnant or just track their flow, but some use them for Natural Family Planning — the Catholic Church–associated method of analyzing a cycle to predict when sex will lead to pregnancy. (This method has a roughly 25% chance of failure, while an IUD's is less than 1%, according to the Centers for Disease Control and Prevention.) "People who might be using apps for preventing pregnancy really miss opportunities to use a better method, which potentially creates a higher risk of unintended pregnancy," Mangone said.
Mangone even found a few apps from groups that purportedly offered pregnancy or abortion counseling — but learned, upon calling them, that they were in fact pro-life organizations.
She believes that apps should explain and address a full range of reproductive health issues. But not everyone who makes or uses apps shares this belief: A woman who just wants pill reminders might not care if a program slips in extra contraceptive guidance. Developers may be more concerned with their App Store ranking than the quality of their app's information.
But it's for this reason doctors regard these apps with both enthusiasm and caution. On one hand, apps can help patients answer key questions when time is precious during an appointment ("What was the first day of your last period?"). At the same time, most physicians don't have the time and energy to vet apps. They aren't strangers to the idea of patients finding misinformation on the internet, but apps, which are constantly available and full of personal data, are especially ingrained in people's lives.
"As these apps become more valuable, you definitely see more people using them, but I do have strong concerns about the validity of them because not everybody has a regular cycle," said Dr. Brian Levine, practice director of the Colorado Center for Reproductive Medicine's New York office. "Unfortunately, many of these apps don't have screening questions to really make sure you're the right patient for it."
Fertility doctors must largely navigate the app landscape on their own. The American Congress of Obstetricians and Gynecologists doesn't have a position on them (although a spokesperson said by email, "We certainly recognize that in terms of preventing pregnancy, the rhythm method is the least effective, app-guided or not"). The Food and Drug Administration regulates only apps that serve as medical devices and therefore pose a high safety risk; pregnancy information–related ones don't fall in this category.

Ellie, the 26-year-old from Chicago, looked for positive reviews and settled on Period Tracker Deluxe, which costs $1.99 (and, like many of its companions, is heavy on pink and flowers). It accurately predicts her period "most of the time," she said.
"Only using condoms or being without any other contraceptive at the moment, I am a little bit nervous, so I'll check the app a lot — 'I thought I should get my period yesterday and I didn't, I hope that's OK,'" Ellie said. "I think it's probably more accurate than I would be if I were just thinking about it myself. So I just try not to worry." Period Tracker's developer, GP Apps, did not respond to a request for comment.
How can consumers sort the trustworthy apps from the noise? Check out who made it, Mangone says. Her research found that some of the most comprehensive and accurate programs were made by public health groups and agencies like Planned Parenthood and the Mayo Clinic. Free apps also tended to be better, the study found. (Mangone declined to name the worst offenders, saying she didn't want to single out any when "there were so many bad ones.")
A handful of popular reproductive health app companies contacted by BuzzFeed News said they weren't universally surprised by Mangone's findings. They noted that her study looked at apps downloaded in November 2014, so its conclusions don't necessarily apply today.

In August 2013, Glow, founded by PayPal founder Max Levchin, launched an eponymous app designed to help people conceive. The company soon realized that a number of customers were actually not trying to conceive. In a Medium post last month, Glow said that 18% of its users list withdrawal — in which the man pulls out before ejaculating — as their primary birth control method. So last summer, Glow released Eve, which tracks sex and periods without a fertility emphasis. It draws much of its birth control information from an online network operated by the National Campaign to Prevent Teen and Unplanned Pregnancy. The company also has a medical advisory board.
Jennifer Tye, vice president of marketing and partnerships, agreed that when it comes to apps, consumers and doctors are awash in a sea of misinformation. "I think it'd be great to have some sort of group of medical experts who are able to say, 'These are the products that have done their homework,'" she said.
Tal Hashai, a developer behind the birth control reminder app myPill, said that he relied on health pamphlets and the United Kingdom's National Health Service. He said his team has added features as questions or knowledge gaps emerge, like an algorithm that analyzes users' pill-taking logs and recommends using a condom, for example, if they appear to not be protected.
Ida Tin, CEO of the period-tracking program Clue, said her team runs all its content past a medical board and cites references in the app itself. Clue also has research collaborations with Stanford University, the University of Oxford, Columbia University, and the University of Washington. "It's important for us to be scientifically valid," Tin said.
But she acknowledged that Clue, like all apps, has its limits. "We are very clear about that, this is not a contraceptive. Beyond that, people make choices for themselves."
UPDATE
This story has been updated to compare the failure rate of Natural Family Planning to that of an IUD, according to the CDC.