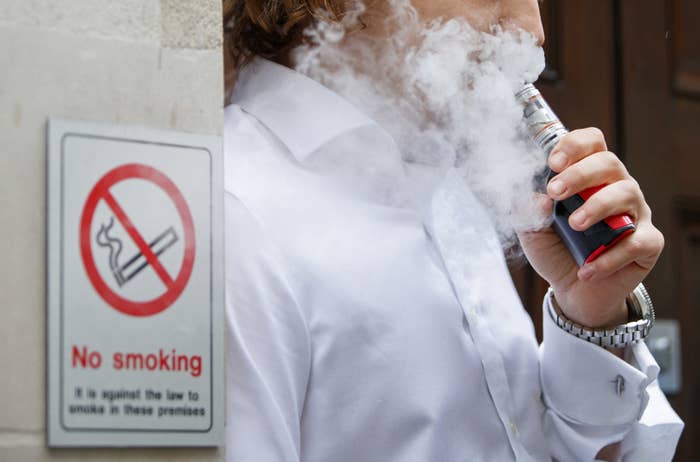 Facebook's ban on tobacco advertising hasn't stopped tobacco and e-cigarette companies from using the platform to promote their products — including to children under 18.
That's the conclusion of a study published Thursday by Stanford University researchers, who say the tobacco and vaping industry is taking advantage of Facebook's lax rules in order to hook a new generation.
Officially, Facebook has several policies meant to ban tobacco marketing. One says that "ads must not promote the sale or use of tobacco products and related paraphernalia," and another says the same goes for posts selling those things.
Yet the Stanford team had no trouble finding plenty of tobacco and e-cigarette brands hawking their products on pages "liked" by thousands or tens of thousands of people.
For example, the page of South Beach Smoke, which has 17,000 likes, is filled with photos of sleek and shiny e-cigarettes ("everything you need to get started on your vaping journey"), ads for various e-liquid flavors, and announcements of special deals.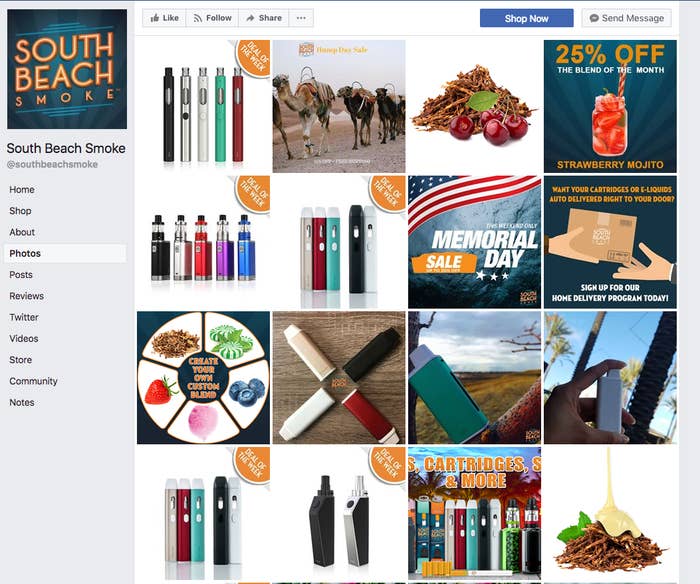 In the Stanford team's interpretation of Facebook policy, the subject matter of pages like South Beach Smoke's meant they should have at least been "age-gated" — that is, inaccessible to users with ages listed as under 18. But a fictional 13-year-old's account, created by the Stanford team, could still view many such pages.
Facebook is under fire for how it collects and shares people's information with third parties. Advertisers have been able to target housing ads to white people only and exclude older people from seeing job ads. And Cambridge Analytica, the data firm hired by Donald Trump's presidential campaign, inappropriately obtained information on as many as 87 million users, Facebook revealed Wednesday.
Tobacco companies are exploiting a loophole in Facebook's rules, according to the leader of the new study, Stanford professor Robert Jackler. They're bypassing paid News Feed ads and instead reaching audiences by putting up free pages for their products, which are not technically ads but are, in Jackler's words, "free ads, frankly."
"Those guys can and will do whatever they can get away with," Jackler told BuzzFeed News. "The industry knows they have to have nicotine-addicted teenagers, or they're going to run out of people to buy their products."
Facebook deserves blame, too, Jackler noted, because some of its policies are inconsistently worded (albeit not so much that tobacco companies would reasonably think they were allowed to market on the platform).
But the heart of the matter, in Jackler's view, is that Facebook isn't proactively filtering out tobacco marketing, despite several policies clearly designed to prohibit it. "They're just not simply enforcing their own policies," he said.
Facebook pushed back on the study, saying that its conclusions are partially based on incorrect interpretations of how the platform's policies apply to pages. The company acknowledged that tobacco-related content is allowed on pages depending on its nature, and stressed that its policies for paid ads are more stringent than those for posts and pages.
"Selling or advertising tobacco products is not allowed on Facebook," a company spokesperson told BuzzFeed News in an emailed statement. "We use a combination of technology, human review and reports from our community to find and remove any content that violates these policies, and provide tools that make it easy for our community to report content they think may violate."
"Our enforcement is not perfect," the spokesperson added, "but we continue to find ways to strengthen our review and enforcement of our policies."
"The industry knows they have to have nicotine-addicted teenagers, or they're going to run out of people to buy their products."
Although cigarette use is waning in middle and high schools, e-cigarettes are on the rise, according to the Centers for Disease Control and Prevention. The long-term health effects of the devices are still unknown, but a national panel of health experts recently concluded that teens and young adults who use them may be at higher risk of conventional smoking. (There is also evidence that they may help adults quit smoking.)

Last summer, Jackler's team found Facebook pages run by 108 tobacco brands, not for cigarettes but for e-cigarettes, hookah, and cigars. Although most had fewer than 5,000 likes, some had more than 10,000 and as many as 50,000. Photos of the products abounded on the pages, most of which also came with a convenient link to shop.
But, the Stanford team notes, Facebook's "commerce policy" says that "posts may not promote the sale of tobacco products or tobacco paraphernalia." Those include "cigarettes, cigars and chewing tobacco, tobacco pipes and paraphernalia, tobacco rolling machines, hookahs and hookah lounges, bongs, rolling papers, [and] electronic cigarettes."
Facebook countered that this policy does not apply to all pages, but only to to a page's "shop section," where customers can buy products directly on Facebook.
Pages without shop sections are allowed to market tobacco products. But yet another Facebook policy, its "page terms," says that "pages promoting the private sale of regulated goods or services (including firearms, alcohol, tobacco, or adult products) must restrict access to a minimum age of 18."
Most of the pages examined in the study lacked digital walls to keep out minors, the Stanford team found. These age-gates, as Facebook calls them, show up instead of a requested page, saying "the page may only be visible to an audience you're not in."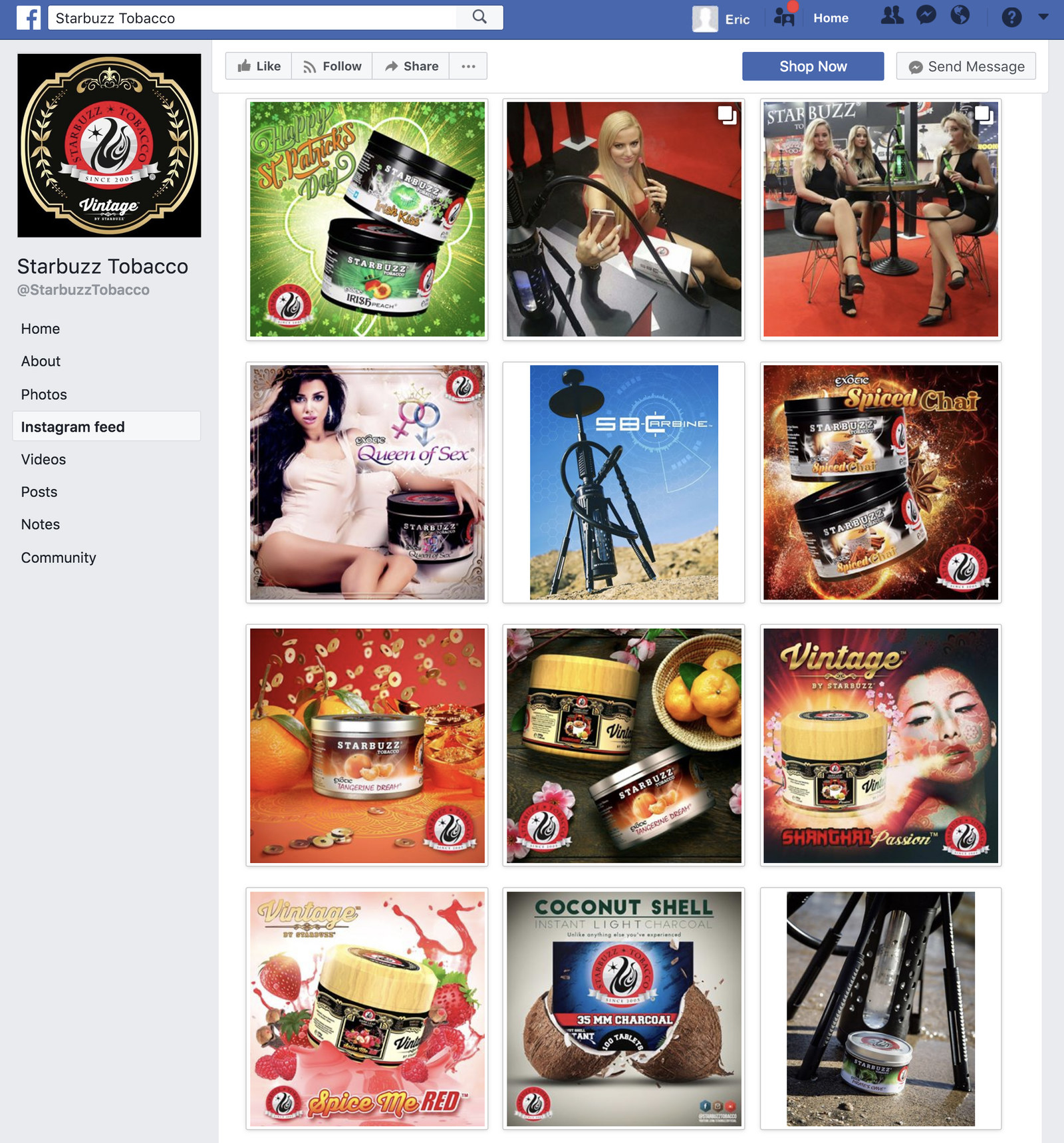 This week, at BuzzFeed News's request, the Stanford team tried once again to access various pages using the account of a 13-year-old versus a 21-year-old. Logged in as an underage teen, the researchers were still able to view the pages of AZSmokes (an "international provider of Cheap Cigarettes Online" with about 1,500 likes), Starbuzz Tobacco (a hookah tobacco vendor liked by 37,000 people), and South Beach Smoke.

None of the companies returned a request for comment.
Facebook, however, said that age-gating only applies to tobacco sales between private individuals, not licensed retailers, that take place on pages. (In the Stanford study, Jackler acknowledged that it was unclear whether a "private sale" applied to a company's public page.)
The lack of age gates was especially concerning to Samir Soneji, an associate professor of health policy at Dartmouth College who was not involved in the Stanford study. In a 2017 study of his own, Soneji found that teens who engage with online tobacco ads may be more likely to use tobacco.
Soneji noted that on their websites, major cigarette manufacturers like Marlboro and Camel have more safeguards to verify visitors' ages, such as by requiring them to input their social security numbers before they can enter.
But social media is much looser.
"Lots of these social networking sites have this duality where they publicly proclaim to not have tobacco advertising and marketing, and have very easily searchable content that has plenty of branded tobacco advertising," he said.