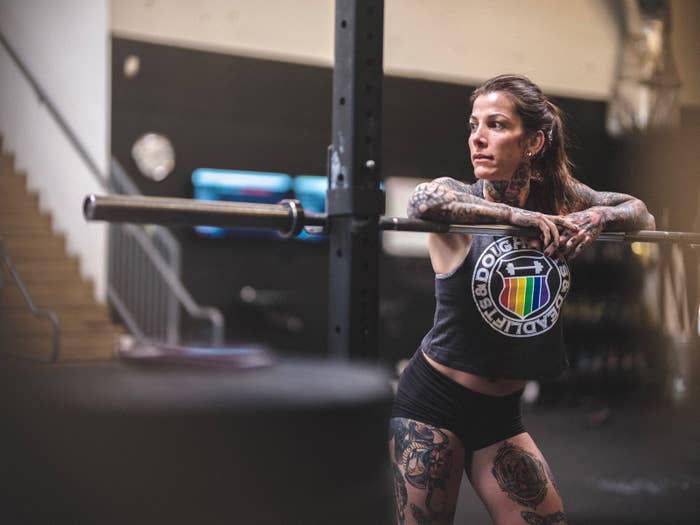 CrossFit will allow transgender athletes to compete in its annual tournament, the CrossFit Games, starting next year, in a reversal of a policy that had subjected the global fitness brand to criticism from the LGBT community.
"This is the right thing to do," CrossFit chair and founder Greg Glassman said in a statement on Friday. "CrossFit believes in the potential, capacity, and dignity of every athlete. We are proud of our LGBT community, including our transgender athletes, and we want you here with us."
More than 415,000 people across the world participated in this year's CrossFit Games season, which since 2007 has aimed to determine the "fittest on Earth." Under the old policy, athletes were required to enter divisions according to their gender assigned at birth, a rule that has stirred up controversy for years.
CrossFit further enraged the LGBT community in June, when spokesperson Russell Berger tweeted that LGBT pride is a "sin" and expressed support for the cancellation of a Pride-themed workout at a CrossFit gym.
In response to public outrage over both incidents, the company, which has been called potentially "the gayest sport on the planet," has insisted that it is inclusive. It condemned Berger's tweets and fired him hours after he sent them.
"CrossFit admitted they're wrong and is making it right," Chloie Jönsson, a trans athlete from Reno, Nevada, told BuzzFeed News. In 2014, she sued CrossFit for banning her from competing in the women's division.
Jönsson, 38, said she was surprised and delighted by the "overdue" policy change. "It's huge for us. There's no reason to hold any negative feelings toward CrossFit. I'm just stoked for all of my trans brothers and sisters that we have the chance to compete."
Her lawsuit against the company, which sought $2.5 million in damages, was settled in 2015. At one point during the proceedings, a CrossFit lawyer had claimed that transgender women should compete in the men's category because they were "genetically" male. As a letter to Jönsson's lawyer put it at the time, according to CNN, "The fundamental, ineluctable fact is that a male competitor who has a sex reassignment procedure still has a genetic makeup that confers a physical and physiological advantage over women."
CrossFit's dramatic shift in policy reflects a larger trend in the athletic world. Trans athletes were first allowed to compete in the Olympics in 2004, provided that they had undergone sex reassignment surgery. For the 2016 Olympics, new guidelines removed the surgery requirement. Trans men can now compete without restriction, while trans women must undergo hormone therapy and demonstrate lowered hormone levels for at least a year before competing. (And in a highly controversial move, international sports regulators just ruled that cisgender women with high testosterone will not be allowed to compete in certain track competitions without undergoing hormone treatment to lower their levels.)
CrossFit, which is still ironing out the official rulebook for 2019, hasn't said yet whether it will abide by these guidelines. But according to Will Lanier, executive director of the Out Foundation, an LGBT health group that has been consulting with CrossFit, the company has considered adopting some of the same rules, like requiring a year of hormone therapy and restricting trans athletes from switching back to competing as their gender assigned at birth.
The CrossFit Games, a grueling blend of aerobics, weights, and gymnastics, are the culmination of a series of competitions that begin early in the year. For the first event, the Open, athletes all over the world complete workouts posted online and electronically submit their scores, validated by either a video or a CrossFit gym. (This year, more than 415,000 people entered the Open.) The top scorers go on to compete in the Regionals, and then the Games, this year held from Aug. 1 to 5 in Madison, Wisconsin. Top individual athletes stand to win $300,000 in prize money.
The Out Foundation held an alternative Open this year for the trans community and others who objected to CrossFit's policy. Athletes were invited to register on the foundation's site instead of CrossFit's, perform CrossFit's official workouts as they were posted online, and then add their scores to the group's separate leaderboard.
This alternative event attracted about 300 participants from 12 countries, about 10% of whom were trans, according to Lanier. It reinforced to CrossFit, which wasn't involved with the event, that people supported the inclusion of trans athletes, he said.
"To see a sport as big as CrossFit adopt a transgender policy is a huge step forward for our community as a whole," Lanier said.