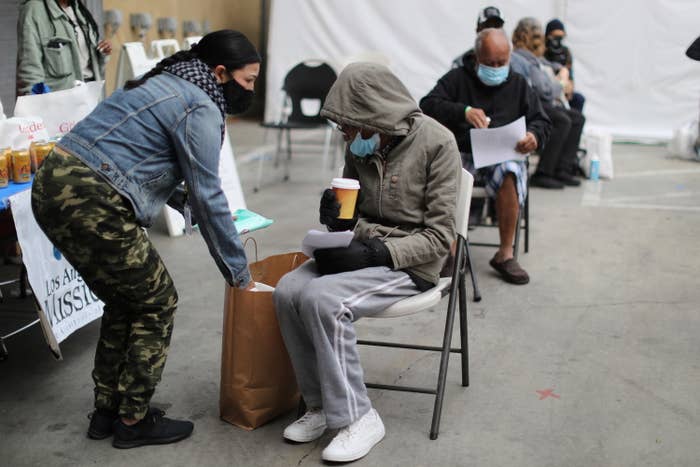 Weeks ago, Van Yu, a doctor in New York City, felt like he was having a breakthrough in his efforts to immunize people experiencing homelessness against COVID-19. He said people on the streets and in shelters would tell him, "I want the one-shot thing."
Unlike Pfizer's and Moderna's two-dose regimens, Johnson & Johnson's vaccine is a one-and-done deal. It's also much easier to store and transport. Those qualities have made it ideal for immunizing people who are hesitant or are hard to track down a month after the first dose.
Then, last week, use of J&J ground to a halt. Reports of half a dozen vaccinated people developing highly unusual blood clots, one of them fatal, led federal regulators to recommend pausing the shot and to all 50 states following suit. A federal vaccine advisory panel debated the matter in an emergency meeting, only to conclude that it needed more time to decide what to do.
For most Americans, the pause of the J&J vaccine over the last week has had little to no effect on their ability to get vaccinated. Because that vaccine was the most recent to be authorized and is in short supply due to manufacturing snafus, J&J made up less than 5% of the US's vaccine stock at the time it was paused.
But for healthcare providers struggling to find people at the margins — including those living on the streets, moving through shelters, or otherwise lacking a permanent address — J&J's vaccine was a short-lived blessing. In its absence, they say, some of the most at-risk people in the US aren't getting another type of shot. And even if the pause lifts, they may not get vaccinated then, either, some clinicians fear, because they'll have concerns that it's unsafe.
"The pause is a big bummer for us," Yu, chief medical officer of the nonprofit Center for Urban Community Services, told BuzzFeed News. "I'm sitting on 185 doses. That's 185 people who aren't getting vaccinated until there's an un-pause."
"I'm sitting on 185 doses. That's 185 people who aren't getting vaccinated."
Vaccine administrators like Yu are in a race against the coronavirus and its highly transmissible variants, which are threatening to gain a foothold in the US before the country achieves herd immunity through mass vaccination. All adults became eligible on Monday, and federal officials say that by the end of May, there will be enough supply for each of them to get immunized. But only half of the eligible population is vaccinated so far, and cities and states have struggled to distribute doses equitably to people with low incomes and people of color.

This Friday, the Advisory Committee on Immunization Practices — the group of independent vaccine experts who advise the Centers for Disease Control and Prevention — will reconvene to once again discuss what to do with J&J. Anthony Fauci, chief of the National Institute of Allergy and Infectious Diseases, has said he expects it to resume with a warning or restrictions. Regulators in Europe, where the vaccine has also been paused, said Tuesday that it will be restarted, though with a warning label.
Much hinges on ACIP's upcoming decision, and not just in the US. In addition to consisting of one shot, J&J's vaccine does not need to be refrigerated at the ultracold temperatures that Pfizer's vaccine requires. J&J's and AstraZeneca's vaccines are supposed to play major roles in COVAX, a global collaboration to distribute vaccines fairly across nations, especially lower-income ones. But both vaccines are currently under safety investigations in connection with blood-clotting issues.
Because Pfizer's and Moderna's vaccines don't offer full protection until the second dose, William Schaffner, an infectious diseases professor at Vanderbilt University, called J&J a "godsend in more ways than one." "Any kind of minority, hard-to-reach group ... if you can get them once and get the job done, of course that reduces by half the work you have to do," he said.
That includes rural residents, emergency room patients, and people of color, particularly Black people, who at the outset of the rollout expressed the greatest hesitation among racial groups about getting immunized. Malcolm John, an infectious diseases doctor at the University of California at San Francisco and head of its Black Health Initiative, said that J&J has been extremely popular among the local Black community. While it's been paused, he said, people seem to still be enthusiastic enough about it that they haven't written it off completely.
"There is this historical reservation around vaccines, so I think having to do it more than once, and overcome that trepidation more than once, is a challenge for some folks," he said. There are also practical concerns: "When you talk about highest-risk populations, they're the one most likely to have frontline jobs, less likely to take time off."
Possibly the hardest-to-reach demographic is people experiencing homelessness. There are more than 567,000 such individuals nationwide, according to an estimate taken on a night in early 2020, although that is likely an undercount. In addition to being transient — often lacking reliable cell and internet access, and spending large amounts of each day seeking food and shelter — they tend to mistrust the medical system and underuse health services despite having higher rates of mental illness, chronic substance abuse, HIV/AIDS, and other conditions.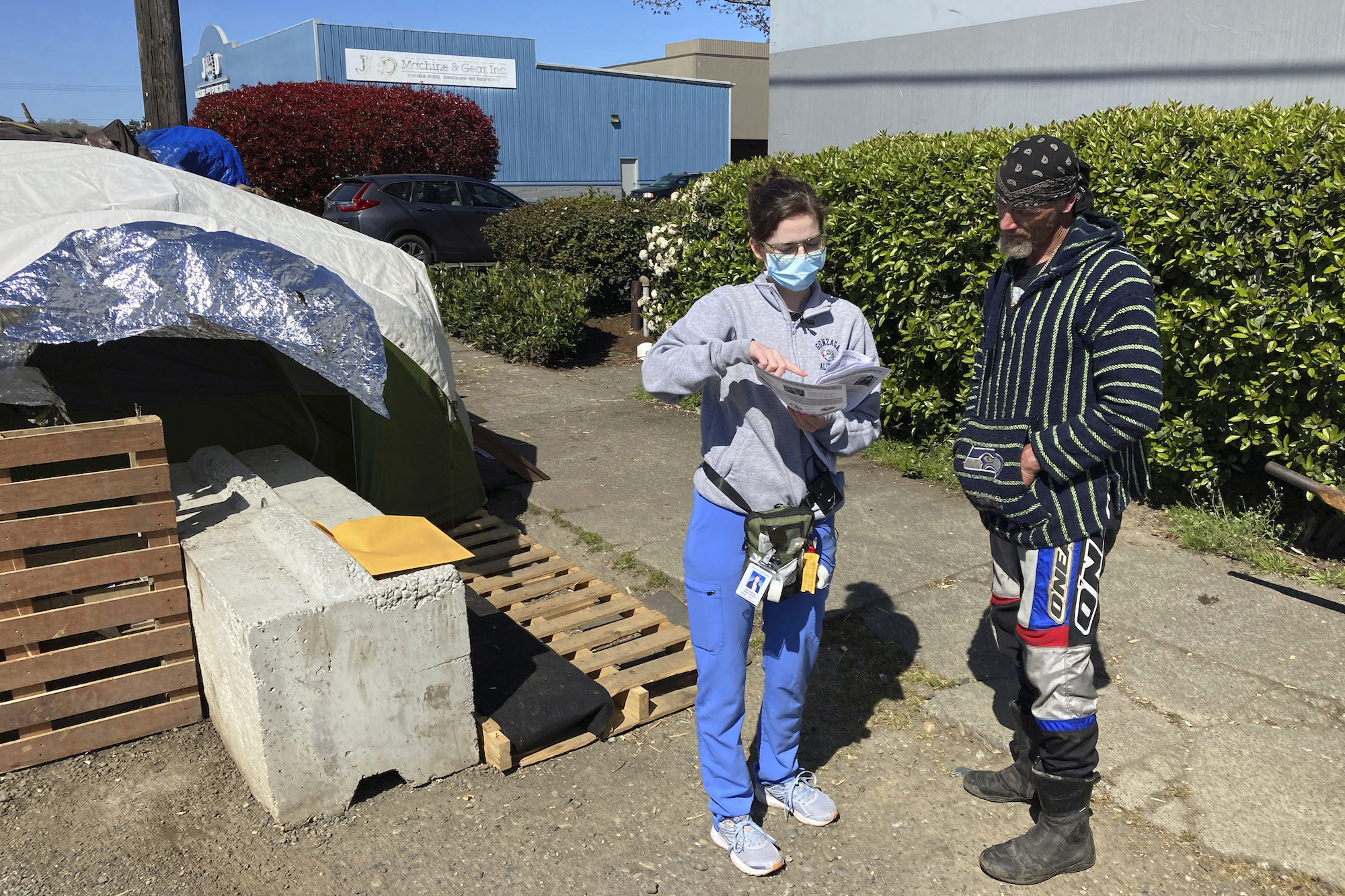 Data from major cities suggest that efforts to vaccinate this group have a ways to go. In Chicago, at least 1,940 sheltered and unsheltered people had received at least one dose as of April 5, according to the city, which would be about 45% of the 4,300 such individuals living in the city as of 2020. About 16,000 doses have been given to people experiencing homelessness in Los Angeles County, where that population was most recently estimated to number more than 66,000.
And in New York City, only about 5,000 out of approximately 20,000 adults living in shelters have been fully vaccinated so far, according to data collected by the city and the Coalition for the Homeless, an advocacy and services group. That doesn't include unsheltered people who sleep on the streets or on subways, whom the group believes to number in the thousands, or the nearly 12,000 homeless families who are advised to use public vaccination sites.
"It's hard to think of a population that faces more barriers," said Margot Kushel, director of the Center for Vulnerable Populations at UCSF.
In Chicago, Stephan Koruba, a senior nurse practitioner at the Night Ministry, a local organization, has worked hard to gain the trust of people experiencing homelessness regarding vaccinations. "I've heard plenty of people still talking about the Tuskegee experiments" — in which federal scientists in the mid-20th century infamously studied Black syphilis patients without treating them — "and explaining that that carries and echoes through their attitudes to the modern day," he said.
When the J&J vaccine's overall efficacy rate of 66% was first reported, that fed perceptions in some circles that it was inferior to Pfizer's and Moderna's immunizations, whose rates were 95% and 94%, respectively — even though J&J's was 100% effective at preventing hospitalizations and deaths and 85% effective against severe illness.
But in Koruba's experience in the Windy City, people have been much more receptive to J&J than Moderna. "Even if folks are out here using drugs and even IV drugs, they just are way more easy to talk into and be open to having that Johnson & Johnson one-shot vaccine," he said.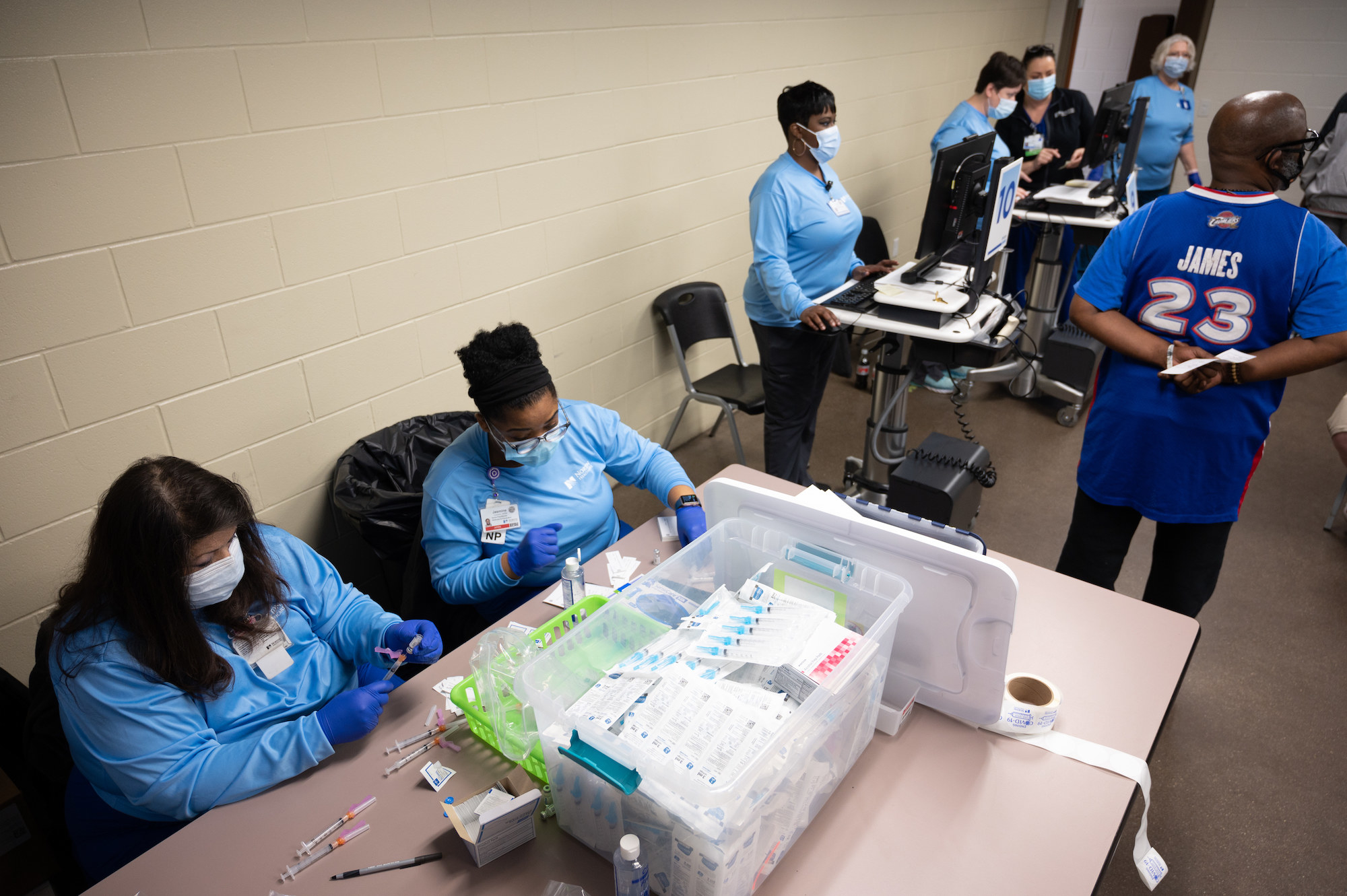 Kushel has seen that kind of enthusiasm firsthand in San Francisco. At a pop-up clinic before the pause, she and her team miscalculated the J&J doses left at the end of the day. They had to break the bad news to two dozen people in line, but offered to transport them elsewhere to receive a Pfizer or Moderna dose. To her surprise, all of them declined and said they'd wait for the staff to find more J&J shots.
"People were like, 'I'm here, this is now, and I want to get it over with. I want to know that I'm then going to have some protection,'" Kushel said.
Now, the pause has delayed a vaccination campaign that experts fear may already be moving too slowly.
Speaking on Tuesday, a week into the hold, Koruba questioned whether there might be "a little bit of an overabundance of caution at this point."
"Everybody appreciates the fact that they're monitoring things so closely," he said, "but my personal feeling is that when you're looking at a less than 1 in 1 million chance of something happening, your chances of dying from a severe case of COVID are still higher than that. It just doesn't seem like it justifies the pause."
Others hope that this pause will be viewed as a blip — an endorsement, even, of the national vaccine surveillance system's ability to quickly detect rare side effects. The six blood clot episodes that triggered the pause all occurred in women under age 50, out of a pool of 6.8 million vaccine recipients. Two additional cases were reported last week — a man who was a clinical trial participant and a seventh woman — and federal health officials said this week they were aware of a "handful" of new, unconfirmed reports.
The cases confirmed to date are raising alarm because they seem to be an unusual combination of brain clots and low levels of platelets, which help form clots. The pause has allowed regulators to investigate whether and how the vaccine causes the clots, and to warn doctors to avoid prescribing heparin, a blood thinner that is commonly used to treat similar symptoms but may actually worsen this condition.
"I appreciate the public health world for looking out for people. I think it can only help with confidence in the vaccine if we handle any adverse side effects like this responsibly," said Shelly Nortz, deputy executive director for policy at the Coalition for the Homeless in New York City.
At the same time, she acknowledged that "it's not great that there's a pause. It's difficult to find unsheltered people, especially for a second dose." She estimates that the pause has slowed down access to vaccinations for dozens of people.
As of now, clinicians aren't sure what they'll tell patients about the J&J vaccine if and when it resumes. What ACIP and regulators say will largely shape their messaging.
Yu, of the Center for Urban Community Services, is also figuring out what he will personally feel OK saying about it. "I don't like to try to encourage people to do something I wouldn't do myself," he said. Based on the currently reported cases, he would feel "totally comfortable" recommending that a man get the vaccine, as a man himself. But "if I'm a 30-year-old woman," he said, "I don't know what I'd feel comfortable saying about that."
Even if J&J remains out of play for a while longer, Koruba, the nurse practitioner in Chicago, and his colleagues will continue trying to find people wherever they can, from park benches to train stations.
"Obviously, we're going to do everything we can to get everybody as vaccinated as possible," he said. "We're going to keep going. We've got to."
UPDATE
This story has been updated to reflect the number of homeless families in New York City.