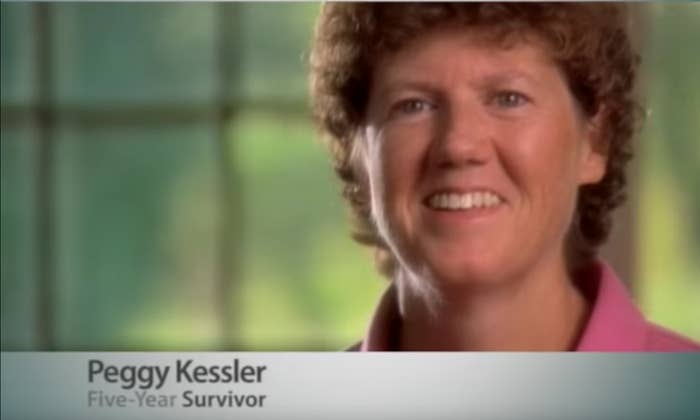 With tears in her eyes, Peggy Kessler recalls her victory over stage 4 pancreatic cancer. "It's really unbelievable how one doctor can tell me I have two months to live," she says, looking into the camera, "and then I go to the Cancer Treatment Centers of America and they save my life."
In this two-minute commercial, Kessler's words serve as a moving endorsement for the hospital network. But to an advertising watchdog group, the ad is troublingly incomplete: Nowhere does it mention that the five-year survival rate for Kessler's diagnosis is less than 3%, making her an outlier.
This type of ad is not an anomaly. A report out this week from TruthInAdvertising.org, also known as TINA.org, suggests that cancer hospitals frequently use patient testimonies to paint an overly rosy picture of a typical patient's results.
"It's providing them with a hope that they may have thought didn't exist for their cancer," Bonnie Patten, TINA.org's executive director, told BuzzFeed News. "It turns out that what they're being told is just deceptive." Even a disclaimer like the one that appears at the top of Kessler's commercial — "No case is typical. You should not expect to experience these results" — does not sufficiently explain the generally low chances of survival, she said.
This anecdote-heavy tactic is employed by many of the country's best-known cancer hospitals. They include MD Anderson Cancer Center, Memorial Sloan Kettering Cancer Center, Dana-Farber Cancer Institute, and the Moffitt Cancer Center in Florida, which were each identified as circulating dozens of unrealistic patient testimonies this year and spending millions on marketing annually. MD Anderson, for instance, reportedly spent more than $15 million in 2017.

But of the 43 institutions examined by TINA.org, the biggest spender by far was the Cancer Treatment Centers of America, a national network of hospitals, whose marketing budget exceeded $68 million just last year. It is also accused of being one of the biggest sources of misleading ads.
From 1996 to 2016, the company was under a settlement with the Federal Trade Commission that prohibited it from using testimonials that misrepresent the typical results of its patients.
But this year, TINA.org found a batch of promotional materials in circulation online, on TV, or in print — 130 in total — that it found to be misleading. In a complaint filed this week, it urged the agency to once again put a stop to such marketing.
"There is a special place in hell for for-profit companies who provide unrealistic or false messages to sick and vulnerable patients in an effort to cajole their business."
Abigail Obre, a spokesperson for CTCA, told BuzzFeed News by email that the company's advertising "undergoes meticulous review prior to publication." She added that advertising is "just one way in which we inform and educate patients nationwide to help them understand their disease, the latest diagnostic tools and treatment options available and our integrated approach to the delivery of cancer care." Patients do not receive compensation for appearing in ads, she said.
Despite the enormous sums that hospitals are spending to reel in cancer patients, their ads are lightly regulated compared to the pharmaceutical industry. For example, while the FDA requires prescription drug makers to present a "fair balance of risks and benefits" in their ads, health care institutions are not required to do the same.
The FTC's rules are broader — it prohibits any kind of deceptive advertising — but only apply to for-profits, like the CTCA. Most of the cancer hospitals on TINA.org's list, including MD Anderson and Memorial Sloan Kettering, are nonprofit.
Vinay Prasad, a hematologist-oncologist at Oregon Health and Science University, often sees cancer center testimonials that make him cringe.
"There is a special place in hell for for-profit companies who provide unrealistic or false messages to sick and vulnerable patients in an effort to cajole their business, when the reality is their care is likely to be comparable to care given at local, more convenient, or more affordable sites," he said by email.
Prasad, who was not involved with the TINA.org report, has done research on cancer patients who are "exceptional responders" — the few who see their tumors shrink or disappear in response to treatments that don't work for the majority. He says that these patients sometimes live longer not because the therapies work better, but because their tumors grow more slowly than others.
The watchdog group's report looked at ads that were accessible in 2018, even if they may have been published earlier. The ads, from the CTCA and other hospitals, featured patients who had survived stage 4 lung cancer (five-year survival rate: 4.7%), stage 4 kidney cancer (4.8%), esophageal cancer (19.2%), and stage 4 breast cancer (27%).

The hospitals, however, defended their marketing. "MD Anderson takes great care to ensure our messages are accurate, appropriate and responsible," spokesperson Laura Sussman said by email. Kim Polacek, a spokesperson for Moffitt, said that its patient testimonials are "based on actual medical results specific to that patient," and that its doctors discuss treatment options and possible outcomes with all patients before any treatment plan.
Alex London, a bioethicist at Carnegie Mellon University, has argued that hospital advertising regulations should be more aligned with those for pharmaceutical companies.
"In an effort to secure a larger share of the profit pie, medical centers are escalating an advertising war whose casualties are honesty and the savings of desperately ill people," London told BuzzFeed News by email. He called the new report "a well-documented and well-argued case for ethical shortcomings in advertising practices."
Not all the hospitals agreed. TINA.org identified a variety of marketing materials, including videos, social media posts, and website posts — some of which were not actually ads, or even all that optimistic, a few hospitals argued. (Dana-Farber did not respond to a request for comment.)
Caitlin Hool, a spokesperson for Memorial Sloan Kettering, pointed out that nearly half of the items that had been deemed "deceptive" were first-person articles written by survivors for a hospital newsletter. They, in addition to educational articles on the hospital's website and unscripted patient videos, "tell the human story of cancer treatment in all its complexity," Hool said by email.
And MD Anderson noted that in some of its blog posts, people discussed their struggles with cancer or their loved ones' deaths from it. "This blog content focuses on the patients' cancer journey," said spokesperson Sussman. "It is often written by the patients themselves and includes information on side effects and loss of loved ones, in addition to stories about survivorship."
But Patten, TINA.org's executive director, said that these materials still lack clear disclaimers about patients' overall survival rates — and serve the same purpose as a TV commercial. "TINA.org's belief is that it's marketing material being used by the center to attract new patients to it," she said.
And it is possible to do responsible ads, she said, citing a Facebook post from NorthShore University HealthSystem in the Chicago area. The ad reads: "Currently, there is only a 6% chance of survival beyond 5 years for pancreatic cancer patients. Five years after her diagnosis, Diana shares her NorthShore University HealthSystem patient story of beating those tough odds." Patten also cited a blog post from Emory University's Winship Cancer Institute, which discussed the case of another pancreatic cancer patient. "Pancreatic cancer is intimidating," the article stated, acknowledging the low rates of survival both a year and five years after diagnosis.
"When they're providing this sort of anecdotal, atypical example, they have to inform consumers what the typical, usual health journey for that type of cancer will be," Patten said. "And how they do that is really up to them."