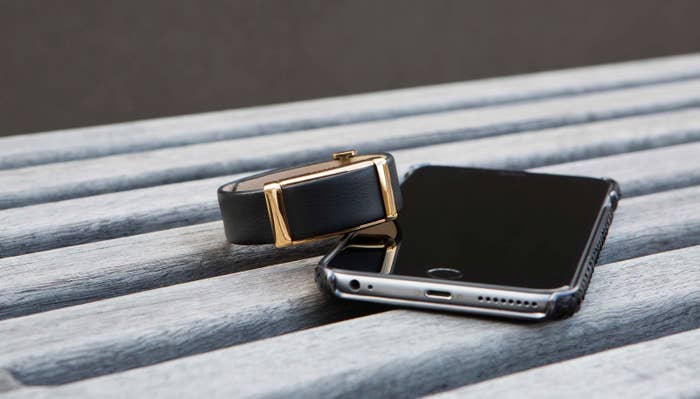 Sona, a stress-tracking bracelet marketed under the premise that it could calm its wearers, has ended up stressing out customers whose gadgets quickly stopped working or didn't arrive on schedule. And although the wearable's maker, Caeden, is taking steps this week to refund people or finally ship their orders, many customers complain that the startup failed to acknowledge their frustration for weeks, even months.
Caeden was supposed to ship thousands of Sona bracelets to people starting in late August, followed by a second batch in late November. The stylish wearable, which BuzzFeed News wrote about when the New York City startup started taking pre-orders last fall, was designed to measure wearers' heart rate variability. Paired with an app, it intends to help people manage their focus, stress, and anxiety.
But unhappy buyers told BuzzFeed News that their Sonas — which cost $129 to pre-order and $199 at full value — stopped working soon after arrival. "Imagine my thrill when, within 48 hours, the bracelet stopped working," one wrote in an email. "Completely refused to communicate with the app." Some of them said they didn't receive refunds even when they returned the bracelets. Others said that their deliveries had been repeatedly delayed without explanation.
And customers in both camps told BuzzFeed News that Caeden had ignored their requests for help, as indicated by dozens of complaints on Caeden's Facebook and Twitter accounts. The first tweets about malfunctions started appearing around late August and early September.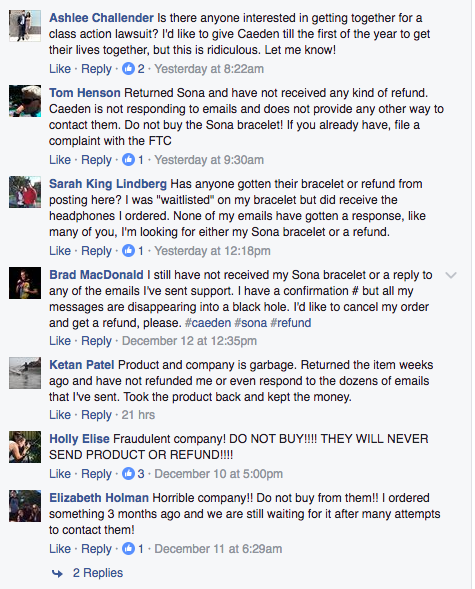 Caeden is now scrambling to make amends. On Wednesday, the startup emailed customers to tell them that, depending on their situation, their refunds would be processed or their orders would arrive after the holidays. It posted an apology and explanation on its Facebook page Thursday. And on Friday, it plans to answer questions through a virtual town hall on YouTube Live.

CEO Nora Levinson told BuzzFeed News that the devices malfunctioned due to a coding error in a part from a third-party supplier, and the bug caused the bracelet to stop syncing with the app. When the bug began popping up, it took the 10-person staff until October to figure out what was happening, Levinson said.
At that point, Caeden stopped production on the new pre-orders and stopped accepting new orders. During that time, customer service slowed down, Levinson said.
"Because this was such a widespread issue and so difficult to figure out, we essentially very quickly became overwhelmed with the response," Levinson said.
The startup took such a financial hit as a result of the bug, Levinson said, that it laid off half its 10-person staff and tightened salaries. She said that the problems with the outside supplier have been fixed.
"Our number-one priority as a company is resolving this with everybody and being able to move forward and trying to help people get this situation resolved," she said. "We apologize for the delay and frustration that it's taken in order to get to this point. I know it's not been ideal in terms of a lot of people's experience."