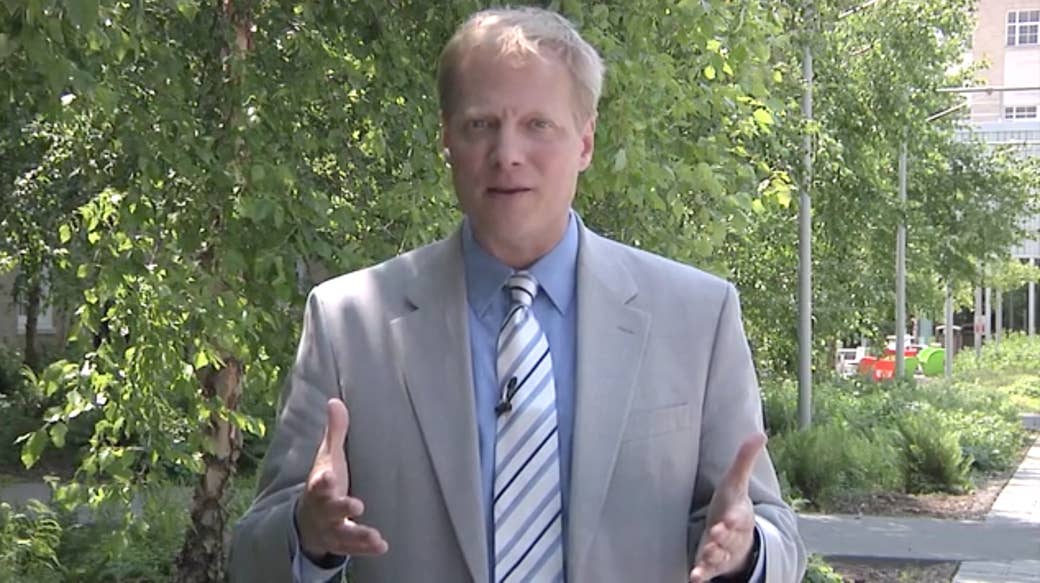 In 2014, Brian Wansink, the renowned food marketing professor at Cornell University, wanted to start an online program to help people "mindlessly lose weight." Needing funds, he turned to Kickstarter.
These days, Wansink is in hot water for entirely different reasons. Critics have spotted errors in more than 50 of his studies about eating behavior, and to date, he's retracted five of them and corrected 14 others. Cornell is investigating his work.
But there's yet another group of people disappointed in Wansink: the Kickstarter backers who, more than three years ago, together gave him $10,000 for a weight-loss program that never materialized.
Six donors told BuzzFeed News that Wansink never made good on his promise to start the personalized dieting-advice service he advertised.
"He kept telling me 'in a month or so we're going to launch it' or something else," said Ruth, a contributor from Israel. (She requested to not be identified by her last name, saying that she didn't want to be associated with a weight-loss program.) "Nothing ever happened."

A Kickstarter that fails to deliver rewards isn't unheard of. But some donors said they were especially bewildered at being left high and dry, because an Ivy League professor seemed credible.
"I was rather surprised and disappointed by the whole experience considering my expectations because this program was associated with Cornell University and Dr. Wansink," Kantha Shelke, who works at a food research and science firm in Chicago, said by email.
Cornell declined to comment on the Kickstarter project, and Wansink did not respond to requests for comment on Tuesday, Wednesday, or Thursday. But on Friday, he wrote to his donors to say he was sorry.
"I apologize that I wasn't able to deliver this Coaching program to you as I originally intended," he wrote in the email, obtained by BuzzFeed News. "I was a bit too optimistic about both the timeline and the costs of working with professional programmers."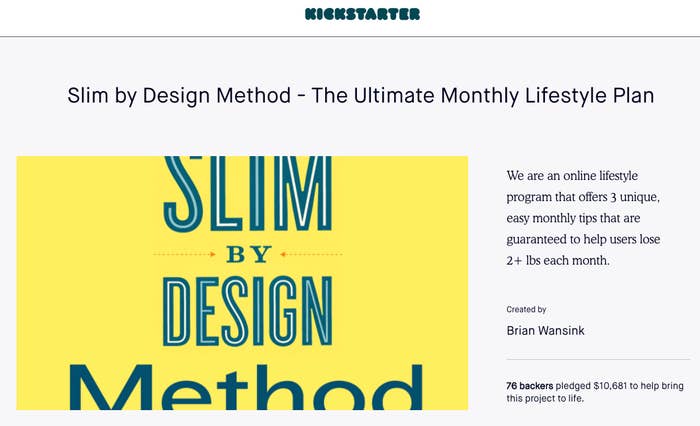 Between late July and late August 2014, the Kickstarter campaign racked up a total of $10,681 from 76 people, just over its $10,000 goal. The proposed weight-loss program tapped into a core theme of Wansink's research over the last three decades: that shedding pounds is doable without extreme dieting or intense exercise.
"Nobody likes to diet," Wansink wrote in his appeal to donors. "For the majority of us, if we made two or three simple lifestyle changes each month, we could easily lose weight without dieting."
According to that website description, his service would ask a person 25 questions about their lifestyle and diet, then come up with three personalized changes that would help them lose weight that month. The next month, the dieter would receive another questionnaire and three additional tips based on their new answers, and so on.
The Slim by Design Method, as it was called, was "guaranteed to help users lose 2+ lbs each month." As proof, Wansink pointed to a 2012 study from his Food and Brand Lab that tested an earlier version of the program.
To followers of Wansink's work, it was an intuitive pitch. "The idea that you could pretty effortlessly change your own eating habits without actually dieting, just changing things about your environment, I think appealed to me," said Samantha, a donor and former Cornell student, who requested to not use her last name.
One major sponsor was heavyweight behavioral economist Dan Ariely, who pledged $5,000, according to a tweet from Wansink. Prizes for big contributions included a consultation with the Cornell scientist, while Wansink's books, magnets, and stickers were the smaller rewards.
Those who gave at least $30 were supposed to receive three months' worth of the service, which would start right after the campaign ended in September 2014, according to the Kickstarter page. "We believe in transparency and communication," Wansink wrote, "so our backers will be the first to know about any unplanned hurdles or delays."
A few weeks after the campaign met its goal, Wansink emailed three dozen contributors to let them know that the books and trinkets were in the mail. "We anticipate this will go live in January 2015," he wrote in the email. "Really exciting results so far, now we're smoothing out the interface."
Yet six benefactors said they either never heard from Wansink again, or never got solid answers about when the program would launch.
In February 2015, Star Li, who was listed as the campaign's manager, wrote in response to Ruth, the donor in Israel who had kicked in $30: "This monthly method plan should be available within the next month or two. Our apologies for the delay." When Ruth later tried to follow up again, Wansink wrote in January 2017, "We're still working on this. What we will be launching in the meantime (probably within a month or so) will be a Course that gets a person jumpstarted."
Ruth was annoyed. "I can understand a few months' delay — but years of delay?" she told BuzzFeed News.
Li did not respond to a request for comment.
"I can understand a few months' delay — but years of delay?"
Shelke said that Wansink, whom she's known professionally for a decade, personally emailed her to ask for funding in 2014. She recalled that she chipped in $100, with plans to give the service to someone as a gift. But she never received a reply to any of her follow-up emails.
"The lack of response and just the way the entire program was orchestrated … all left a rather bad taste in my mouth," she said.
Other patrons chalked the situation up to a typical Kickstarter experience.
"It would be nice if there was some response back saying, 'Hey, sorry we didn't get back to you over the last three years, we're refunding the money based on this,'" said Brian Murphy, an entrepreneur in the Bay Area. "But it's not a big disappointment to myself."
Ariely, the behavioral economist who donated, said by email, "I have so many kickstarter projects that I funded and never heard from." But he didn't seem upset, adding, "The really odd thing is that I somehow don't lose my optimism that the next one I will fund will work out ;)"
Kickstarter's terms of service clearly spell out what it means for a campaign to satisfy its obligation to its backers: "When a project is successfully funded, the creator must complete the project and fulfill each reward."
Once a campaign reaches its goal and its funding period has ended, funds are transferred to the creator's bank account after two weeks, according to a spokesperson.
"A creator who has not met their obligations under the contract may be subject to legal action by backers," the spokesperson said by email. "They also put their reputation at risk, because launching a project is a very public act." (Kickstarter doesn't guarantee that projects will happen, nor is it part of the contract that funders enter with creators.)
In his Friday email to donors, Wansink provided a lengthy explanation for his 2014 project's failure.
He said his team had worked with programmers for a year to create the service, but it didn't materialize by the time he left for sabbatical in 2015. It was then that he decided to put it "on the back-burner" and develop a substitute service on a website and app. These were launched in beta-testing form, but have since been taken down for adjustments, he wrote.
"I don't think I will have an online coach developed unless I can find the right tech partner to bring on board," he added.
He proposed some alternatives. He could send them a copy of his book Slim by Design, on which the course is largely based, so they could follow its suggestions on their own. And he offered to do the three months of coaching with them over email.
"I'll do a better job of keeping you posted about related projects in the future," he said.
For Ruth, it was too little, too late. Asked if she would take him up on his offer, she replied by email, "Nah, I've lost confidence in him, so I'm not interested any more."