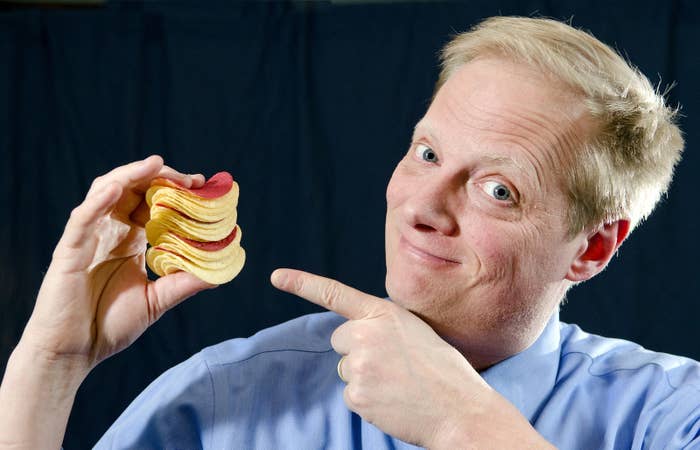 More than a month ago, Cornell University announced that one of its most famous professors was found to have committed academic misconduct. Brian Wansink disagreed, even as he handed in his resignation.
Now, researchers want the full story.
In an open letter sent late Wednesday, more than 50 scientists and others from Arkansas to Zurich asked Cornell to share the details of its investigation into Wansink, the longtime leader of the university's Food and Brand Lab. The letter was circulated by a group of non-Cornell researchers who, starting in late 2016, sounded the alarm on errors and inconsistencies in dozens of Wansink's buzzy, intuitive-sounding studies about healthy eating, weight loss, and food marketing.
Many of their suspicions have borne out: Wansink has retracted 15 papers, including two just last month, and corrected an additional 15. For years, he and other lab members routinely discussed turning shoddy data into studies with the explicit goal of getting media coverage, as BuzzFeed News has reported.
But in the two years that critics have been raising questions, Cornell has said little. Initially, in April 2017, the university looked at four of Wansink's papers and reported finding no misconduct. Later that year, however, after BuzzFeed News began reporting on additional problems and more papers got withdrawn and fixed, Cornell disclosed that it had launched a formal investigation into Wansink.
In late September, those findings were summarized in a 226-word press release. According to Cornell Provost Michael Kotlikoff, Wansink's misconduct included "misreporting of research data, problematic statistical techniques, failure to properly document and preserve research results, and inappropriate authorship." The university also announced that Wansink would resign at the end of the school year.
But in a counteroffensive, Wansink pushed back on the severity of those characterizations. The "problematic statistical techniques," he wrote to reporters at the time, were simply "some typos, transposition errors, and some statistical mistakes" in the "thousands and thousands of numbers [he's] published."
And the misreported data, he said, was confined to erroneously reporting the wrong ages for preschool children in two papers. Overall, he stressed that "there was no fraud, no intentional misreporting, no plagiarism, or no misappropriation."
If you have information or tips, you can find out how to contact this reporter securely here.
These two "incompatible" accounts can only be resolved if Cornell releases the full report from its investigation, Wansink's critics argued in the Wednesday letter.

"Our concern is that, if the full extent of the evidence against Dr Wansink is not made available for public inspection, the story could easily be reduced, in the minds of neutral observers, to one of 'A said—B said,'" wrote Nicholas Brown, Jordan Anaya, Tim van der Zee, James Heathers, and Chris Chambers, who have led the inquiry into Wansink's work.
The report should be made public "as a matter of urgency for the reputation of Cornell and for the integrity of scientific research," they said, adding, "As a practical point, this would also allow scholars who may have questions about a particular aspect of Dr Wansink's research output to see the extent to which those questions were addressed by the inquiry."
As they pointed out, other universities have released lengthy reports about scientists found guilty of misconduct, like Diederik Stapel and Dirk Smeesters, both psychologists in the Netherlands. And the US Office of Research Integrity discloses some information about its investigations into researchers.
"Keeping the report secret does not serve any public interest."
But more often than not, universities keep such reports confidential, presumably to protect their reputations, said Nicholas Steneck, a research ethics expert at the University of Michigan. Cornell's academic misconduct policy is "broad and vague," he said, noting that it does not require investigation findings to be shared with anyone besides funding agencies.
"The researchers who drafted the letter have a right to more information," he said by email. "Keeping the report secret does not serve any public interest."
Asked to comment on the letter, Cornell spokesperson John Carberry referred BuzzFeed News to the university's statement from September. Wansink did not return a request for comment.
The letter was signed by 46 people affiliated with institutions as far-flung as the University of Pennsylvania, the Frankfurt Institute for Advanced Studies in Germany, Appalachian State University, and Nottingham Trent University in England.
One of them is Crystal Steltenpohl, an assistant professor of psychology at the University of Southern Indiana. Like other psychologists, she is concerned about the so-called replication crisis in her field. In her classes, she uses Wansink as a case study in how not to do research.
But Steltenpohl thinks that Cornell's report is important not for what it might say about Wansink specifically, but because it could show other universities, researchers, and funders how to carry out academic misconduct investigations.
"I don't think that this should be just like, 'Oh, Wansink's a bad egg,'" she told BuzzFeed News. "I think that we should look at what allowed him to do 20, 30 years of research and potentially have these problems."