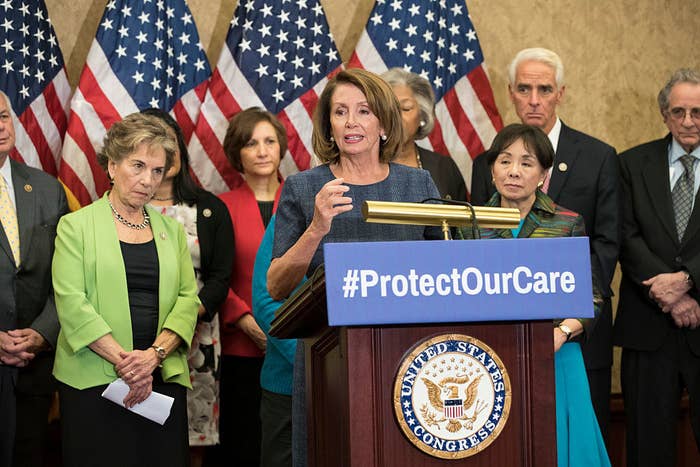 After a blood clot made it unsafe for her to take birth control pills, Liz Van Voorhis switched to an intrauterine device a few years ago. It was free — thanks to the Affordable Care Act, which in 2012 required insurance plans to cover contraceptives at no cost to customers.
Five years later, though, president-elect Donald Trump's pick for health secretary, Tom Price, is on record for opposing that rule. The Republican-majority Congress is moving to repeal the health care law. And Trump has vowed to defund Planned Parenthood.
Van Voorhis was counting on the birth control mandate to cover a new IUD in 2017, and would have trouble single-handedly affording a device, which costs up to $1,000. But if that mandate vanishes along with the health care law Trump has sworn to repeal, she fears that she would no longer qualify for insurance coverage because she has diabetes, an expensive condition. "I shouldn't have to make the decision between my health and if I can afford it," the 37-year-old told BuzzFeed News.
Van Voorhis isn't the only woman worried about affording and accessing birth control under Trump: Planned Parenthood's president told CNN last week that the organization has seen a 900% increase in women trying to get IUDs. Those fears have also translated into a reported uptick in business for on-demand birth control startups — like the Pill Club, Nurx, and Maven — that in response are temporarily making it cheaper and easier to order contraception through their apps and websites.
These promotions aren't entirely altruistic, of course. In the unprecedented political climate, capitalizing on concerns is also a way to gain new customers.
"Our own patients were [asking], especially after the election, 'What's going to happen to my coverage?'" said Nick Chang, CEO of the Pill Club, a Silicon Valley startup that writes and fills birth control prescriptions. "We have only so much we can control in terms of what Trump and [vice-president-elect Mike] Pence and Price do. But one of the ways that we can help patients right now and prepare them for anything that happens down the line is to give them protection and backup options."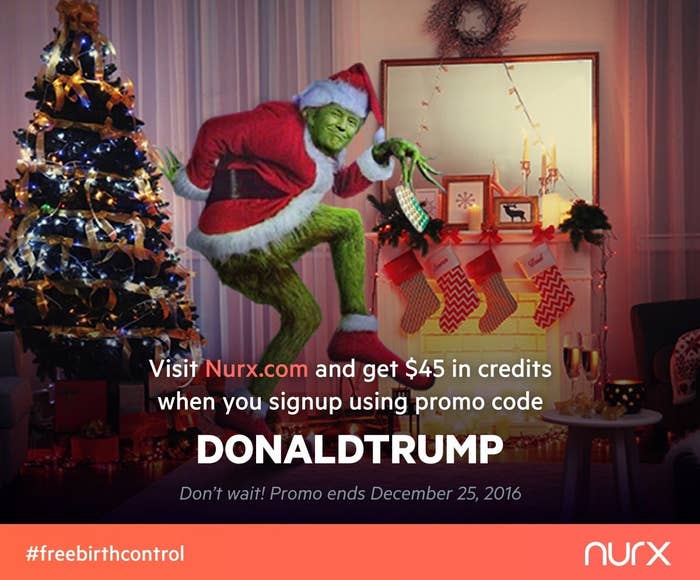 Since December, the Pill Club has been offering the Fallback Solo emergency contraceptive for free to customers with insurance; doses vary from six a year to one every three months, depending on coverage. (Emergency contraception is also covered by the birth control mandate.) The Pill Club only writes prescriptions in California, but can ship to people who already have prescriptions across 10 states.
Until the end of January, New York City-based Maven is offering customers a free telemedicine visit with a doctor or nurse to get a birth control prescription, or just reproductive health advice. Maven, which can prescribe in 47 states, ships orders to a pharmacy for the customer to pick up.
"A lot of women have been writing in, asking questions, talking about how nervous they are," CEO Katherine Ryder said. (She added that not all patients were worried. When Maven referenced a "stressful" election in an email to clients offering mental health visit discounts, "a lot of people wrote back and said they weren't stressed at all," Ryder said.)
Nurx, a Y Combinator startup that raised $5.3 million last fall, gave new customers $45 toward birth control in December. It's doing so again in January (promo code: "TinyHands"). The startup, which also covers delivery costs, ships to California, Washington state, Washington, DC, New York, Pennsylvania, and, as of last week, Virginia and Illinois.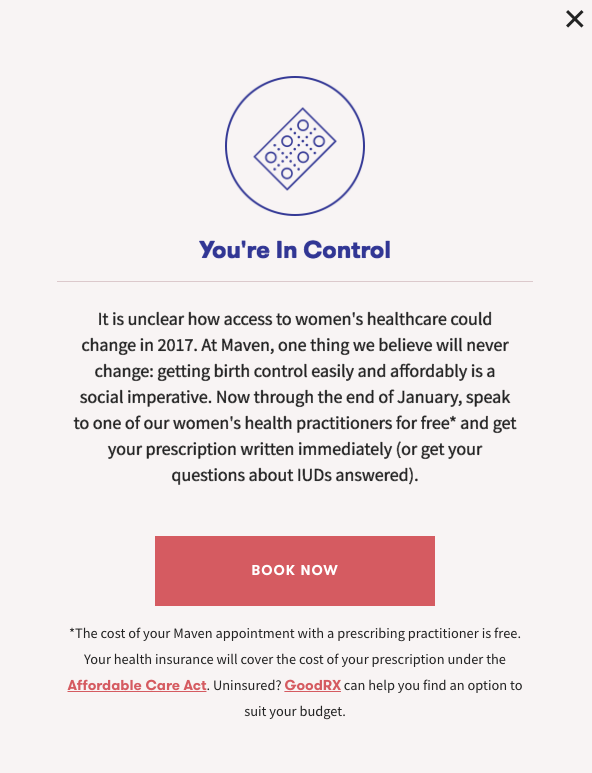 "We have a lot of users who are concerned that they would lose access to birth control and certain users who were talking about stockpiling birth control," said Hans Gangeskar, who co-founded the San Francisco startup. Nurx doesn't encourage hoarding, and birth control pills usually expire after about 12 months, but "we always think it's a good idea for women to have an extra pack or two, from a logistical perspective," he said.
The birth control mandate is rooted in the Affordable Care Act, but the law doesn't have to be repealed for the mandate to end.
The law says insurance must cover preventive health benefits for women, and leaves it up to the Department of Health and Human Services to decide what counts. In 2011, it decided that birth control counted. (The rule was later clarified to mean that of the 18 categories of birth control that are FDA-approved, most insurers have to cover at least one drug or device in each category. That means, for instance, that some health plans cover certain brands of birth control pills at no cost to consumers, but don't cover others.)
The new administration could simply write a regulation that says otherwise. "That policy of requiring no co-pay for contraceptive coverage was huge and allowed many millions of women access to birth control care in a way that made it accessible and affordable," said Amy Friedrich-Karnik, senior federal policy advisor at the Center for Reproductive Rights, an advocacy group. "That policy and that access is really threatened," particularly for low-income women and women of color.
Still, it's hard to predict how quickly the Affordable Care Act as a whole will actually go away, and whether or not alternative sources of birth control, like startups, could become crucial as a result. The startups also say they are optimistic about staying operational even without the health care law: "You will need the pill whether you have Obamacare or not," Chang said in an email.

Repealing the law may be more difficult than initially portrayed by the Republicans who repeatedly campaigned on that pledge. Congress moved forward last week on setting up a repeal bill, but GOP leaders — and Trump himself — are offering mixed messages on if they'll establish an alternative and what that might be. Some 20 million Americans received insurance coverage under the law.
Even if the birth control mandate were to go away, that doesn't mean that all women would have to pay out of pocket for it.
A few states — Maryland, Vermont, Illinois, and California — have in recent years passed their own laws that require insurance plans in those states to cover contraception, from pills to IUDs, at no cost to customers. These state laws will continue to provide coverage regardless of what happens to the federal law, said Susan Berke Fogel, director of reproductive health at the National Health Law Program.
However, those laws don't apply to everyone in those states; California's law, for example, exempts health care plans for religious employers.
In addition, certain birth control pills cost relatively little out of pocket, so some women may still be able to afford them if their coverage goes away. Nurx, for instance, says that it plans to keep selling some medications for as low as $15 a month to uninsured customers.
Still, the uncertain future unnerves many women like Van Voorhis. As for what she'll do when it comes time to remove her IUD this year, she's not sure.
"If anything, the choice is probably that I would consider not pursuing [an IUD] in the future and just ending my current plan of health," she said. "And optimistically hoping that someone talks some sense into the right people, and we have the right type of advocacy to make a change."