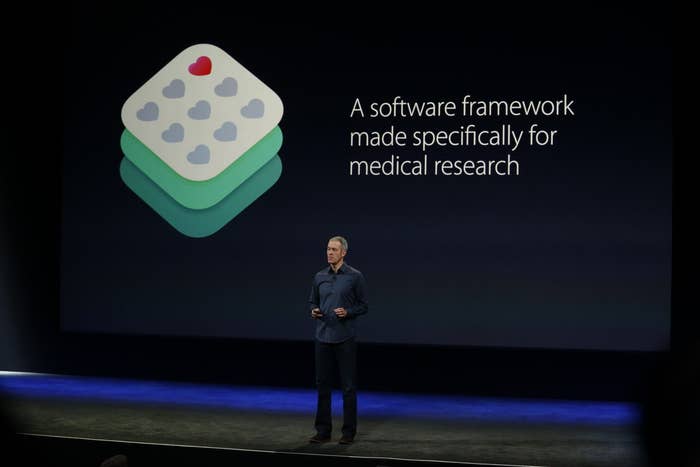 Apple's ResearchKit is a new open-source software framework that helps the scientific community gather medical research data from iPhone users. According to Apple, it promises "access to a diverse, global population and more ways to collect data than ever before." Soon, big pharma may be collecting that data too.
Since ResearchKit was unveiled in March, researchers at universities, medical centers, and nonprofits have created six apps in the service of studies on diabetes, asthma, heart disease, and other conditions.
Now, at least two pharmaceutical companies are thinking about using ResearchKit in a for-profit endeavor. GlaxoSmithKline, one of the world's largest drug developers, told BuzzFeed News it is "currently working on integrating (ResearchKit) into clinical trials and planning to start in coming months."
And Purdue Pharma, the privately held, multibillion-dollar drug developer in Connecticut that's best known for OxyContin painkillers, told BuzzFeed News that it's in the early stages of exploring whether Apple's new tool for research data collection can be used as part of its own drug R&D efforts.
"We know that all these changes in tech are going to impact health care, but we don't know exactly how," Larry Pickett Jr., Purdue's vice president and chief information officer, told BuzzFeed News. "People have been talking about it for a long time, but haven't been able to figure out how to leverage that data and take advantage of it. My team views ResearchKit as a very significant milestone in being able to move that capability ahead."
Purdue is only in the proof-of-concept stage in its ResearchKit exploration, Pickett said. The company has vetted the platform, but hasn't yet decided to build an app or determined what type of data it would collect.
GlaxoSmithKline, for its part, declined to provide any specific details about its plans for ResearchKit. But Michelle Crouthamel, project manager with GlaxoSmithKline's Digital Platform Performance unit, said the company sees the software framework as a chance "to improve patient engagement and data collection."
Still, the companies' interest is telling. ResearchKit has the potential to be a powerful tool for biotech companies, which gamble billions of dollars and years of study on experimental therapies for various illnesses and health conditions. ResearchKit apps ask users questions and draw on data continuously collected by a smartphone's sensors. Those data points can paint a granular portrait of people's lives: how they're reacting to a drug, for example, or whether they're struggling with a condition that a therapy in development might someday be able to treat.
So is Apple comfortable with pharmaceutical companies using ResearchKit as part of a for-profit endeavor to develop new drugs? Jeff Williams, Apple's senior vice president of operations, says it is.
"We're open to working with anybody that is going to make an impact on people's health," he told BuzzFeed News in an interview last month. "So we've made ResearchKit open-source so Apple won't even control who uses it. We will control what we put on our App Store, but we won't control who uses it. And so I think the promise of using ResearchKit for development of drugs — if they're lifesaving, I think that's a positive thing."
Should they pursue a ResearchKit app, Purdue and GlaxoSmithKline would be the first pharmaceutical companies to do so. And not all pharmaceutical companies are rushing to use ResearchKit. Gilead Sciences and Pfizer both told BuzzFeed News they currently have no plans to use the platform.
So far, ResearchKit apps are being led by academic medical centers like the University of California, San Francisco, and nonprofits like Sage Bionetworks and the Michael J. Fox Foundation for Parkinson's Research. LifeMap Solutions, a company that develops mobile health apps, helped create the asthma app in partnership with the Icahn School of Medicine at Mount Sinai. The first ResearchKit apps signed up more than 75,000 participants in just the first few months, Williams said.
An Apple spokesperson said the company has always said that anyone can use ResearchKit, as long as they abide by guidelines that include gaining a patient's consent, making it clear to the patient what they're signing up for, and gaining the approval of an independent ethics review board.
Pickett said if Purdue does build a ResearchKit app, it will make it extra clear to consumers that their data would be gathered for commercial purposes.
"I think certainly from an ethical perspective, etcetera, we would want patients — and anyone using any technology we put together — to be fully aware of our privacy policy," Pickett said. "We don't want to make a false step and for some reason make people think that information's being collected or shared that's really not. You have to be crystal clear about that. That's why it makes sense to proceed with caution and make sure that all those privacy issues are really made very, very clear upfront and are decided and agreed upon."
This article has been updated to reflect new information from GlaxoSmithKline.