Big Insurer Expands Coverage For Telemedicine
It just got easier for 1 million UnitedHealthcare members to see the doctor from the comfort of home.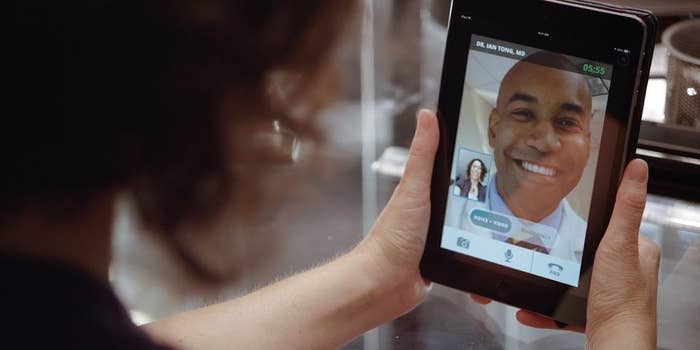 UnitedHealthcare, the largest health insurance carrier in the United States, is widening its footprint in telemedicine.
On Thursday, the company began offering insurance coverage for telemedicine services to a larger subset of subscribers, allowing 1 million people to receive virtual medical help from Doctor on Demand, the NowClinic, and Amwell. For a maximum copay of $50 per visit, eligible subscribers can chat with a physician through their smartphones, tablets, or computers.
United's announcement is a victory for the emerging industry. Patients with short-term issues like sinus infections, skin rashes, and pinkeye — not emergency situations or chronic conditions — can now turn to the 1,400 or so physicians behind Doctor on Demand, the venture-backed startup co-founded by Dr. Phil. If patients report their conditions are continuing or worsening, Doctor on Demand will refer them to an in-person physician, said CEO and co-founder Adam Jackson.
"Every Doctor on Demand visit is preventing a more expensive in-office visit," he told BuzzFeed News.
With the nation facing an estimated shortage of 45,000 primary care physicians over the next decade, United's move is timely and recognizes the growing popularity of seeking health advice from the comfort of your home. Worldwide, the number of patients using telehealth services is expected to hit 7 million in 2018, 20 times the number in 2013, according to projections by IHS Technology.
One of the biggest hurdles slowing telemedicine's adoption has been insurance coverage. Medicare and Medicaid have historically treated an online doctor's consultation as different from an in-person visit, sometimes paying for telehealth visits when a patient lives in a rural area. And while some states like California support the practice, others, like Texas, are moving to restrict it.
United's announcement makes telemedicine services now available to people in self-funded employer health plans, and will expand next year to people with employer-sponsored insurance and individual plans. (Some United members have already been covered for NowClinic visits.) In total, by Jan. 1, 2016, the number of members with access will reach about 20 million, United said.