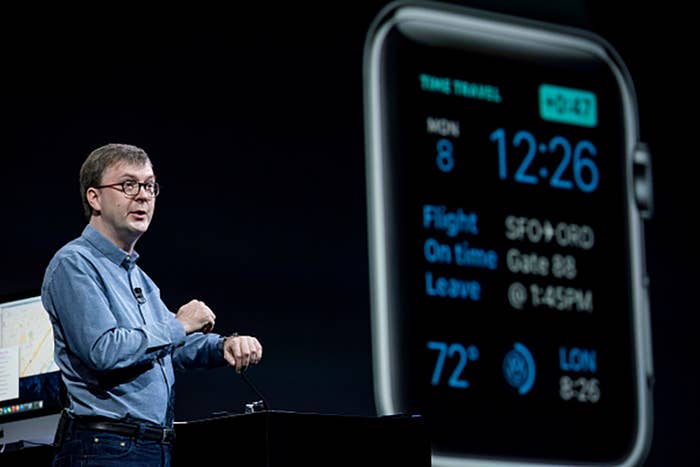 When Apple co-founder Steve Jobs unveiled the iPhone in January 2007, he touted it as three gadgets in one: "a widescreen iPod with touch controls, a revolutionary mobile phone, and a breakthrough internet communicator."
Three years later, Jobs revealed the iPad, a new category intended to fill the space between the smartphone and desktop and designed for web browsing, photos, e-books, email, and games. "If there's going to be a third category of device, it's going to have to be better at these kinds of tasks than a laptop or a smartphone — otherwise it has no reason for being," he said.
But when Apple CEO Tim Cook introduced the Apple Watch in September, there were few such comparisons. Instead, Cook touted it simply as "the most personal device we've ever created" and "the best watch in the world," stressing that the device's significance was more abstract: an entirely new way of interacting with technology. "Because you wear it, we invented new ways to connect and communicate directly from your wrist," he said.
But as intriguing a device as it might be, the Apple Watch can also be something of a conundrum for developers. Some app makers say engagement rates among the device's early adopters are high — higher even than on the iPhone alone. Yet complaints about the Apple Watch's subpar third-party apps are fairly common, and for some developers it's been a struggle to distill large, multifaceted iOS apps into smaller companion apps that work well on Apple Watch and provide enough utility to make them compelling.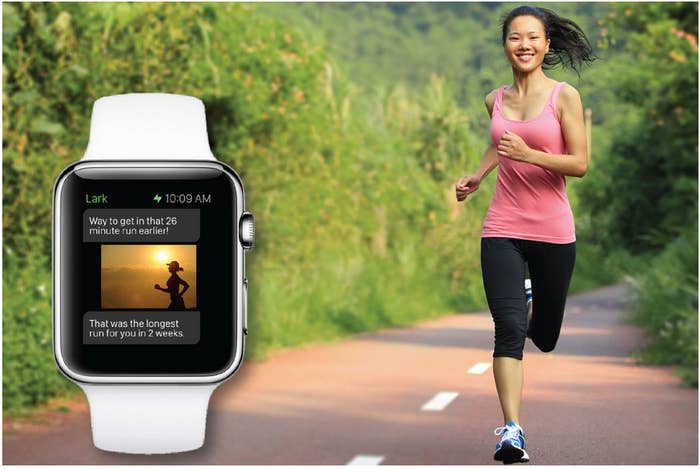 Simplicity is key:
A little more than three months after the Apple Watch's debut, Apple says there are some 8,500 watch apps in the App Store, up from 3,000 in April, when the watch became available for preorder.
And while it's still early, some developers say they've been pleasantly surprised by reactions to their Apple Watch apps. Lark, developer of a health and fitness tracking app, has found engagement rates on the Apple Watch to be fairly high.
Lark's artificial-intelligence bot "texts" users about their fitness and diet, based on data captured by an iPhone. "It's kind of a buddy that's nudging you at the right time, at the right moment," CEO Julia Hu told BuzzFeed News. "It's just like, 'Hey, that's the longest run you've done in the last two weeks.'" Hu said Lark traded more than 200 million texts with Apple Watch users over the past three months — and, according to the company's metrics, users of Lark's Apple Watch app launch it 73% more often than users of its iPhone-only sibling.
Yummly, which lets people search for recipes and compile ingredient shopping lists, has also seen high levels of engagement on Apple Watch. Chief Operating Officer Brian Witlin told BuzzFeed News the company charted a 250% spike in page views per average visit between June and July, though he declined to provide a baseline number for the increase.
Simplicity is key to Apple Watch app success, developers say. The Chipotle app's "burrito button" does exactly what it sounds like: place an order to pick up at the nearest Chipotle. "It works well for the platform. What's easier than pressing one button and sending an order to your go-to Chipotle?" said Jason Herrick, who oversaw development of the company's watch app. He declined to provide usage metrics.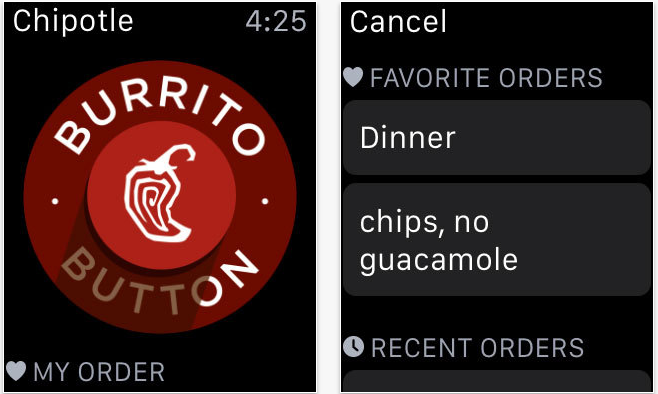 Limitations remain:
But for some developers, the minimalist design and user interface considerations Apple Watch apps demand can be off-putting. Indeed, a handful of tech giants — Facebook, Google, and Snapchat among them — are largely holding off on apps until they figure out how best to translate their services to the device, as the New York Times reported.
Because the Apple Watch can last at most 18 hours on one charge and has a screen no bigger than 1.65 inches, developers are forced to make apps that are significantly more stripped down than what they're used to.
"You have a battery that's sensitive to computational power draw and display draw for sure," R.J. Pittman, senior vice president and chief product officer for eBay, told BuzzFeed News. "So everything you do — from the colors you select to how much interactivity you're really driving onscreen in a given session or in a given task — has to be pretty heavily rationed."
Apps also must be simple to account for interactions that are even shorter than developers anticipated, as eBay learned with its own Apple Watch app, which allows people to bid in its online auctions. Lower your arm too quickly, while the app is still communicating with eBay, and the watch can go to sleep, causing your bid to go up in smoke. "From a user experience point of view, that's a little bit dangerous for a player like eBay, where you want to really be sure that you won that item and your bid went through," Pittman said.
One of the biggest complaints among developers is that third-party Apple Watch apps aren't yet allowed to operate natively on the device. Instead, they run on an associated iPhone. And that can cause a lag between action and reaction that's frustrating for users and developers both.
"Performance for the Slack watch app is pretty slow right now," said Brady Archambo, Slack's lead iOS developer. The workplace messaging platform's watch app mainly lets people know if they're mentioned in conversation and read and reply to direct messages. "It takes about one to two seconds for the app just to start up — and that's a watchOS thing. And depending on your Slack team size, there's some additional slowness where we have to connect to Slack and process some data."
Jeremy Olson, the founder of Tapity, an award-winning app development company, said he has also been frustrated with the relatively sluggish speed of Hours, a top-ranked time-keeping app adapted for the Apple Watch. "You don't want to hold up your hand for a long time," Olson said. "You just want to get in, do something, get out really fast. Those few seconds definitely make a big difference."
Olsen wishes third-party Apple Watch apps were as fast as those designed by Apple. "I've found myself subconsciously living a little healthier because of [Apple's Activity app]," he said. "I think it's a great example and I think there could be more apps like that."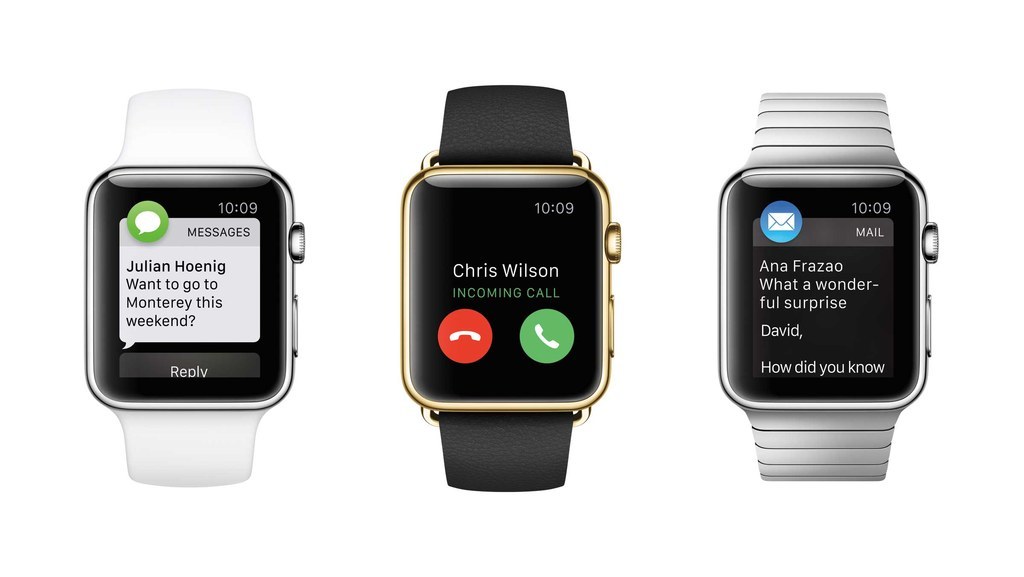 New operating system on the way:
Expected this fall, watchOS 2, the next version of the Apple Watch's operating system, may herald a number of such apps. Among other things, the OS will allow developers to write apps that run natively on the device and also make use of hardware features like its microphone and accelerometer.
Apple hopes watchOS 2 will help developers improve the performance of their apps and outfit them with more interesting and customizable features that extend well beyond simple notifications. And some are eager to do just that. Gym chain Equinox told BuzzFeed News that the watchOS 2 version of its app may crunch people's health and fitness data to generate personalized reminders. (You finished working out 20 minutes ago. Time for your post-workout protein shake!)
And Keepy, a repository for parents to store their kids' artwork and photos, plans to update its app so parents can leave audio and video comments on photos and share their children's heartbeats with relatives, CEO Offir Gutelzon said.
While Apple's decision to lump Apple Watch sales into a financial "other" category that includes the iPod, Apple TV, and Beats Electronics has made it difficult to accurately gauge the device's popularity, some early research efforts suggest it does have mainstream appeal. In a recent survey of 800 users — including a slim majority of people outside the tech industry — 97% said they were very or somewhat satisfied with the watch, according to Wristly, a company independent from Apple that studies the Apple Watch.
That's encouraging news for Apple Watch developers struggling to optimize their apps for a new device with entirely new use cases and interactions.
"Even though it's Apple and everyone has crazy expectations for them, every new device is something so complex," said Maayan Cohen, CEO of Hello Heart, whose app helps people track their blood pressure readings and has seen more frequent use from Apple Watch users than iPhone-only users. "With a new hardware and a new software, you're bound to have problems. I think it's all growing pains of new technologies, but it's getting solved and getting better and better."