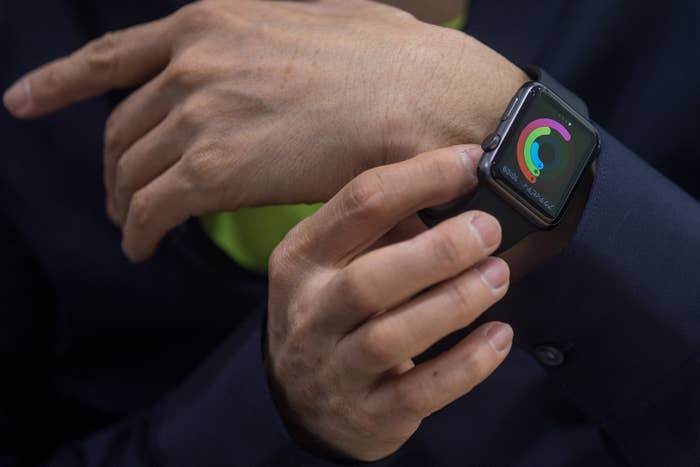 What comes after the Apple Watch? The Apple Watch 2? A new fitness- and health-focused wearable? Something else entirely? That's not yet clear, but Apple is hard at work on whatever it is, as a handful of new hires and job postings suggest.
Apple demonstrated its interest in health and medicine last spring and summer by releasing the Apple Watch, whose biometric sensors make the device an activity and heart rate tracker, and ResearchKit, a software framework that lets researchers conduct clinical trials through iPhone apps. And the company's efforts in the wearable space are likely to continue: An Apple Watch 2 with updated features is rumored to arrive sometime this year, and, late last year, Cook hinted that Apple may have a separate health-related project in the works.
"We don't want to put the watch through the Food and Drug Administration process," he told The Telegraph. "I wouldn't mind putting something adjacent to the watch through it, but not the watch, because it would hold us back from innovating too much, the cycles are too long. But you can begin to envision other things that might be adjacent to it — maybe an app, maybe something else."
Cook's interview ran Nov. 10. Since November, Apple has posted at least four job listings in its health technology division, among them listings for biomedical engineers and a lab technician, mostly focused on devices that measure physiological signs. And since October, at least five people with medical research and development experience have joined Apple, according to a review of LinkedIn profiles.
A similar biotech hiring spree previously took place in spring 2014, when the Apple Watch was still in development. An Apple spokesperson declined to comment. But the latest crop of hires and job postings give some clues as to what Apple's next health project might be.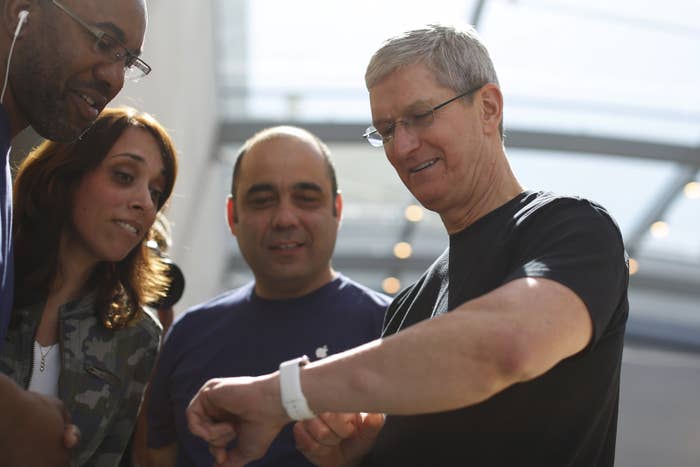 In December and January, Apple posted two listings for biomedical engineers with a background in "medical, health, wellness and/or fitness sensors, devices, and applications."
One position requires a "good understanding of non-invasive sensors used to measure biological signals" and comes with responsibilities that include developing "prototype hardware for physiological measurement applications." Similarly, the other position requires experience designing studies that test "physiological measurement devices."
A third listing seeks a lab technician with experience in biomedical or hardware engineering and health-related sensor technologies. Apple is also hiring a project manager who understands time frames for "human studies research" to keep work on schedule.
It's not clear if these positions are related to or separate from yet another posting for a fitness software engineering manager, which went up in November, and is explicitly for the Apple Watch.
BuzzFeed News also found that over the last three or so months, Apple has snapped up employees from the medical world, according to LinkedIn. For example, Anne Shelchuk, who has a doctorate in biomedical engineering, left ultrasound software company ZONARE Medical Systems for Apple's health technology team in November, according to her profile. Craig Slyfield, a mechanical engineer who's co-authored several papers related to measuring and visualizing human bones in 3D, also joined Apple as a product development engineer in November. A hire in October was system design engineer Nathan Clark, who has a doctorate in biomedical engineering and a patent for a device that separates cells.
Also in October, biomedical engineer Jay Mung jumped to Apple from the medical device giant Medtronic, where he led research of the sensor algorithms behind the company's continuous glucose monitoring system for diabetics, he wrote on LinkedIn. He described his graduate school dissertation project as a system that reports the real-time 3D position of a medical device, akin to a smartphone GPS. "But in my case instead of tracking a vehicle, I tracked the tip of a catheter inside the body," he wrote.
And Jennifer Hillier, a former exercise physiologist at University of California, San Francisco, and Seton Medical Center in Northern California — where her job was to monitor patients' physiological signs — started as a biomedical engineer at Apple in November.
Her job description on LinkedIn: "Top Secret."
Here are the job postings: