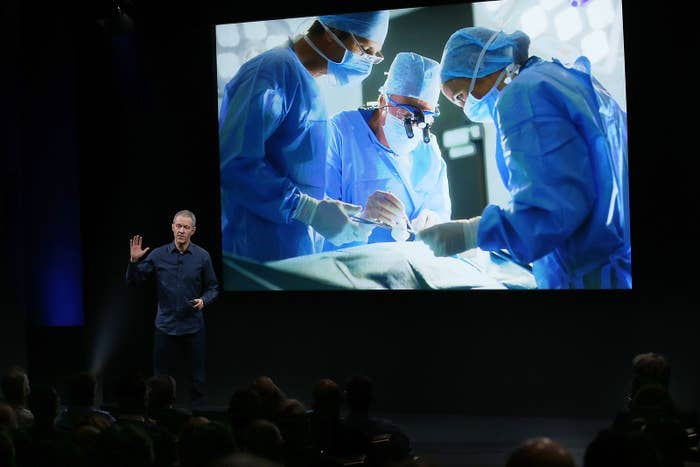 With every new device and feature, Apple further builds out its ecosystem in ways meant to make sure you never have to, or want to, leave the confines of iOS. Now, it's bringing that approach to a far more important aspect of life than media, messaging, or even payments: Apple is increasingly becoming a central hub for people to track, manage, and understand their health.
This transition began in 2014, when Apple introduced the Health app, a dashboard of health metrics. Last spring, it unveiled ResearchKit, an app framework that lets iPhone users participate in clinical studies about conditions from diabetes to breast cancer. Apple also unleashed its first wearable, the Apple Watch.
On Monday, Apple sought to widen its ecosystem even more. It announced CareKit, an app framework that will soon let iPhone users keep other people updated on the status of their health. And 23andMe, the DNA-testing startup, started letting people upload their DNA to two ResearchKit apps, so those researchers can in turn probe the potential genetic causes of their conditions. Oh, and Apple made the Watch cheaper, too.
Apple's health orbit is now set up to encompass not just patients, but also families, caregivers, doctors, hospitals, and scientists, and collect health data unprecedented in its granularity — moment-by-moment activities, heartbeats, menstrual cycles, DNA, and more. It's not necessarily a bad thing to have all that in one place; many health providers have long yearned to break down the silos that let their institutions conceal information from one another. Now, for better or worse, one of the world's most valuable companies is constructing a central place for all of it to live.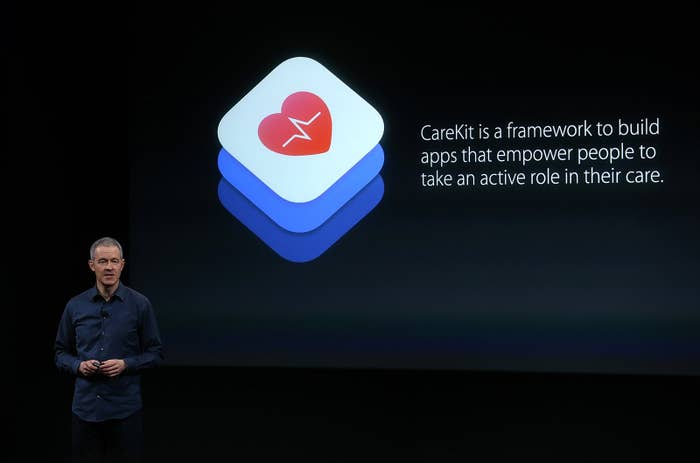 CareKit
"When we introduced ResearchKit, our goal was simply to improve medical research, and we thought our work was largely done," Jeff Williams, Apple's chief operating officer, said Monday at the company's product event in Cupertino. "But what … became clear to us later is the very tools used to advance medical research can also be used to help people with their care."
Williams pointed to mPower, a ResearchKit app that has been studying people with Parkinson's disease for the last year. The app prompts people to evaluate how they feel after taking medications; data shows that while some patients improve, others do not. The latter group might then benefit from switching meds or changing their doses under a physician's guidance, Williams said. CareKit, available next month, will let patients give feedback to their providers and caregivers, as well as record their symptoms, remember their treatments, and see if they're recovering on track.
In traditional care, "the only way we know how people are doing with Parkinson's or any condition is on what they tell us when we see them for 15-minute visits over the span of a year. That's less than .1% of their life," Dr. Ray Dorsey, a neurology professor at the University of Rochester Medical Center who is helping lead the mPower study, told BuzzFeed News. "Now we have tools that can assess how people are doing over a course of a day, and over periods of time, using objective, likely more sensitive, high-frequency assessments."
Health startup Iodine plans to incorporate CareKit into Start, an app that lets people record their reactions to antidepressants. "Outside of their depression and their depression therapy, it lets us connect to 'What else are they doing? What other medications are they taking? What things are they doing for their health in that broader context?'" co-founder Thomas Goetz told BuzzFeed News.
It's that data — aggregated by Apple — that intrigues Goetz and the handful of other startups and hospitals that currently plan to use CareKit. "The more Start exists not just as an app, but as an integrated part of people's lives, the more impact we're going to have," he said.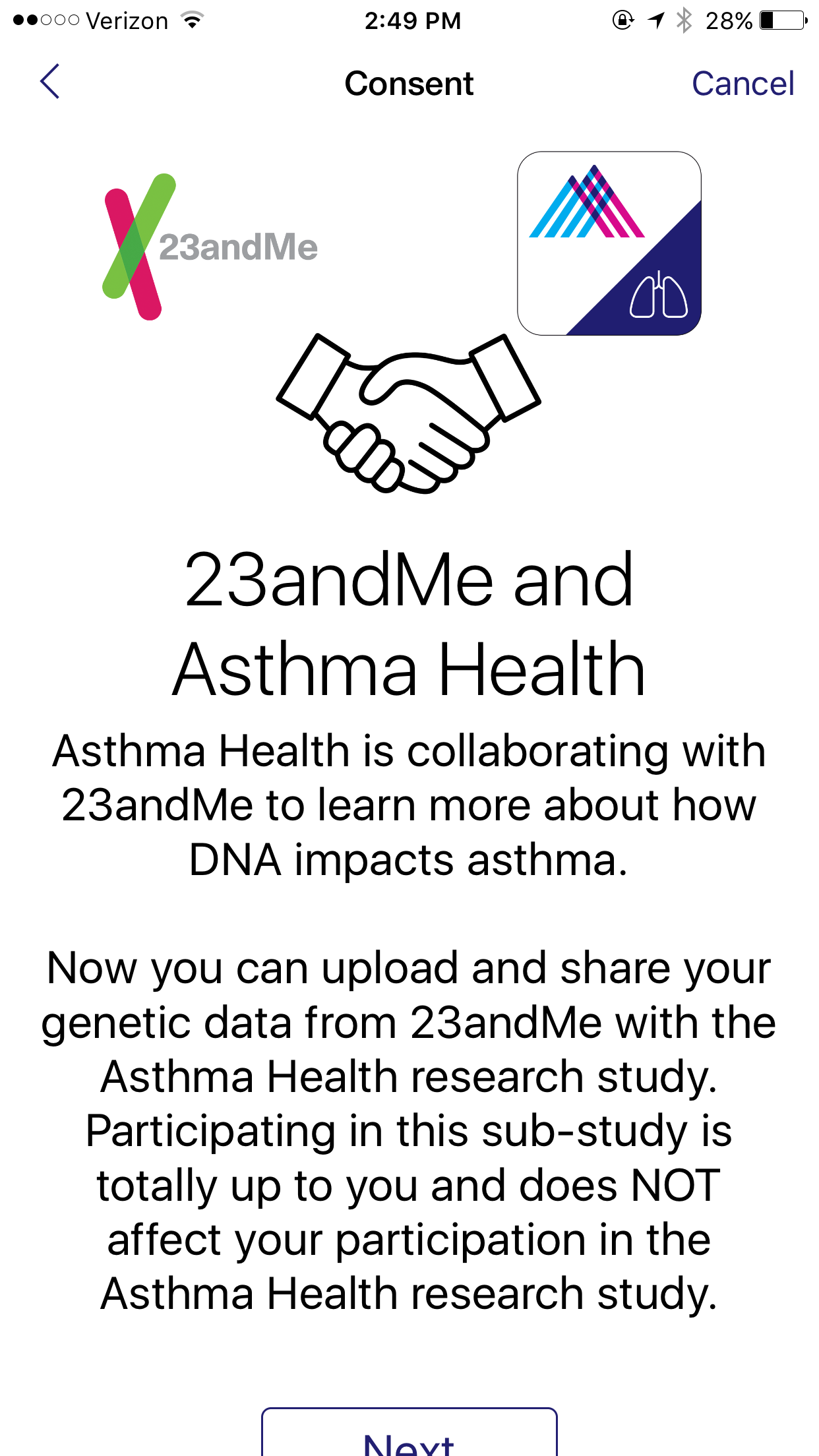 DNA Collection
The news went unannounced at Apple's event, but some ResearchKit studies are now accepting arguably the most personal health data you have: your DNA.
As part of a new study about the genetics of postpartum depression, women can get a free DNA test kit from the National Institutes of Health, which has pledged to fund 25,000 of them, according to Dr. Samantha Meltzer-Brody of the University of North Carolina School of Medicine.
And as of Monday, 23andMe customers can opt to share their genetic information with ResearchKit apps Asthma Health and MyHeart Counts. Asthma Health now has almost 9,000 active users, and MyHeart Counts has 50,000, since they both launched a year ago. Dr. Yvonne Chan of the Icahn School of Medicine at Mount Sinai, who is leading the asthma study, said she's interested in learning about whether genes play a role in the severity of patients' asthma attacks or how they respond to certain asthma medications.
Although there is no "buy" button for 23andMe's spit kits in these apps, the new feature will help get the word out about the service as it tries to grow its 1.2 million customer base. Researchers can also subsidize 23andMe kits for new customers, spokesperson Andy Kill told BuzzFeed News.
People seem enthusiastic about contributing to science: Chan said that 88% of Asthma Health participants agree to share their data with researchers.
Still, privacy-minded customers may want to think carefully about sharing data as personal as DNA. 23andMe members can delete their data from that service at any time; the same is true for MyHeart Counts, researchers told BuzzFeed News, and Apple doesn't collect your DNA itself. But when someone withdraws from Asthma Health, the researchers can still analyze any information, including DNA, that was submitted up to that point, Chan said.
Taken together, these health-collecting efforts are unprecedented in their comprehensiveness. "The notion of bringing in the genome and electronic medical records and data from wearable devices — each of those three perspectives is valid in and of itself but limited," said Corey Bridges, CEO of LifeMap Solutions, an app developer working on ResearchKit. "To be able to crunch the data from each of those three different perspectives, that's something we've never had as a species before."

It's also an effort that comes with risks. Researchers have questioned the accuracy of data submitted by people who will never step foot in a clinical trial center. Some participants will undoubtedly lose interest along the way. And there are all kinds of entities besides Apple vying to capture personal biometric data — Google, Samsung, Garmin, Fitbit, and Jawbone, to name a few. But Apple isn't backing down from its argument that it's "empowering" people, that bringing together the world's health information is good for the world. It's certainly good for Apple.