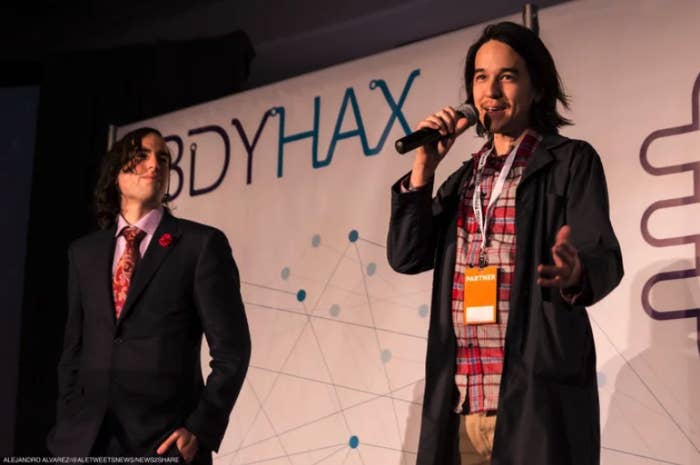 Aaron Traywick, a biohacker who once injected himself with an untested herpes therapy on a crusade to expand access to medications, was found dead on Sunday morning in Washington, DC, police confirmed to BuzzFeed News.
Traywick, 28, was found in a spa in Northwest DC, according to police. Staff discovered him in a sensory deprivation flotation tank, according to his colleague Tristan Roberts.
His body was taken for an autopsy, and his cause of death was not immediately known. Their investigation is still ongoing, but the police say they don't suspect foul play.
Traywick was the CEO of Ascendance Biomedical, a tiny, controversial biotech startup on a mission to speed up the process of getting potentially life-saving treatments to patients.
At a biohacker conference in Austin in early February, Traywick made himself a guinea pig, injecting his leg with a never-before-tested, non-FDA-approved, gene-altering herpes treatment made by the company.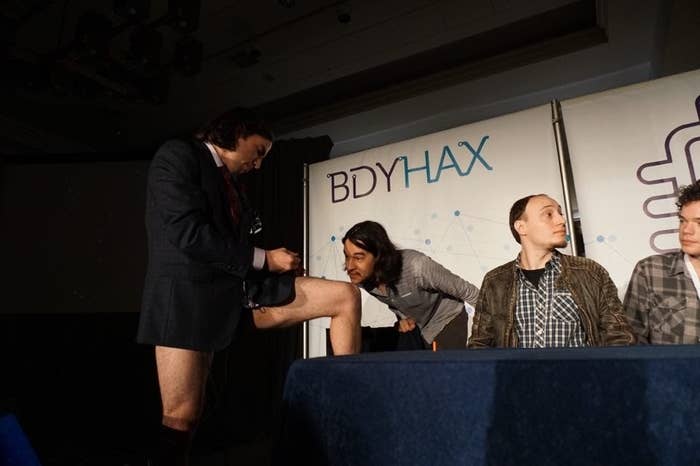 "I do what has to be done for the science to move forward and for other people to feel free enough to be able to seek interventions for themselves," he told BuzzFeed News at the time.

A few months prior, Roberts, another Ascendance employee, had injected himself with an experimental HIV treatment.
Both radical stunts drew crowds on Facebook Live and made headlines around the world. But many watched with heavy skepticism: The company had released scant details about the underlying science of how these treatments might work.
On Tuesday, Roberts described Traywick as a "passionate visionary" and "a warrior for a better future."
"He seemingly never tired as he brought people together to work on some of the most imposing challenges facing humanity," Roberts said in a statement. "While many in the biohacking scene disagreed with his methods, none of them doubted his intentions. He sought nothing short of a revolution in biomedicine; the democratization of science and the opening of the flood gates for global healing."
Shortly after the Austin event, Traywick locked himself in one of the company's labs for several hours and locked out other employees, according to Gizmodo. Some employees said that they had become uncomfortable with Traywick's theatrics and false claims to the press and would no longer be working with him.

And soon after that, Traywick sued Gizmodo and a biohacker, Josiah Zayner, for libel, claiming that they had made false and defamatory statements about the company and its research. Last month, the suit was dismissed, according to court documents.
In the biohacking world, Zayner and Traywick were considered rivals. Zayner — who's done his own self-gene-editing experiments in an attempt to beef up his muscles — had criticized the Ascendance CEO for making unsubstantiated and potentially dangerous claims about treating medical conditions.
"Usually, most biohackers are considered pretty crazy and very controversial, but he was the most controversial of the biohackers," Zayner told BuzzFeed News, adding, "He just wanted to get stuff out there, he didn't care about the consequences to him or sometimes other people. That could be reckless, or it could be good, depending on how it ended up."

The last time the two spoke was over the winter, before the lawsuit was filed, when they got into a Facebook Messenger debate about a lung cancer therapy that Traywick was working on, according to Zayner. He recalls arguing that Traywick could be putting lung cancer patients at risk.
But Zayner also credits Traywick with shaping a larger, important conversation about what kind of access patients should have to experimental treatments.
"The first person who rode an airplane or a rocket or did something crazy — like, there's a place for those people," Zayner said. "I hope people don't view Aaron and his life as a negative, because it did contribute and it did inspire people despite all the controversy."
UPDATE
This post has been updated to include remarks from biohacker Josiah Zayner.