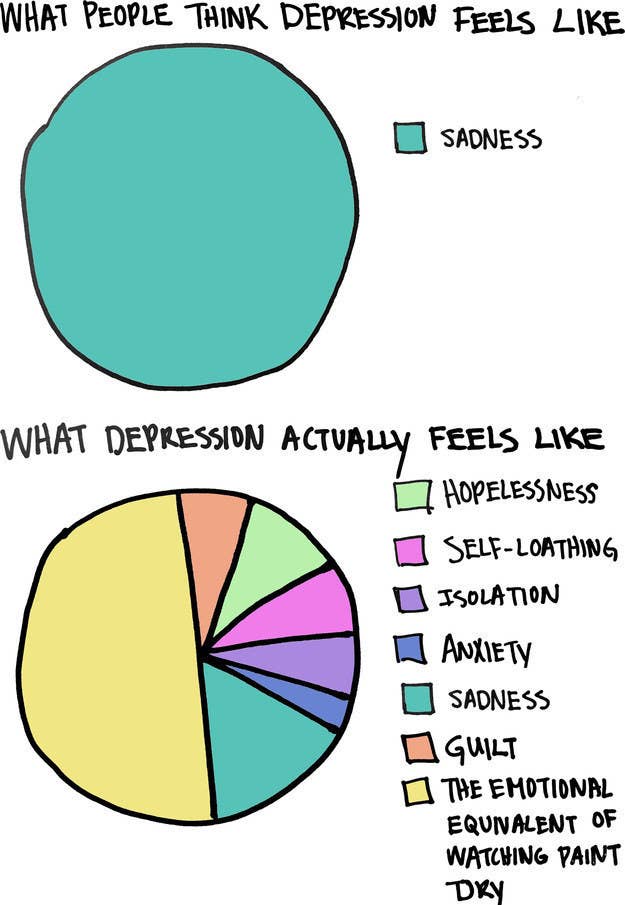 Depression isn't an easily quantifiable medical disorder. Defined by moods and emotional states, it's subjective and difficult to measure. And because of that, it's often tough to determine whether or not medications prescribed to treat it are working as intended.
A new smartphone app called Start aims to change that. Developed for people on newly prescribed antidepressants, the app is designed to track and summarize their response to the medication over time so that they can determine whether or not it's working.
Available for download today on Apple's App Store, the iOS-only Start is the latest offering from Iodine, a health tech startup that crowdsources reviews of medications for everything from asthma to heartburn. Since its launch last year, Iodine's founders — one a former executive editor of Wired, the other a former Google engineer who co-developed the company's flu-tracking software — noticed that a significant number of reviews submitted to the site were for antidepressants.
That's hardly surprising. According to surveys conducted by the Centers for Disease Control and Prevention between 2005 to 2008, roughly one in 10 Americans take antidepressants, making them the drugs most frequently prescribed to people between the ages of 18 and 44. And since efficacy varies from patient to patient, many people need to try more than one before finding one that works. But not everyone gets to that point: Half of psychiatric and primary care patients stop taking their medications within six months of starting, according to a 2012 study in Innovations in Clinical Neuroscience.
"The system isn't very good at matching people to the right medication and then isn't very good about following up and tracking whether the medication is working for that individual," Iodine co-founder Thomas Goetz told BuzzFeed News.
That's where Start is supposed to come in. People tell the app what drug they've been prescribed and how often they're supposed to take it, and the app reminds them to do so and tracks their experiences on it. Users also tell Start what things in life they want to feel better about — like sleep, relationships, work, or family — and the side effects that most concern them. Every few days, the app asks them about those issues and symptoms. It then generates bi-weekly progress reports summing up their responses.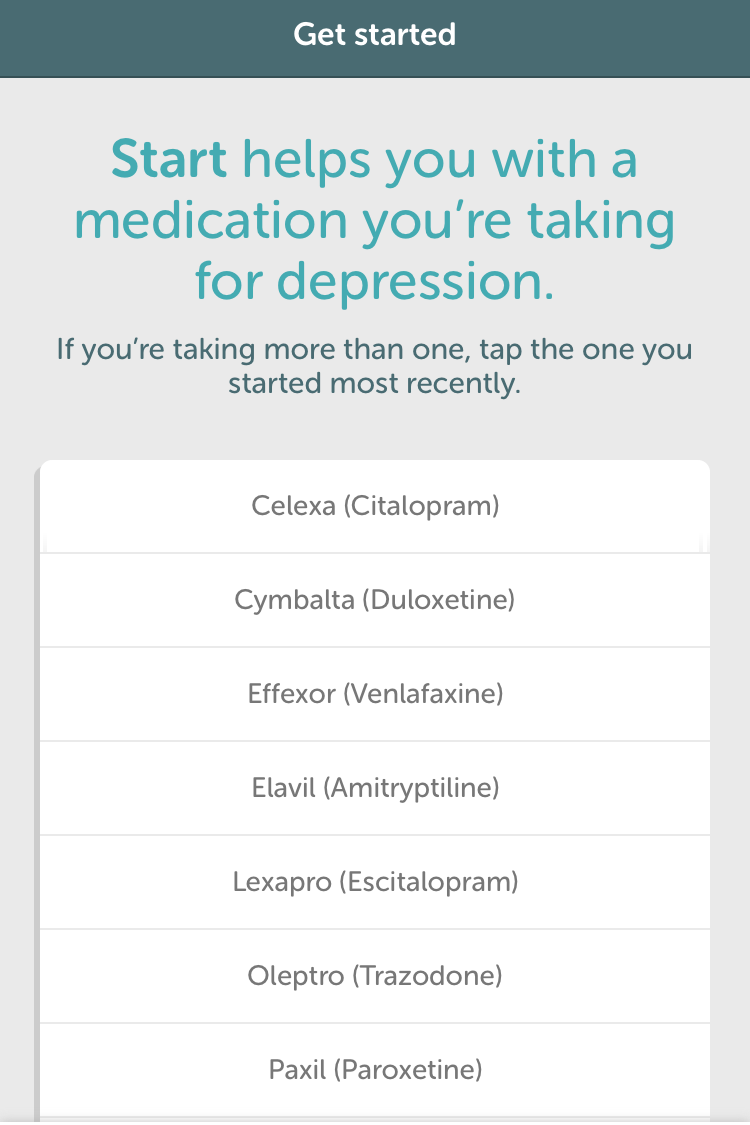 "At four weeks, if a medication is working for a person, it'll probably have some perceived effect," Goetz said. "If a medication's not showing an effect at six weeks, it's probably time to go back and talk to your doctor about something else." Start's queries and questionnaires are based on standard depression screens and the largest trial ever conducted on antidepressant usage, a federally funded study that involved more than 4,000 Americans. The app's six-week timeframe is based on clinical guidelines.
Essentially, Start creates a clinically useful log of patients' experiences with their medications. Robert Hutchins, a resident in internal medicine at the University of California, San Francisco, said the app presents the essential data in a way that's as standardized and objective as possible. "Even people who carry around journals — I've talked to people who do that in the past, it ends up being a meandering narrative of how their days are as opposed to them grading how their symptoms are," said Hutchins, who consulted with Iodine on Start's development.
Start won't automatically send the reports it generates to prescribing doctors or a patient's insurers; it's up to patients to decide what to do with them. Iodine doesn't collect any personally identifiable information about users aside from their age, gender, and e-mail address. If the app should take off, Goetz and his team are interested in looking for demographic trends that explain why certain medications work for certain people.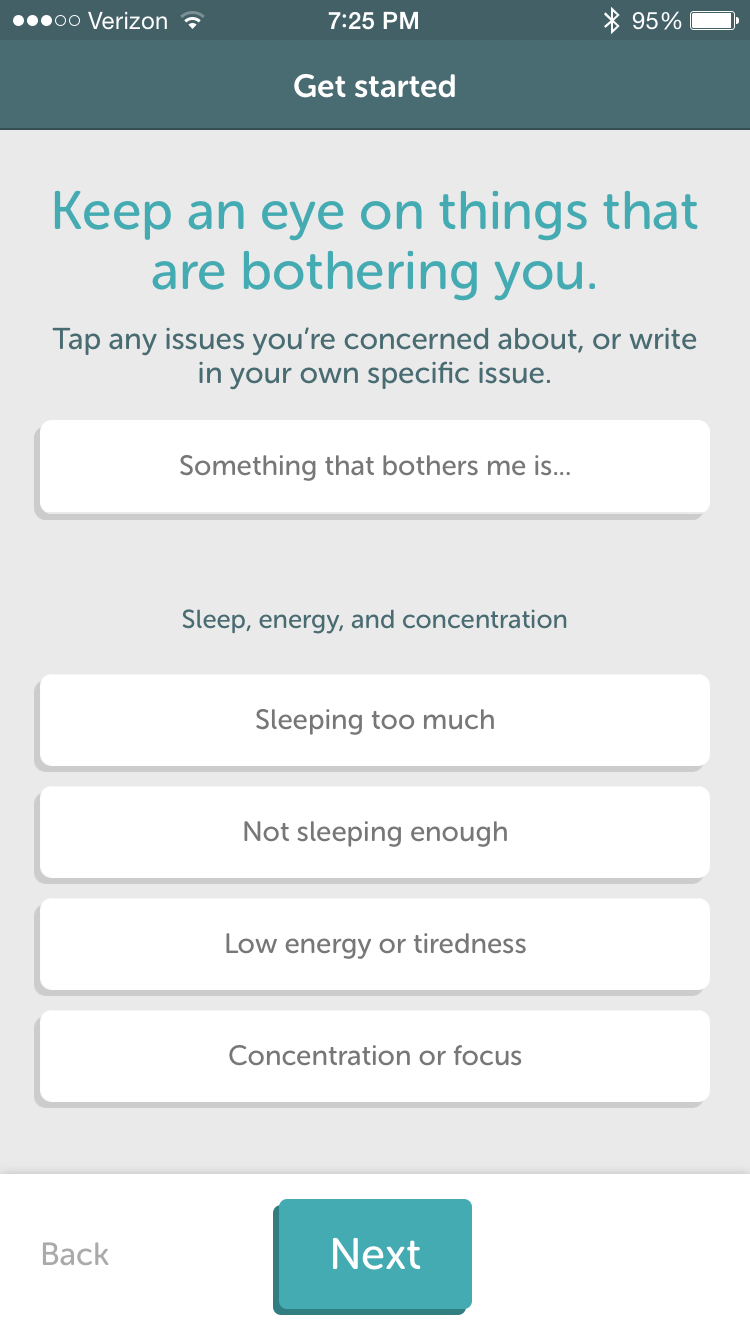 Start is one app among many tackling mental health issues. Lantern's clinicians coach patients on cognitive behavioral therapy techniques through an app. Ginger.io uses self-reported information and smartphone sensor data to identify people who may need help and warn their health care providers that they might be in trouble. Other apps remind people to take their pills.
But Iodine aspires to do something different. It hopes to help people figure out how well their antidepressants are working — if they're working at all. As Goetz put it: "If the person's taking the medication, is the medication doing what it's supposed to be doing?"