In a Planned Parenthood clinic in rural Iowa, a woman explains to Dr. Jill Meadows why she wants an abortion. Meadows studies her face, nods, and asks a question in response. She is not in the same room, however, but hundreds of miles away in Iowa City.
The visit is being conducted over videoconference. Meadows interviews her patient via a two-way camera, and if she determines her to be a safe candidate for abortion, she clicks her mouse. A locked drawer on the other side springs open, revealing an array of pills that will terminate the patient's pregnancy.
Since 2008, Planned Parenthood has overseen 8,000 so-called telemedical abortions as part of a first-in-the-nation program that aims to lower the cost of the procedure, provide care to women in rural areas and states with few doctors, and help women terminate pregnancies earlier. To Meadows, remotely giving out pills after a video session is no different than physically dropping them into the patient's hand — it's just more convenient for the patient. "It's the exact same type of encounter either way," Meadows told BuzzFeed News.
The Iowa Board of Medicine disagrees, and adopted a rule in 2013 that would effectively ban telemedical abortions on the grounds that they improperly supervise and endanger women. Disputing that claim, Planned Parenthood appealed the rule to the Iowa Supreme Court this spring. The ban is on hold while the six justices, all men, deliberate on whether the board can legally restrict such abortions.
The ruling, expected this summer, could have implications far beyond Iowa. Telemedical abortions have caught on in one other state, Minnesota, but 18 others are preemptively restricting them. A loss for Planned Parenthood's Iowa program could be a blow to abortion access, which pro-choice activists say is shrinking nationwide, as well as to expanding telehealth services. Even as Iowa's medical board seeks to block these abortions, it is enthusiastic overall about providing clinical care through telecommunications, acknowledging that telemedicine "can provide important benefits for patients, including increased access to health care."
Health policy experts say the fight appears to be much more about abortion than telemedicine.
Abortion is only one of dozens of health care services that technology is increasingly facilitating, said Jonathan Linkous, CEO of the American Telemedicine Association. He said that about 27 states now mandate that private insurance cover telemedicine, a big increase from 19 states two years ago.
"When legislators talk about telemedicine, generally they say, 'It's a great new technology that can provide health care to people who otherwise would not be able to access treatments,'" said Elizabeth Nash, senior state issues associate at the Guttmacher Institute, a research organization that supports abortion rights. "When they talk about telemedicine in the context of abortion, they see it as unproven, untested, and potentially dangerous."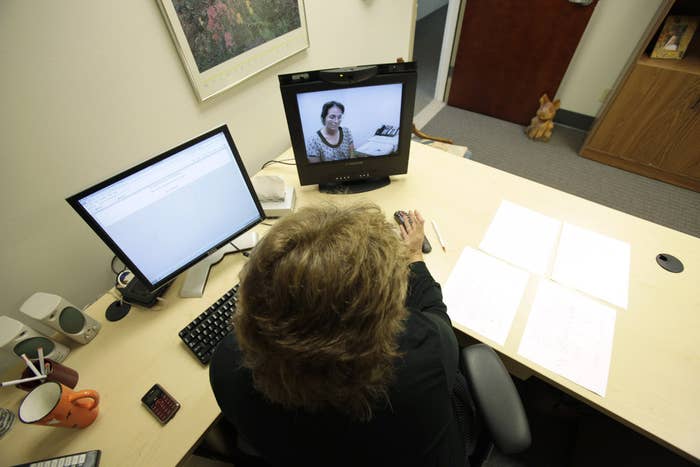 One night seven years ago, Jill June was watching a TV news report about the emerging field of telemedicine. At the time, June was president of Planned Parenthood of the Heartland, as the branch overseeing Iowa, Nebraska, Arkansas, and Eastern Oklahoma is known. She thought: If the internet could widen access to primary care doctors or mental health therapists in places like Alaska, why couldn't it facilitate abortions in Iowa? The state has the 43rd lowest doctor-to-resident ratio in the nation, and the law only permits a licensed physician to provide abortion pills.
Medical abortions can be carried out with different medications, each requiring specific dosages, but the most common regimen consists of the tablets mifepristone, which causes the uterus's lining to break down by blocking a key pregnancy hormone, and misoprostol, which expels the embryo from the body. From 2000 to 2011, more than 1.5 million U.S. women underwent medical abortions; they now account for about one-fifth of all abortions.
In the model that now exists at seven out of 13 Planned Parenthood clinics in Iowa, patients first undergo an ultrasound and exam in person with a nurse, nurse practitioner, medical assistant, or trained educator. The clinician sits in the room as the patient talks to a doctor elsewhere through a two-way videoconferencing program that's similar to Skype, but secure and designed for health care. Then the patient takes the mifepristone, pockets the misoprostol, and arranges to return in two weeks to ensure the pills worked, Planned Parenthood says. She is given a 24-hour help line to call in the meantime.
"It means those women don't have to travel 250 miles into Des Moines, take four days off work, maybe find child care, maybe find transportation if they don't have it," Angie Remington, a spokesperson for Planned Parenthood of the Heartland, told BuzzFeed News. "This is a way to make it so they don't have as many barriers."
And it gives women access to abortions earlier, according to a 2013 study in the American Journal of Public Health. Researchers at Ibis Reproductive Health, a research group that supports abortion rights, studied abortions in the two years before and after Iowa's program began. After the introduction of telemedicine, more women in rural areas got abortions before the second trimester — a procedure that is less risky and costly than late-term abortions, the authors wrote.
Critics, however, say the program leaves patients vulnerable. The Iowa medical board says only doctors are qualified to perform the ultrasounds and examinations necessary to to evaluate someone for an abortion, and it argues those tasks can only be properly done in person. "This physician-patient relationship is fundamental to the provision of a safe medical abortion," the board wrote in announcing the rule.
In 2010, the Iowa medical board found Planned Parenthood's program to be safe. But after Gov. Terry Branstad, a Republican with a pro-life policy track record, took office a year later, he appointed new members as their terms expired.
In 2013, the all-new board adopted a rule that doctors must physically examine patients before prescribing the abortion pills — a requirement that effectively blocks telemedical abortions. After a district court upheld the rule, Planned Parenthood argued the decision before the Iowa Supreme Court in March.
Outside Iowa, telemedical abortions seem to have only caught on so far at a Planned Parenthood in Rochester, Minnesota, where 250 women have gone through the procedure in the last four years, according to spokesperson Jennifer Aulwes. But many more states — 18 as of June 1, not including Iowa — have preemptively blocked the practice since 2011, according to the Guttmacher Institute. Laws in two of those states, Arkansas and Idaho, will take effect later this year.
If the Iowa Supreme Court sides with the medical board, it could inspire more to follow.
"This attack on medication abortion is the result of conservative legislators' efforts to restrict access to abortion," said Nash of the Guttmacher Institute, ticking off other examples: waiting periods, counseling requirements, reduced abortion coverage in health plans. "As these restrictions pile up, it becomes harder and harder for women to access services and for providers to perform abortions."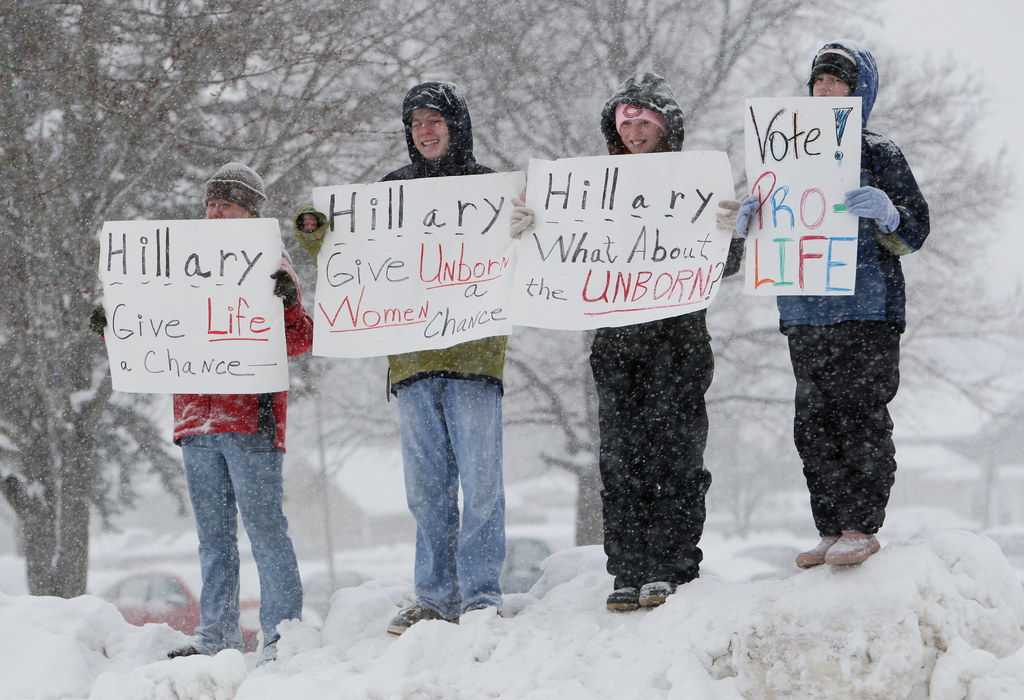 A major concern of the Iowa medical board, and of pro-life groups such as Iowa Right to Life, is that the program is "inconsistent" with guidelines the FDA approved when it approved mifepristone in 2000. Under those guidelines, a woman should visit a doctor three times: to receive 600 milligrams of mifepristone; two days later, to take 400 micrograms of misoprostol; and two weeks later for a follow-up. She can be up to seven weeks pregnant.
Since then, clinicians have tried to make the practice more affordable and convenient. For all medical abortions, Planned Parenthood now prescribes a lower dose of mifepristone and a higher dose of misoprostol. Women can also take the second pill at home and seek a medical abortion up to nine weeks into gestation.
Technically, this regimen is off-label. But a meta-analysis of 58 studies, published in the Cochrane Review in 2011, reported that medical abortions have "a very low rate of major complications," and that mifepristone and misoprostol are safe and effective up to the ninth week. The regimen used at Planned Parenthood also has a 95% to 99% success rate, studies show.
Women can bleed and cramp more with medical abortions, and some will still require surgery if the pills fail to work, the American College of Obstetricians and Gynecologists acknowledges. But overall, the national group of clinicians says, it is safe and effective for women to take misoprostol at home and have telemedical abortions that involve nonphysician clinicians.
"The most important thing is it's evidence-based," said Meadows, medical director of Planned Parenthood of the Heartland.
At least one former employee disagrees. Sue Thayer, a Planned Parenthood clinic manager in Storm Lake, Iowa, for 17 years, claims she was let go in 2008 because she objected to its telemedicine abortion program. Now a leading antiabortion activist, she is suing the organization for allegedly overbilling Medicaid. A lawyer for Planned Parenthood declined to comment on the lawsuit.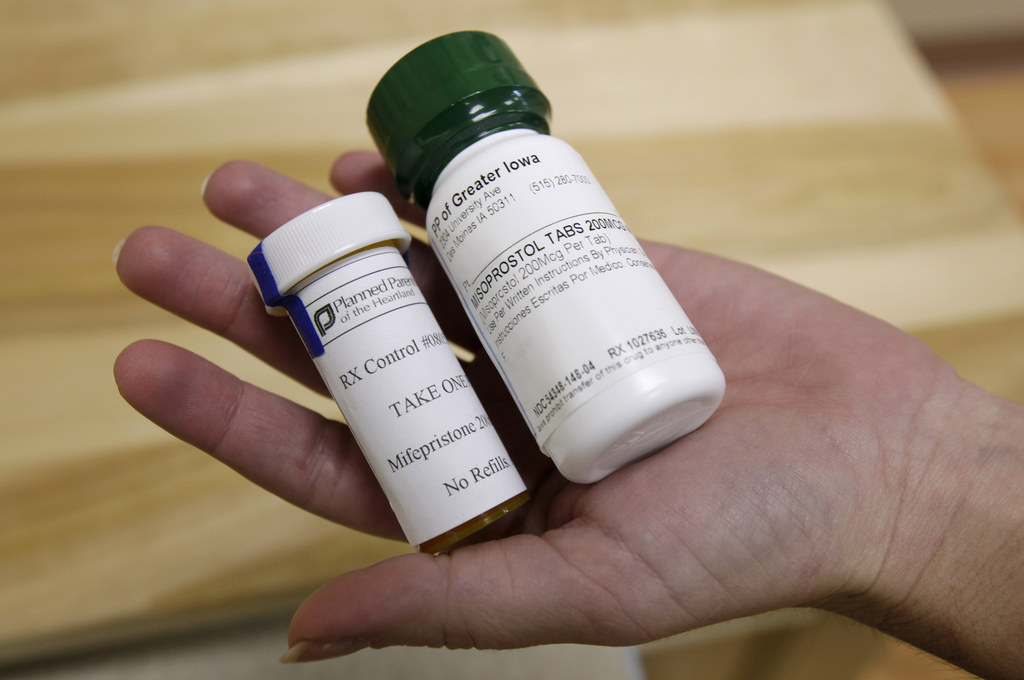 If the Iowa Supreme Court rules against Planned Parenthood, the decision might inspire other states to restrict new technology-driven forms of health care and harm patients who couldn't access services otherwise, said Nathaniel Lacktman, a telehealth attorney at Foley & Lardner LLP.
"Telemedicine is not a different specialty type," he said. "It is simply the technological conduit through which the doctor provides medical services. To a certain extent, it'd be strange for a board of medicine to say you can do everything via telemedicine but X and Y services."
Yet that's what the Iowa medical board is doing. Last week, it set telemedicine guidelines that allow physicians to treat patients without meeting them in person — but explicitly said these standards don't apply to its effective block of telemedicine abortions.
Now the Iowa Supreme Court will decide if that 2013 rule should stand.
"Right now, the technology we have available to us is so far in advance of our health care policies and rules that providers have these very powerful and very effective tools," Lacktman told BuzzFeed News. "And oftentimes, state policy or federal policy has not really caught up with it."