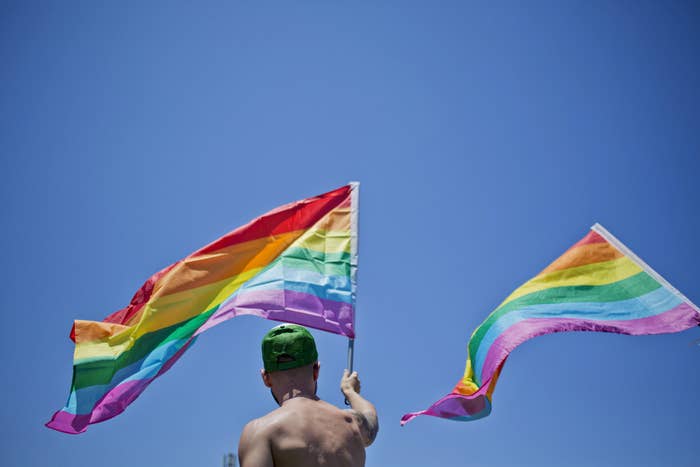 We don't know as much as we'd like about the role sexual orientation and gender identity play in health and wellness. And though there's a clear need for it, comprehensive medical research into the health needs of the LGBT population can be tough to find. The Institute of Medicine summed it up this way in 2011: LGBT people "have unique health experiences and needs, but as a nation, we do not know exactly what these experiences and needs are." It wasn't until two years ago that the Centers for Disease Control and Prevention's annual National Health Interview Survey even accounted for sexual orientation.
Now, a team of researchers at the University of California, San Francisco, is gearing up for what may prove to be the largest national study of LGBT health ever — and it's using the iPhone to do it.
Dubbed The PRIDE Study, the effort will use an iPhone app based on Apple's new ResearchKit software framework to assess the special health needs of the LGBT population. UCSF researchers plan to survey people about a broad range of health risk factors that may include HIV/AIDS, smoking, cancer, obesity, and depression. And they hope that the PRIDE Study app and the iPhone's vast user base will deepen medical research into transgender and bisexual individuals — both relatively understudied populations compared to lesbians and gay men.
"The main question there is, what is the relationship between being LGBTQ — or more broadly a sexual or gender minority person — and mental and physical health?" Mitchell Lunn, co-director of the PRIDE Study and a clinical research fellow at UCSF, told BuzzFeed News. The app is debuting in June, LGBT Pride Month, just days before San Francisco's annual Pride parade and ahead of an expected Supreme Court ruling on same-sex marriage.
"It is a research project that has very few peers in terms of scope and in terms of number of people and length of time," said Hector Vargas, executive director of GLMA: Health Professionals Advancing LGBT Equality, one of 42 organizations advising the PRIDE Study app.
Lunn said Apple employees were enthusiastic about the app, given the company's advocacy for LGBT equality under CEO Tim Cook, who said he was "proud to be gay" in a Bloomberg Businessweek article last October, and more recently criticized state legislation that could allow business owners to deny service to LGBT customers based on the owners' religious beliefs.
The PRIDE Study app, now available in the App Store or by texting PRIDESTUDY to 74121, is the latest to be built on ResearchKit, Apple's software framework that allows clinicians to conduct research through iPhone apps. Until now, the only available ResearchKit apps — for heart disease, breast cancer, Parkinson's disease, asthma, and diabetes — have been the five that went live at the time of Apple's announcement in March.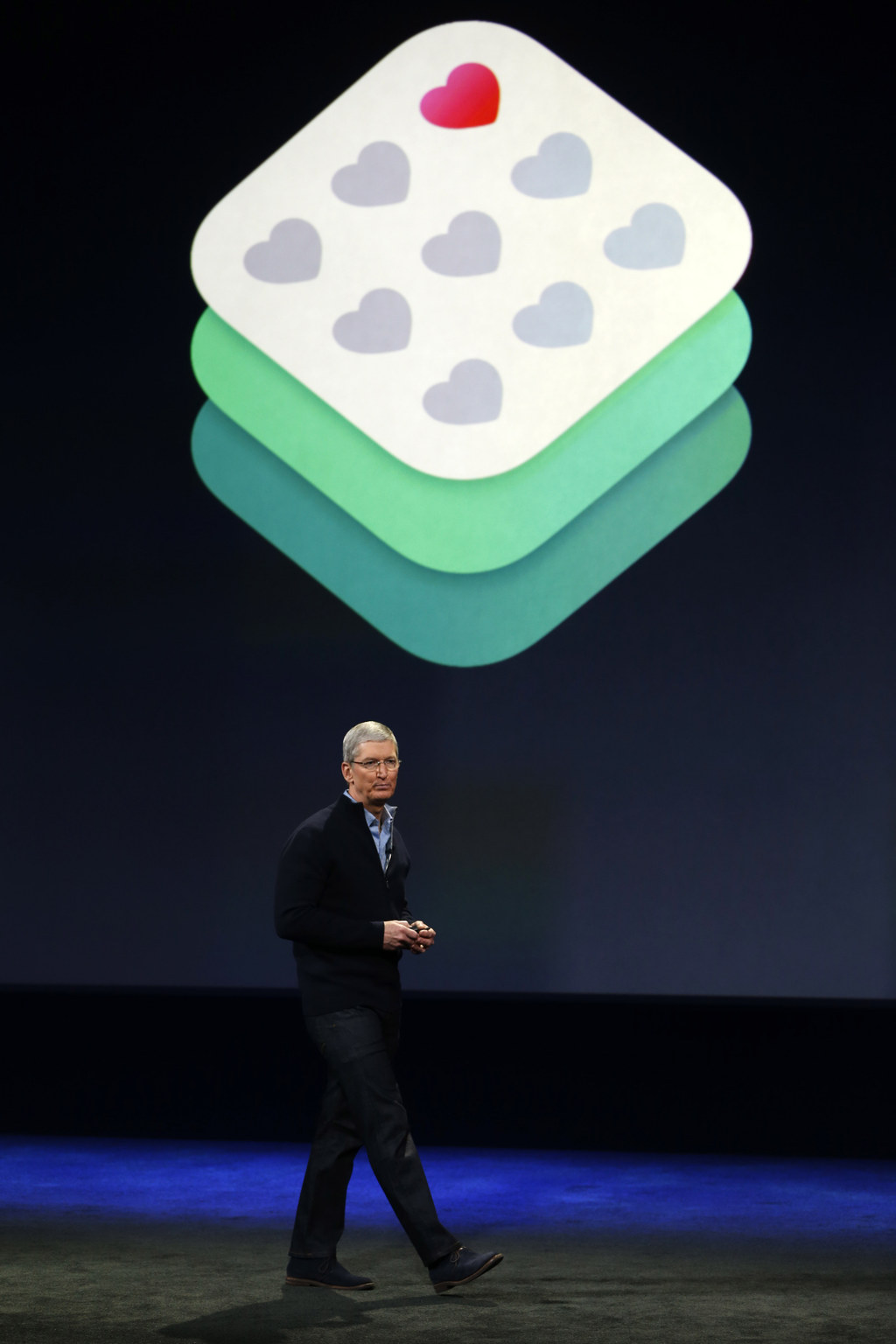 Lunn and Juno Obedin-Maliver, The PRIDE Study's other director and a UCSF fellow, say ResearchKit is an ideal tool. The two researchers, who met as classmates at Stanford's medical school, have been searching for a technology-based way to study the health of a large number of LGBT people.
The traditional way of doing it — tracking down patients and convincing them to visit a clinical trial center several times in person — is onerous, Lunn and Obedin-Maliver said. Now, LGBT individuals can "engage in research from their home or from their phones," Obedin-Maliver said.
For the rest of the year, the PRIDE Study app will ask people to submit and vote on questions they'd like the associated study to explore. UCSF researchers will review those and incorporate them into a final set of survey questions. Researchers say they might ask about smoking habits, since 1 out of 3 LGBT Americans smoke (compared to 1 out of 5 Americans in general). Or mental health, since LGBT individuals are likelier to be at higher risk for depression, anxiety, and substance use disorders.
Along with information about sexual identity and gender orientation, study participants will be asked to provide their race, ethnicity, age, and location — information that will give researchers greater insight into the demographics of the LGBT population. Lunn stresses that participants can choose to share their data only with the core scientists, or with outside researchers vetted by the UCSF team on a case-by-case basis. With the latter, patients' information is stripped of identifying details, Lunn said.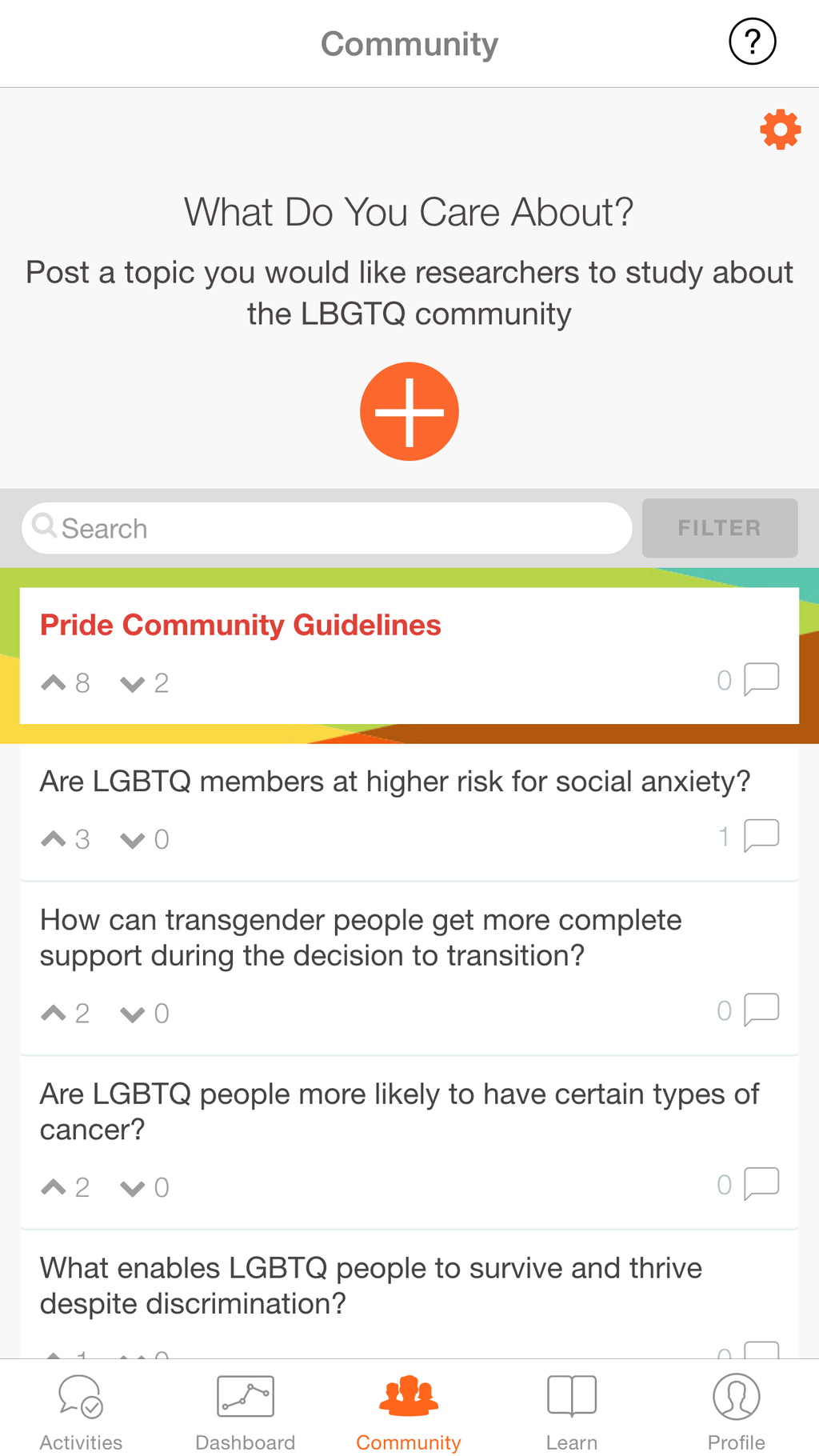 Despite its promise, ResearchKit is still unproven as a medical research tool and does have limitations that might impact efforts like The PRIDE Study. Verifying the authenticity of survey responses collected via app could prove a challenge, as could keeping respondents coming back to the app. Accessibility is also a possible issue: You can't use the PRIDE Study app if you don't have an iPhone. To address this, Lunn and Obedin-Maliver are planning a website that will offer the survey to those who don't have iPhones.
These tools are "changing the paradigm of medicine to involve people in a more consistent way, not where they just go to a research center once a month and do a whole bunch of tests that are divorced from their life," Obedin-Maliver said. "This is really bringing it into people's lives in a much more immediate way."